Tress' Inexpensive and Fun
Autumn Porch Decorating Project
Tress absolutely loves autumn. Her autumn decorating ideas will get you in the mood to decorate your own porch for the season. Learn more about Tress below.

She loves decorating for fall and the beautiful autumn colors - especially "nutmeg colors infused with burgundies, primitive golds and browns".

She incorporates these warm, rustic colors in the cozy Parsonage where she, her husband and their daughter live.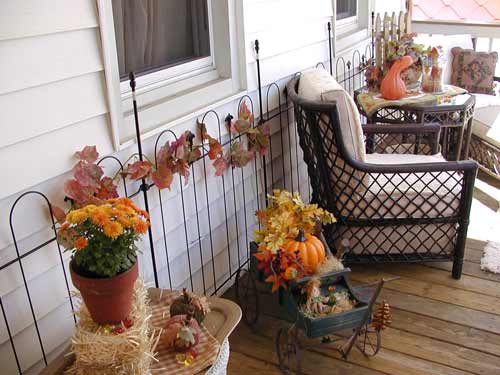 In preparation for decorating for the fall, Tress shops at bargain discount places and yard sales for autumn decorating ideas. This year when she pulled out her bins of decorations, she also decided to paint! While she likes sage green, she was ready for a change.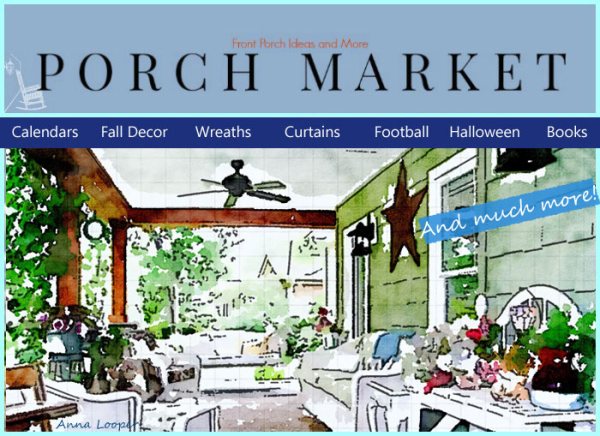 Visit Our New Porch Market
The two of us hand-picked products that we think you will enjoy for your porch. Some we created ourselves, some are seasonal and some are from favorite shopping sites. Thank you for stopping over!
Tress' Colors: Sage Green, Golds, Tans, Nutmeg
So Tress painted over the sage green walls in her home with beautiful shades of golds, tans and nutmegs. Tress and her husband love the results. She even carried these colors to her porch.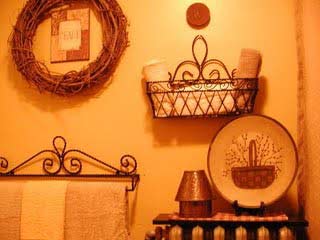 She painted the top part of her front porch railings and the railing leading up to her porch steps the warm nutmeg color. Enjoy these pictures of Tress' autumn-decorated porch all "done up in the autumn glow of toasty nutmegs and sugary maples".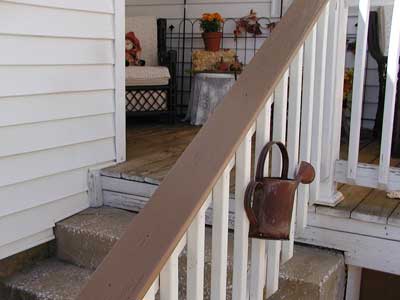 Here's a table on their porch that Tress dressed up for autumn with gourds, foliage, candles and a pretty linen.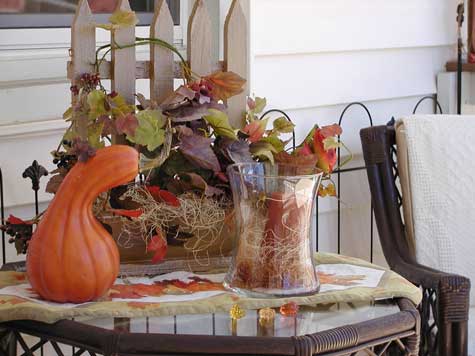 Do you have some autumn decorating ideas for fall to share with us?

We'd love to hear and post them on our site for others to see! Please send them to:
info [at]front-porch-ideas-and-more.com
Replace [at] with @ please.
Enjoy the rest of Tress' charming pictures.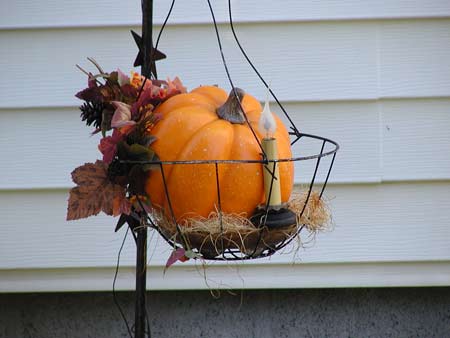 She even decorated the handsome shed in their back yard with pumpkins and mums.



Even Tress' Shed is Decorated