Autumn Splendor Wreath
Making a Fall Wreath is Easy and Enjoyable!
We really like how our autumn splendor wreath turned out - and you know what? It was very easy to make. You really don't have to be extra craftsy or artsy to create one of these.

Fall wreath crafts are satisfying especially when you get beautiful flowers and grasses to go around your wreath.

You can find them on sale or use coupons to make it easy on your budget.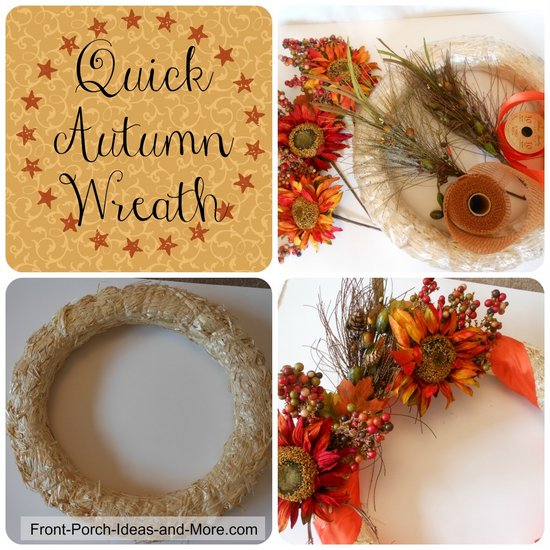 Tutorial: Making a Fall Wreath


Here's what I made and I tell you it is an easy wreath. So, let's get started...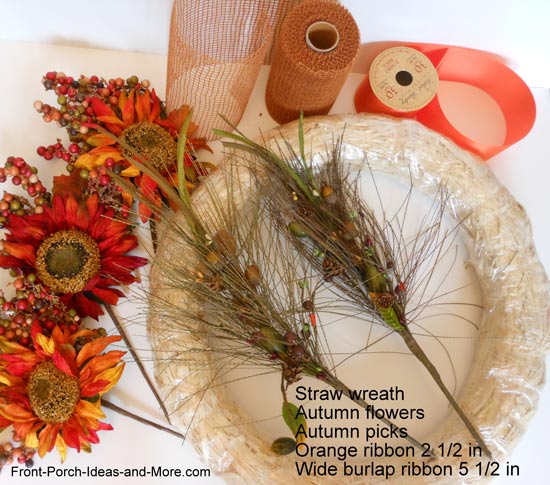 Here's what you need for the autumn wreath: a wreath base (I chose straw), some beautiful autumn flowers (I used 5 on ours), some autumn picks to go in between the flowers, orange ribbon (mine is 2.5 inches wide) and burlap ribbon (mine is 5.5 inches wide)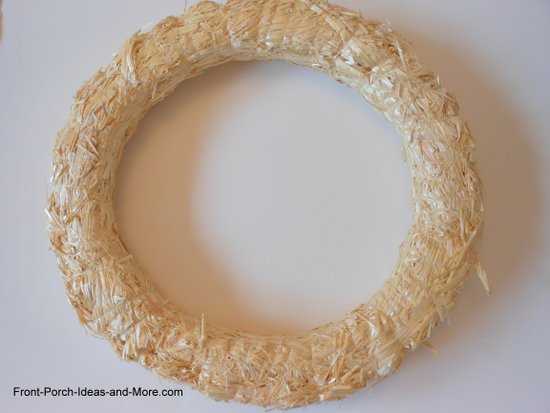 I chose a simple straw wreath as a base, but you could use any type of wreath base that you already have: straw, grapevine, styrofoam, whatever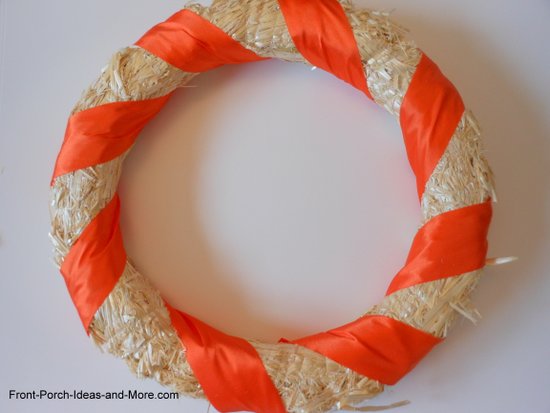 Now wrap the orange ribbon around the wreath and secure on the back with a pin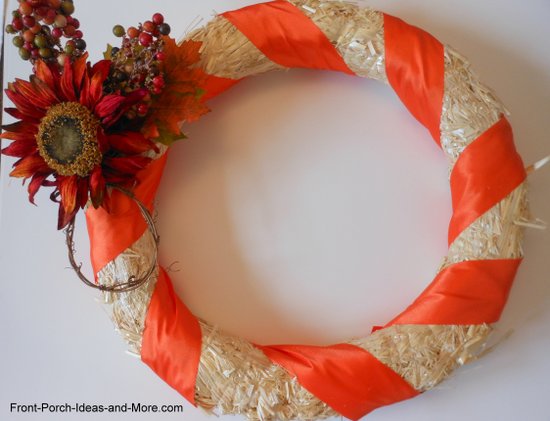 Start adding your autumn flowers. I was able to just poke mine through the straw wreath which made it very easy. I did not need to wire them.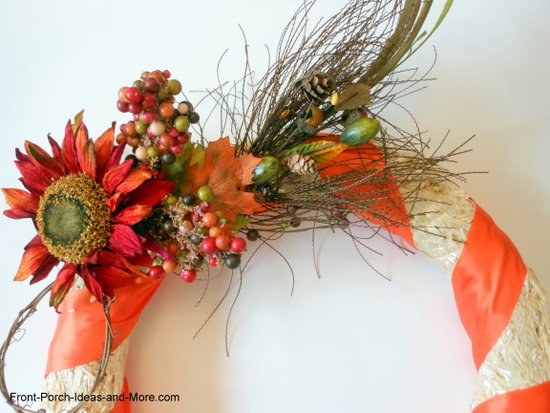 Add grasses or other natural elements in between the flowers. This gives your wreath a beautiful natural-looking flair. Again I could just poke mine through the straw wreath. I experimented for placement.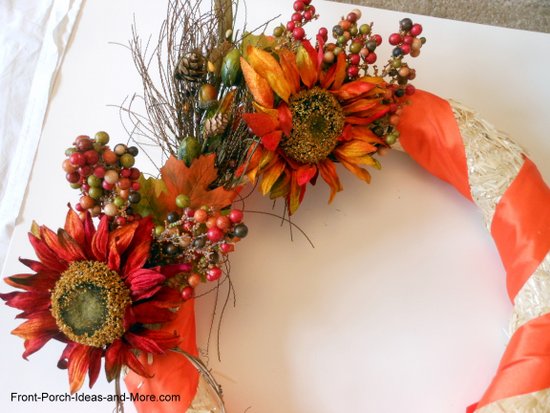 Continue adding flowers and grasses alternately around the wreath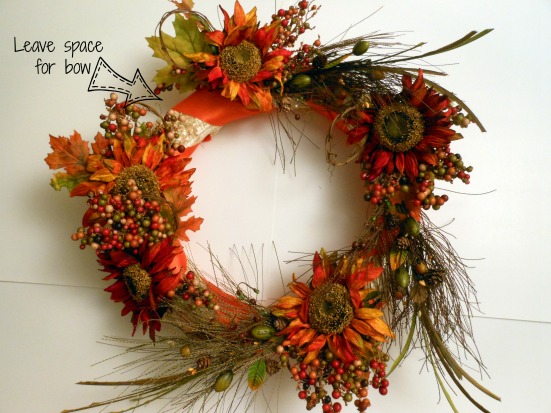 Keep a space open for the bow - unless you don't want a bow, then just fill it in all the way around.





I added a beautiful burlap bow and here's my finished project. I call it my Autumn Splendor Wreath. I like how striking it is on our front door.

It took me less than an hour to make. Having the right materials made all the difference! No glue or wires involved.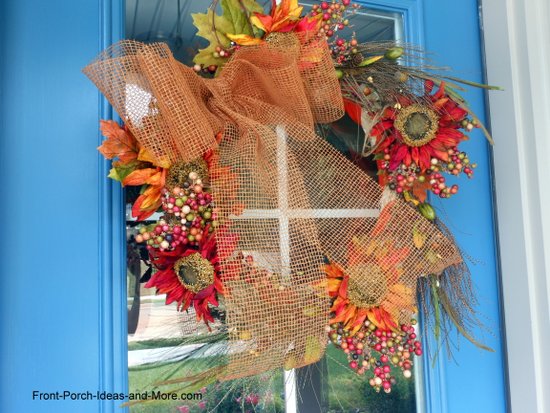 Here's how it looks on our blue front door. It's very whimsical.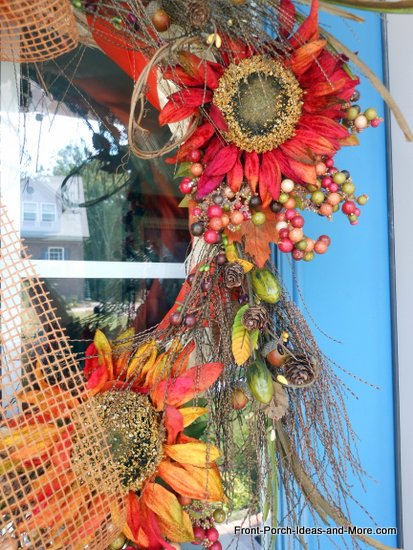 Close-up shot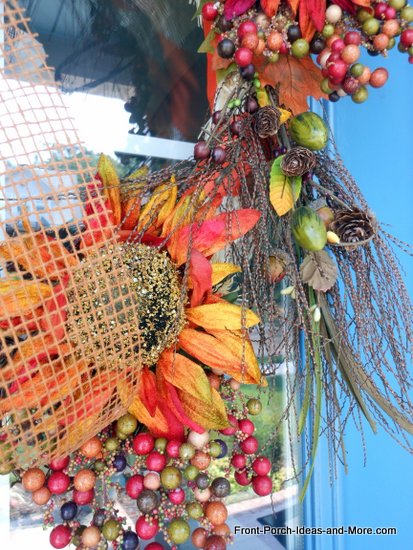 Another close-up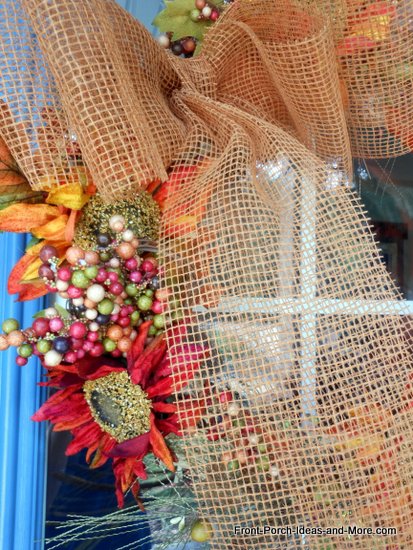 One more close-up of our autumn splendor wreath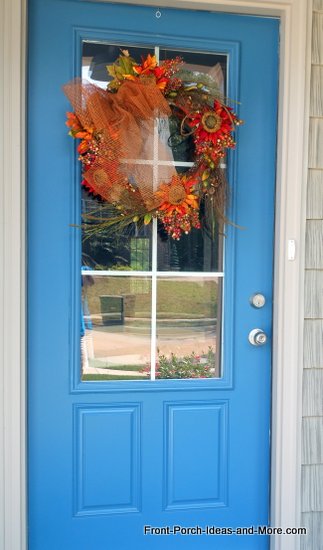 Another view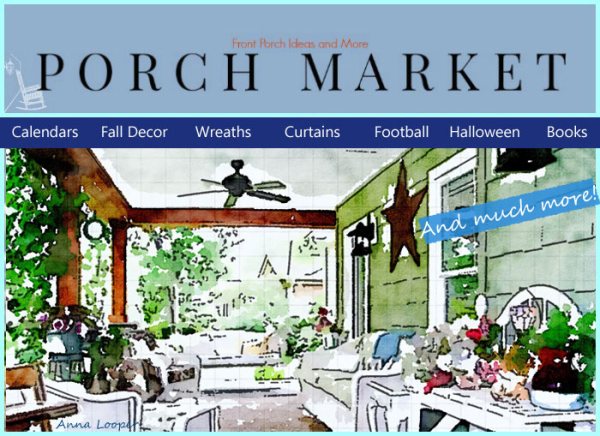 Visit Our New Porch Market
The two of us hand-picked products that we think you will enjoy for your porch. Some we created ourselves, some are seasonal and some are from favorite shopping sites. Thank you for stopping over!
Do you have some autumn decorating ideas for fall to share with us?

We'd love to hear and post them on our site for others to see! Please send them to:
info [at]front-porch-ideas-and-more.com
Replace [at] with @ please.
Helpful Links
Popular Pages
---
Our Sponsors
Porch Store
Custom Porch Products
Vintage Woodworks
For Your Porch Parts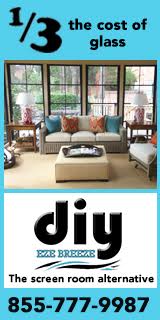 DIY Eze Breeze
Screen Porch Windows
PCA Products
Complement Any Home!
End sponsor section
---
---
Copyright© 2009-2016 Front-Porch-Ideas-and-More.com.
All rights reserved.
Content and photos may not be reproduced
in any way without our written permission.