Awnings For Porch -
Fixed or Retractable
"Awnings for porch" is a popular search term. Must be because we love our porches and want to spend more time there - protected from sun, wind, and rain.

So porch awnings may be just the answer you are looking for. You can turn your patio or deck into a porch by simply adding an awning.

Mary and I did just that when we lived in a small ranch home in New Hampshire - we added an awning and side panels to create a screened porch.

We loved our new porch and used it often for dining, playing games with the kids and visiting with friends. We even added side panels to turn it into a screened porch. We enjoyed it to the max.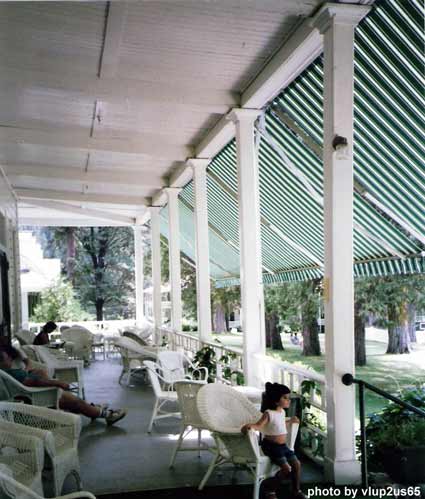 Photo courtesy of
vlup2us65
Awnings are beneficial in several ways
they protect you and your furniture from the sun
they provide additional cover from rain and snow
they add value to your home and create extra curb appeal

Although there are several kinds of porch awnings and materials, awnings are divided into two types: fixed or stationary and retractable. Fixed awnings are attached to your porch or home and remain in an open position.

Retractable awnings can be manually or mechanically operated to open or close. Some retractable awnings have sensors that automatically close when wind is detected.



Fixed or Stationary
Fixed awnings are usually permanent fixtures attached to your home. They offer little flexibility (can't be opened or closed) and need support columns if extended over large areas. The awning itself can be either canvas or metal and come in a variety of colors and styles.
Note: Check with your local building codes and Home Owner Associations prior to installing fixed awnings. In some locations a permit is required.

A SunSetter® Fixed Awning


Retractable
Retractable porch awnings have more flexibility and versatility. They can be rolled up when not needed or rolled down to protect your from the elements. Retractable awnings are more expensive than a fixed porch awning, but are worth the cost in some cases because of the extra flexibility. Another benefit to retractable awnings is there are no support columns to block your view.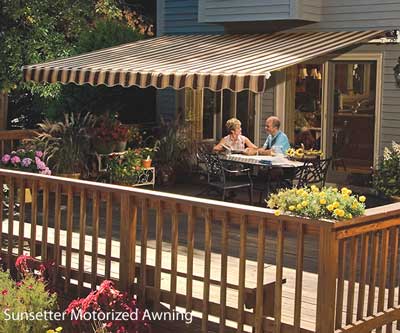 A SunSetter® Motorized Awning

Because of the design and canvas top, they cannot; however, normally withstand heavy rains, snow, or winds. To compensate for this, retractable awnings can be operated manually or with a motor.
Manual operating awnings require physical effort to open or close. The devices are designed to operate easily (takes only a few seconds) but you will have to operate them adjacent to the awning itself. They are less expensive than motorized retractable awnings offering you the benefit of higher end models without the extra expense of a motorized version.
Motorized versions require a small electric motor that can be operated from inside your home from remote control for added convenience. Merely press a button and your awning will close or open as you desire. They are more expensive than manual versions.
Awning Options
Here are a few awnings options we found at ScreenHousesUnlimited we thought you might want to see. They have several aluminum and fabric awnings from which to choose, including both fixed and retractable.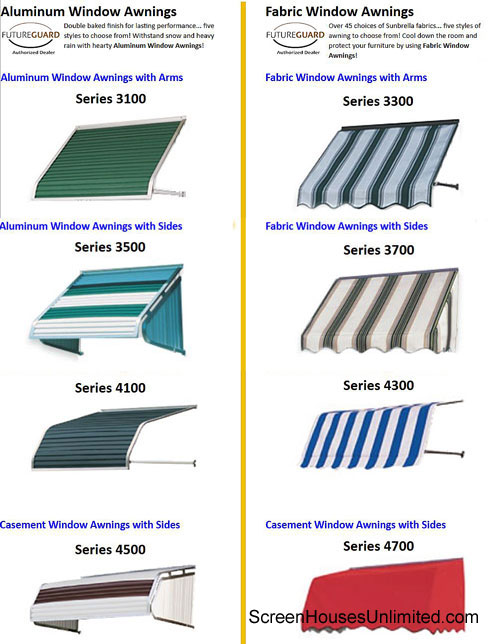 Awning options from
Screen Houses Unlimited
Need a Local Contractor
Please remember these are do-it-yourself awning kits. However, you could hire a local contractor on your own to install awnings if you need installation assistance.
You can use our handy
Find a Contractor Form
if you are in need of such help.
OPTIONS - Versatility Galore!
Awnings for porches can be very versatile:
Screen porch panels - convert your awnings for porch into a screened porch
Weather Panels to help break the wind that easily attach to the awning - makes your time more enjoyable on windy days


Sunsetter weather panels





Lighting kits, sometimes called patio lights, that conveniently attach to your awning





Wireless Wind Sensors - to detect wind and close your awning when you can't be there!




Awning covers - for wall bracket: These covers attach to your awning when they are not in use. They help to keep your awning bracket clean and free from ice and other debris. The cover attaches easily to the wall using grommets and stretchable cords.






Center braces to support longer awnings


We found these neat awnings and awning accessories at ShoppersChoice.com.
Enjoy looking! We hope you learned a lot about awnings for porches here. Thank you.




Porch Home

/

Porch Awnings

/ Awnings for Porches






The Amazon ads are our affiliate links. Thank you.




Popular Pages
---
Our Sponsors
Porch Store
Custom Porch Products
Vintage Woodworks
For Your Porch Parts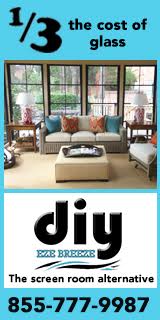 DIY Eze Breeze
Screen Porch Windows
PCA Products
Complement Any Home!
End sponsor section
---
---
Copyright© 2009-2017
Front-Porch-Ideas-and-More.com.
All rights reserved.
Content and photos may not be reproduced
in any way without our written permission.