Building a House
Brick, Siding, Drywall and Haint Blue
This is part of a continuing series that journals our new home being built. Sharing our journey and tips we've learned along the way. See all our
journal entries
.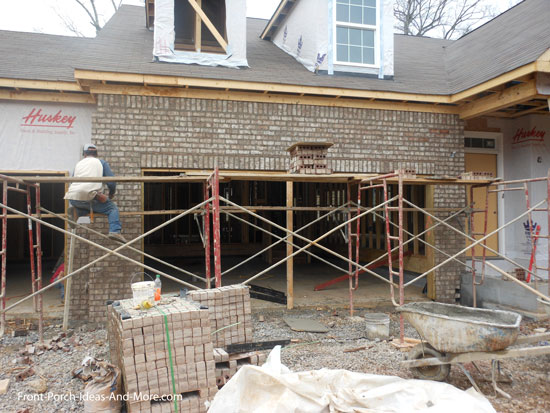 Stackin' Bricks
We were pleased with the bricks we chose for our home along with the color of the siding. We had a great crew who worked diligently to brick our home in short order. It was fun seeing the vinyl shakes on the front of our home and definitely has a warming effect. Looking forward to the shutters going up.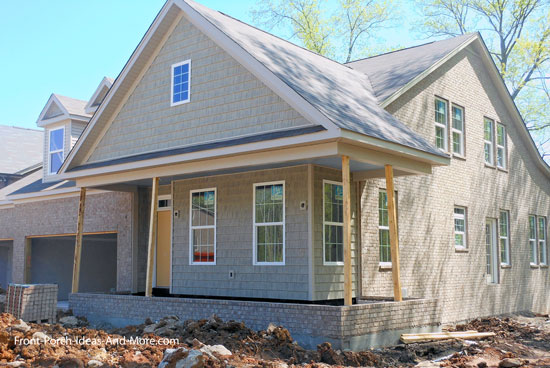 Our Haint Blue Ceiling
We couldn't be happier - we now have a haint blue ceiling on the front porch! Why haint blue? Be sure to see our haint blue porch paint section to learn about haints and other reasons why porch ceilings are painted blue.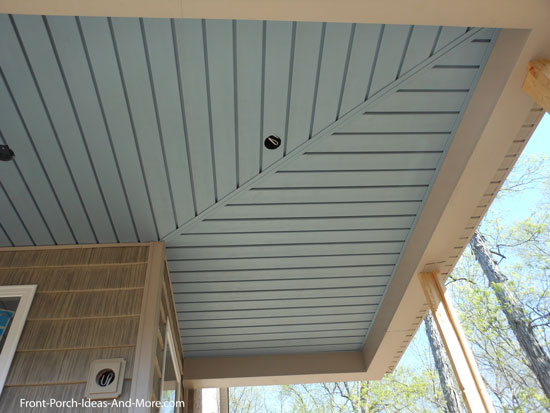 Before the Drywall Goes Up
It is really important to ensure everything you want in the walls is there prior to drywalling. It is also equally important to have photos of everything in the walls too. Your home looks totally different once the drywall is up; you just won't remember all of the details.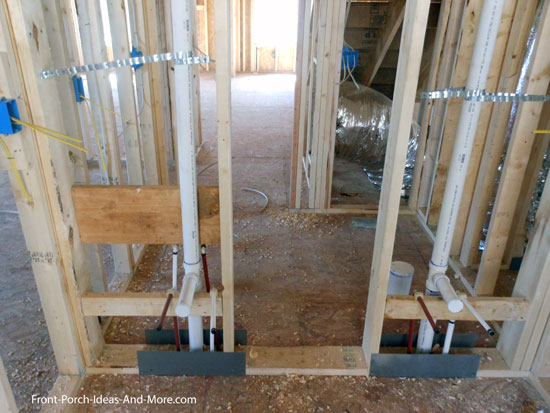 Before they drywalled, I added additional blocking on each side of the windows. This ensures there is sufficient "wood" into which I can attach curtain or drapery rods. This alleviates having to use anchors or other fastening devices in the drywall.




I also installed additional blocking for mirrors and cabinets in the bathrooms and laundry room.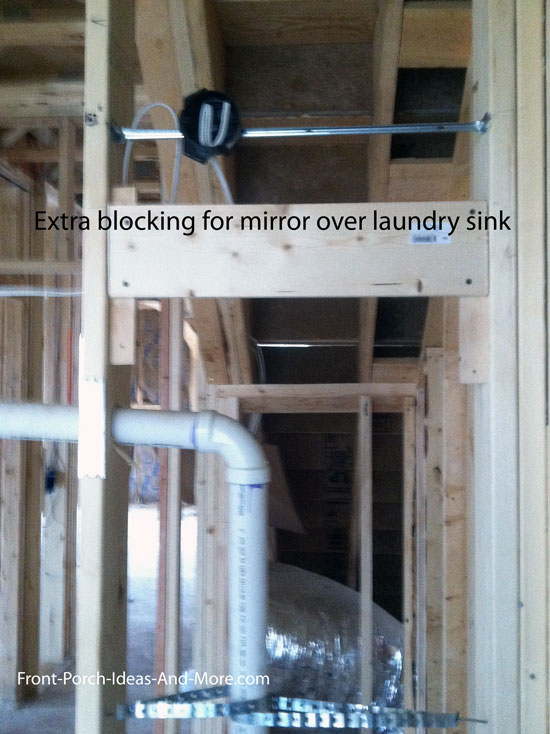 Also check the insulation to ensure it is properly attached between the studs. In addition, ensure the framing joints have been caulked.


Dry Wall Windows
Seeing the dry wall being delivered was a treat - we were finally going to get walls. Gone are the days when you had to carry the drywall into the home and up the stairs. The truck they use is pretty cool; would love to have one to play with. One person can deliver an entire load without breaking their back.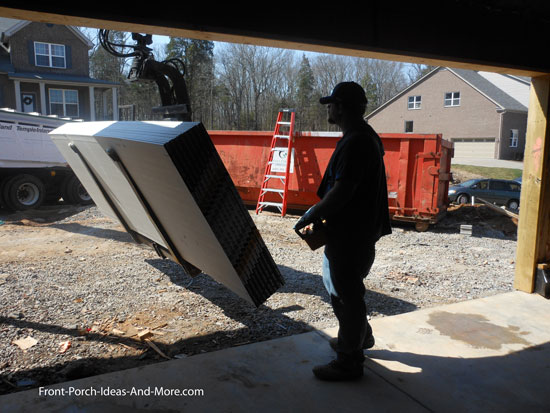 To reach the second level, builders install one or more windows with easily removable glass. That window is called the "dry wall unit".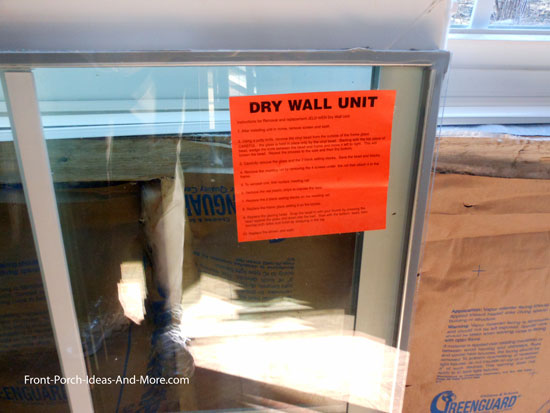 Fireplace Safety
It never hurts to double check what we call safety areas. This includes gas lines, electrical panel, and fireplaces. Upon inspection we discovered that our wood burning fireplace unit was too close to the studs and insulation as shown below. We noted this with our building supervisor who took action to remedy the situation by "tying" back the insulation to maintain the appropriate distance. I actually removed some of the insulation as an additional precaution.


Utility Installation
Electrical, sewage and water, and gas lines are installed but not without difficulty. We have rock in middle Tennessee, plenty of it. They had to get out the big guns to chip away at many of the rocks in order to install the electrical, sewer, water, and gas lines.

Around here, you need a jackhammer to plant a petunia!


Electrical Installation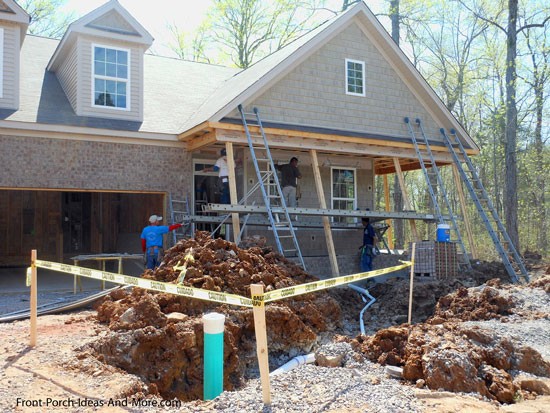 Sewer and Water Installation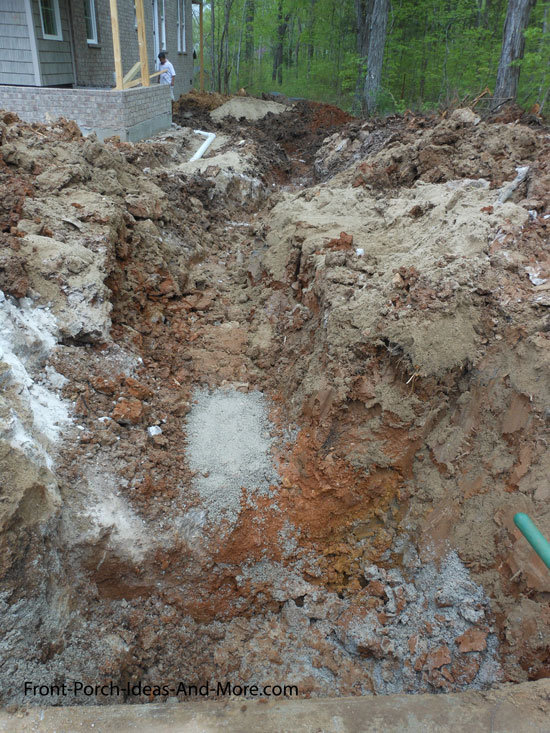 Gas Line Installation
Share Your Homebuilding Tips
We'd love to read your homebuilding tips and may share them with our readers. Please take a moment and share your ideas.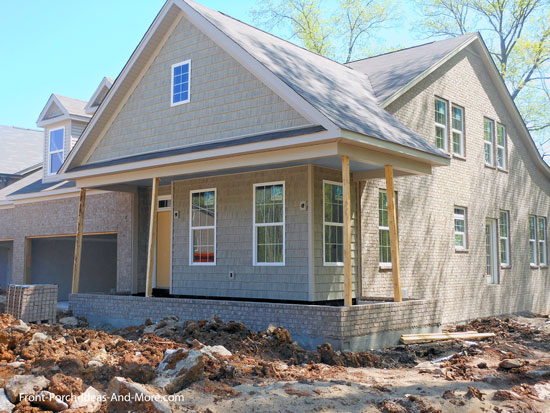 Previous
Next Post Coming Soon

Building Our House Journal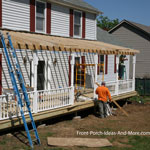 Thinking of building a new house with a porch?

Be sure to see our entire

How to Build a Porch sections

for ideas you can use for planning your perfect porch!






The Amazon ads are our affiliate links. Thank you.




Popular Pages
---
Our Sponsors
Porch Store
Custom Porch Products
Vintage Woodworks
For Your Porch Parts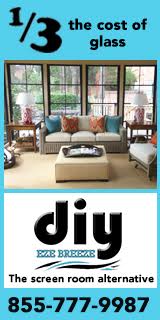 DIY Eze Breeze
Screen Porch Windows
PCA Products
Complement Any Home!
End sponsor section
---
---
Copyright© 2009-2017
Front-Porch-Ideas-and-More.com.
All rights reserved.
Content and photos may not be reproduced
in any way without our written permission.