Building a House
Our Journey Begins with Choosing a Lot
This is part of a continuing series that journals our new home being built. Sharing our journey and tips we've learned along the way. See all our

journal entries

.

We are building a house. Mary and I are taking on the ultimate challenge, building a new house to get a wrap around porch! This is the second home we've had built so we know what lies ahead. From choosing our lot to picking out faucets, curtain rods, and flooring, we want to share our adventure with you.

We will share our lessons learned along with tips and ideas you could use for your new home build or remodeling project.






Unexpected But Pleasant Surprises
Sometimes you find things in places you do not expect. The new little subdivision where we are going to build our house is no exception. Actually, without our realtor and good friend, Jeannie Timmons, we would probably never have found this place. It was in an area of Nashville that we had not even considered.

The reason Jeannie urged us to visit this area is because the listing mentioned 3 car garages (for Dave's woodshop) and wooded lots. So only knowing those two facts that we decided to take a drive on a Sunday afternoon to see.

When we drove to this new subdivision for the very first time, the two of us were surprised by several things: each of the homes that were already built had porches, the subdivision was small and the builder spared as many trees as he could - the area is wooded to some degree.

Granted we weren't crazy about moving into another subdivision, but at least this one wasn't going to be hundreds of houses - just 42 in all. The porches have Craftsman-style columns which added a lot of charm to the homes in the neighborhood. Not necessarily the old-fashioned country charm we originally envisioned, but more charisma than many of the areas we had seen.



One of the homes in the subdivision
Something Nice About Sidewalks
This neighborhood has sidewalks on both sides, too. Do you know that many newer neighborhoods don't put in sidewalks anymore? A sidewalk gives a place for kids to ride their bikes and people to stroll. It just feels more like home when there are sidewalks. Our last neighborhood did not have sidewalks on either side of the street and we missed them.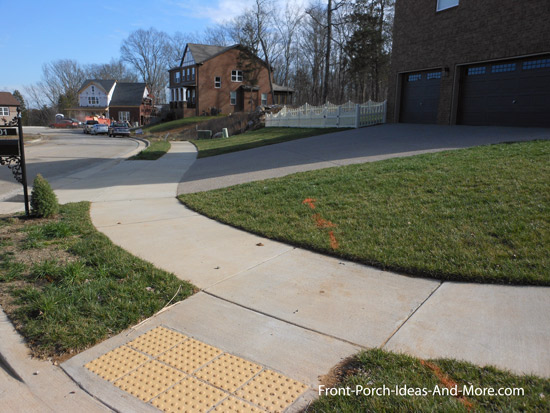 Kinda Love at First Sight
So as we drove through the little area for the first time, we came upon a lot that both of us were drawn to. It was a small wooded lot at the end of a little lane and right next to private woods. Hmmm. Was this lot still available?

It wasn't large at all but we could envision our home's main living areas facing that woods. I could see myself looking out our kitchen window at the bird feeders and birdhouses we would put up. We went promptly to the model home to inquire about building here.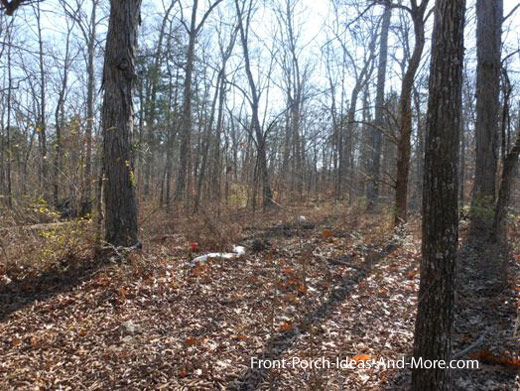 Our wooded lot before the trees are cleared for building



We were not familiar with the builder but we liked what we saw enough to dig a little deeper. It was on a Sunday and the model home was busy with a family who had already chosen a lot and home plan. They were making their color and flooring selections. But we managed to squeeze in a question about this lot. "Is it still available?" Their agent, Vickie, said, "yes!" That was good to hear.





We toured the model and looked at the builder's other plans from drawings they had hung on the wall. We were happy to know that a wraparound porch was one of their options.

So we arranged to come back the next day to speak with Vickie in more detail, reserve the lot, and start exploring our options.

Dave and I liked this lot even though it was small. At least we knew we had something kind of set. We would be right next to the wooded green space and that means some extra privacy that you don't always get in a subdivision. We've always loved wooded settings.




Next article

Building Our House Journal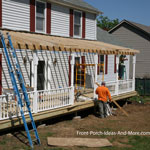 Thinking of building a new house with a porch?

Be sure to see our entire

How To Build A Porch sections

for ideas you can use for planning your perfect porch!






The Amazon ads are our affiliate links. Thank you.




Popular Pages
---
Our Sponsors
Porch Store
Custom Porch Products
Vintage Woodworks
For Your Porch Parts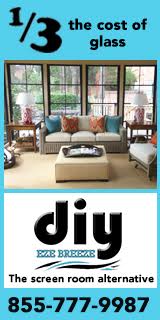 DIY Eze Breeze
Screen Porch Windows
PCA Products
Complement Any Home!
End sponsor section
---
---
Copyright© 2009-2017
Front-Porch-Ideas-and-More.com.
All rights reserved.
Content and photos may not be reproduced
in any way without our written permission.