Building a House
Electrical and Plumbing
This is part of a continuing series that journals our new home being built. Sharing our journey and tips we've learned along the way. See all our
journal entries
.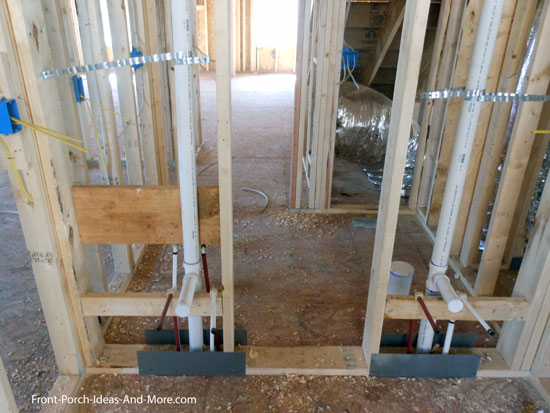 Most people probably think there isn't anything glamorous about plumbing and electrical wire. Quite the contrary for me; I like 'em both. In fact, if I believed in reincarnation, I'd come back as an electrician. You just can't beat a cup of coffee and some 12-2 wire in the morning!

More emphasis is placed on the aesthetics of a home than on its infrastructure most of the time. Because home construction must meet local building codes, we place our faith in the contractors that complete the work. What is behind the walls is important and can cost you plenty in both money and comfort if it isn't right.
Plumbing Installed
Plumbing used to take many days to complete. Copper pipe had to be bent and soldered. Today, not so. With flexible tubing and quick connectors, plumbing can be done in just a few days if not less.








Most new home construction allows for basic plumbing fixtures and bibs. Take time reviewing your plan to ensure your plumbing needs will be met. For us, we added additional outside bibs to make it more convenient for watering and washing cars, etc. Make sure you locate them based on your anticipated outdoor activities.

For example, I added an additional bib to be located adjacent to the storage shed to make it easier to clean off the mower and yard tools.

Who said plumbing isn't fun! We opted to have dual controls in the shower (so our backsides don't get cold)!

We also switched the location of the shower and garden tub. The plan called for the door to open toward the shower but that conflicts with the shower door itself - so we switched their locations.

We also added a wash tub in the laundry room. Laundry tubs are great for washing larger objects and for cleaning up before you enter the house.


Plumbing rough-in for wash tub in laundry room
Electrical
I have an affinity for electrical work; I enjoy doing it myself whenever I can. I will be wiring my wood shop and external lighting myself when we close on the house. We spent a little extra to have an additional circuit panel installed so I can wire directly from that.

Again, a little planning can make your life a lot more pleasant. Here are a few examples: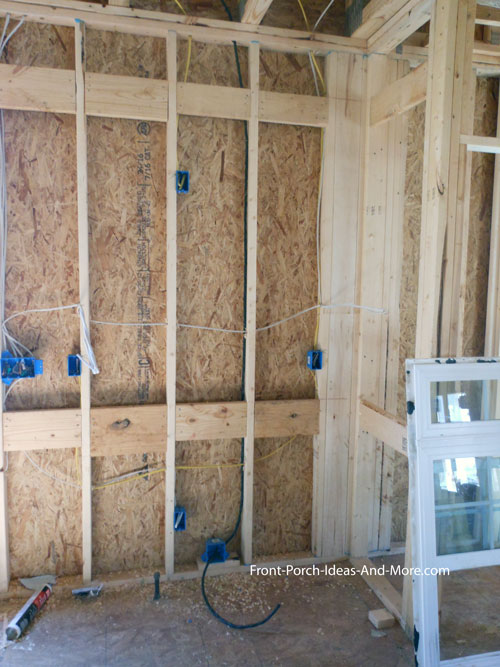 Electrical rough-in for kitchen receptacles and range
We added an additional receptacle to our kitchen island so we would have one on each end.



We added a receptacle to a small wall adjacent to the stairs for a table and lamp.



We added a receptacle in the eave over the front porch for holiday lights. This makes it a lot easier to hang holiday lights without using additional extension cords.
Electrical Accessibility
It's also important to anticipate future requirements. To install future landscaping lights we are burying pvc pipe under the sidewalk and across the driveway. This will allow us to easily extend electrical receptacles, etc., to other parts of they yard.

Another good idea, and one we wished we'd thought of earlier, is to extend 1 inch pvc pipe from the crawlspace to the attic inside the home. This allows for extending electrical and/or networking wiring to the second floor if ever needed. This would also work well if you have a basement.




Take Pictures
Once the plumbing and electrical lines have been run (or roughed in) we recommend you take pictures of each wall and ceiling to create a visual record of what is behind the walls. Once the dry wall is installed you will not be able to remember the placement of electrical lines or plumbing.

Although we save the photos to a drive, we also print the photos and label them accordingly.

Below are a few samples of our photos:




Share Your Homebuilding Tips
We'd love to read your homebuilding tips and may share them with our readers. Please take a moment and share your ideas.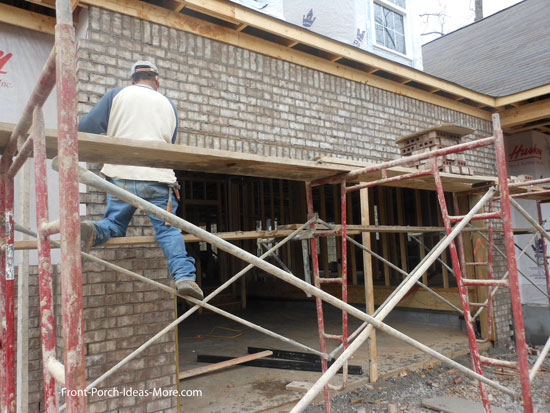 Coming Soon - the brick!
Previous
Next article coming soon
Building Our House Journal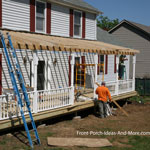 Thinking of building a new house with a porch?

Be sure to see our entire

How To Build A Porch sections

for ideas you can use for planning your perfect porch!






The Amazon ads are our affiliate links. Thank you.




Popular Pages
---
Our Sponsors
Porch Store
Custom Porch Products
Vintage Woodworks
For Your Porch Parts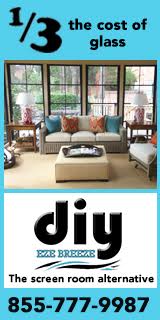 DIY Eze Breeze
Screen Porch Windows
PCA Products
Complement Any Home!
End sponsor section
---
---
Copyright© 2009-2017
Front-Porch-Ideas-and-More.com.
All rights reserved.
Content and photos may not be reproduced
in any way without our written permission.