Bungalow Style Homes
Also Called an Arts and Crafts Bungalow
Bungalow style homes are very popular due to not only that unique bungalow design but also for their typical location, low density neighborhoods. They are excellent homes for small families and those with limited mobility. An Arts and Crafts bungalow is usually one story and designed for easy maneuverability.

Best of all - they have porches! They also happen to be one of our favorite home styles.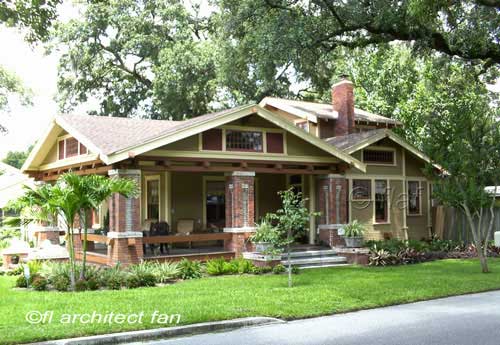 Please note in our featured photographer's pictures, some of the features that make bungalow houses unique. Designs for craftsman bungalow house plans are often a simple rectangle but can be modified to fit the lot.


Arts and Crafts bungalows, like ranch homes, are typically more expensive to build than two-story homes due to larger foundations and larger roof areas. This also results in requiring a larger lot which adds to the overall cost.
Windows are often placed near the roof line to avoid adding special arches in order to support the brick above the windows.
Porches are built under expanse of the main roof
The porch roof is supported by tapered square columns
Porches have exposed rafters
Arts and Crafts bungalows use earth tone exterior paints ( see color chart below)
Pictures of Bungalow Style Homes
Enjoy these photos of bungalow style homes from FL Architect Fan. We believe he's captured the true beauty of these bungalow homes.



Massive Porch Columns on Craftsman Style Home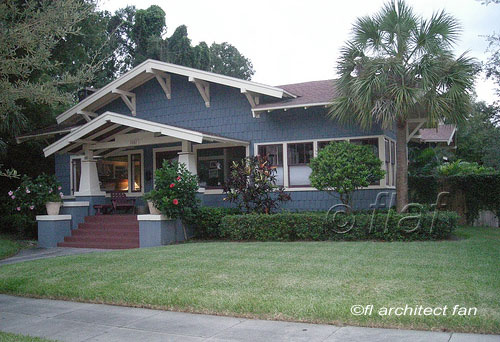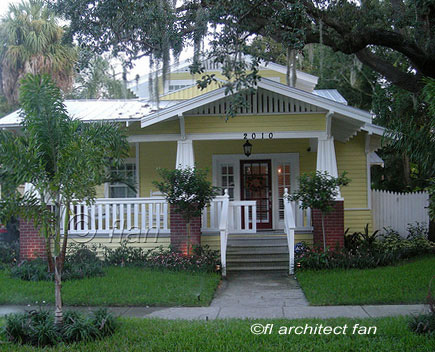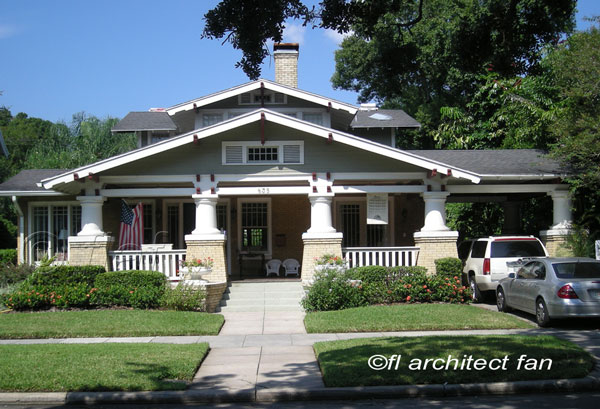 Excellent example of an "airplane' bungalow
The American Arts and Crafts style originated in the 1860's from the same movement ongoing in Britain. As a means to enhance the value of the individual worker, the movement focused on being original, simplistic, integrate natural materials, while displaying the actual woodworking skills.

This then translated into architecture and can be seen in Craftsman bungalow style homes throughout the United States.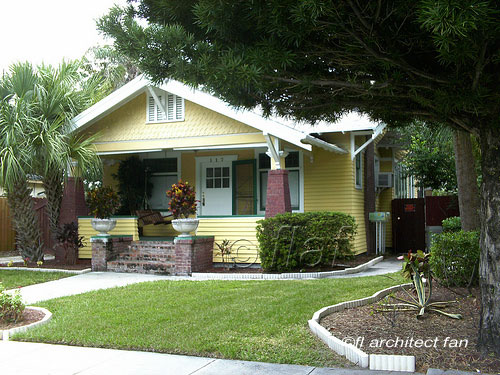 Shingled gable over front knee-walled front porch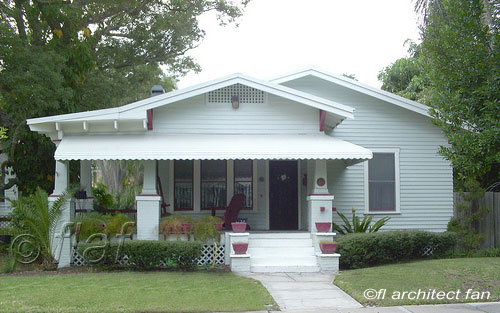 Example of exposed rafters under front porch
California airplane bungalow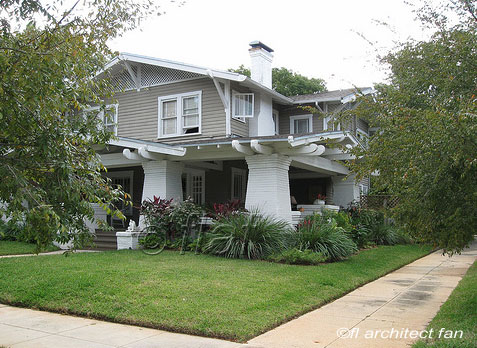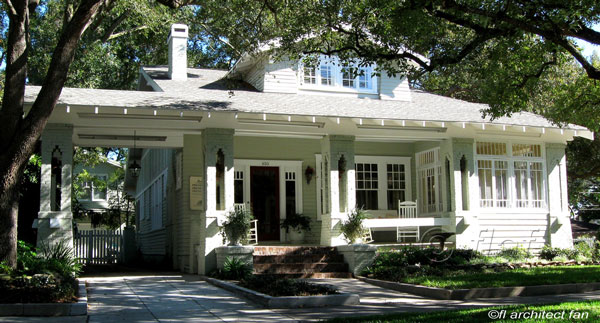 The name "American Craftsman" is attributed to Gustav Stickley, a 1901 designer and furniture maker and editor of the magazine "The Craftsman". The Craftsman featured both home and furniture ideas and designs by architects of the time such as Harvey Ellis, and others.

Interestingly, the American Craftsman designs, while mimicking the styles of the British movement, also reflected designs from Shaker furniture, the Mission Revival Style, and even Anglo-Japanese designs. They heavily incorporated local handcrafted wood, metals, and glass objects to retain a very simple yet beautiful appeal.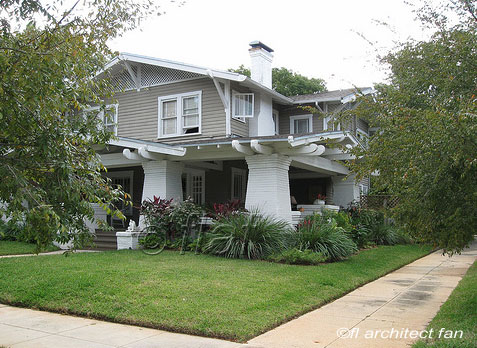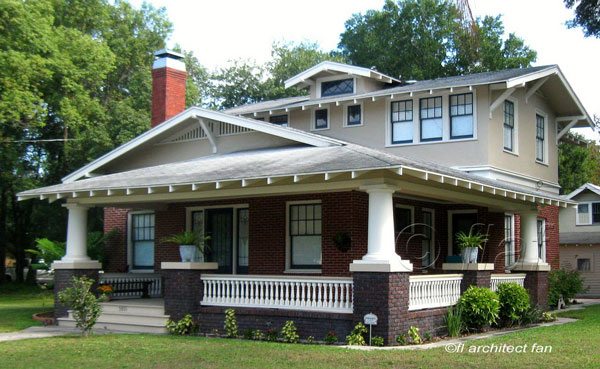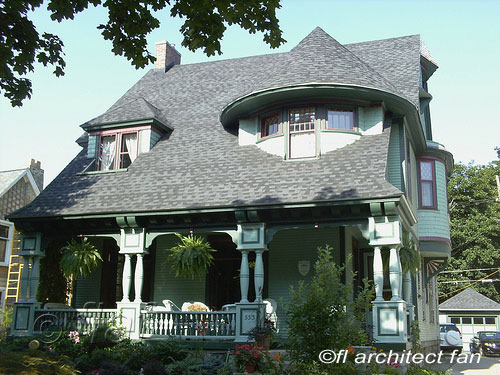 Do You Have A Breakfast Nook?
Many modern homes today have a "breakfast nook". Most probably don't know this feature originated with Craftsman bungalow style homes.

Victorian kitchens were totally separated areas and consisted of a work table (which became our modern countertops) where servants ate meals after the owner's family dined. There were no separate areas or dining rooms for eating.

However, as housewives in the Craftsman time period began preparing meals in lieu of servants, the Victorian kitchen soon became a place as the heart of daily life. The breakfast nook, usually located under a window, became the place for the family to gather.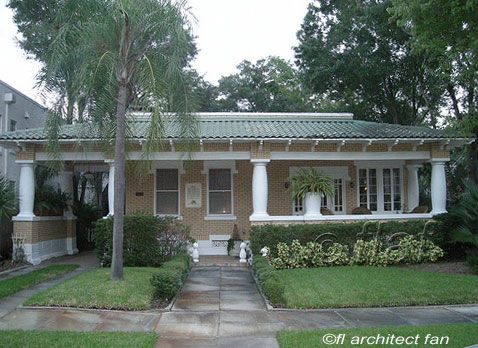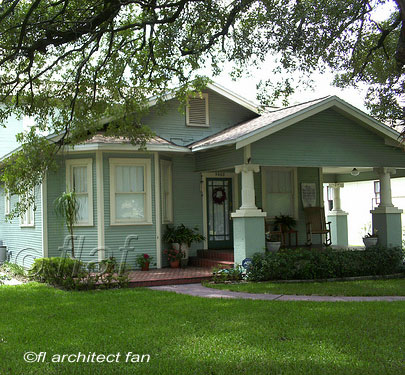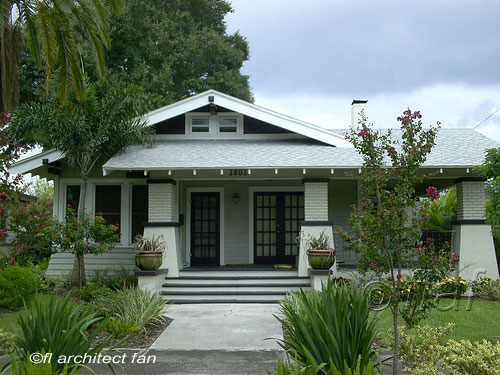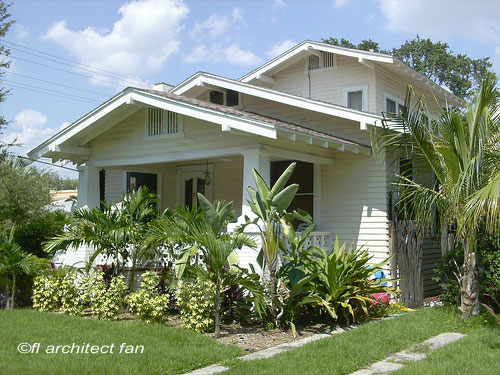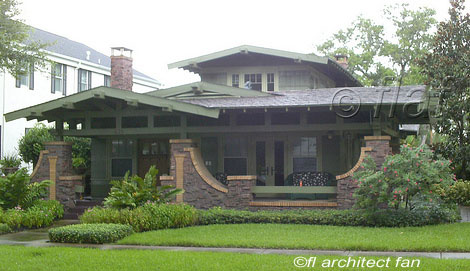 Housewives of this era usually did no longer have servants thereby requiring them to do all of the housework in addition to watching children. This resulted in integrating the kitchen as a main portion of the home with direct sighting to the other rooms on the first floor as well as the back yard.

With no longer a need for a butler's pantry that was common in the Victorian Age, built-ins and other cabinetry were constructed in the dining room. Designers then incorporated more wood and glass to enhance their aesthetic design in bungalow style homes.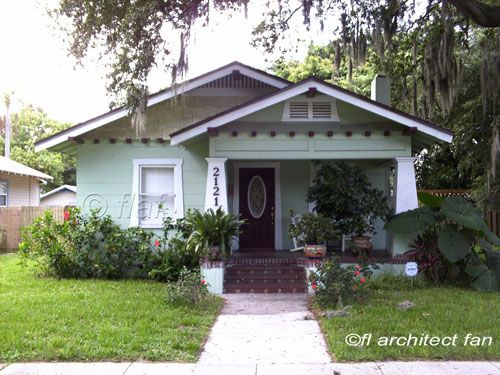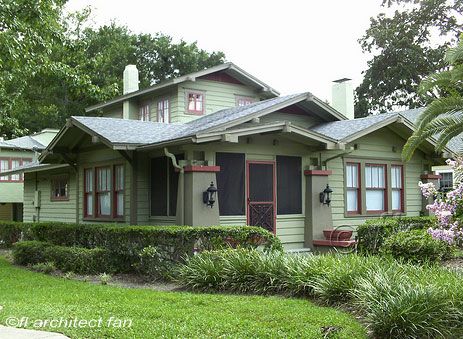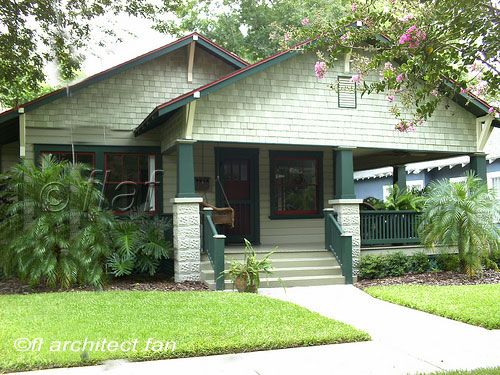 ---
Arts and Crafts Bungalow Style Home Considerations

Based on square feet alone, bungalow houses are more usually more expensive to build than two story houses because they require a larger foundation and roof for the same space. The larger foundation can also require a larger lot size which can also add to overall costs.

You will notice that "bungalow" neighborhoods tend to offer more privacy than neighborhoods with two-story homes.

In bungalow neighborhoods, strategically placed trees or shrubs block the view of neighbors whereas with two-story houses, the extra height requires much taller trees to accomplish the same. Because of the proximity to each other, it may not be practical to place tall trees close to the house to obscure the view from the second floor of the next door neighbor.






Bungalow Exterior Paint And Interior Paint Colors
Arts and Crafts homes are most charming not only for their hand-crafted architecture and use of natural materials but also for the wonderful color palette they present. As you can see from the bungalow paint chart below, earth tones along with other noticable shades, predominate.

Our special thanks to California Paints for allowing us to share their historic bungalow exterior paint and interior paint chart which is ideal for those wanting to replicate the true colors of an Arts and Crafts home.




Arts & Crafts / Craftsman Colors 1900 - 1920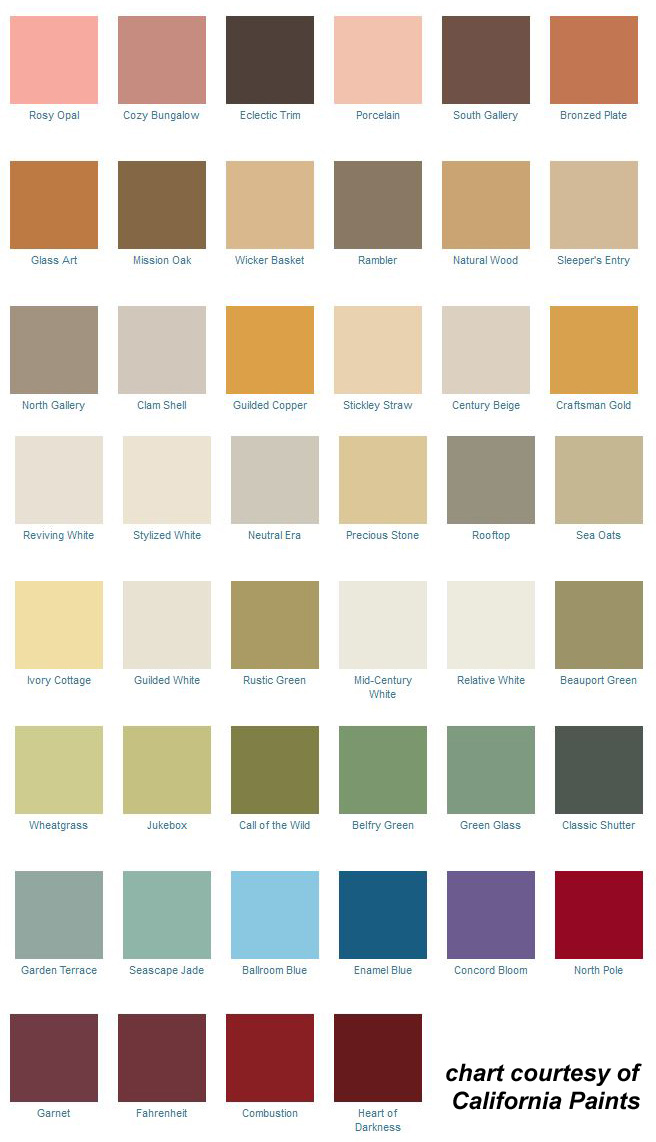 Find More Bungalow Style Home Plans Here

Family Home Plans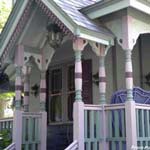 Yes, we have more porch pictures for you to see. Mary and I travel across the U.S. to find front porch ideas you can use. Be sure to see our front porch gallery section!





Explore Our Bungalow Home Section









Porch Home

/

Front Porch Designs

/

Craftsman Style Home Plan Ideas

/ Bungalow Style Homes





---




We extend our appreciation to FL Architect Fan for allowing us to show you his wonderful photos.



Featured Photographer: FL Architect Fan

Fl Architect Fan has had a lifelong affinity for architecture. His training as a real estate agent and real estate appraiser only deepened his interest. He states: "... architecture is history, science and art rolled into one subject, but you can live in too. That is why I like to focus on residences.

Architectural photography gives me the opportunity to share my love with others. My favorite subjects are vintage houses that have been lovingly maintained in a historically correct manner. I have frequently opted to forgo houses that have added architectural elements that aren't period appropriate.

I also like to add occasional, whimsical items, striking pictures of nature when I can find them, ornate public buildings, vintage signs and ghost signs as well as old, severely dilapidated buildings that I have come to see as having a type of beauty all of their own."

Please visit

FL Architect Fan's

architectural photo galleries.










Helpful Links
Popular Pages
---
Our Sponsors
Porch Store
Custom Porch Products
Vintage Woodworks
For Your Porch Parts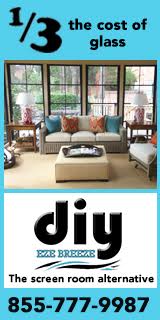 DIY Eze Breeze
Screen Porch Windows
PCA Products
Complement Any Home!
End sponsor section
---
---
Copyright© 2009-2016 Front-Porch-Ideas-and-More.com.
All rights reserved.
Content and photos may not be reproduced
in any way without our written permission.