Copper Porch Awning
A copper porch awning is an excellent choice for your home.





Although more expensive than other types of awnings, copper lasts forever, ages well, and adds value to your home.

Not only that, they look beautiful!




Awnings in general serve several functions. They protect you and your furniture from the elements, enhance the appearance of your home, and add curb appeal.

Copper awnings serve these functions very well.


ARCHITECTURAL STYLE: When selecting copper for your porch awnings consider your home's architectural style.
Ranch and Craftsman: Raised seams, detailing, medium ornate detailing
Victorian, Cape Cods: Very ornate details
Contemporary and Colonials: Round domes, smooth seams


COSTS: Obviously, the larger the copper awning the more it will cost. Most copper awning pricing is based on fixtures that are four (4) feet wide by two (2) feet high (to accommodate standard size doors and windows). Dimensions greater than this usually require custom work and you will need to get a quote.


MAINTENANCE:Copper awnings do require more maintenance than other awnings if you want to maintain its original color. Copper develops patina, a protective layer when exposed to the weather. If you are not fond of this color you are in luck. Copper can be treated to maintain their characteristic look indefinitely and there are other actions you can take to keep its luster.
A mixture of vinegar and water can be used as a homemade industrial cleaner.
Purchase copper awning cleaning solutions at your local building supply store.
Sanding the awning is an option but is not recommended for the obvious reason it will definitely scratch the copper.
Taking preventive measures is best. Ensure your copper porch awning is always properly cleaned at weekly or bi-monthly as a minimum. Waxing the awning will also help prevent any erosion to the copper.

Another less expensive but popular metal-type awning you might want to consider is an aluminum porch awning. They come in a variety of colors, are virtually maintenance free, and will last a considerable time.





Porch

/

Porch Awnings

/ Copper Porch Awning






The Amazon ads are our affiliate links. Thank you.




Popular Pages
---
Our Sponsors
Porch Store
Custom Porch Products
Vintage Woodworks
For Your Porch Parts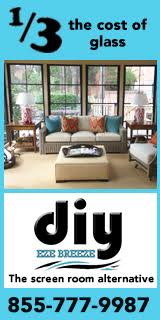 DIY Eze Breeze
Screen Porch Windows
PCA Products
Complement Any Home!
End sponsor section
---
---
Copyright© 2009-2017
Front-Porch-Ideas-and-More.com.
All rights reserved.
Content and photos may not be reproduced
in any way without our written permission.