Enclosed Porch Decorating Ideas
Cathy from Saskatoon writes:

I recently moved into a beautiful old character home built in the 1920's. It has a heated enclosed porch with big windows, and I've been looking for decorating ideas, such as lighting and furniture, and have not found much.

I would love to hear some ideas! Thank you.



Thanks for writing to us, Cathy. Sounds like you have a wonderful enclosed porch and home. Congratulations! We have loads of porch decorating ideas on our site. Here are some pages to help you get started.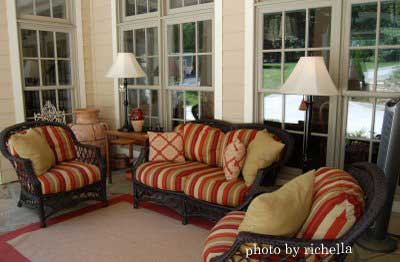 Richella's Front Porch



Although it's not an enclosed porch, Richella's decorating ideas would work wonderfully for a screened porch like yours. Richella talks about outdoor lighting ideas and wall art on her porch, too. And she gives tips on where she purchases her lovely porch amenities.



Susan from Between Naps on the Porch, is very creative and resourceful with porch decorating (all decorating, for that matter!). Susan is generous with sharing her decorating tips, too.






How about an outdoor area rug to warm up your porch? If your floor is bare, an area rug would surely cozy it up and add color






Take a look at our porch decorating section, Cathy. We have bunches of information on our site with decorating examples, porch furniture and such. Just look down our left hand navigation bar and you will find lots of ideas to inspire your porch decorating.











Helpful Links
Popular Pages
---
Our Sponsors
Porch Store
Custom Porch Products
Vintage Woodworks
For Your Porch Parts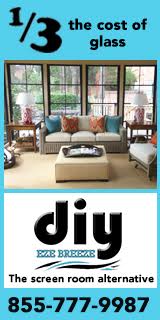 DIY Eze Breeze
Screen Porch Windows
PCA Products
Complement Any Home!
End sponsor section
---
---
Copyright© 2009-2016 Front-Porch-Ideas-and-More.com.
All rights reserved.
Content and photos may not be reproduced
in any way without our written permission.