Lettered Fall Porch Swing Cushion
Another Burlap Craft Tutorial for You
Dave and I lettered our fall porch swing cushion! I've always loved lettered items - pillows, banners, paintings. It's just fun and makes for an easy autumn decorating idea - and a conversational one, too.

Here you will find our tutorial for making this burlap craft for your fall decor.

We like it because it's just plain fun for your autumn decorating.



Tutorial for Our F-A-L-L Swing Cushion


To make the lettered porch swing cushion, I first measured the back of my porch swing. It was approximately four feet by one and a half feet.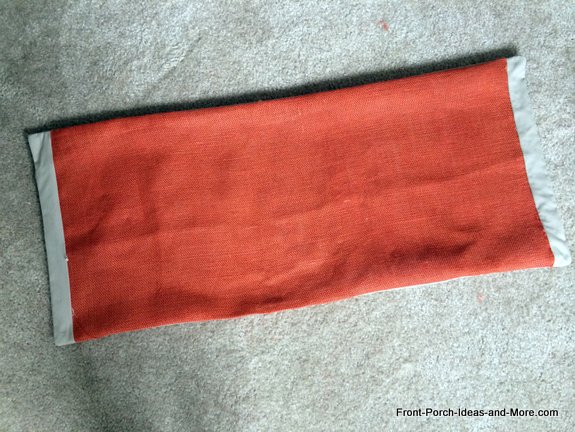 I already had a nice-sized scrap of orange burlap from last fall, however it wasn't quite wide enough. So I added some width by sewing a narrow strip of tan fabric (sheet) to each side.

Then I cut a piece of the same tan sheeting for the back that was the same size as the front.

I put right sides together and sewed them together leaving an opening of about 12 inches. Then I turned the cushion cover right side out.





Next step was the lettering for F - A - L - L. To do this I cut 2 sheets of regular white paper in half (8 1/2 by 11 inches). So I ended up with 4 pieces of paper that were 8 1/2 by 5 1/2 inches.





I used these sheets of paper to make block letters for the word "FALL".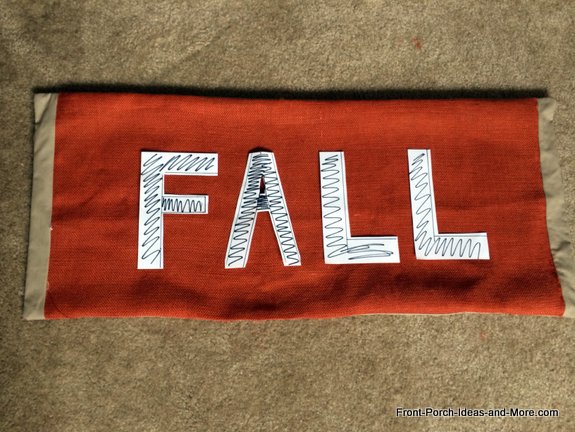 Then I cut out the letters and spaced them evenly on the front.

Once the letters were traced, then I painted the letters with black acrylic (craft) paint. I could have used the marker but it was more tedious and did not show up as well as the paint.





Once I got them spaced the way I liked (I used a ruler to help me)





I traced the outline of the letters with a black marker. Now it's time for painting the letters with black acrylic paint.

I got out my brush and a small bottle of black acrylic paint.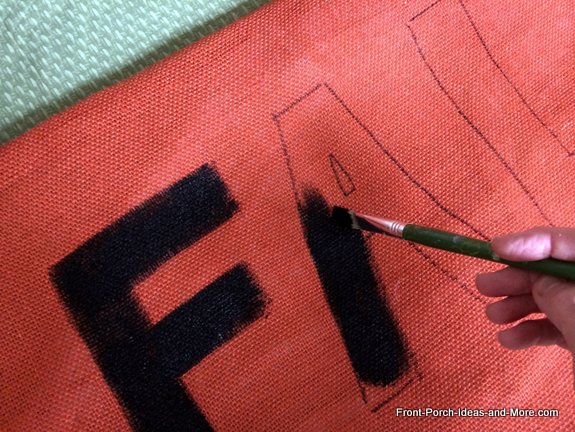 As an aside, please be sure to protect your surface very well before you paint. Notice that I put a vinyl tablecloth underneath my project.

And realize that the paint will seep through the burlap to the back unless you slip something in between the front and the back like several layers of plastic garbage bags. I found that it took a while for the paint to dry on the burlap. Longer than I expected.

Just paint inside the lines. It's actually easy to do. But keep your surface protected please.





The painted letters are done but still wet!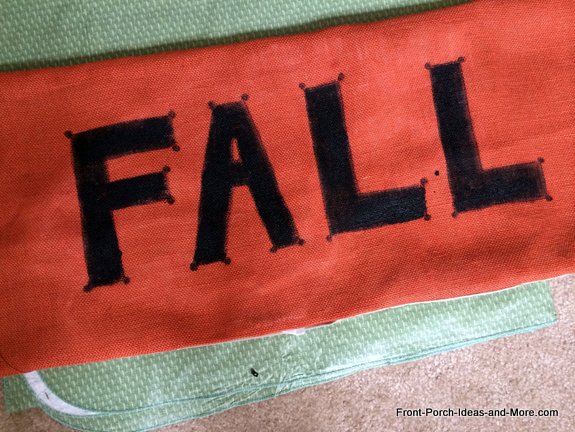 Just a close-up picture of the lettering. I added a few embellishments - just simple dots on the letters.



Video: Watch Our Tutorial for Our Lettered Porch Swing Cushion


We show you in our short video how to make our fall porch swing cushion.
The Porch Company offers customizable PVC porch railings in their store. These are nearly maintenance free and come in beautiful patterns and colors. Have your porch your way.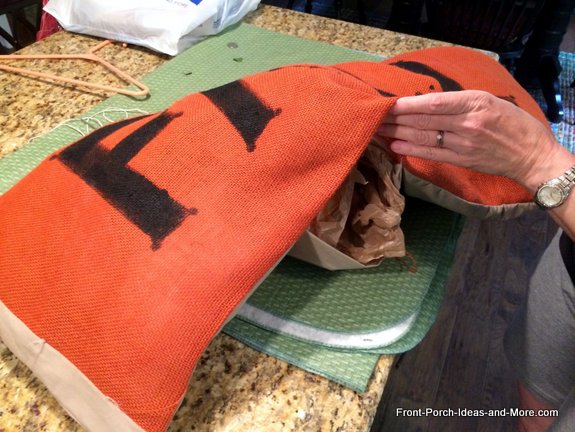 When the paint was dry, I stuffed the "pillow" with plastic bags. Or alternatively, you could fill it with polyester fiberfill or pillows you already had.





I simply pinned the opening shut but alternatively you could sew it shut. I took the easy way out on this project.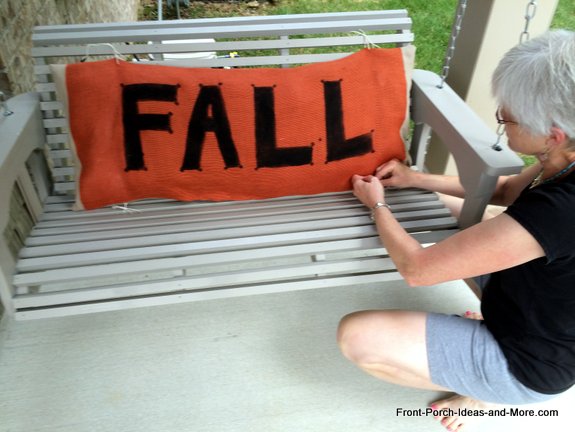 Finally, I put 4 twine ties in each corner by threading twine through the burlap. I used the twine ties to secure my "Fall Pillow" to my swing.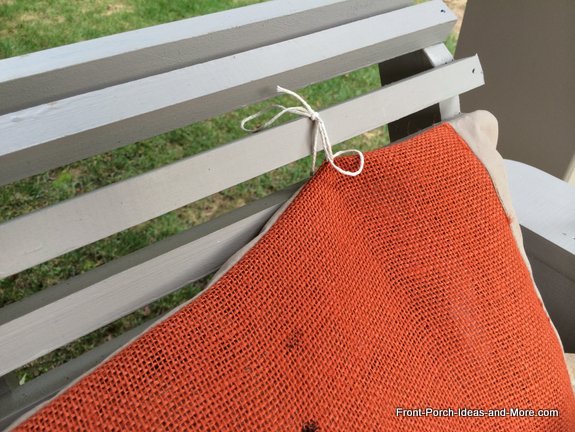 I tied our fall cushion to the slats of the porch swing back - two ties on the top.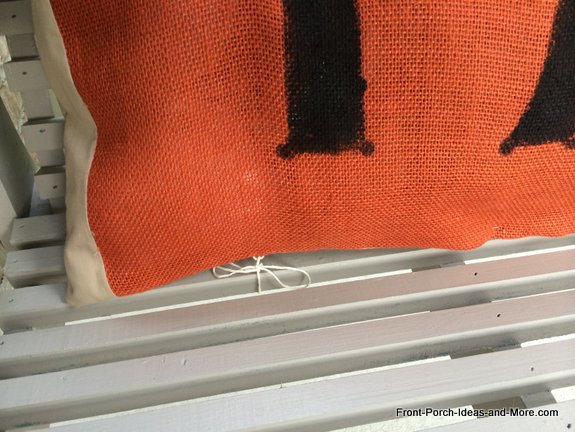 And two ties on the bottom corners. You could add more ties if your porch swing is wider - which it probably is!





We are happy with how it turned out. You could do the same kind of lettering on pillows, banners, flag - just about anything for any season.




See More Autumn Decorating Ideas Here















The Amazon ads are our affiliate links. Thank you.




Popular Pages
---
Our Sponsors
Porch Store
Custom Porch Products
Vintage Woodworks
For Your Porch Parts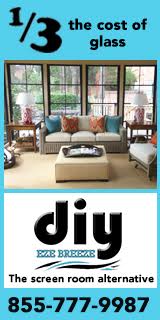 DIY Eze Breeze
Screen Porch Windows
PCA Products
Complement Any Home!
End sponsor section
---
---
Copyright© 2009-2017
Front-Porch-Ideas-and-More.com.
All rights reserved.
Content and photos may not be reproduced
in any way without our written permission.