Faux Stone Porch Skirting Option
Audrey from Maine writes:

We are looking for a faux stone porch skirting. One that is easy to install and does not require a mason to install. We have not been able to find anything like that. Do you know of anything available?





Found a Faux Stone Porch Skirting Option
Audrey, thank you for writing to us about your porch skirting question. You have a great house.

Here is a link to a website that may have exactly what you are looking for. They have a section on faux stone over siding, which according to your photo, may be ideal for your situation. It appears they have a wide variety of panels from which to choose.

Please know that we are not affiliated with them so we can not attest to their product or customer service; however, based on what I read and their associations, I believe it is worth checking out.

FauxPanels.com

We would enjoy seeing pictures of your finished faux stone porch skirting when you have your project completed. I bet it will look fantastic and give your home a few new look and even more curb appeal.


What is porch skirting?
Porch skirting adds curb appeal and hides the area beneath your porch or deck. Black vinyl lattice is very popular with homeowners for porch skirting.

Please refer to our porch skirting page to get more detailed tips on choosing the right materials and installation tips.






Porch skirting can be created from a variety of materials: lattice, wood, brick, metal, stone (or faux stone) or landscaping (such as shrubs or perennials). What you choose depends upon your budget, how much maintenance you are willing to do, the look you are trying to achieve, the architecture of your home and your DIY skills.

However, it's not as simple as putting up a piece of vinyl lattice or wood. You have to take into consideration ventilation needs and expansion and contraction. You want to be sure that you have enough air movement underneath your porch to prevent moisture from degrading your porch supports. Also you want to prevent mold from the underside of your porch flooring.

Porch skirting is helpful with preventing critters (like skunks) from taking up residence underneath your porch too. We had friends who had to evacuate their home for several days so that exterminators could remove skunks from underneath their porch.

For more skirting ideas see the links below.













Helpful Links
Popular Pages
---
Our Sponsors
Vintage Woodworks
For Your Porch Parts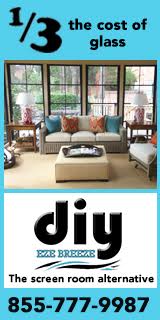 DIY Eze Breeze
Screen Porch Windows
Porch Store
Custom Porch Products
PCA Products
Complement Any Home!
End sponsor section
---
---
Copyright© 2009-2016 Front-Porch-Ideas-and-More.com.
All rights reserved.
Content and photos may not be reproduced
in any way without our written permission.