Front Porch Appeal
Porches Love Spring
Issue #66 May 2015

May days are here! Mary and I have been busy with porch projects and finding time to enjoy our porch too. Our days are getting longer and lots warmer which is ideal for spending more time enjoying the outdoors.

We'd like to pass along a few of our porch and landscaping projects in addition to some other features you might like.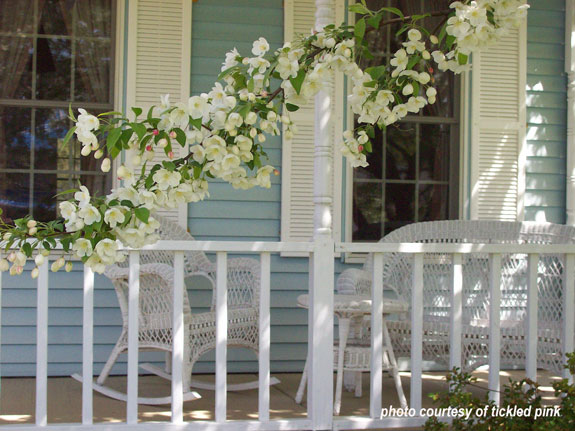 Blossoms And Porches - A Great Mix
Photo courtesy of
tickled pink
Picturesque Porch
Mary and I saw this picture of a wonderful porch and couldn't resist sharing it with our readers.


Photo courtesy of Dani Foster Herring



Can you tell what's unusual about this photo? If so, drop us a line!




South Pasadena California Porches
Mary and I just returned from a wonderful porch hunting trip to California and wanted to share a few ideas we found. If you get a chance and are vacationing in the Los Angeles area this summer, be sure to check out this wonderful community.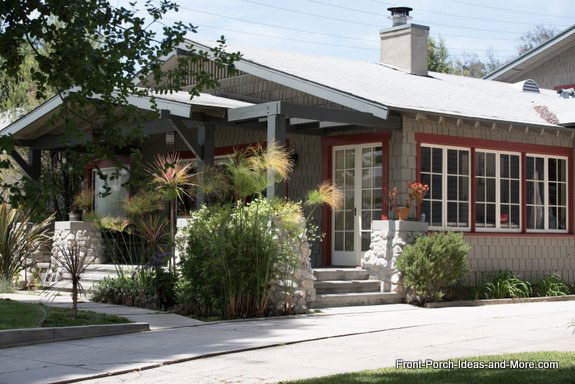 Classic South Pasadena home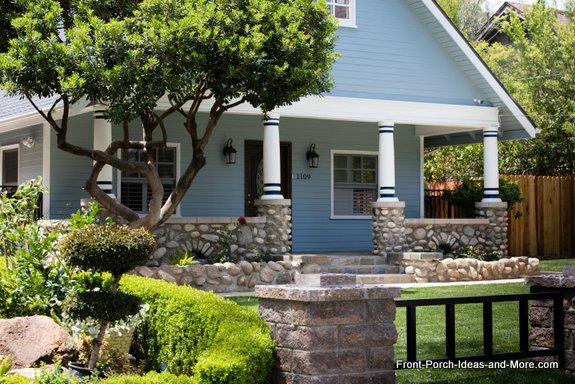 Beautiful stone balustrade



Be sure to check out our South Pasadena porch gallery for some more wonderful porches!

It's a really a tough job traveling the country looking for wonderful porches to share with you but... we are grateful we get to do it!




---
Porch Projects
Mary and I have been busy. Here's a few of our recent projects we thought might interest you.
Garden Hose Projects
We solve two common and annoying issues with garden hoses. See what we did!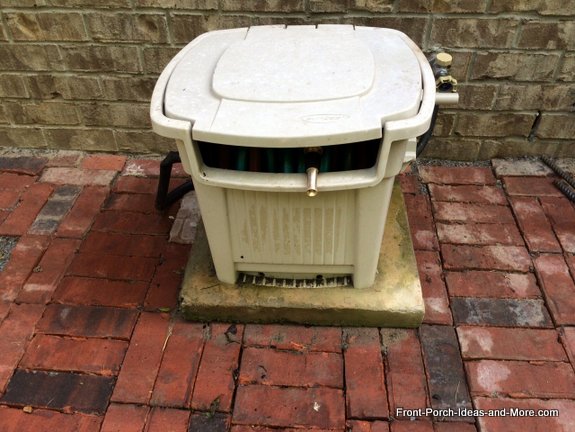 Stay-Put Garden Hose Storage Box
Front Porch Landscaping Project
Mary and I show you how we re-landscaped our front porch and identify the plants we chose. Check it out.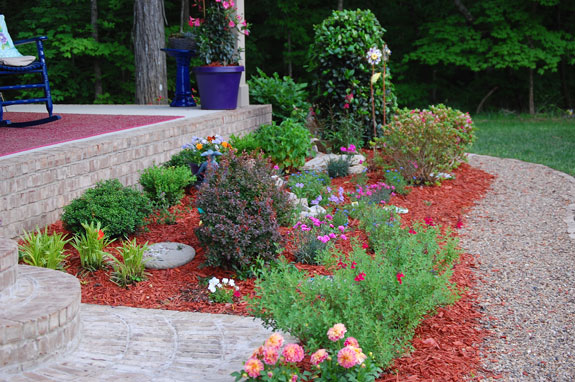 Our new cottage-style front porch landscaping
---
Classic Curb Appeal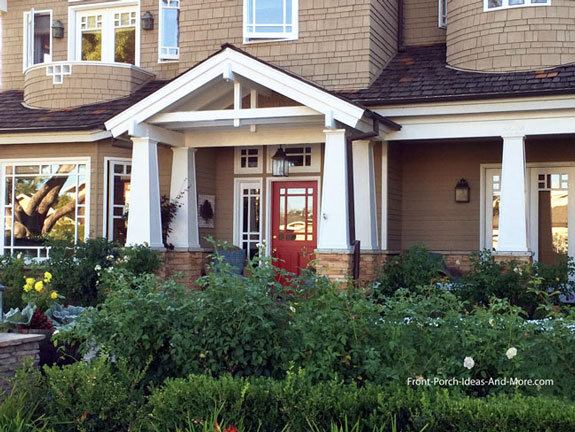 Contemporary Front Porch With Craftsman Columns And Open Gable Roof
---
Summer Porch Product Ideas
Just like the home supply store signature line, now's the perfect time to fix-up, add-on, change out, update, or paint to create an outdoor space you'll enjoy all season long. We appreciate our sponsors and know you will too. They all have excellent customer service and fantastic products we believe you should investigate further to make your outdoor space awesome!
Curb Appeal Your Porch
Yes, we know "Curb appeal" is not a verb but if you want to add lots of pizzazz to your porch, Vintage Woodworks is the place to look. From the ordinary to the elaborate, you'll find porch parts like brackets, running trim, and more to give your porch a new look!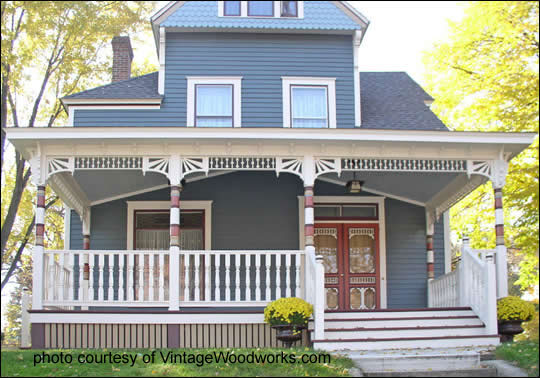 Trimmed Out Porch By Vintage Woodworks.com



VintageWoodworks.com has a myriad of porch parts you just have to see to believe. Start planning your porch project today.




Porch Comfort
The Porch Company offers a wide variety of porch products that will definitely enhance the time you spend on your porch. From swing beds like no others (example below) to railings, arbors, screen doors, and more, check out The Porch Company.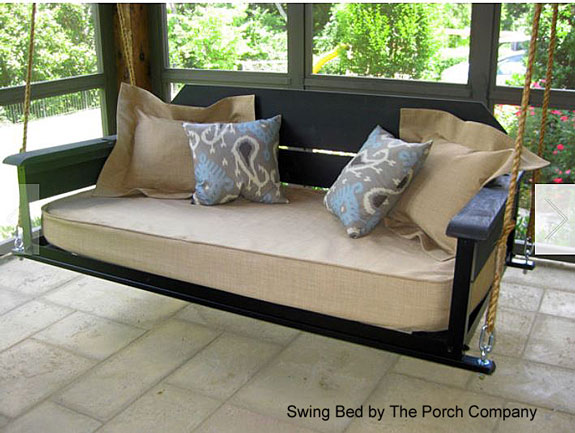 Swing Bed by The Porch Company



You must check out The Porch Company's Porch Store which contains so many neat porch products!




Upgrade Your Screen Door
I like things that last as so most people and that's why we like these aluminum screen doors from PCA Products. Mary and I have actually toured their manufacturing facility and can attest to the quality of these doors. What's even more fun is that you can customize your door right on their website to ensure you get the right look for your home.

If looking to upgrade your screen door this year you owe it to yourself to check out your options at PCA Products.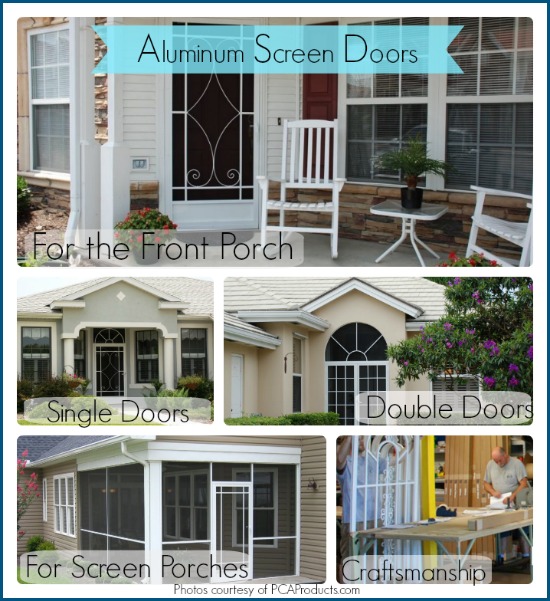 High Quality Aluminum Screen Doors From PCA Products
Screen Porch For The Seasons
Why settle for just a screen porch when you can have a screened room with windows to extend your outdoor time. If you haven't considered screen porch windows now may be the time.

Easy to install, you get the benefit of screen windows plus the advantage of closing them to keep out the wind, rain, and pollen. How neat is that?!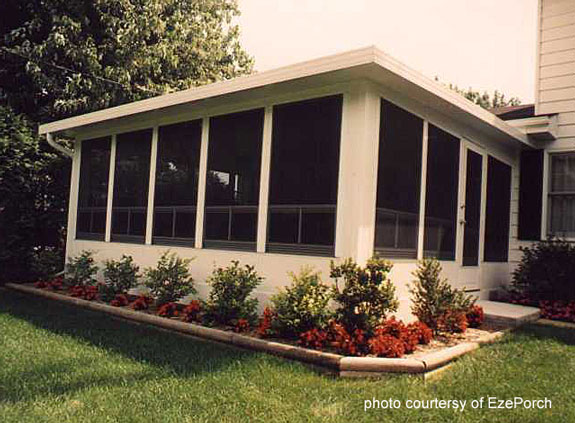 ExeBreeze-4-Track-Windows
Paint You Need To See
There's paint and then there is paint. Modern Masters has developed a unique paint for front doors and apply named it Front Door Paint. It comes in a variety of colors specially formuated to make your front door, home, and porch the envy of all.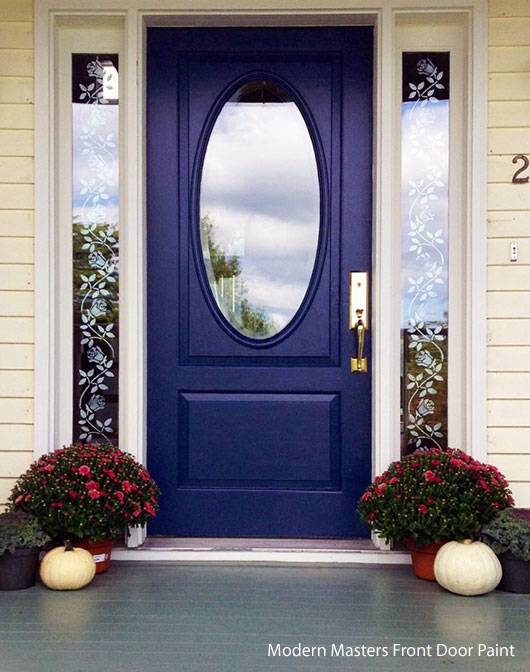 Blue Front Door By Modern Masters



Painting your front door is one of the easiest things you can do to add curb appeal. But you want it to last and not fade. Modern Masters has solved that problem and can show you how to paint your door for professional results.

Visit Modern Masters and choose your color! And while you are perusing their color chart check out all of the other specialty paints they offer.




---
Ideas For Creating Porch Curb Appeal
Mary and I created a complementary eBook you can see with over 40 pages of ideas for creating curb appeal on or around your porch.

Download the free eBook and/or send the link to someone you know; we are sure they'd appreciate it.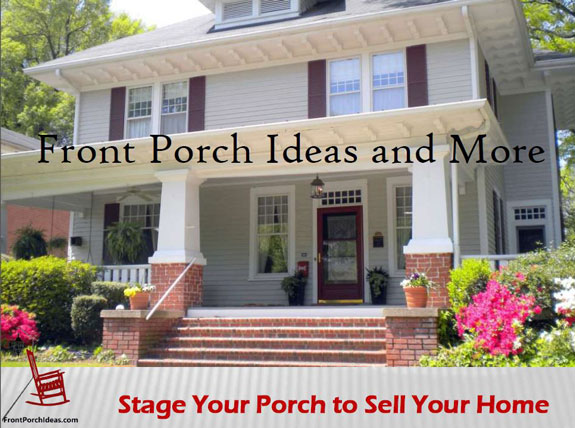 40+ Pages of Ideas for Staging Your Porch
---
Summer Front Porch To Enjoy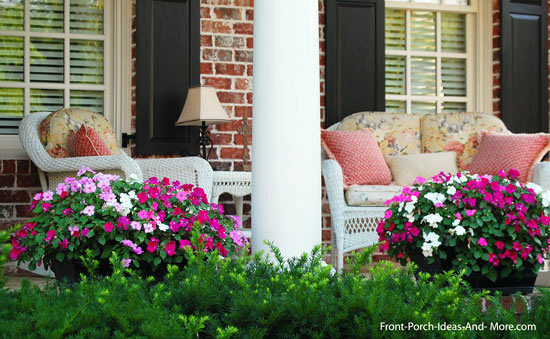 ---
Interviews with Porch Experts

We bring experts to you each week through our
Porch Ideas Network
who share their love of porches and their expertise in such areas as building, designing, planning and decorating porches. Each show lasts approximately 20 - 30 minutes.
Screen Porch Design Ideas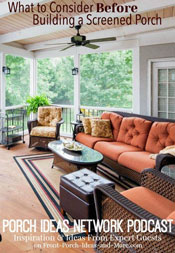 Nancy Moore, owner of The Porch Company, has
practical suggestions
for designing your screen porch. If you are considering building a screen porch, you will benefit from Nancy's helpful ideas.
Listen here:
Versatile Porch Windows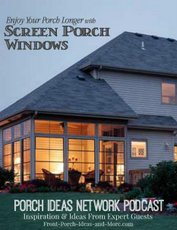 Our guest Sean Laker of the Rekal Company discusses the features and benefits of installing
porch screen windows
on your porch or deck.
---
Listen here:
Use Your Porch to Help Sell Your Home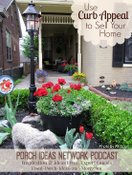 Our guest, Jeannie Timmons, professional realtor, explains what you can do to
maximize your front porch
and home to help sell your home. metal roof on your home and porch.
Listen here:
We'd really appreciate your assistance in launching our audio program. In order to give it more visibility on the internet, please subscribe to our audios (use buttons below) and if you enjoyed it, please give us a favorable rating. That will help others to find our future audio segments.
In addition to our audio programs, we also feature selected
porch builders and landscapers
- must see if you want more ideas from experts in their fields.
---
Gift Idea: A House Portrait
We have a fantastic gift suggestion - perhaps for your spouse or even yourself: a custom painting of your home or of your childhood home.

We found a wonderful artist, Leisa Collins, who will draw your home from photographs and then she paints it with watercolors creating a special piece of artwork.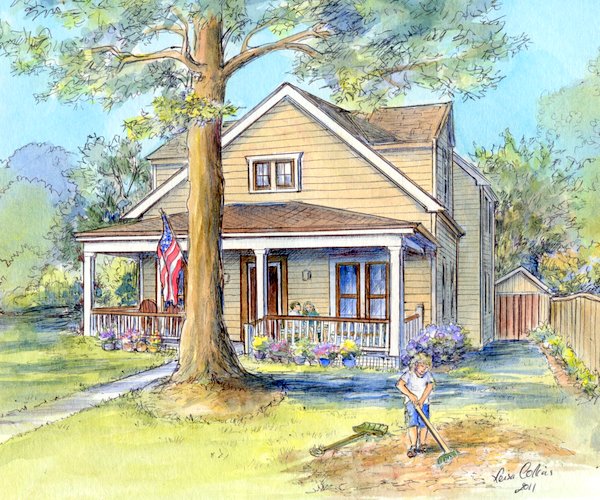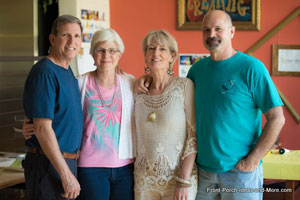 We recently visited Leisa and Bruce in her studio. She is an amazing artist who is dedicated to historical preservation efforts across the country. It was fun getting to know them. (Pictured L to R: Dave, Mary, Leisa Collins and Bruce Goodman)

See more examples of Leisa's paintings along with her contact information.



---
Join Our Porch Community on Facebook
You're invited to be part of our Facebook community. We share ideas with one another for decorating and using our porches. We have over 6,800 members and would love to count you among them.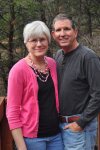 Happy porch sitting from your friends,

Mary & Dave


Life is short. Enjoy your porch.





Porch Home

/

Newsletter Signup Page

/

Back Issues

/ March 2015