Front Porch Appeal
Issue #57 May 2014
May Day Porches
May is a month when it has warmed enough for just about everyone to enjoy your porch. You can find Mary and I most mornings enjoying our cup of coffee on our front porch. Now's the perfect time to start planning or doing your spring and summer projects.

We also want to remember our fallen soldiers as Memorial Day is fast approaching. We enjoy decorating our porch in red, white, and blue as our means of honoring those who paid the ultimate price for our freedoms.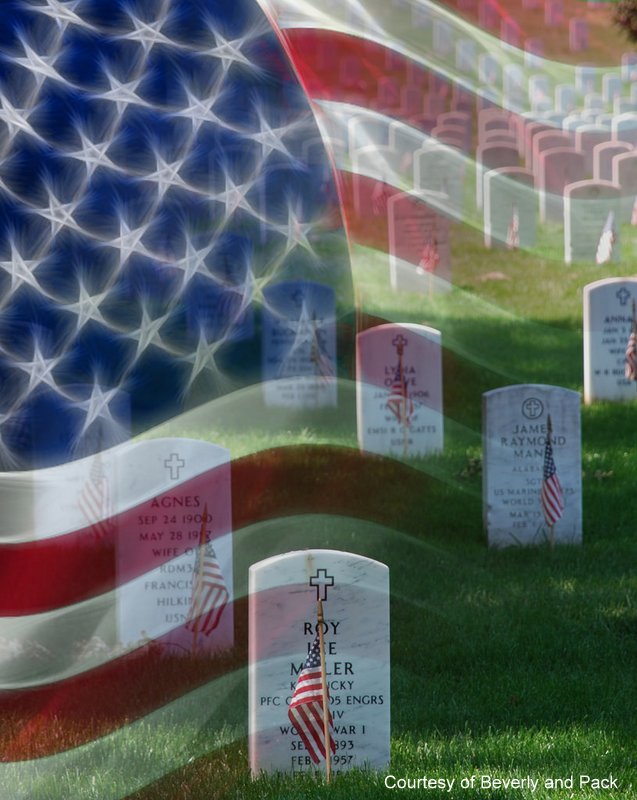 In Memoriam

photo courtesy of

Beverly and Pack





IN FLANDERS FIELDS

In Flanders fields the poppies blow
Between the crosses, row on row,
That mark our place; and in the sky
The larks, still bravely singing, fly
Scarce heard amid the guns below.

We are the Dead. Short days ago
We lived, felt dawn, saw sunset glow,
Loved and were loved, and now we lie
In Flanders fields.

Take up our quarrel with the foe:
To you from failing hands we throw
The torch; be yours to hold it high.
If ye break faith with us who die
We shall not sleep, though poppies grow
In Flanders fields.

by John McCrae, May 1915





Mary and I try to visit a veteran's cemetery on Memorial Day to pay our respects. If you have the opportunity we recommend you do also. Take your children or grandchildren and turn it into a learning moment. The inscriptions on the headstones provide a wealth of historical information about the men and women who served so bravely.


---
Be Porch Proud!
May is the perfect time of year to not only enjoy time on your porch but decorate it as well. Our May issue celebrates spring and the approaching holidays as Mary shows you how to easily cover your existing porch pillows or cushions for Memorial Day and other holidays as well.

In addition, we'll share some construction tips along with landscaping ideas from nationally recognized landscape and garden photographer J. Paul Moore and introduce our newest member of The Porch Ideas Network.




Patriotic Front Porches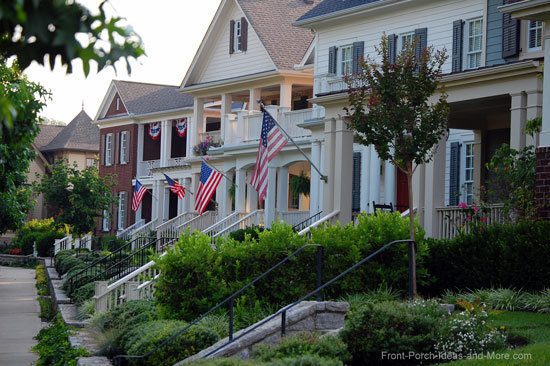 Remembering Memorial Day and the men and women who gave the ultimate sacrifice
See more of our
patriotic porch pictures
Easy Patriotic Decorating Idea
Use Mary's quick and easy idea to add some red, white, and blue to your porch for Memorial Day.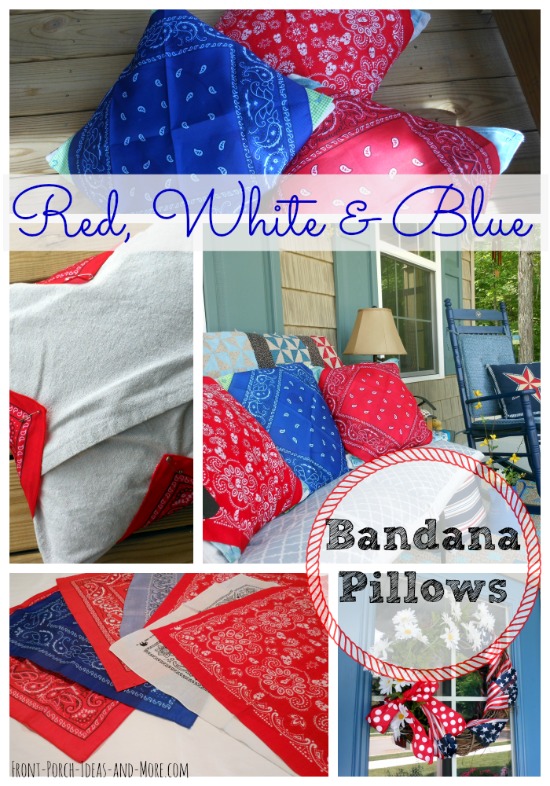 She wrapped our existing porch pillows with red, white, and blue bandanas by pinning them to the backs of the pillows. Bandanas are inexpensive and come in all kinds of colors and patterns so you can use this idea any time of year.

See our page on patriotic porches for more details and other ideas you can use for your front porch.




Front Porch Landscaping Ideas
Mary and I had the pleasure of visiting with J. Paul Moore, a professional landscape and garden photographer, about landscaping ideas for your front porch.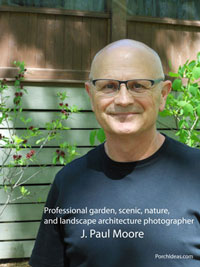 One of Paul's suggestions is to bring nature "up close and personal" by by hanging humming bird feeders close to the porch and planting fragrant flowers to capture prevailing winds.

Also, keep space between your porch railings and your landscaping.

This gives you space to walk behind your plants for easy maintenance.




When designing walkways, Paul likes to place them a sufficient distance from the house so as to layer the plantings on either side. Much more inviting than lining the walkway with only shrubs.

We are excited to be featuring Paul soon in our new Porch Ideas Network. Please let us know if you have a deserving landscape company or landscape architect who you believe deserves the recognition to be featured in our Porch Ideas Network!

To see more of Paul's amazing photos and learn more about his services, please visit J. Paul Moore Photography.


---
Porch and Deck Construction
In the last few years, building codes in many areas across the country now require ledger boards to be supported by posts properly anchored in concrete (or rest on footings for foundations) just like your supporting columns. Whether holding your front porch or back deck, ledger board failure is perhaps the leading cause for collapses of these structures.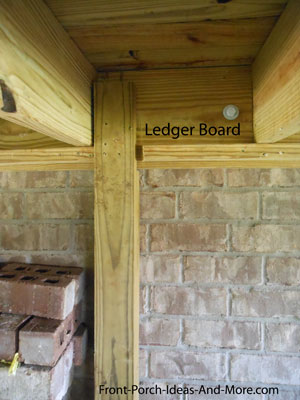 This requirement is in addition to anchoring the ledger board to your home.

So if your are building a new porch or deck, or are remodeling an existing one, be sure to check with your local codes department to see if this affects you. Even if it doesn't, it makes good sense to add additional support to the ledger board.

If your fasteners fail, so does your porch.

The few dollars it takes to add additional posts will not only add a measure of safety but also prolong the life of your structure.

Oh, and don't forget to flash the ledger board especially if it is not protected by a roof.




Porch Ideas Network News



Mary and I are excited to announce we are launching our Porch Ideas Network where we feature porch building contractors,front yard and porch landscaping companies, and podcasts discussing ideas and products for porches, screen porches, landscaping, and more. More to come so stay tuned!

We want to take this opportunity to give you a preview of one of our upcoming featured porch construction contractors - Taylor Made Custom Contracting located in Jarrettsville, MD.

If you are in the market for a front porch or other home addition and live in the Jarrettsville/Baltimore, Maryland area, we highly recommend you contact them soon!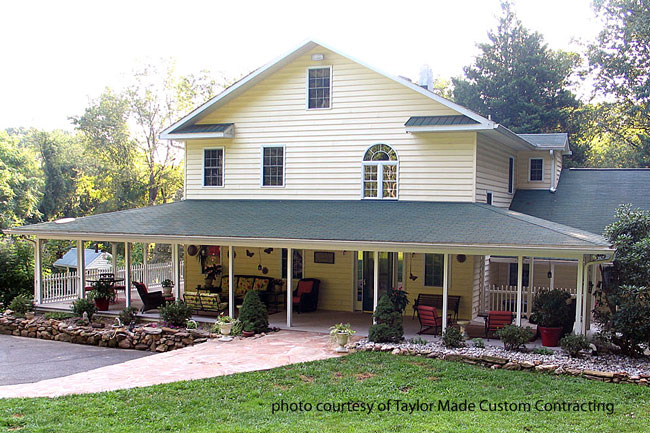 Wrap Around Front Porch by

Taylor Made Custom Contracting





If you know of building contractors who excel at what they do and build wonderful porches or screen porches, do them a favor and recommend them for inclusion in our Porch Ideas Network. With over 1 million visitors a year, our site is a perfect place for them to receive the recognition they deserve!






Our May Porch Picks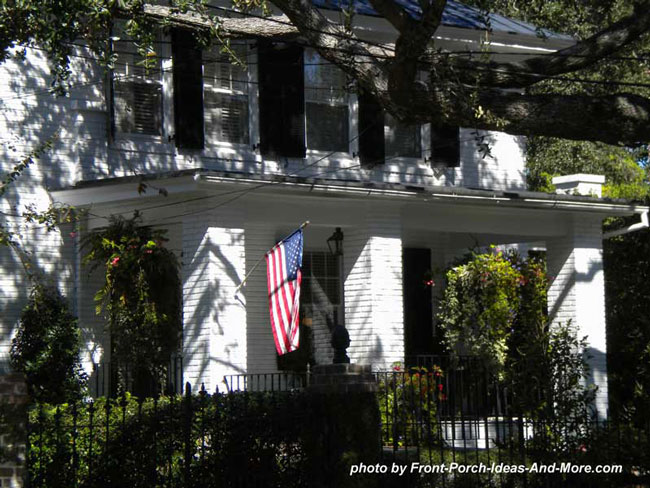 Please Visit Our Sponsors
We truly value our sponsors and the products and services they provide.










Join Our Porch Community on Facebook
You're invited to be part of our Facebook community. We share ideas with one another for decorating and using our porches. We have over 5,500 members and would love to count you among them.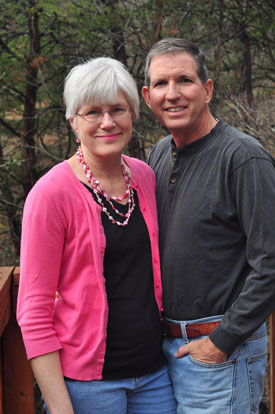 Happy porch sitting from your friends,

Mary & Dave


Life is short. Enjoy your porch.





Porch Home

/

Newsletter Signup Page

/

Back Issues

/ May 2014




Our Sponsors
Porch Store
Custom Porch Products
Vintage Woodworks
For Your Porch Parts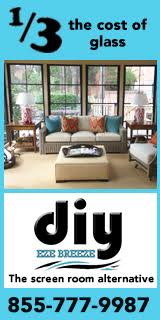 DIY Eze Breeze
Screen Porch Windows
PCA Products
Complement Any Home!
End sponsor section
---