Shea's Metal Chairs
Bring Back Childhood Memories
We wanted to share this wonderful story about these old metal chairs from one of our contributors, Shea. Just like us, Shea is very fond of metal chairs that were prevalent many years ago. They are still popular today as "retro chairs".

---
Shea's story
I've always had a fond spot in my memory for these "old timey metal lawn chairs". They remind me of getting together with assorted aunts, uncles, grandparents, and cousins on an Alabama or Arkansas lawn on a summer afternoon, tangy smells of pulled pork and BBQ, Kool-Aid (for us kids), barefoot in the grass and chasing fireflies down the slope of the yard as it got dark.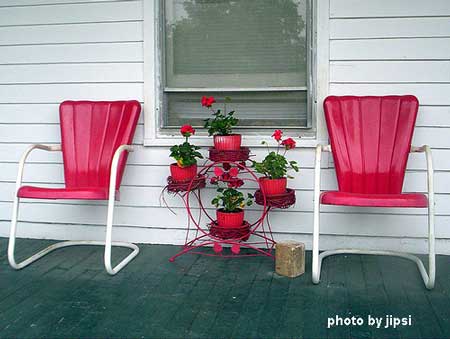 There would be slabs of watermelon waiting for us inside the slam of the kitchen's old wooden screen door, maybe a Coca Cola ™ (a whole bottle!), if we were 'good'. I also remember them as icons of our travels on Rt. 66: every other motel we stayed at, these brightly-painted metal lawn chairs sat right outside our 'cabin' door.

I remember it raining for days, and when the sun finally came out, we kids would race outdoors to play in the glistening wet yard, not minding that the chairs had 'puddles' in them when we sat down (well, we may have minded THEN, but not now, when I look back...).

In the fall, my Dad would take all of our chairs (about five or six) and put them in a row against the garage,upside down to keep snow and rain from 'ruining the seat'. No one wanted to sit in a chair with a 'rusty' seat, I recall.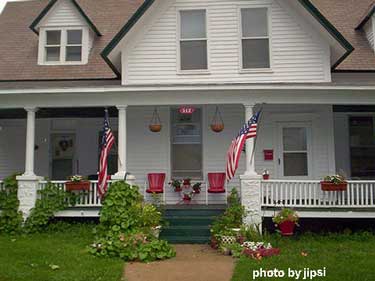 So I put them on my porch because I LOVE being reminded, daily, of what summers used to be, when I was a child, and what summers ARE to me, now, as I get older. They're a sweet kiss from my childhood.

The story behind the chairs
I saw an ad in our local Community News where someone was having a 'barn sale' of a lot of old items (they were tearing the barn down to put up a new one). Of the items listed, my eyes latched onto the 'old timey metal chairs'.

I phoned them and told them there was no way I could make the drive (100+ miles) to get to their sale the next weekend, as I was just two days out of the hospital from major surgery, but was there some way I could get my hands on those 'old timey' chairs, after we had decided they were exactly the kind I remembered (aka: motel chairs, bouncy chairs, etc.).

Generosity
What wonderful, kind people: not only did they PERSONALLY DELIVER the chairs to me from the back of their pickup truck, but the gentleman refused to take my money(the $30 each we had agreed upon, plus $40 for local delivery, total $100); he said "consider it our 'get well 'gift!"...

The work begins
The metal chairs were an ugly, over-painted many-times pastel blue, but for a summer, I left them like that. When my son and I moved to the old Folk Victorian (in a nearby small town), and the house went through a much-needed painting, I went to work on the chairs, scraping and sanding them lovingly by hand. This took me three weekends, and I was not so 'loving' about it towards the end: my hands were a mess.

I was finally able to repaint both chairs the vivid 'cottage red', with white arms/tubing, to my liking. When they went to sit on my front porch, with the antique metal planter between them (also painted red) the resulting picture cried for Geraniums, and with that, I was done with the newest 'vignette' of my big old country house...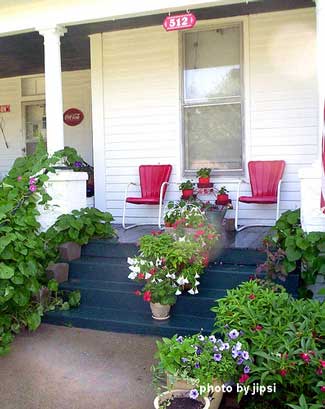 And I still think of that wonderful couple, and the barn sale I didn't get to go to (because they brought it to me, in a fashion)! I wonder if they are as happy with their new barn as I am, with my 'old timey metal lawn chairs' on my veranda, greeting all guests as they arrive.


---

Our many thanks to Shea for sharing her photos and awesome story with us. Be sure to check out our other great porch furniture and decorating ideas!




The Amazon ads are our affiliate links. Thank you.




Popular Pages
---
Our Sponsors
Porch Store
Custom Porch Products
Vintage Woodworks
For Your Porch Parts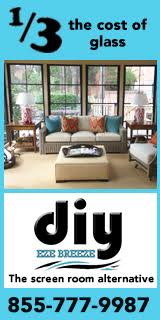 DIY Eze Breeze
Screen Porch Windows
PCA Products
Complement Any Home!
End sponsor section
---
---
Copyright© 2009-2017
Front-Porch-Ideas-and-More.com.
All rights reserved.
Content and photos may not be reproduced
in any way without our written permission.