NAMS 7
Dave & Mary Morris Reference Sheet
Thank you!
Thanks for attending our presentation "From Heart to Profit". We wish you a joyful and profitable journey into the eBusiness world. Ours has been fun and we feel truly blessed.
But it never would have happened without a few ingredients: an entrepreneur mindset, the best tools and a good work ethic.
We love our toolset
We believe the
toolset
that we use in our eBusiness is a
huge factor in our success
, second only to our mindset and work ethic. Applying these tools, our
front porch website
attracts thousands of porch lovers every day. Free traffic.
Note
: For the 1st person interested, we can offer you this tool set for
50% off
.
We only have 1 package at that price.
Get the scoop here...
The toolset comes with everything you need including a detailed step-by-step action guide that walks you through the entire process of building a niche eBusiness. How? It teaches everything you need to know. You apply what you learn and do the work.
---
Bob Proctor's free videos
These videos are truly worth watching. Give yourself the better part of an hour in a quiet spot. They may change your life. Watch them all. One builds upon the other.
Never underestimate the power of your thoughts.
Video 1: Transform Your Life Now
- 20:54
Video 2: What is a Paradigm
- 15:07
Video 3: The Subconscious Mind and How to Program It
- 12:40
---
Acres of diamonds in your own backyard
Read about Russell Conwell's speech,
Acres of Diamonds
, if you're not familiar with this story. It's a pretty amazing lesson that explains that we already have what we need.
---
Books we recommend
---
The daffodil principle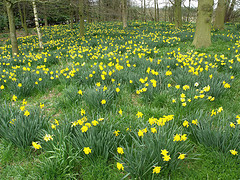 The
Daffodil Principle
is a simple story but amazingly powerful in so many ways. As the story says, just imagine if you had started planning daffodils years ago? Dave and I run our business using this very principle. And it's guaranteed to work.
---
Choosing your niche
Choose something that is both joyful and do-able. Meaning - you don't want to create an extra job for yourself. You want to create a business that you enjoy!
The
toolset
that we use walked us through a step-by-step process to help us choose a niche that was not only a good fit for us but also had very good potential to become profitable.
We chose wisely based upon our desires and solid analytics. Both are really important.
An info business like ours enables you to earn income passively and work from just about anywhere. It takes plenty of work - yes! But you are in charge of when and where you work. That is, if you want to call it work!
We wish you well in whatever you choose!
We may earn a commission on products that we recommend.
The picture of the diamonds is by
jurvetson on Flickr - Creative Commons
.
The picture of the daffodil field is by
ell brown on Flickr - Creative Commons.