Listen to Old Time Radio
on Your Porch
"Who knows what evil lurks in the hearts of men?"
The Shadow knows!
Ever hear about old time radio? When was the last time you and your family enjoyed some time together without the TV or video games?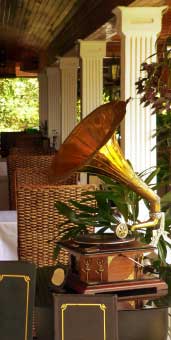 What better place to do it than on your front porch? Just think of listening to old radio programs like "The Shadow" or "The Green Hornet".

Mystery radio can actually be scary! Like sci-fi? Then old time radio offers a lot. Radio is the perfect venue for horror and mystery, with all its scary sensations, sound effects, timing, and the awesome power of suggestion.

The Golden Age of Radio began in the early 1920's and television overtook it in the 50's and 60's. According to a study, 82% of Americans listened to the radio during that time frame.

Old time radio are shows from the initial days of broadcasting. Dramas, westerns, mysteries, comedies and variety show scripts were read and acted by professional actors.

Believe it or not, families would sit around the radio and listen to the shows the same way we sit in front of television now. Listening to radio forces you to use your imagination.


---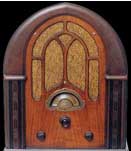 We know that many of our readers probably may have never heard of nor listened to a mystery radio show. We challenge you to at least listen to one.

We know that if you do, you will give yourself a very relaxing, fun, enjoyable respite.

Your kids will also enjoy it and benefit by actively listening and using their imaginations.

One of our grandsons loves listening to books on tape before he goes to sleep - kids do love using their imaginations!


---
A number of years ago (many in fact) I was stationed in a remote area of the world. The only entertainment we had was the radio and it was only available for a few hours in the evening. The only place we had access to it was at our posts (for non-military that's your work location). Therefore, if you wanted to listen to it you had to work the four p.m. to mid-night shift. I intentionally worked those hours so I was could listen to mystery radio almost every night for an entire year (and I enjoyed every minute of it).

Your whole family will enjoy shows like The Shadow that premiered in 1930 until 1954. "The Shadow Knows!" is still captivating today. Ellery Queen mysteries debuted in 1929 and features a police detective from New York City. These and other great radio shows will entertain you and your family for hours.





We believe you will enjoy old radio mysteries and scary stories so much that we've located two sources of FREE shows. Just click on these links and choose a favorite!

Old Time Radio Mystery Theater

Listen tonight and you're welcome from Front Porch Ideas and More!





Porch Home

/

Entertainment Ideas

/ Old Time Radio






The Amazon ads are our affiliate links. Thank you.




Popular Pages
---
Our Sponsors
Porch Store
Custom Porch Products
Vintage Woodworks
For Your Porch Parts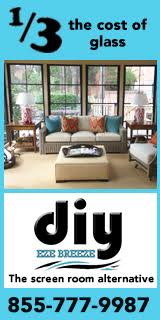 DIY Eze Breeze
Screen Porch Windows
PCA Products
Complement Any Home!
End sponsor section
---
---
Copyright© 2009-2017
Front-Porch-Ideas-and-More.com.
All rights reserved.
Content and photos may not be reproduced
in any way without our written permission.