Our Christmas Wreath Instructions
for Your Front Porch
Our Christmas wreath instructions are our way of saying "thank you" for visiting our site and for sharing your Christmas decorating ideas with us.





Dave made this Christmas wreath and took pictures along the way.

We will probably hang our wreath right outside our front door.

It's very easy to make and you could come up with color combinations that fit your personal preferences.



Step-by-step Instructions
Here is a quick and easy wreath making idea that is inexpensive and fun to do. In fact, you may have all the materials in your closet or attic. If not, you can find these items at dollar stores, garage sales, or thrift stores.

First, here is what the finished wreath looks like:
Assemble these materials:
Hot glue gun and glue sticks
Wide ribbon
A foam ring (grapevines rings will work also)
Christmas ball ornaments—different sizes and colors of your choice! (need enough to thoroughly cover the foam ring)
I like to have a workspace large enough to keep the supplies in easy reach and an area for using the glue gun. I have a sheet of 1/4" plywood that I place on top of a table. That way, I don't have to worry about hot glue ruining the table surface.
Please exercise caution: Hot glue and the tip of the hot glue gun are HOT.
Start by cutting a length of ribbon to cover the foam ring. I like to use white ribbon but depending on the effect you want, you can choose any color. If done correctly, you won't really see the ribbon so using old scraps may work well also.


Wrap the foam ring and secure the ribbon with hot glue.
Strategically place a few of the larger ornaments on the ring. Secure with hot glue.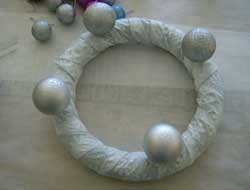 Now fill in the spaces with the smaller ornaments.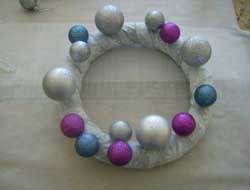 Tip: With the foam wreath laying flat on the table, glue ornaments around the bottom edge. This will allow you to hang the wreath flat against a door or wall and hide the wreath's back edge.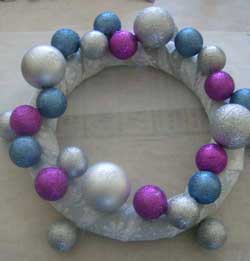 Continue gluing ornaments around the ring, using the smaller ones to fill in the open spaces.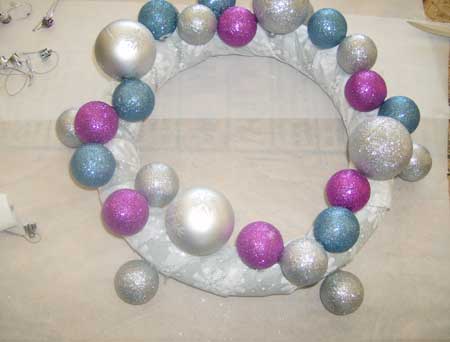 Add as many ornaments as you like. You don't have to every square inch. It's ok if a little of the wreath shows through.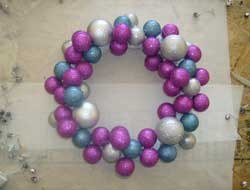 Once completed, you can hang an ornament in the middle, add bows or fresh evergreens to the wreath. Have fun with it.
Thank you for visiting our site. We hope your enjoyed our Christmas wreath instructions. It's a super easy idea.

We love the Christmas decorating ideas that you share with us.



See our other Christmas decorating ideas for your porch.






Porch Home

/

Outdoor Christmas Decorations

/ Our Christmas Wreath Instructions






The Amazon ads are our affiliate links. Thank you.




Popular Pages
---
Our Sponsors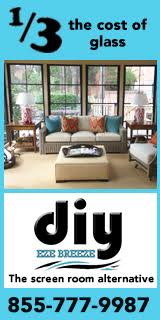 DIY Eze Breeze
Screen Porch Windows
Vintage Woodworks
For Your Porch Parts
Porch Store
Custom Porch Products
PCA Products
Complement Any Home!
End sponsor section
---
---
Copyright© 2009-2017
Front-Porch-Ideas-and-More.com.
All rights reserved.
Content and photos may not be reproduced
in any way without our written permission.