Outdoor Furniture Glider
For Your Front Porch, Deck, or Patio
An outdoor furniture glider for your front porch offers a great place to relax. Being a woodworker, I prefer a wood glider. There's just something about the feel and look of wood that I really enjoy.



That's not to say that a metal glider, wicker glider, or recycled plastic glider wouldn't work as well and the are all quite beautiful too.






Unlike a porch swing that is hung from above, a glider is operated from mechanisms at the bottom. This makes the actual swing more smooth and is a little safer to use than a porch swing. It also makes them more portable; you can easily move it from one location to another on your porch.

There are so many designs from which to choose. You should be able to find one that fits both your decor and personality.

We found the following styles of porch gliders from the CedarStore.com
and thought you'd enjoy seeing just a few of the many types available.






You can also now find outdoor chair gliders, a real popular option. Not only that, some even swivel!






Choose a style that fits your physical needs as well like this high-back glider that adds additional upper back support. The more comfortable the fit, the more often you'll use your porch glider.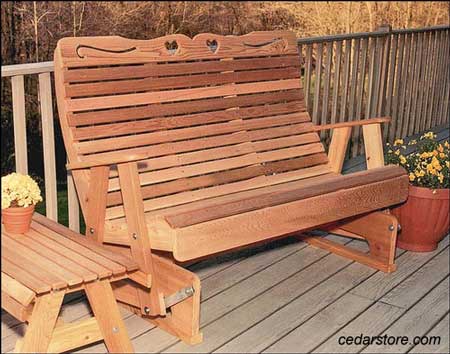 Here's one that both Mary and I like a lot for obvious reasons! We could even sit on these and work on our website.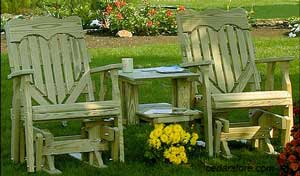 There's always a lot to be said for the pure beauty of simplicity. Straight lines and excellent quality can't be beat. Wood gliders come in a variety of woods, from pine to oak, cypress, redwood, poplar, and probably the most popular - cedar. Like any wood furniture piece, you will need to maintain it over time.






Be sure to view our metal glider, wicker glider, and recycled plastic glider pictures for more ideas too!






Porch Home

/

Porch Furniture

/

Porch Gliders

/ Outdoor Furniture Glider






The Amazon ads are our affiliate links. Thank you.




Popular Pages
---
Our Sponsors
Porch Store
Custom Porch Products
Vintage Woodworks
For Your Porch Parts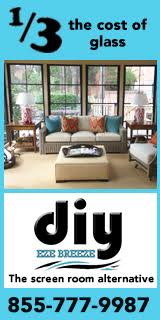 DIY Eze Breeze
Screen Porch Windows
PCA Products
Complement Any Home!
End sponsor section
---
---
Copyright© 2009-2017
Front-Porch-Ideas-and-More.com.
All rights reserved.
Content and photos may not be reproduced
in any way without our written permission.