Outdoor Porch Lights
Are All About the Porch Light Fixtures
Nothing looks better or makes a larger impact on your home than new outdoor porch lights. Make your home safer and more attractive with decorative hanging or fixed porch lighting fixtures.



We are all very familiar with the standard porch lighting by the front door. You either have a ceiling light above or a wall light (or two) beside the door.

For many, the only thing we've done is change the light bulbs periodically. You'll be surprised to learn how many different lighting options you have. If you want to add instant curb appeal and brighten your porch, start with your lights!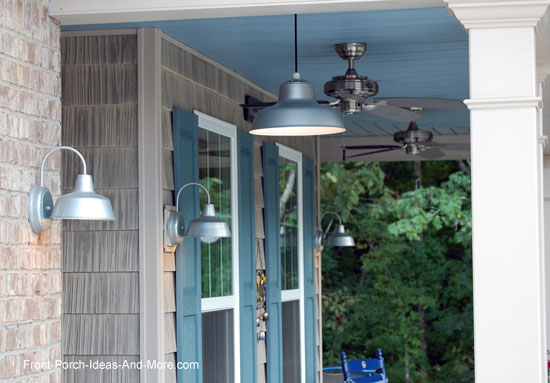 Barn style front porch lighting
For more about light placement, light controls, and photo cells for your outdoor porch lights be sure to check out our
porch lighting anatomy section.
We give you great ideas for your lighting needs.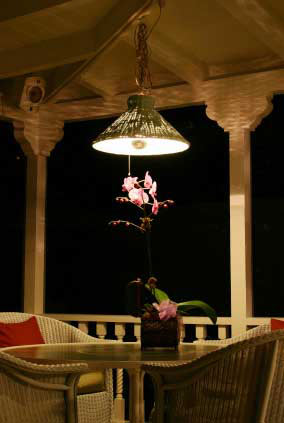 Romantic pendant lighting over bistro table on front porch




Here are a few of the many types of outdoor porch lights we found at Lampsplus.com
to give you some great ideas for your own porch lighting. You've got to see their fantastic assortment of porch lighting fixtures.



For your convenience click on the photos below to learn more about the individual lights shown.


Flush or Ceiling Mount Lights
These lights are great for illuminating the front door or the top of the steps. Make sure it has a dual-bulb capability so you wont' be left in the dark if one bulb burns out. Use flush or ceiling mount lights in traffic areas to maximize the space overhead.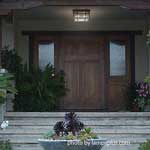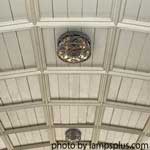 Sconces or Wall Lights
Sconces look fantastic on either side of your front door. They can also work well on other parts of your porch, perhaps on either side of a table placed against the wall.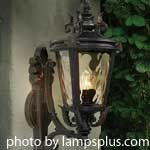 Exterior Hanging Lights
You can use hanging lights almost anywhere on your porch. Use them over bistro tables, sofas, or chairs. They can create a lot of ambiance and make your porch feel warm and comfortable.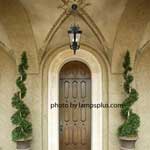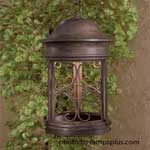 For your convenience click on the photos below to learn more about the individual lights shown.
Exterior Chandelier Lights
Chandeliers are perfect for a private dining area on your porch or over a conversation area. Chandeliers give off great soft lighting to enhance your porch enjoyment.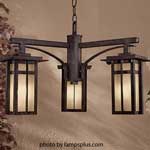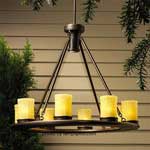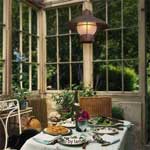 Party Lights
Who doesn't like to party on the porch! We even have light fixtures for those of you who love to entertain and enjoy the company of others on your porch. Liven up the night with some great party lights.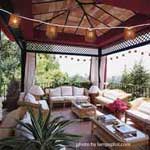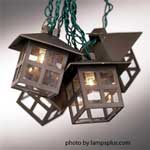 Decorative Lights
Porch light fixtures don't have to be boring. Today, you can find light fixtures to fit any decor, from the very sophisticated to the wild west. Not matter your architectural style or decorating desire decorative porch lights will create great curb appeal.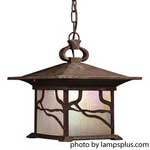 Outdoor Table Lamps
You may have never thought to include outdoor table lamps in your lighting scheme. But you should and Lampsplus.com
has a great selection. These work great on any porch and can add both interest and light. Use them to light areas not covered by hanging or ceiling lights.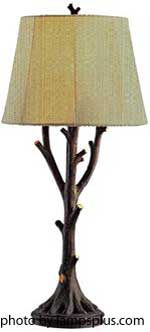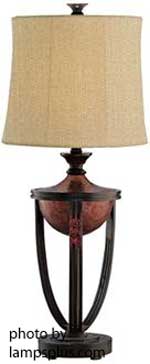 For your convenience click on the photos below to learn more about the individual lights shown.
Solar Powered LED Lights
In our efforts to conserve energy, here's a great solution- solar powered porch lights. They look fantastic and work really well while simultaneously saving energy.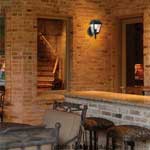 Landscape Lights
Landscape lighting for your porch? Consider your porch steps in your lighting plan. Not only does landscape lighting add curb appeal but it also adds an additional element of safety for your family and guests. Visit our landscape lighting section for more ideas!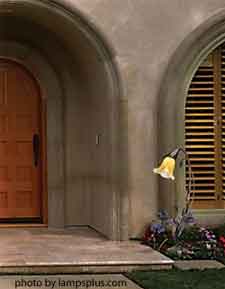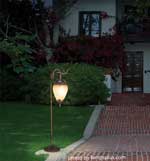 Mood Lights
Mood lighting can mean many things. Lighting can be used to create ambiance, to liven a party, to highlight a feature, or just illuminate an object. Others, like the outdoor fountain and light pictured below, can create a soothing and relaxing atmosphere right on your porch.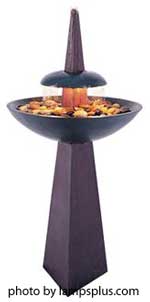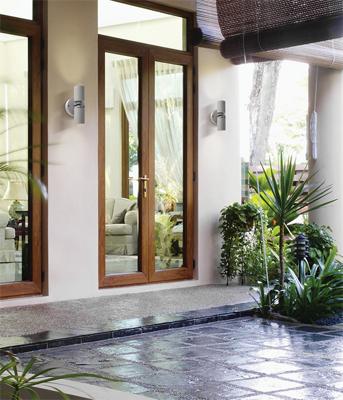 ---





Selecting just the right porch light fixtures can be fun. You have so many outdoor porch lights to choose from and so many ways to light your porch. Be sure to check our porch lighting section for more ideas on timers, motion sensors, and placement.

And don't forget to see what Lampsplus.com
has to offer.






We may earn a small commission on sales of any lighting from LightsPlus.com





Porch Home

/

Porch Anatomy

/ Outdoor Porch Lights



Porch Home

/

Porch Furniture

/ Outdoor Porch Lights






The Amazon ads are our affiliate links. Thank you.




Popular Pages
---
Our Sponsors
Porch Store
Custom Porch Products
Vintage Woodworks
For Your Porch Parts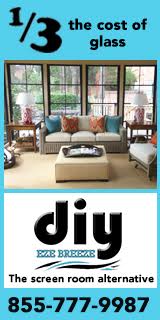 DIY Eze Breeze
Screen Porch Windows
PCA Products
Complement Any Home!
End sponsor section
---
---
Copyright© 2009-2017
Front-Porch-Ideas-and-More.com.
All rights reserved.
Content and photos may not be reproduced
in any way without our written permission.