Our Pictures of Porches Photo Gallery
For Front Porch Ideas and Front Porch Designs
Our pictures of porches will give you some nice front porch ideas and front porch designs. What better way to get ideas for your porch than seeing some great pictures.



Our first gallery is that of small porches. Small porches can have a huge impact on your home. Choose the right design, furnishings, and amenities to create a welcoming respite for you and your family.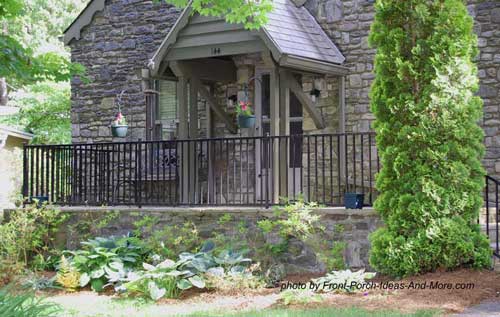 Enjoy this photo gallery and use it to find ideas you can incorporate on your own front porch. Be sure to send us photos of your porch and we might feature you on our site!



Small Front Porch Photo Gallery
Photos are copyrighted; please do not use without permission.






Notice how a little color makes this small porch bright and cheery. The brick craftsman-style column pedestals are a nice contrast to the home's siding. Mixing materials can have dramatic effects.






The craftsman-style columns on this porch match the brick on the home. Compare this with the photo above to see the visual impact each has. The clean lines of the wrought-iron bench complement the home's more formal appeal.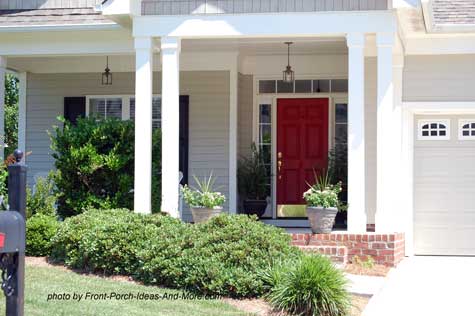 I like double columns as they can make a small porch visually larger. They make the entrance more grand on this home.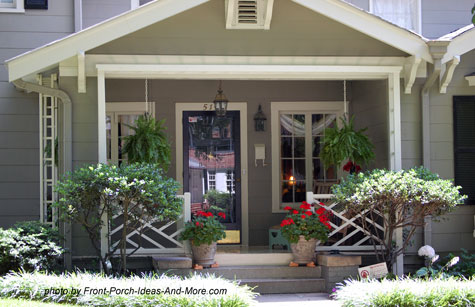 Remove the custom designed porch railings and you'd have an entirely different porch. They definitely add charm and soften the overall look of the home.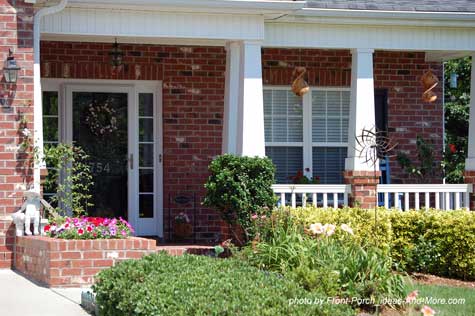 Note how the amenities and the brick planter on this porch add interest. It doesn't take much to create a focal point to please the eye.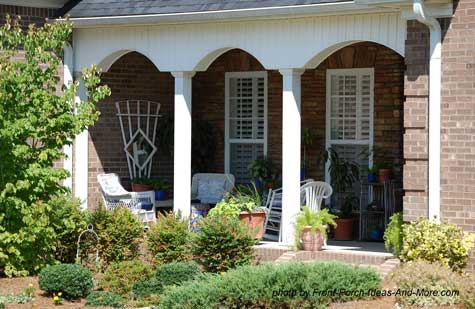 The arches really dress up this otherwise ordinary porch. Exterior house trim, like arches, is an easy construction project that can dramatically change the look of your porch and home.






The combination of a small gable-roof with round tapered columns is a porch design you should consider when building a home. If opting for a small porch, a gabled roof not only is functional in protecting visitors from the weather, but also aesthetically pleasing to the eye.






You have lots of options when designing or decorating front porches. Your main goal is to make it a warm inviting and especially relaxing place to be. Comfort should be key.

Your porch is actually an outdoor room. Determine whether you will be entertaining, dining, or just want a little privacy to watch the world go by. Select your furnishings to complement your style of living and don't forget to add a little fun too!

Use pictures of porches to gain insight into what might just be ideal for your porch!

If you enjoyed this photo gallery we know you'll also enjoy our small porch section, small front porch 2 photo gallery, and our porch ideas pages too!






Porch Home

/ Pictures Of Porches





The Amazon ads are our affiliate links. Thank you.




Popular Pages
---
Our Sponsors
Porch Store
Custom Porch Products
Vintage Woodworks
For Your Porch Parts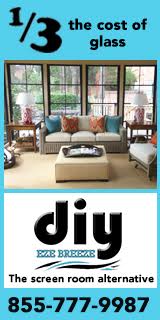 DIY Eze Breeze
Screen Porch Windows
PCA Products
Complement Any Home!
End sponsor section
---
---
Copyright© 2009-2017
Front-Porch-Ideas-and-More.com.
All rights reserved.
Content and photos may not be reproduced
in any way without our written permission.