Program Notes: Easy Christmas Projects
To hear the full program, please listen here:
Highlights of our audio program with Jennifer:
Two Christmas decorating tips for your front door - one with mittens and greenery and the other with wooden letters spelling out J-O-Y



How to decorate a Christmas tree with ribbons that makes you look like a designer



Easy and eye-catching porch decoration with an empty pot and shatterproof Christmas ornaments



Two things you need to know about tying a great bow - and they are both easy!



What you need to know about getting ribbon in November (pssst! don't procrastinate)



How to create a super easy snow village using a glass dome, little house and plate



How to create magical porch lighting with grapevine garland and lights



Purchase grapevine on a roll. Yes, a roll!



Make a sparse Christmas tree look fabulous by adding fresh greenery and grapevine
Excerpts With Jennifer Davenport
On Making a Mitten Wreath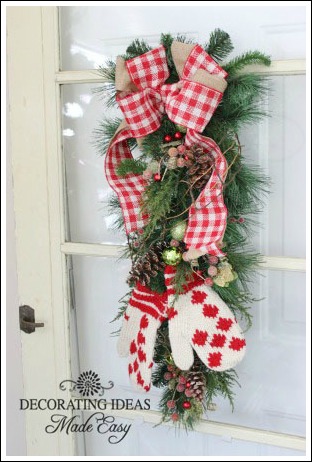 Jennifer designed this adorable mitten door decoration
"I added a little bit of grapevine to give it a woodsy feel...because I wanted it to look rustic and added the mittens with floral wire, and then just a bow; it's pretty easy."
On Decorating a Christmas Tree with Bows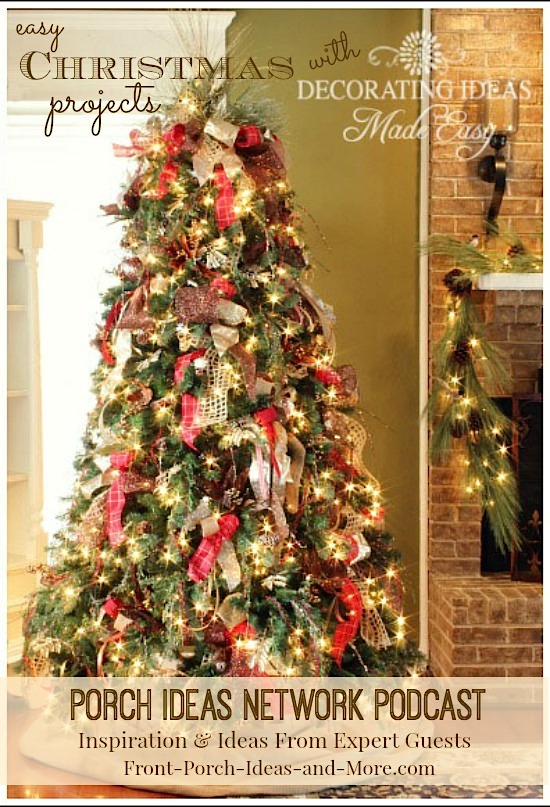 "I use three ribbons in three different sizes and cut them about 15 inches and make a loop; a loop in the middle,and then you have the tail. And then you take the floral wire and wrap around that loop and the trick to make it look cool in the tree is you fold it in half and kind of push it back into your tree..."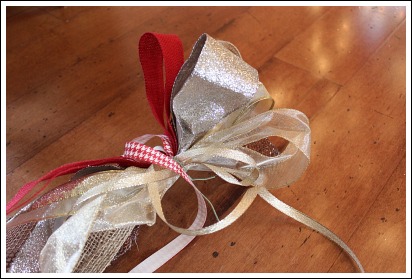 Example of the ribbon loops that Jennifer uses to decorate Christmas trees
Shatter-proof Ornament Decoration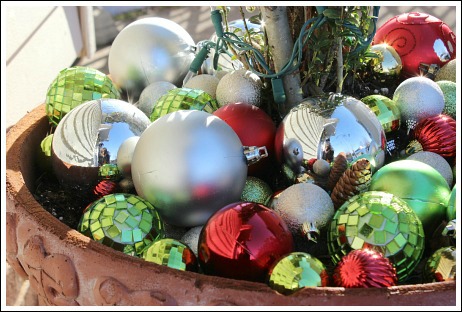 So super easy - colorful ornaments in a pot
"You want to get the shatter-proof ornaments, 10 or 15 of them, and lay them in a pot. What's really cool is if you get the shatter-proof ornaments, then in the evening when you have your outside lights on it hits the glitter on the ornaments and just looks beautiful..."
Easy Tree Skirt Idea
"One of my favorites that is really, really easy, is to buy a blanket or a throw, .... and I found a lime-green throw and just nestled it under the tree in a circle..."
More of Jennifer's Easy Christmas Projects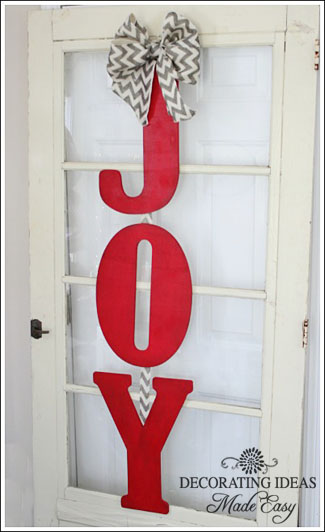 Spell out J-O-Y at your front door