Program Notes:
What to Consider Before Building Your Screened Porch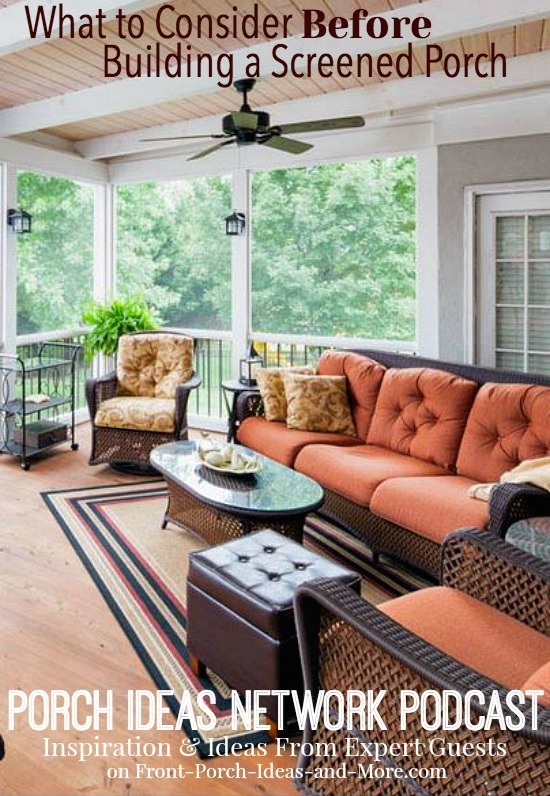 You can hear the full program here:
Dave
: Today we're very fortunate to have Nancy Moore, the owner of the Porch Company, with us. Nancy is the Warren Buffet of porches to us and so we're very excited to have her here with us on our porch. Nancy has a wonderful story of how the Porch Company came to be and so, Nancy, welcome to our porch, and perhaps you will share with us how you got started.
Nancy
: Thank you for having me. The Porch Company is about 22 years old now and I was right out of college working for IBM, had a great job, enjoyed it but I had this undeniable urge I wanted to build, I wanted to create wonderful spaces. This was an urge I could not deny and my newlywed husband was unhappy when I said I want to quit this wonderful job and I wanted to go into construction.
And he did everything he could to talk me out of it but I couldn't deny that urge so since I knew nothing and was completely unemployable, what you do but buy an old house and you start to fix it up. So that was a great experience, learned a lot of things. Had some good successes, had some disasters that first year and just realized how ignorant I really was.
But just do a lot of on the job training and after five years of dabbling in the construction industry like that and paying my dues by learning my lessons, I decided I needed to focus on something. I thought what in the world I am going to do? And I thought, well, I could do decks, those were easy enough. And I finally concluded no, I don't want to do decks. I'll do porches.
Mary
: Ahhhh.
Nancy
: So The Porch Company was born with very little planning and very little strategizing and who knew that porches could be an industry unto themselves. But they are.
Mary
: Thank heavens! Just tell us a little bit about your company today.
Nancy
: Right, the first year of my great experience was that we built three porches that first year and we were busy the whole year round. Now we build three porches a month.
Mary
: Oh my goodness!
Nancy
: So again, a huge learning curve has happened and of course the porches we build today are much more elaborate and much more well thought out and much better than we did that first year. But it is just a matter of learning how to do things, then you get efficient and you hire more people and yes, that first year there was myself, one other carpenter and half way through one other carpenter. So there was three of us in the porch.
Today, we say if Nancy has a hammer in her hand, you know something has gone drastically wrong. So I am not out there to build; I am on the design side of that these days.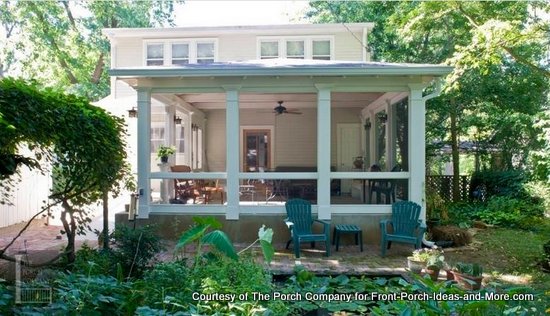 Mary
: Talking about building porches, what kind of porches do you build?
Nancy
: To us the definition of a porch is any kind of an outdoor structure with a roof, that's the key that is the distinction between a deck and a porch. We build anything that can be considered a porch whatsoever. So open air porch, screened porch, porches with temporary screens. We don't do glassed-in rooms. We say they have to have walls that breathe is our term. So we do not do sunrooms but we also do pergolas and any other outdoor structures that are similar in nature to porches.
Mary
: Wonderful.
Dave
: So from what we have seen, you have built some wonderfully custom-designed screened in porches. Porches that, oh boy, almost everybody would want one of those.
Nancy: Yes,
Dave
: So what are some things that someone should consider when contemplating having a screened-in porch built?
Nancy
: Ok, well from the homeowner's perspective. First of all it is nice if you can find somebody who has built a screened porch before. Because as we all know experience is the best teacher of anything. So there is a big difference between building a porch and building a sunroom. And the difference is water. Water gets in on a porch. Sunrooms - they do everything they can do to avoid water ever penetrating walls. Well, on a porch you know water is going to penetrate the walls.
So how do you deal with it? How do you deal with water when it comes in?
So that is by far the most important thing that you need to consider or the builder needs to consider. You really need to make sure the builder realizes that. So having things like making sure the water drains off the porch, having big overhangs, having lots of gutters, avoid gable roof spacing that blowing wind. You know you just need to consider where is the water going to come from, where is it going to land and how is it going to get outside of the porch. So that is a very practical thing that you need to consider to begin with.
Mary
: Those are good tips Nancy, because I think a lot of homeowners are just thinking about what am I going to put on my porch and what am I going to do on my porch. They don't necessary thing about something as practical as water. To keep it out the porch.
Nancy
: Right. And really to be on your porch in the middle of the rainstorm is wonderful. Wonderful, but if that rain blows in on you and you can't be out there, thinking about water on your porch is very important.
Mary
: So tell us about some other considerations.
Nancy
: Ok, now the next thing you want to consider is perhaps the
size and the location
of your porch. You see I always start with functionality. Because if it doesn't function, I don't care how pretty it is, it is a big waste. So you want to make it functional so you need to think about the size, how many people are going to be using this porch, how much furniture do you want to have on that porch, what activities are you going to be doing out on that porch?
Most people want to have a living space and a dining space. Some people also want to have a game room space, great place for your checkers or outdoor card games or those kinds of things. Some people want to have a big open space but they've got small children and that want to be able their children just be able to run. So you really think about your lifestyle and how you would best use that space.
Mary
: And that would probably quantify what the size of the porch should be and maybe how it should be planned out, right?
Nancy
: Correct, that would definitely affect the size of the porch. The other thing that can be really important is where do I locate that porch on my house. Every now and then I get somebody who wants a little private porch off their bedroom. Great, they realize that is not a public space. That is just for your use. Most people want their porch off a public space. The closer you can get the porch to the main room or the kitchen or whatever room you live in the most, the more often you will use the porch. And the other thing we would like to do is do is for the most part, we like the porch to be at the same floor level as the interior of the house. Again you'll feel more integrated. The more integrated it is, the more it will become part of your daily lifestyle.
Alright so those are two functional things. The
rain first
and then
size and location
.
And then thirdly, I start to consider the aesthetics of the porch. Alright now that I know where it is located and how big it is, now I can determine what's the best roof line that is appropriate for your house. That is from an architectural perspective, to make it look like it goes with your house, the roofline is the most important thing. The second most important thing is just selecting your
paint colors that blend with your house
, most people we tell you know your exterior trim will end up being what we paint the exterior of your porch. And then it looks like it goes with your house.
You'll often see porches built as if it were a deck that wasn't even stained perhaps and is just raw wood. It may look great for you but it never looks like it was original to the house. It will always look like an add on. So you would want to at least paint the exterior of your porch to blend with your house so it will look more like it was built with your house.
Dave
: If you can, let's go back to
roofs
for a second here. This is really stickler for us because we get asked a lot of questions from our site visitors about they want to add a porch or a screen porch. They send us a picture of their home and it will be a situation where are you have an L-shaped home, two gable roofs coming together. And the front door is in the corner and that makes that a real tricky situation.
Nancy
: It is very tricky, and we literally all the time would get called out to a house. We have five people out here; everybody says I can't do this. Of course you can and here is how you can and we usually always can come up with a solution. Every now and then you have to say this is not a good thing. This is not going to enhance your house.
Dave
: You can put a roof on it but it just won't look very good.
Nancy
: Right, most of the time we can but they are tricky and there are a whole lot of builders out there and when it comes to tricky they just really get cold feet. And I understand that because tricky is tricky.
(All laugh)
Nancy
: First one on those
rooflines
, you can mix gables and hips and sheds and you can mix rooflines really easily and make them look great. And most of the time, I'm going to by trying to get to hip roof on a porch. The advantage to a hip roof, you get that overhang on all sides you get gutters on all sides. Therefore you are going to capture most of the water so that water is not going to blow into your porch. So it is a very, very practical roofline for a porch because we are typically are doing vaulted ceilings and we are leaving our framing exposed. It is very pretty framing; it's got an interesting geometry going on.
Mary
: It's beautiful.
Nancy
: So we love to do a hip roof. Our second most common roof would be the gable, which is everybody else's first most common roofline. It is a great roofline and it is very pretty. I think most United States the wind kind of blows from the southwest going northeast. So if you have a gable facing west, you are going to get so much rain blowing in there if it screened up there. That's not a practical solution. So either you finish that off in some kind of siding or however you want to do that perhaps put a small amount of screening window or something up there or some light and some air. But just be careful about south and west facing gable roofs.
Mary
: If I could Nancy, could I go back for just a minute to the
location of the porch
?
Nancy
: Ok
Mary
: If the homeowner could put their porch on any side of their homes that they wanted, what are some of the considerations they should take into account especially when talking about the breezes like you say, where the direction your house faces as far as the sun goes.
Nancy
: You know I don't think that really matters. A lot of people like the house on the western side because they are trying to shade the interior of their home and the porch roof would do that. But the bottom line is the porch needs to go where it needs to go and as long as we got some nice cross breezes. You know often we go build into an "L" of a house and you can't get a lot of cross breezing so we just add extra fans and do whatever we do to get the air movement up.
We can usually make any direction work. So usually people don't complain about too much sun on the porch and if they do, we've got solutions like curtain and shutters and different things like that that we can do to block some direct sun, if it is too much but generally people are not concerned about too sun on the porch as they are inside their house because they are worried about fading their upholstery or their curtains or things like that. That's not such an issue on the porch.