Program Notes:
Making Your Porch Accessible to All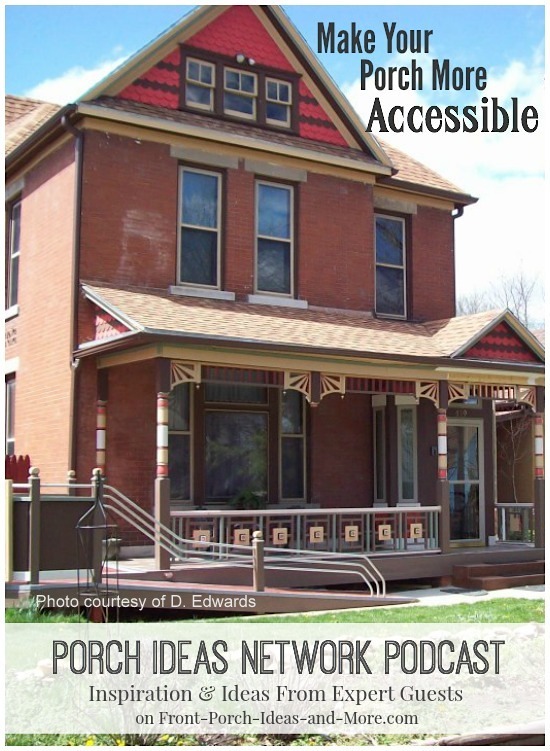 Photo courtesy of D. Edwards. You can see more of her
porch transformation
here.
To hear the full program, listen here:
DAVE: So today we are pleased to have Suzanne Taylor from Taylor Made Custom Contracting out of Jarrettsville, Maryland.
SUZANNE: Yes
DAVE: So great and so we are really pleased that you are visiting us on the porch today.
SUZANNE: Thanks for having me. This is exciting.
MARY: You are so welcome.
DAVE: To do this for us this is just great, so before we actually get into it the meat of everything, can you take just a few minutes and give us a little bit of information on about Taylor Made Custom Contracting?
SUZANNE: Well, we are a residential remodeling contractor; we started the business in 1990 and we do all sorts of home-improvement such as additions, the kitchen, bathroom, basement and repairs but one of the specialty items that we work on is accessibility and what we do is we design and modify homes for people who have accessibility issues.
DAVE: That is great and there is a term Universal Design. Well,two terms actually. There is Universal Design and then there is Aging in Place Specialist. Would you kind of give us just a quick rundown of what those two terms mean?
SUZANNE: Sure, Universal Design is actually a concept of creating an attractive living space that is functional for everyone regardless of their age or their physical abilities. In other words there are many different products and services that can be designed to incorporate into the home, to make it beautiful yet functional. Certified Aging in Place Specialists and the National Association of Homebuilders and what they do is - they are experts in designing and performing home modifications for people within their homes.
DAVE: That's perfect because we know our parents have been through that - needed some things and we know as the population ages that more and more people are going to need those kinds of services. So that's great that you're able to specialize in that.
MARY: Yes, I can remember my Dad having congestive heart failure and being kind of stuck in his bedroom upstairs because he couldn't get downstairs. He actually thought long and hard about even taking the steps.
DAVE: Yeah, the last few weeks you couldn't get him down at all. So it was just impossible until the end. So yeah it's really important that those services are available out there. So we're all about porches obviously so what kind of things should we be looking at as homeowners as we approach our house looking from the driveway or sidewalk to our house. What kinds of things should we be concerned with or need to take care of?
SUZANNE: When one of the terms that a lot of ADA people use is considered is called the path of travel. That is the path for the person from their car to their door. And that entails regarding their mobility. So when you come to a house and you're looking at possibly doing some design or home modification, you want to really to consider how a person is going to be able to get from the car to the house.
And as we talked earlier, utilizing the universal design approach means that we can create functional entryways that are beautiful. They can be designed out of flagstone; they can be designed out of stamped concrete, of course, wood composite. So a lot of times people think of ADA and they think of kind of a hospital type look. And that's not necessarily the case. The house and the entryway can be gorgeous and then it can also help with all ages from strollers to wheelchair.
MARY: Wouldn't it be awesome that homes were built that way from the beginning?
SUZANNE: That's true and actually in this day and age a lot of the 55-year and older communities do have that universal design concept in mind and they do use that quite a bit.
MARY: Let's talk about
wheelchair ramps
because usually what comes to mind with the wheelchair ramp is that they are not attractive and they are big.
SUZANNE: You are exactly right, they think not attractive when they say wheelchair ramp. Now the thing that you really do need to consider the wheelchair ramp specifications. The slope is probably the biggest challenge because it has to be a 1 to 12 ratio and it cannot be too steep for the wheelchair to maneuver, so that does end up taking up some room. There are some ways of working around that depending on landing.
So you might have to have more than one landing at the time. But again ramps can be made out of concrete; they can be made out of wood, vinyl, aluminum or composite and composite is a combination of wood and plastic. A lot of the new decking today is composite because it doesn't weather, it is maintenance free and is very neat in spring. It doesn't stain so the color choices that you choose naturally stay for the life of the ramp.
DAVE: And it makes it ideal though for a lot of folks because, if you already have a really mobility issues, you're really not going to get out be sanding wood, sanding the back down and all those kinds of things.
MARY: That's a good point.
SUZANNE: And also with the railings, if you have composites railings you don't have to worry about the person in the wheelchair getting splinters in their hands.
MARY: Oh, sure because they are running their hands across the railings.
SUZANNE: Exactly.
MARY: I was just going to say that one of the things that I think about with the wheelchair ramp is, that I think of it as being an add-on the house. It's a thing that's in the front yard so to speak or but there are ways, aren't there, of incorporating the ramp right with the design of the porch, rather than it being an add-on?
SUZANNE: Absolutely! We had a project that we performed that has a flagstone entrance and that is with using the correct slope, but like you said, it is once integrated into the porch. Now when you look at the home, you don't think ramp. You just think, oh this is just a beautiful entryway. But yet it is still wheelchair primarily.
DAVE: That's perfect! Really nice to see, really nice to see. So along with that you know we get into the ADA requirements because when we get into the ramps and mobility issues ADA. But just for clarification and for our audience, ADA requirements are not required for residential homes, is that correct?
SUZANNE: Yes, you are absolutely right. They are recommendations, they are not requirements. The ADA requirements are only on commercial structures.
DAVE: But at the same time, hopefully you will agree that probably people should really try to come as close to those as possible, because those requirements have been developed over time by experts in the field. Even if you're doing something in your own home although you don't have to comply with it. It will be nice to come as close as you could to it
SUZANNE: Absolutely, and if you incorporate the ADA recommendations early. If you're building or remodeling your house, even if you're in your 20s or 30s figure when you are in your 50s 60s 70s and up, you don't necessarily need to re-remodel at that point because all of those things would have already been in place. Actually when we built our home, we remodeled it when we were in our mid 20s and our home has all ADA recommendations. We have 36 inch doorways, no thresholds, changes anywhere within home. You know what we actually have is a spot in my oldest son's bedroom that is a closet right now. In the event that we would need an elevator, that is exactly where it would go.
DAVE: Oh, that is great, we've heard that before. That's really great to do. You know the cost of doing that during new construction isn't really that expensive to make those kinds of modifications
SUZANNE: No question. For instance if you have a new home what would be the difference between a 36 inch door and a 32 inch door at that point. Or what's the difference of having a louvered handle on a door?
DAVE: Oh, yeah.
SUZANNE: So as far as porches go another reason would be again to have the composite as the material of choice because again as we discussed earlier you don't have to worry about the maintenance and you might not want maintenance at 25 you might not want maintenance at 85.
DAVE: Yes, yes definitely.
MARY: I have this a side question. We talked about that residential homes do not have to follow the ADA rules. But are there local codes?
DAVE: Building codes?
MARY: From the county or your city that would dictate about accessibility, that you know of?
SUZANNE: Well, we often do work with for the Maryland State Department of Rehabilitation Services and John Hopkins, Kennedy Krieger that sort of thing. So if we are building a home or remodeling or a building ramp then they put in place their requirements. It is not by law, it is not through the county code, it would be just their requirements that they ask for from us.
DAVE: And that brings a good point that when you are building something like a ramp or something like that it would not hurt to check with your local building codes just to make sure you're in compliance. Because I know having lived in all parts of the country those codes differ a lot between where you live.
SUZANNE: And they vary from county to county, just like you said absolutely. Double-check because you're better off being safe than sorry. If you start and you've made a mistake and you're doing things wrong the permit office and the zoning they can shutdown your project. That is not something that you want to have happen.
MARY: It is also probably good to check with your with Home Owners Association if you have one of those.
DAVE: Yes, if you have a homeowners association. We ran into that situation with our Home Owners Association. We had a neighbor that ended up needing a wheelchair ramp, almost like within hours because the hospital released him and he was unable to walk, he had to be in a wheelchair and so there was no way that even his wife could get him home. There was no way to get inside the house at all at that point. So fortunately I had a friend with me we ended up going next-door and building a wheelchair ramp that actually turned out pretty nice.
MARY: It is actually really attractive.
DAVE: We did it very quickly, I think it took us about four or five hours to construct the ramp, but it did turn out very nice but we were not totally within ADA. For several reasons, one was just home owners didn't want certain things on it, but we got into a situation where we had a slope, we had a lot of slopes in the yard and so we actually had to bring the wheelchair ramp out and turn it so we can find some level ground for the bottom pad area for that.
So you get into all kinds of things when you are building ramps. Getting back to the HOA's, we didn't time to submit our plans to our homeowners association. But it is something that you should do, if you have to build a ramp or something like that, you really need to comply with whatever they need you to do, because they have a lot of power. So if you find yourself in such a problem like ours make sure you at least comply with the requirements after-the-fact and hope for the best.
SUZANNE: Absolutely, you have to worry about ramping structurally sound with concrete footage and like you've just mentioned, maybe landing and landing and more landing.
DAVE: Yes, to get it there. So people are talking about that ratio 1 to 12 or whatever and we were talking about in this particular case his steps were 21 inches so we needed a 21-foot long ramp for him in order to be in compliance with ADA. We didn't quite do that, we came close. We didn't quite do the whole distance but he is able to maneuver so that was a Godsend for him.
SUZANNE: And that might be an application for an exterior wheelchair lift if you really have space requirement, then the wheelchair lift themselves. They really need only need a 4 x 4 area. If space constraints are really an issue then the wheelchair lift could be a better application.
DAVE: Yes those are great.
MARY: That's good. If I was a person needing to have either a lift or a ramp, what are some of the pros and cons?
SUZANNE: Sure, well with the lift, it takes up less space than the ramp and that is an advantage. Some of the cons with the wheelchair lift is that you need electric. So you would definitely have to have a dedicated circuit for that and just like anything mechanical.
There is potential for mechanical failure on needing new parts through the year. The other portion of it, too, is you have to make sure that you have a gate for the wheelchair lift. If the wheelchair is at the bottom you need to make sure that gate is placed at the top and vice versa because you don't want to have any problems or any accidents.
Some of the pros of ramps are that you will not need to worry about the electric and you can choose any material that you would like. Some people choose composite as we discussed earlier or concrete but as we discussed earlier they will take up a large amount of space. So it really depends on the individual application. It depends on which area or which device you choose.
MARY: Well, if it comes down to money is there a big difference between a wheelchair ramp and a porch lift?
SUZANNE: That's a really good question actually. I would say they are probably similar in price. Now the wheelchair lift would probably cost about $8,000 roughly give or take depending on how high. Obviously the higher it goes the more expensive because you might have a couple different stops and then again there are variables with the ramp depending on what material you choose. Vinyl would probably be more expensive than composite or pressure-treated wood.