Porch Facelift Needed
Question Asked by Jeff and Connie of Lebanon, IL
Porch facelift needed: Jeff and Connie have a challenge similar to many of us.

They have an older porch on a country home that has been painted many times. They want to give it a makeover and will do the work themselves.

Like you and I, they want their porch to be low maintenance and have better lighting and more curb appeal. So let's get to it!



Porch Makeover Question
Jeff and Connie's country porch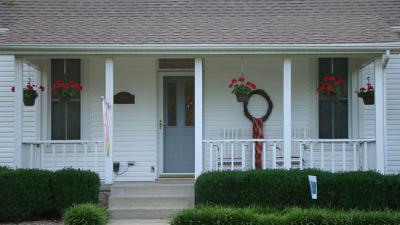 They would like a facelift for their porch




Jeff and Connie's question: My husband and I are wanting to give our front porch a facelift and we are looking for suggestions as to what to do. We are looking for low maintenance. Our front porch is 140 sq ft or 6.5 x 21.5 feet. My husband is very handy and will probably be doing most the work himself.

The base of the porch and the steps are concrete. The floor of porch is also concrete but very ugly. It's been painted so many times by the previous home owner. Any suggestions on a good product to cover that. The front porch faces north which sees the morning sun.

The porch columns, rails, and porch ceiling are all wood. We are wanting to replace with something low maintenance. We also want to add some lighting to the front porch whether it be lights around the front door or something hanging from the ceiling. We are also looking at adding some sort of hand rail to the front porch steps. Currently we have nothing.

As you can tell by the pictures, it is an old country house and our work in progress. Over the years we have doubled the size of the home by adding a 2-car garage, 2-bath/utility room, and a bonus room above the garage. Looking at the pictures the skylight portion is all add on.

Looking forward to your input as to how we can take our old ugly porch and make it look more suitable to our house.


Our Reply: Thanks for writing to us, Connie and Jeff. Your home is very nice and you have a good porch to begin with. We have some ideas for updating your porch.



Update Your Porch Railings and Columns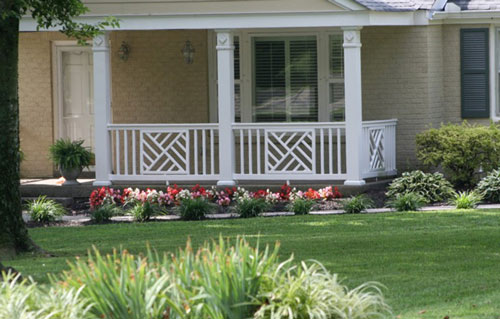 Notice the attractive porch railings and porch columns on this home


First, we suggest updating your porch railings to a nice design like shown in the picture above. Also see the decorative features on the top of the porch columns. These columns are more substantial than your current porch posts.

You can find low-maintenance (pvc / vinyl) and attractive porch parts like this at Vintage Woodworks. See our porch parts page for more information about Vintage Woodworks.



More Whimsical Landscaping Around Your Porch
Whimsical flower garden at Anna's porch - Flowergardengirl




Rather than heavy shrubs around your porch, try a whimsical flower garden like Anna's porch shown above. We also love the first photo - colorful and low so that you can see the entire porch railings. Try a colorful mix of flowering perennials and greenery.



Several Options for Your Concrete Floor
Interlocking deck tiles are an option for your porch




You could put down interlocking deck tiles except not on your porch stairs. Have you ever seen these? They are fun.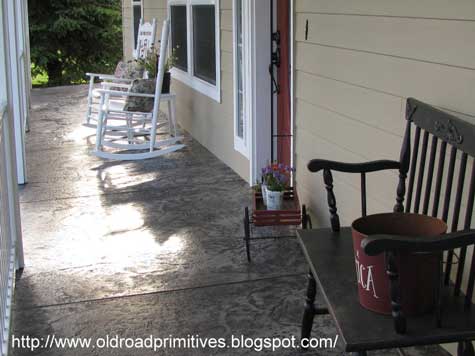 Stamped concrete is another option for the porch floor like Kim's porch
Sconces Would be Nice for Lighting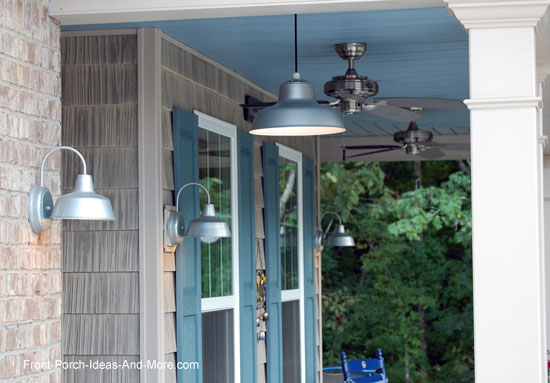 Sconces on either side of your front door would be charming especially on a country porch like yours. We think your porch ceiling may be too low for a hanging lamp.



Add Some Trim for a Vintage Look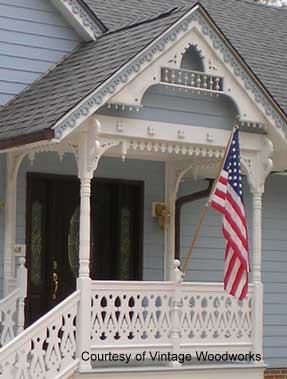 If you want a vintage look to your porch, Vintage Woodworks is a wonderful place to check out.

We hope these suggestions are helpful. Have fun with your porch facelift. We'd love to see pictures when you are done. Thanks bunches for writing to us.

Our best, Mary and Dave


---
Beautiful Porches Shared by Our Readers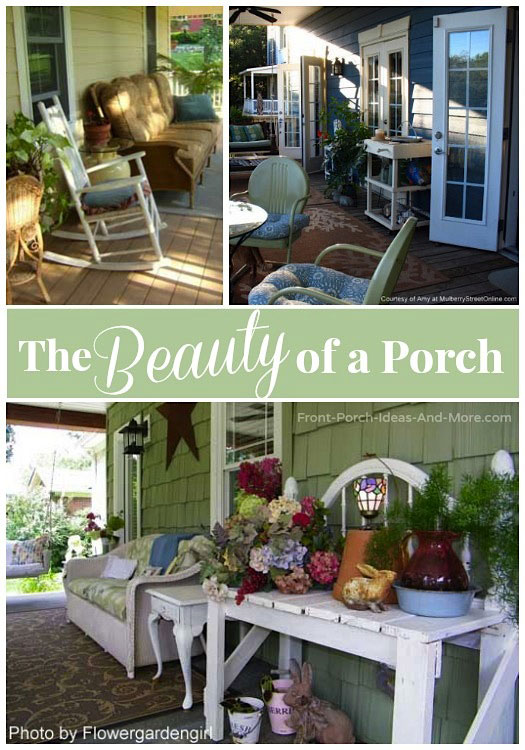 We have
some terrific pictures and stories shared by our readers
for you to enjoy.
Porch

/

Porches Shared by Our Readers

/

Porch Makeovers

/ Porch Facelift Needed









Helpful Links
Popular Pages
---
Our Sponsors
Vintage Woodworks
For Your Porch Parts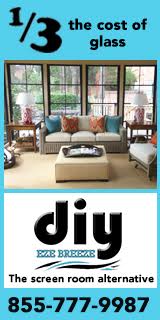 DIY Eze Breeze
Screen Porch Windows
Porch Store
Custom Porch Products
PCA Products
Complement Any Home!
End sponsor section
---
---
Copyright© 2009-2016 Front-Porch-Ideas-and-More.com.
All rights reserved.
Content and photos may not be reproduced
in any way without our written permission.