We may earn a commission if you purchase a product from one of our links below. This does not affect your cost in any way. Thank you for supporting our website.
Super Proud of Our 2017 Porch Calendars
After many years of not finding a great porch calendar, Dave and I decided to create our own. And not only did we create a beautiful front porch calendar, we also put together a lovely screened porch calendar. Very nice for
gift giving
!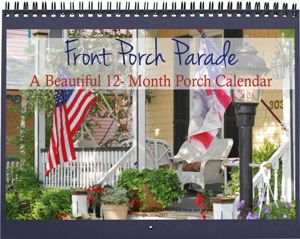 Front Porch Parade
(above left): This is a beautiful 12-month front porch calendar; the porches in our calendar belong to homeowners who are porch lovers like you. You will sense their pride (and maybe a bit of porch envy too) when you turn the pages.
Screened Porch Bliss
(above right): A calendar of lovingly designed and beautifully built screen porches by our sponsor,
The Porch Company
in Nashville, TN. Each month you will want to put your feet up on these screened porches and read a great book.
Porch Mugs for Porch Lovers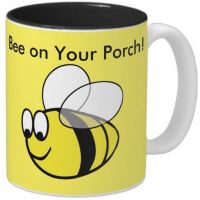 Who doesn't love a special mug for starting their day? We designed both of these mugs with porch lovers in mind. Get your
Home Sweet Porch mug
or your
Super Cute Bumble Bee mug
.
Visit our
Zazzle Store
.
Adorn Your Porch for Autumn
Wreaths and Pillows
Who can help but notice a beautiful fall wreath? Not us! Wreaths are a warm welcome to your family and friends - on your front door, porch and in your home also.
If you are looking for a specific autumn wreath,
Amazon has many
from which to choose.
Look What We Found for Under $20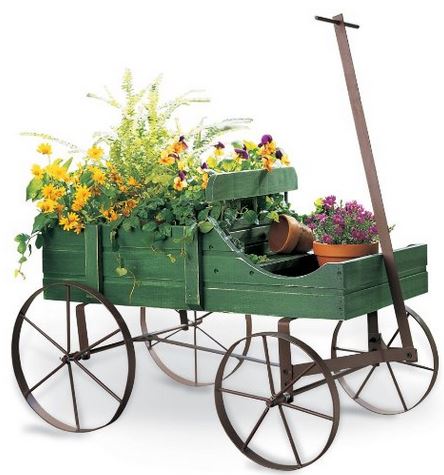 Wow, we were surprised to find this
adorable decorative Amish wheel barrow
for
under $20
.
Absolutely perfect for your porch or in the garden in front of your porch. Well, anywhere you put it, it would be so charming.
Length of the wagon is 21.75" without the handle
Autumn Porch Door Mats
Take a look at
more doormats on Amazon
; available in many different styles and colors for fall!
Ever-Popular Flags, Banners and Wind Chimes
Oh how the two of us love Snoopy. What a
fun flag to welcome fall
to your porch. This flag is 12" by 18".
See more
fall flag
,
banner
, and
wind chime
options.
Fall Football Fever on Your Front Porch!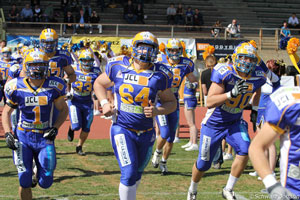 Support your team whether it be on Friday night or Sunday afternoon by decorating your front porch to show your team spirit!
Photo at right is courtesy of
Creative Commons license
Mary and I thought these items would be perfect on your porch - so much fun!
Football Team Doormats
Football Team Outdoor/Indoor Wall Hangings
Football Signs and Wreath Ideas
Football Party Items
We make it easy to find these and many other football decorations -
start here
!
Christmas is in the Air!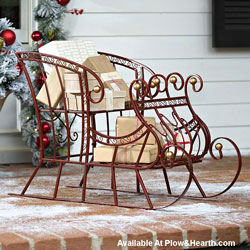 Beautiful Red Holiday Sleigh
Delight in this
classic red metal sleigh
- perfect for your front porch! 37"L x 16"w x 24"H
Decorate to your heart's content and fill with holiday greenery or faux packages!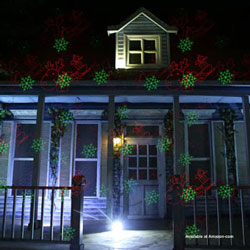 Christmas Laser Lights
Laser Light comes with
8 Christmas theme patterns
for Christmas
It covers 2,100 square feet from 25 feet distance; kids will love the patterns: Santa Claus, deer, snowflakes, snowman, bells, stars and more
Fun Halloween Finds


Our Favorite! Adorable Minion Bob enjoys Halloween too! At 3 feet tall,
Minion Bob
will be a huge hit with the kids (and adults too)! Comes with an AC plug in.
Under $20!
Get five (5) kid's zany super hero capes and masks - perfect for Halloween and fantasy play throughout the year! And there's a
cute girl's set of capes
, too.
Games to Enjoy on the Porch
Porch Amenities
Porch Swing
See this popular swing, along with many other fantastic styles, in our complete
porch swing section
.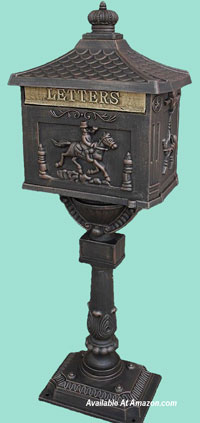 We found this
retro mailbox
that would bring a sense of yesterday to your porch.
Porch Curtains
See an entire array of all types of
porch curtains and shades
!
Porch Fans
Be sure to see
more outdoor fan ideas
for your porch!
Lamps for Your Porch
See a wide selection of both
table
and
floor lamps
.
Products Our Readers Purchase Over and Over
Construction Manuals, Guides, and Tools Our Readers Love
Introducing Our Molly Jo Daisy Book Series
A dream of Mary's has been to publish children's books that inspire kids to think well of themselves and look for the best in life. Here are her first 3 books - perfect for reading on the porch to your kids or grandchildren.
Molly Jo Daisy is a 9-year-old girl who lives with her Mom, Dad, Grandma, brother John and sister Grace. Like any other 9-year-old girl who loves her family and her house, Molly Jo gets worried about school assignments and teased by her brother.
In this series, Molly Jo learns a lot about herself, about not giving up even when things seem impossible, about looking for good things even when nothing looks good. She has a special relationship with her supportive Grandma which shines through in her books.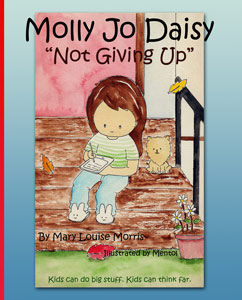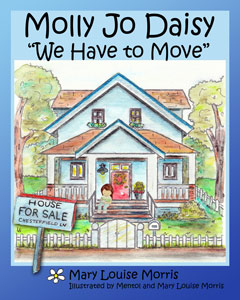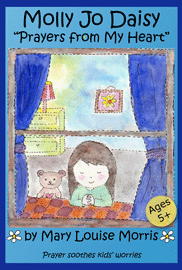 Each of Mary's books is written in verse and perfect to read on the porch with your children / grands. Sometimes they will laugh out loud at what Molly Jo says and sometimes they will feel Molly Jo's pain. Molly Jo's prayer book is from her heart; funny, sincere and so typical of a 9-year-old.
In her upcoming book in the series, Molly Jo and her family will be settling into their Maine home. Molly Jo wasn't so sure that moving was for her (Book 2) but after coming to terms with it, she's ready for new adventures in the beautiful state of Maine.
Molly Jo Daisy: Not Giving Up
on Amazon
Molly Jo Daisy: We Have to Move
on Amazon
Molly Jo Daisy: Prayers from My Heart
on Amazon
The background image used on this page is courtesy of Anna Looper. Our appreciation to Anna!