A Privacy Porch Offers Relaxation
A privacy porch is ideal for relaxing in comfort or for hiding unpleasant features from view. Porches are also great for entertaining, but what if you want a little time to yourself? A privacy porch can do just that - give you a relaxing nook to spend some quiet time.

In this day and age, hustle and bustle have become our middle name leaving very little time for pure relaxation.

Or perhaps you need to hide your neighbors old car or unkempt lawn from your view. Our front porch ideas will give you plenty of options.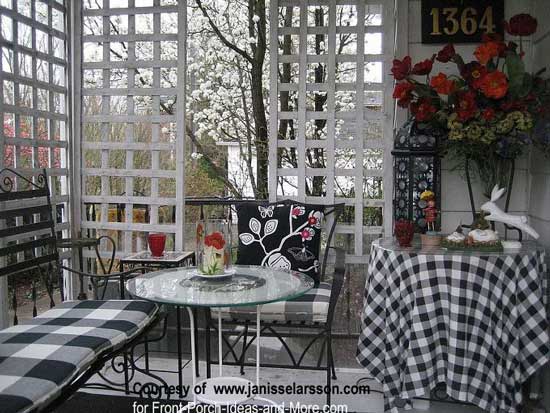 Photo courtesy of

Janisse Larsson


To create a sense of privacy, Janisse uses lattice panels on her front porch. She plants mandevilla vines to wrap around the lattice in the summer, which she says, creates a colorful touch of red on her porch. We like Janisse's idea for creating a cozy hideaway on her front porch.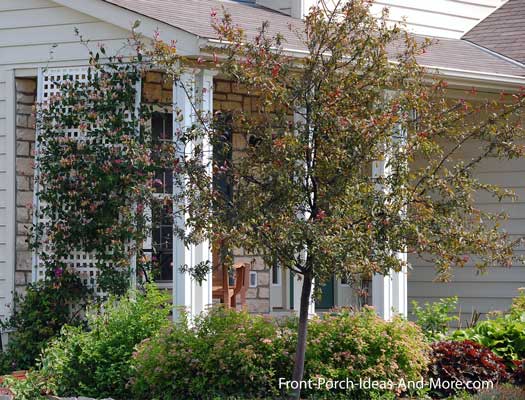 A combination of lattice and foliage create privacy on this porch




A privacy porch can be just a little area of your porch that is hidden from view - when you can enjoy a good book or sit with your sweetie.

It doesn't even have to be on the ground level.

Second floor porches off the master bedroom work really great. They offer solitude from those below and have limited access - making it even more private.



Create a privacy porch, or a sense of privacy, with vinyl lattice.

Leave as is or cover with vines for additional seclusion.





You could easily cover your privacy screens with vines to add both color and more privacy.






Make It Your Private Space
We love the simple latticework hanging from one end to create a feeling of privacy




Give it some thought. What is your primary use for your porch or patio area?
Is it reading good books or writing a best selling novel? Then a comfortable chair is ideal. And how about a small table to hold your glass of iced tea and snack?

Is it surfing the net? Then a comfortable chair is again ideal and maybe a small table for your laptop.

Is it to spend time with your sweetie? Then you don't need much but a porch swing or a couple rockers. A little relaxing mood music is great. How about lighting a few candles?

Is it a place to take a good nap? Well, a lounging chair or porch swing is what you'll want. Maybe a few soft pillows and a CD playing relaxation music. If it's chilly, a small lightweight blanket comes in handy.

Is it viewing wildlife or working on a favorite hobby? Have some binoculars handy and your favorite bird book or tree identification book.
How to Create a Privacy Porch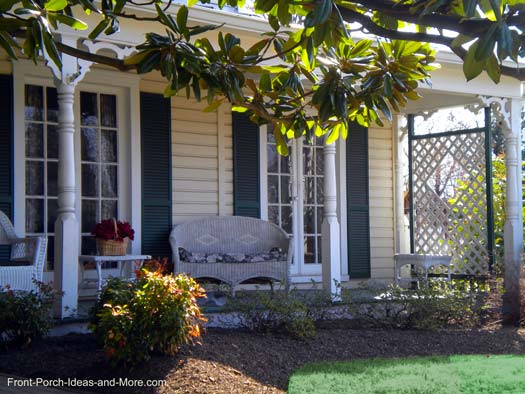 Hanging decorative lattice panel at one end creates privacy




If your porch is large enough, create a nook for yourself at one end.


A Privacy Porch Idea From The Porch Company
To minimize the sun for one of their customers, The Porch Company used shutters on tracks that can then be easily moved along the side of the porch to reduce the light. You could use the same idea for privacy as well. See how they did it.


Use Plants to Create Privacy
Create a vertical separation using climbing plants on a trellis to make a privacy porch. Here's how do it.
Determine the amount of space you have available for a privacy porch area and select a trellis planter like the one shown here (complements of Plow & Hearth
) to complement the area. Remember to allow for maneuverability around your planter while still maintaining the privacy you'd like.
Determine whether you want this to be permanent (perennial) or seasonal (annuals). Consider how long it takes to grow the plants and if you want privacy during the winter months as well.
An advantage with annuals is that colors are more bright and prominent than with many perennials. Also, your colors will be different every year. Use annual vines along with perennials to get started.
Annual vine suggestions
Some varieties of squash and cucumbers will climb up a trellis (if you coax them a little). English ivy is another easy one to get going.



Black-eyed Susan has white, yellow or orange flowers. It liked light shade and moist soil. Grows to about 7 feet tall.



Sweet peas can grow from 2 to 7 feet in sunny locations. We had a sweet pea plant for quite a few years. You can save the large seeds from season to season and plant the next year. The flowers come in many colors - pink, lavender, purple. They like good rich soil.



Morning glories are some of my favorite! They have wonderful blue flowers. You can also get varieties with pink or magenta flowers. Like their name, they are open in the morning and close by evening. They like full sun and do well in poor soil. They can grow up to 15 feet tall.



Cardinal Climber is a beautiful annual vine that hummingbirds love. They have red trumpet-shaped flowers.
Perennial vine suggestions
Campsis has orange red trumpet-shaped flowers. Like the Cardinal Climber, they attract hummingbirds.

Clematis comes in many varieties. We love these, too. They are large-flowering vines with very showy flowers in white, blue, purple. Some will bloom much of the summer and others bloom for just a week or two. Ask when you purchase them. We once had a clematis that had a bazillion small white flowers but only bloomed for a couple weeks in August. As lovely as it was, we sure wished it would have bloomed longer.

Moon flowers are fragrant and flowering. They are nocturnal - their large flowers open at night and close during the day.

Virginia creeper is a perennial vine that has dark green leaves. It is grown for its beautiful foliage that turns beautiful shades of crimson and orange in the fall.
Use vines to create your very own privacy area or to conceal otherwise offensive line-of-sight objects.
See our
Porch Landscaping Directory
for more great ideas using plants and landscaping for your porch.
Location of Your Porch
A porch in back that is already secluded is perfect. A porch on the front of the house (or one facing your neighbors) may be more difficult to make totally private.

Your porch may be private periodically during the day.

Even though it is in sight of others using it at "off" hours or when others are at away, will provide the solitude you love.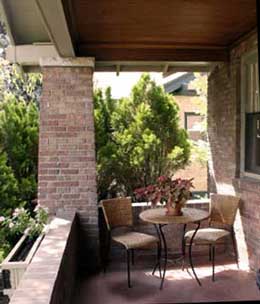 The private space protected by the evergreens in the photo at right create an intimate location for a small bistro table and chairs.





Create Privacy with Natural Landscaping
The right landscaping can magically seclude your porch from the everyday world



Depending on your yard, try the following landscaping ideas to create your privacy porch with a natural barrier ...
Thuja Green Giant (great for colder climates) or Emerald green thuja evergreen(really fast growing)
American holly or Nelly Stevens holy and Wichita Blue Juniper are all great hedges for privacy.
For small areas or for a more formal look use sapphire cyprus, eucalyptus tree, or skyrocket juniper
Grow vines like wisteria over lattice panels. Use treated wood. Take care with vines on your home as clinging vines can actually cause damage to brick and other materials.
Other vine options are: Virginia Creeper, Trumpet Vine, Bittersweet, Climbing Snapdragon, Morning Glory, and Clematis.
If you have a knee wall use shutters or blinds to cordon off your private space!
The best thing about a privacy porch or private porch area is that you can outfit it just the way you want. Not only consider comfort but pamper yourself as well.

Take a look at our sleeping porches section. You'll want one!




Helpful Links
Popular Pages
---
Our Sponsors
Vintage Woodworks
For Your Porch Parts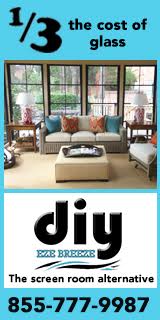 DIY Eze Breeze
Screen Porch Windows
Porch Store
Custom Porch Products
PCA Products
Complement Any Home!
End sponsor section
---
---
Copyright© 2009-2016 Front-Porch-Ideas-and-More.com.
All rights reserved.
Content and photos may not be reproduced
in any way without our written permission.