Susan's Screen Porch
(Part I)
Ever want a screen porch? You are about to discover a delightfully decorated screened porch and we are thrilled to introduce to you Susan, the author of Between Naps on the Porch.
Susan blogs about decorating, gardening and reading. She enjoys touring historic homes and is the host of "Tablescape Thursday" and "Metamorphosis Monday". Susan has a wonderful eye for decorating and making a home inviting and comfortable.






Be sure to also see our screen porches photo gallery for even more ideas for your screened porch!

We want to give you a peek at how Susan furnished and decorated her new screened porch. It has a romantic cottage quality to it and looks abundantly welcoming and comfortable. Sit back and relax while you enjoy the wonderful photos and story that Susan is sharing with us.



Susan's Screen Porch Story
Part 1
Susan moved into her home 18 years ago and knew that her existing deck needed to be redone. As you can see from the "before" picture below, previous owners had neglected the deck over the years and thus Susan inherited a well-worn deck with sagging and popping boards and a stair case that jutted into the center of her backyard, not architecturally pleasing.

Cleaning didn't work, staining didn't work. Time for a renovation.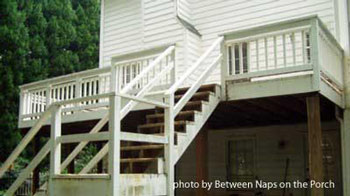 Susan was very happy to see the old deck removed! Note the discolored siding from years of dirt being splashed on it when it rained.




As a cautionary note, whenever you remove a deck ensure that existing exterior doors are nailed shut (like Susan did) so no one will accidentally open them and take that first "giant" step.

We are creatures of habit and as the saying goes: "It's not the fall that hurts you, it's the sudden stop at the end"!





Susan took advantage of her construction project and made several other design changes that make a huge difference as seen in the photo below.

Note how she turned the door below the small window into another window and then added French doors to the left of it. This added a lot more light into her lower level (which she also renovated)!


Note how the deck on the left makes an excellent place for the grill and patio furniture. The deck extension on the right is ideal for a great seating and conversation area. The pergola fits well architecturally and provides additional shade.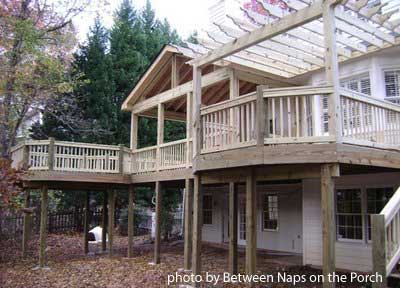 Note how the framing in the photos below allow for additional "transom" like screening at the top of the porch. This detail allows hot air to escape easily during the summer months and helps to keep not only the interior of the porch cooler but the home as well.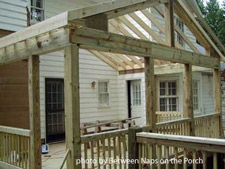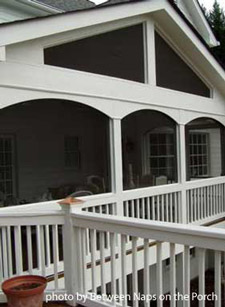 What a renovation and what a beautiful porch! But that's only half the story.
We've saved the best for last
; wait till you see how Susan decorated this fantastic porch in
Part II.


If you loved Susan's screen porch renovation, you'll definitely want to see how she decorated her porch - Part II - as well as her "front porch" renovation also!






Other popular pages...






Porch Home

›

Screen Porch Design

› Susan's Screen Porch Story (Part 1)





The Amazon ads are our affiliate links. Thank you.




Popular Pages
---
Our Sponsors
Porch Store
Custom Porch Products
Vintage Woodworks
For Your Porch Parts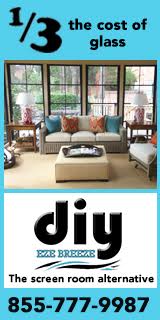 DIY Eze Breeze
Screen Porch Windows
PCA Products
Complement Any Home!
End sponsor section
---
---
Copyright© 2009-2017
Front-Porch-Ideas-and-More.com.
All rights reserved.
Content and photos may not be reproduced
in any way without our written permission.