Spring crafts to make
your porch blossom!
Spring crafts are refreshing! And what a great way to wake up your porch after a long winter's nap.



Our niece Elizabeth has several fun ideas to share with you...

Think flowers: Put them in vases, buckets, watering cans, wooden barrels, pots, pitchers, jars, baskets, and teapots to name but a few.


For spring crafts, just use your imagination! Perhaps you have an old red wagon. Transform it into a spring planter on your porch. Some popular spring flowers are tulips, peonies, lilacs, roses, orchids, and hyacinths.
If you have a table top with a glass cover, lift the glass and lay some flat, dry flower petals on the table and cover with the glass top. This makes an attractive, conversational piece.
This also works with dinnerware. Lay a charger down on the table, next lay some flower petals, and then cover with a clear glass plate. Serve the food atop the glass plate. Wouldn't your friends and family love being served a snack on such a pretty plate?



Use Modge Podge® to Decorate
Elizabeth shares with us is how she fixed up a garage sale purchase. She purchased a table and chair set for her sun room. It was pretty unattractive until she spruced it up. She turned a ragtag piece of furniture into a great conversation starter for her porch by using some of her favorite treasures. Here is how she did it.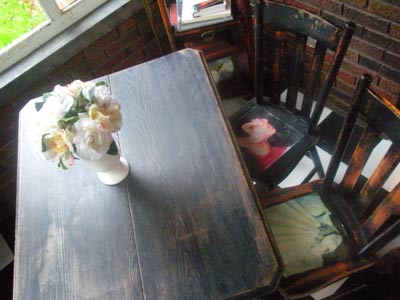 First, she spray painted the table and chairs and allowed them to dry completely. Then she found some old photographs that she really adored. She attached them to the chairs with a product called Modge Podge® . She allowed it to dry and then she applied several more coats of the Modge Podge® , allowing each to dry before applying the next coat.
She then used sandpaper to make it look aged. Use 120 or higher grit sandpaper available at all builder supply stores. Lightly sand over the picture taking care not to damage them. Go lightly until you achieve the result you want.

Note: You can use the same process to attach magazine pictures, greeting card pictures or postcards to the table top!
She'll proudly tell you she gets more compliments on her porch furniture than anything else. It is so simple and inexpensive to do. You can do it too...maybe a pretty spring shade of paint and some floral photography would add to your porch decor?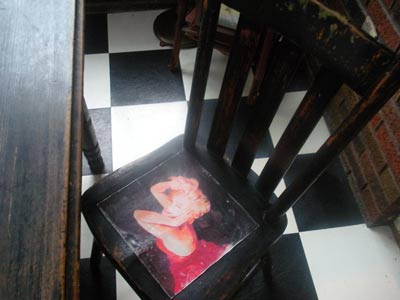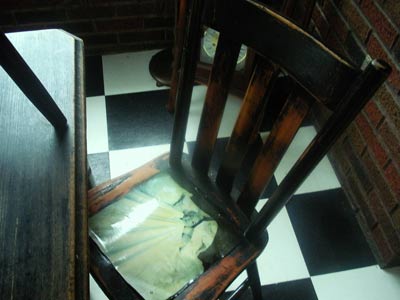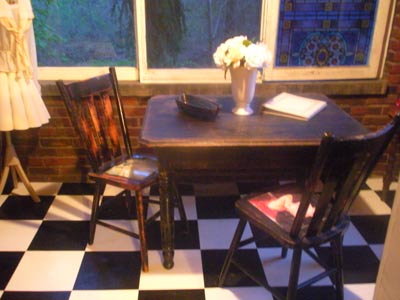 Mosaic crafts: table tops and more!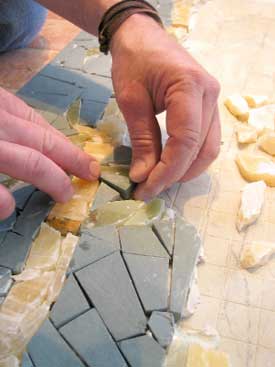 Ever try your hand at mosaics? How about a mosaic tabletop or vase to put on your porch? It will also be a great conversation piece and focal point as well.
Materials needed:
Broken china, dishes, tiles, whatever you like as long as its flat, smooth, and durable.
Tile adhesive
Tile grout
Plastic gloves
Brush (to spread adhesive)
Old rag or scrub brush
Soft cotton cloth
Tile cutters(only if you don't have broken pieces)
A table or any surface that you want to transform
Cardboard (optional)
Instructions
First, plan out your design. This can be done by laying the tiles or other materials on the tabletop or other surface or you can cut out a piece of cardboard the same size as your tabletop or surface to use as a template. If this option is chosen, draw out your design on the cardboard and lay the tile on top.
Transfer the tile to the tabletop one by one using tile adhesive.
Once the design is complete, mix the grout and spread over the whole surface, using your brush to spread it deep into the groves. Clean the excess with a rag or scrub brush. If your tiles are shiny, finish by polishing with a soft clean cloth.
Do you have
ideas for spring crafts
for decorating your porch? We'd absolutely love to hear them and share them here.
Elizabeth shares more spring crafts and porch decorating ideas
"Due to the economy, I find that I stay home more often so investing in my porch is a good idea for spring entertaining!"
Buy sale items toward the end of spring and store until next year.
Never pass up a garage or yard sale. I have found so many great bargains. Keep your eye out for any furniture; even if it's not in the best condition.
Be creative - a little paint goes a long way ! Just make sure the items you pick-up will last in your climate.
Purchase clingy cut-outs to put on the doors and windows of your 3 season porch. Look at the awesome stained glass cutout that Elizabeth found!

I like these materials: plastic, stone, wrought-iron, teak, cedar, aluminum and stainless steel.
Use spray paint for an easy fix on wicker furniture.
Use sandpaper to make an item appear antiqued.
Buy some stamps or stencils to create a neat table or footstool design.


We hope you enjoy creating your own spring crafts!






Porch Home

/

Porch Decorating

/

Spring Decorating Ideas

/ Spring Crafts






The Amazon ads are our affiliate links. Thank you.




Popular Pages
---
Our Sponsors
Porch Store
Custom Porch Products
Vintage Woodworks
For Your Porch Parts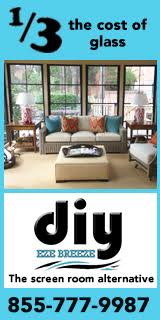 DIY Eze Breeze
Screen Porch Windows
PCA Products
Complement Any Home!
End sponsor section
---
---
Copyright© 2009-2017
Front-Porch-Ideas-and-More.com.
All rights reserved.
Content and photos may not be reproduced
in any way without our written permission.