Spring Decoration Ideas
from Eileen at The Seasonal Home
If you are wanting spring decoration ideas for your porch, then you will enjoy Eileen's spring crafts. We are so happy to have found Eileen, author of The Seasonal Home.

She decorates her home inside and out with the cutest seasonal ideas - and budget friendly ones, too.

We'll be trying Eileen's alphabet wreath for sure! Ideas for all the seasons and holidays are swirling around our heads.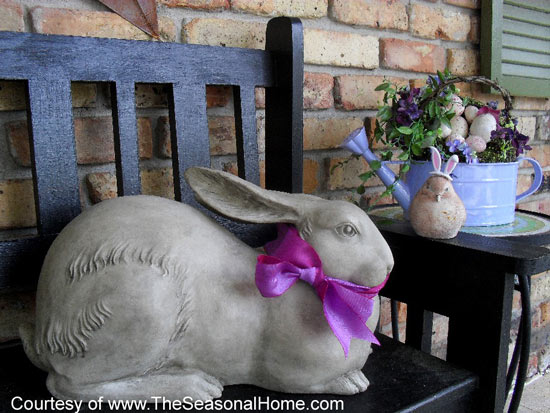 Dave and I are crazy about cute bunnies, so when we saw Eileen's sweet bunny with the purple bow, we had to share with you.

Now, let's see more of her spring decorating ideas.



Use a Large Alphabet Letter
For a Decorative Front Door Wreath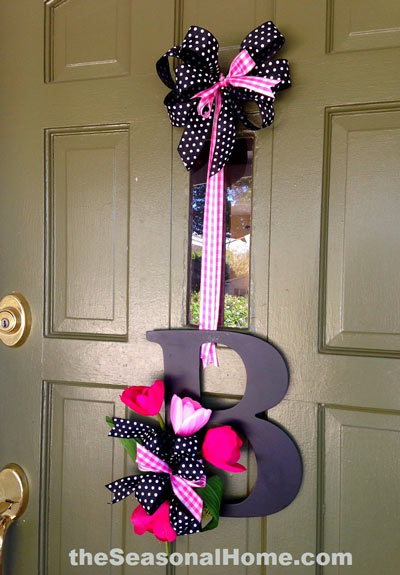 Instead of a typical wreath, Eileen used a large monogram for her last name to make this delightful spring front door decoration. The letter already came painted black but you could, of course, paint it any color you like.

She stapled a ribbon to the back of it for hanging on her door. Then came the fun part.

She used her hot glue gun to add a bouquet of bright pink tulips and tied them with gingham and polka dot ribbon bows.

We may need to take a lesson from Eileen on how to create such pretty bows as they are what make this "wreath" so eye-catching.





Eileen uses styrofoam planters to create displays on her porch. Notice how she painted the planters shown here for spring - in a couple shades of pink. She fills up the space inside with circles of Styrofoam.

Then she added her bunnies, green grass, tulips and eggs to create this very cute display at her front door. Many of the materials can be found at your dollar store.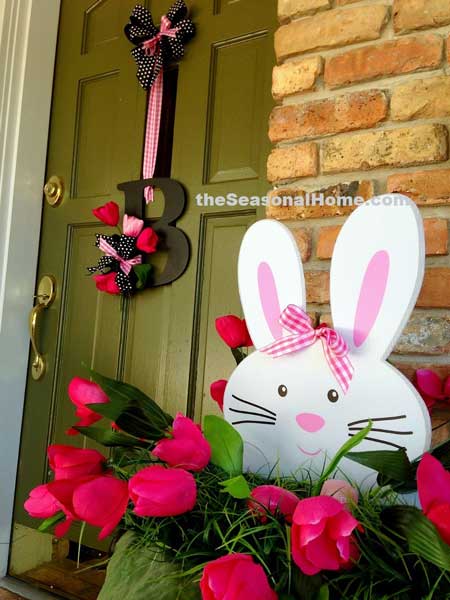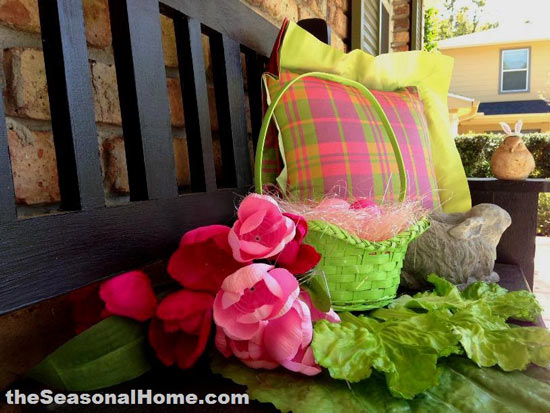 What a colorful spring decorating idea - perfect for Easter. Use what you have on hand and just be creative. There are not rules and we are sure Eileen would agree.
Delightful Square Wreath
Spring Decoration Idea #2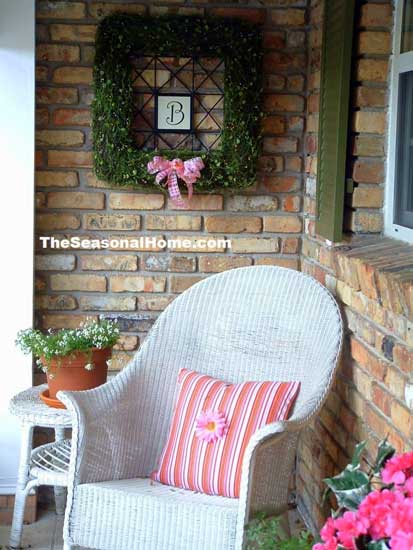 Another year, Eileen's porch started with a white wicker rocking chair and a wrought iron initial on her porch wall.

How Eileen added fun and color to her porch for spring:
She covered older pillows with inexpensive striped fabric from Walmart and then glued a cute little pink posey right smack dab in the middle of the pillow.
She also found a delicate blooming plant for her table.
And lastly she added square greenery around her initial plaque and added a whimsical bow in a soft pink color to complement the pillow. Pretty charming!
If you cannot find a square green wreath, you can either purchase one or make your own. Eileen says it could be crafted by adding greenery picks to a square foam wreath. Another alternative is to glue moss to a square cardboard frame (like a pizza box).


We like Eileen's entryway. It's very welcoming for spring.



Look at This Spring Wreath
Spring Decoration Idea #3


Eileen created this adorable birdhouse wreath with a decorated grapevine base and a cute little birdhouse. First decorate your grapevine wreath with moss, berries, ivy, flowers - just about anything that tickles your fancy.

Then attach the birdhouse to the wreath securely with wire. Secure it well on the top, bottom and sides.

Add a pretty bow. Eileen used a gingham check ribbon which looks very nice. To finish her spring wreath, she added some tiny birds and eggs. Do you see them? Love that extra touch.



Wow, Look at Eileen's Easter Decorations
Spring Decoration Idea #4


Isn't this a fun and festive Easter porch? I like how Eileen incorporated veggies amidst the more traditional tulips - carrots, lettuce leaves, grass. So very cute. And look at the bunnies in the lanterns on top of the planters!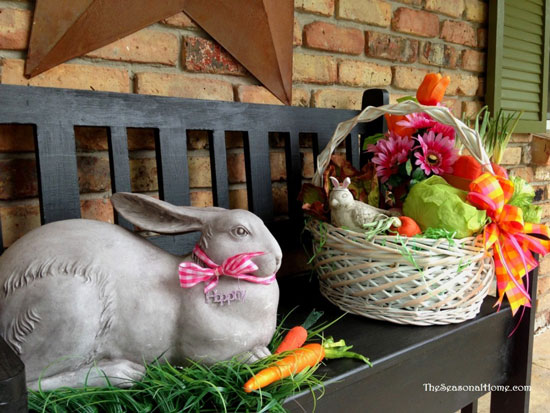 Take a look at the sweet Easter bunny and basket on the bench. There's that veggie theme again. We are enjoying the orange plaid ribbon amidst the pastel colors' we like Eileen's Easter porch.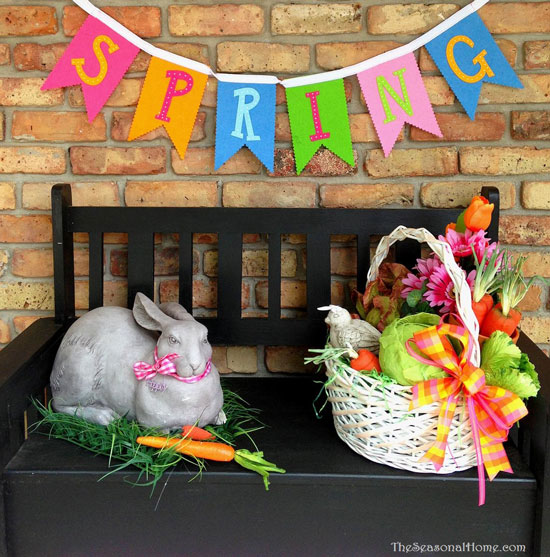 The spring banner is very cheerful indeed
Eileen Gets to Enjoy Her Neighbor's Flowers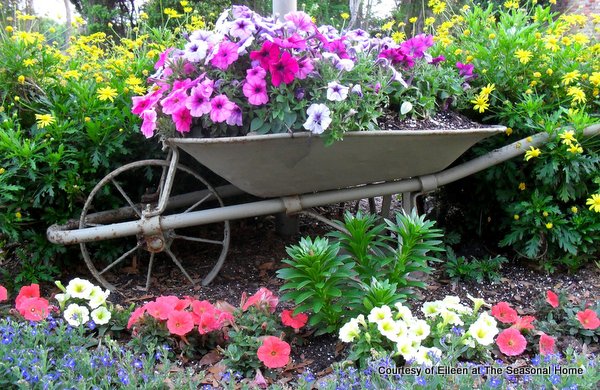 Eileen's neighbors plants flowers in an antique wheelbarrow they were given by a friend. What a pleasant design!




Sneak Peek of Eileen's Patriotic Door Decoration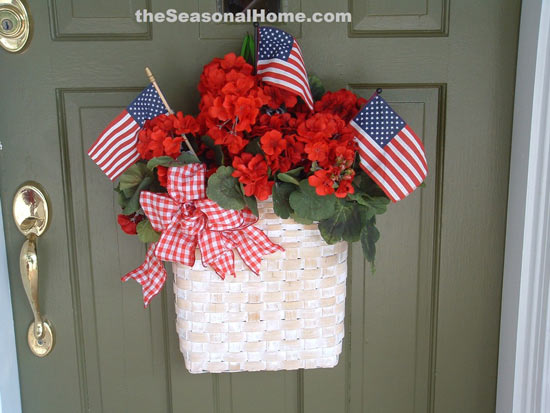 Simple yet so pretty for Memorial Day or 4th of July
Meet Eileen of The Seasonal Home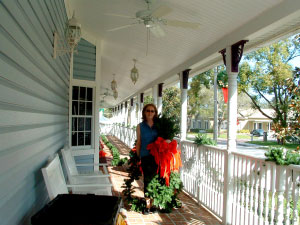 Eileen is the author of
The Seasonal Home
, where she shares and teaches her joy of crafting and decorating on a budget.
She is not onlyl a wife and mother to four but she also owns a commercial holiday design company and is also a public speaker.
We sure appreciate Eileen sharing her spring decoration ideas with us - and hope to bring you many more seasonal ideas!
Stay With Us Please!
We have more fun ideas to show you.
--- See the
Young House Love porch makeover
by John and Sherry.
--- See Brittany's
spring decorations
for her screen porch.
--- See Diana's
fun numbered pillows
.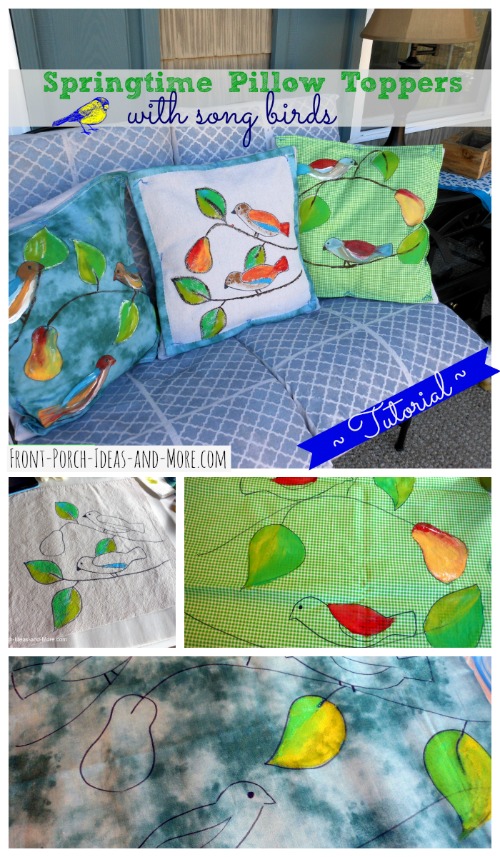 Fun songbird pillows tutorial






Porch Home

/

Front Porch Decorating

/ Spring Decoration Ideas





The Amazon ads are our affiliate links. Thank you.




Popular Pages
---
Our Sponsors
Porch Store
Custom Porch Products
Vintage Woodworks
For Your Porch Parts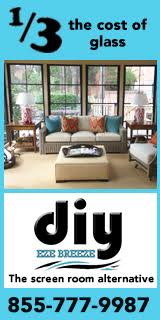 DIY Eze Breeze
Screen Porch Windows
PCA Products
Complement Any Home!
End sponsor section
---
---
Copyright© 2009-2017
Front-Porch-Ideas-and-More.com.
All rights reserved.
Content and photos may not be reproduced
in any way without our written permission.