Georgia Front Porch Appeal
Before
We start with a beautiful "porch-deprived" two-story home. Adding a front porch to an existing home and making it look like it belongs can be difficult at times. How do you envision a new front porch would change the look of this home?
Traditional 2-story Georgian Style Home
Every porch has its challenges. The challenge of this porch is readily apparent. Can you see it?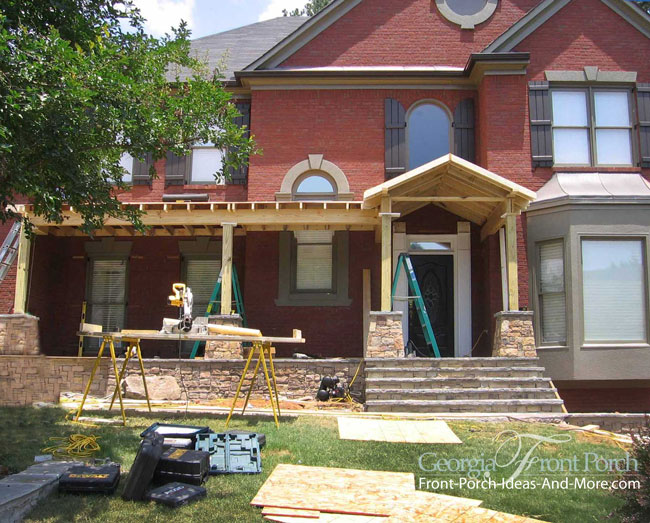 The owners wanted to retain the stairwell window to the left of the front door. To do so, it had to be split to accommodate the porch roof. Although an unusual request, Georgia Front Porch handled the challenge very well as you will see.
Also note the framing for the gable roof over the door and the shed roof over the remainder of the porch. This combination is very popular as it separates the actual entrance from the rest of the porch - a hallmark of what we believe are stylish front porch designs.
After
Quite the transformation! Cedar porch columns on stone pedestals supporting the metal roof along with an exquisite stone porch skirting make for a warm and inviting front porch.
This front porch design dramatically changes the appeal of the entire home.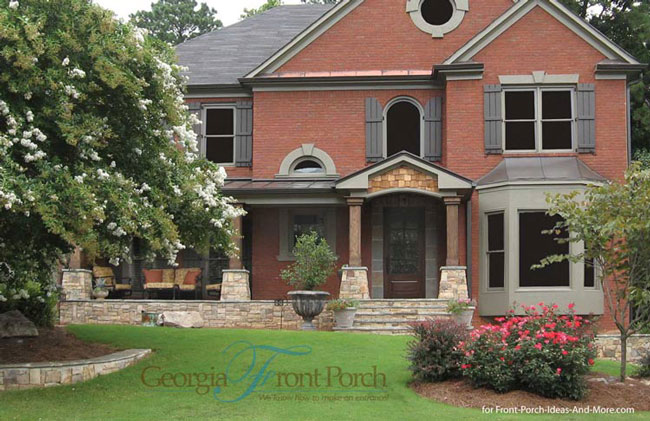 Inviting porch with classic metal roof and cedar porch columns
The traditional tongue and groove porch ceiling adds warmth and charm and along with the recessed lighting and exterior fan, provide a most comfortable place from which to watch the world go by.
Tongue and groove front porch ceiling and cedar columns
The barreled ceiling is also tongue and groove. Note the stone work around the front door and the attractive cedar shakes on the front. Mary and I really like how they incorporated so many natural building materials into the front porch design.
Tongue and groove under barreled ceiling
A stylish front porch design considers both flooring, steps, and walkway options also. As you can see, the stone porch floor, steps, and walkway create cohesiveness and creates a nice transition from the outside to the interior of the home.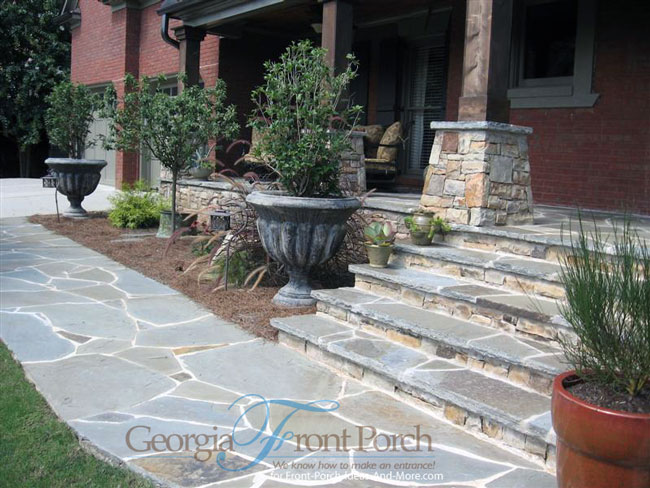 Distinctive stone front porch steps and walkway
Selecting the best porch step design and materials is essential to creating a curb appealing porch.
Explore your options
to find just the right steps for your porch or portico.