Installing A Vinyl Beadboard Ceiling On Porch
One of our site visitors, Shelly, contributed this photograph and helpful information about installing a vinyl beadboard ceiling:

I am almost finished installing a vinyl beadboard ceiling. I thought it might be helpful for people looking for a maintenance-free option.

The 6" planks (actually solid soffit material) are run parallel to the joists with plywood strips running between joists to provide a nailing surface for every plank. Each plank is screwed (provides more control than nailing) in 4 places along the 6-ft length.

Screw pattern is staggered so each course is screwed into every other strip. The cut ends (allow 1/4 on each end for expansion, and make sure the screws in the nailing flanges aren't so tight that the plank can't slide) are supported by J channel at the house (just the top of the J channel installed for the siding) and the carrying beam.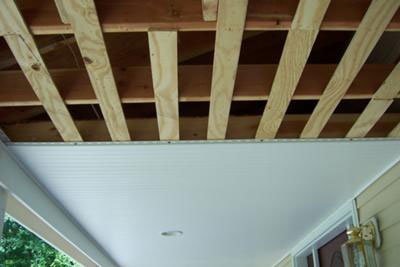 Black Vinyl Porch Skirting In Square Pattern



Here is a shot of the finished vinyl beadboard ceiling. I still have to finish the bottom of the beam, the other side of the beam (vented soffit) and replace some siding, then I'll share pictures of the whole porch!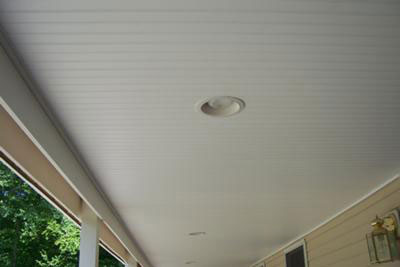 Black Vinyl Porch Skirting In Square Pattern





Shelly, we are very appreciative of you sharing how you installed your vinyl beadboard ceiling. It is very true that the right porch ceiling adds a lot of charm to any porch. Your front porch is a shining example.



To learn more about how Shelly installed vinyl beadboard ceiling on her porch, see this instructional aid.











Helpful Links
Popular Pages
---
Our Sponsors
Porch Store
Custom Porch Products
Vintage Woodworks
For Your Porch Parts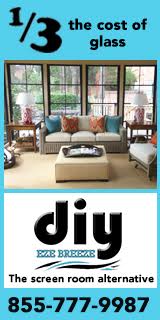 DIY Eze Breeze
Screen Porch Windows
PCA Products
Complement Any Home!
End sponsor section
---
---
Copyright© 2009-2016 Front-Porch-Ideas-and-More.com.
All rights reserved.
Content and photos may not be reproduced
in any way without our written permission.