Hello, Porch Friend,
Welcome to June, the month we say hello to summer and welcome friends and family onto our porch. June is a month to honor Dads and express gratitude for the remarkable and loving sacrifices they make for their families.
- June 14th is Flag Day. Flag Day commemorates the adoption of the flag of the United States on June 14, 1777, by resolution of the Second Continental Congress.

- Did you know that June is the month with the longest daylight hours of the year in the Northern Hemisphere? And likewise, June has the shortest daylight hours of the year in the Southern Hemisphere.

- The June birth flowers are the Rose and the Honeysuckle and both are so fragrant!

- In much of the USA, June is the beginning of summer vacation for kids, hence a much-loved month for young people.
What do you enjoy about June? For us, it just might be enjoying our porch garden.



---
Tips to Rejuvenate Your Porch
and Landscaping for Summer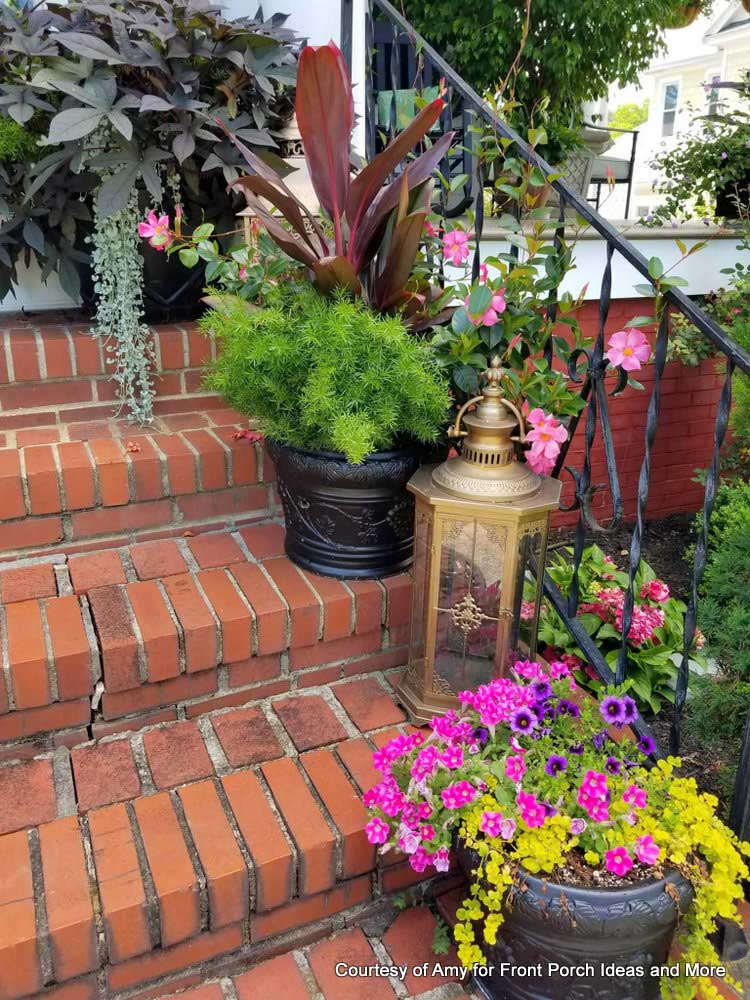 Add a pop of color to your porch with vibrant flowers and foliage in potted plants. Of course, choose plants that thrive in your climate and complement the color of your home.

We thank Amy for sharing this photo with us and love how she combined varying heights of plants in handsome pots along with the gorgeous gold lantern.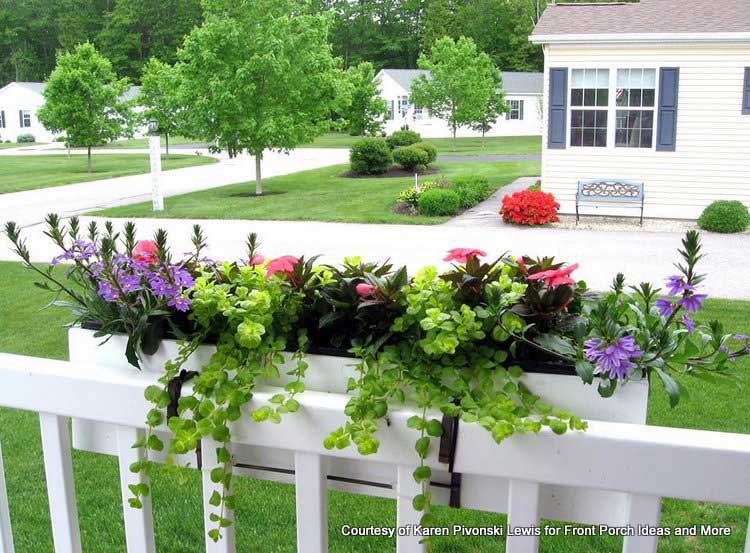 Add simple beauty and splashes of color to your porch or window ledges with flower boxes. Choose a mix of trailing and upright plants to create a stunning display.

We are always taken by lovely flower boxes on porch railings, like these at Karen's home. Are you, too?

Photo courtesy of Karen Pivonski Lewis.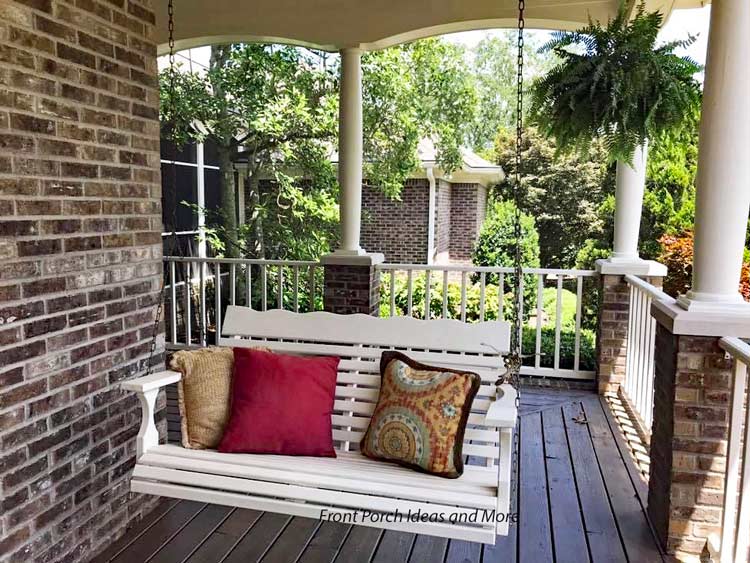 Hang a porch swing for relaxing moments on your porch. Add some throw pillows or a soft cushion for extra comfort while reading your book on the swing.

You'd be surprised by the memories you'll create on the porch swing. Some of my best memories with my grandma were made on her porch swing.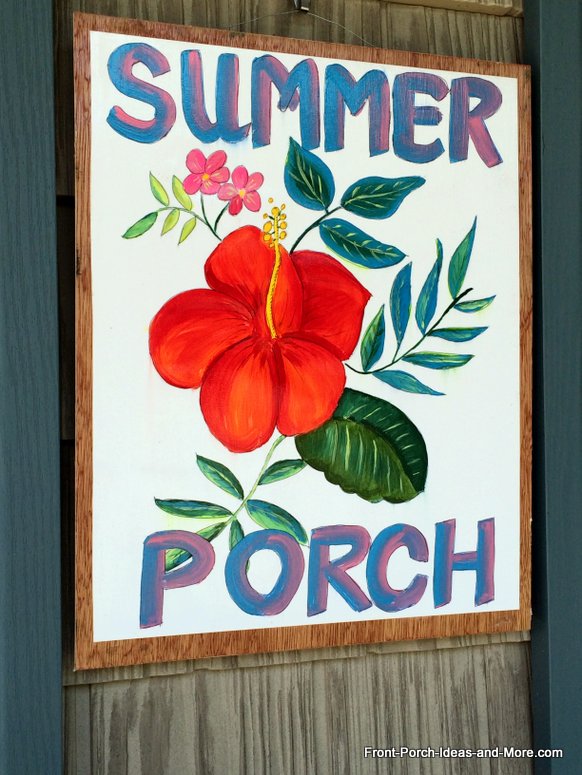 Consider creating or purchasing a piece of whimsical outdoor wall art to bring your porch alive.

This painting was inspired by a piece of tropical fabric I've had for years.







Create some eye-catching yard art like these flowers made from colorful bicycle wheels.

On a recent walk, the homeowner told us her daughter made this yard art for her. She spray painted bicycle wheels in colorful colors to become fun, whimsical flowers in their front yard. The bicycle wheels spin when the wind blows!

We have a bunch of yard art pictures to give you fun ideas right here.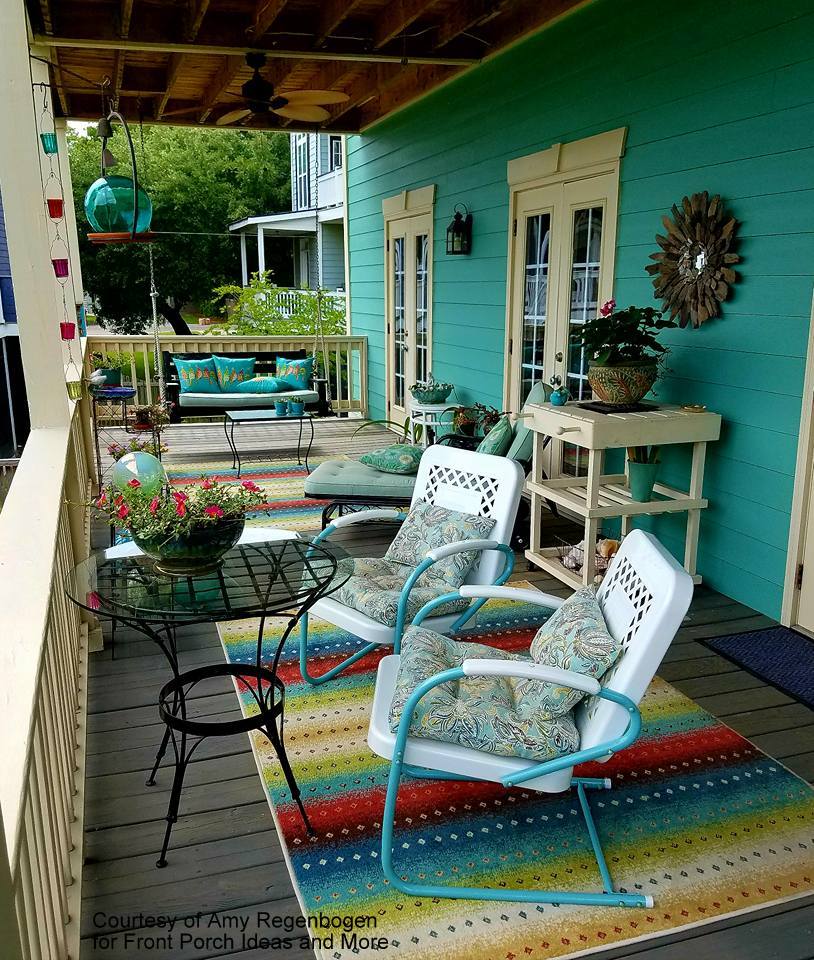 Add comfortable seating to your porch to create a welcoming and inviting space.

Consider a mix of chairs, benches, and stools for versatile seating options. To make your seating areas even more cozy, add outdoor rugs and mats to define your porch space for texture and happy colors.

Notice how Amy uses colors on her porch that reflect the beauty of her home!

Photo credit: Amy Regenbogen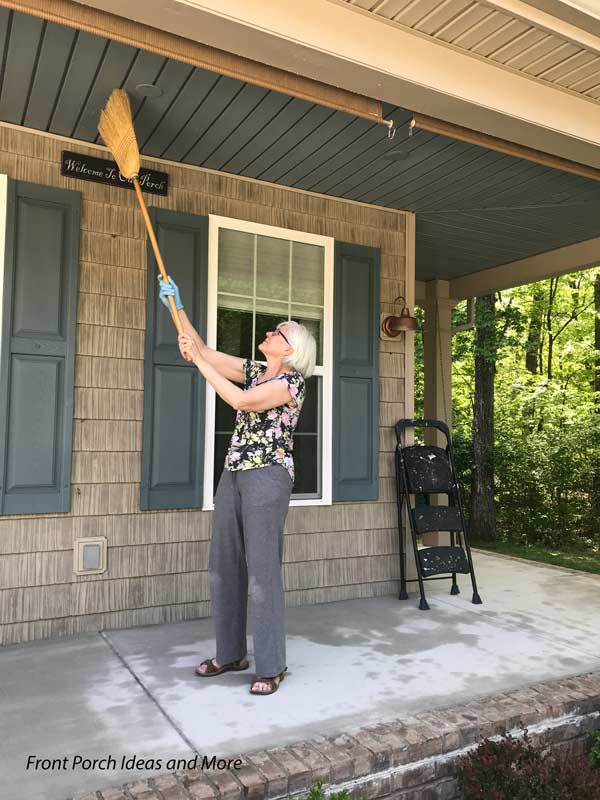 Take time to keep your porch in tip top shape!

In late spring or early summer, we take everything off our porch and give it a deep cleaning. Walls, windows, ceiling, floors, furniture. Everything gets a bath or good sweeping. And how nice it feels when we put it all together.

A well-maintained porch is a beautiful and welcoming space for you and your guests.





---
Honoring Dads on Father's Day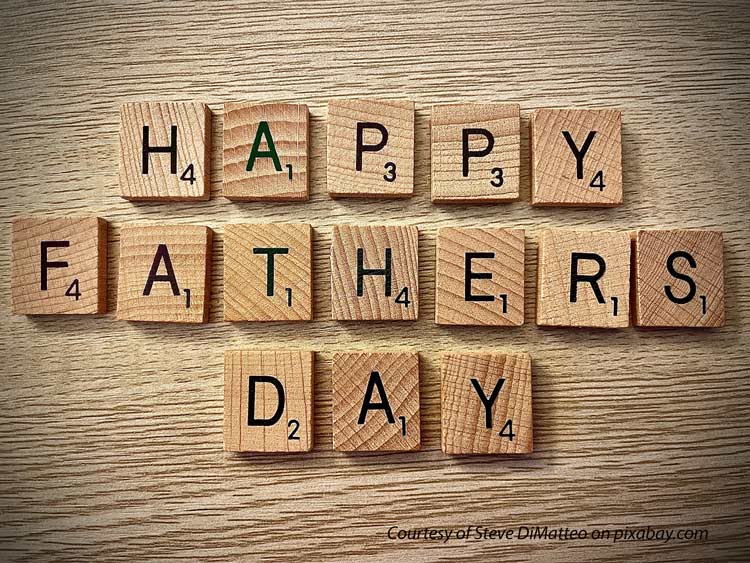 Father's Day is a special occasion dedicated to celebrating the remarkable role that fathers play in our lives. It is a time to express gratitude and love for the unwavering support, guidance, and sacrifices that fathers make.

Fathers inspire us to overcome challenges, embrace perseverance, and become the best versions of ourselves.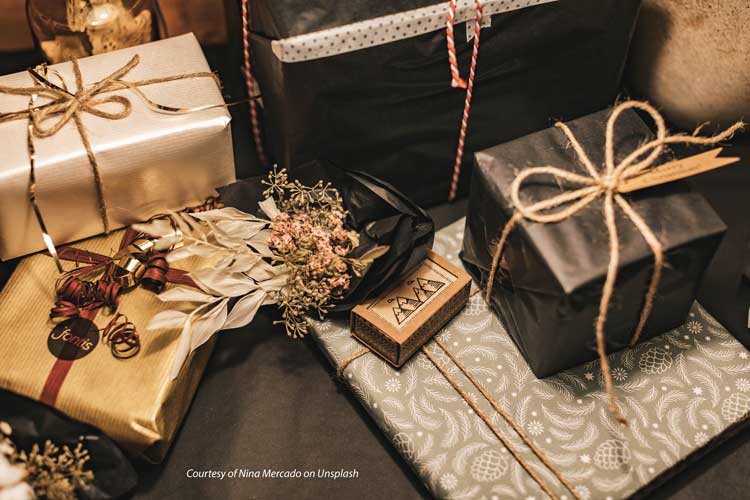 Fathers are mentors and role models. With patience and wisdom, they guide us on our path of life.





---
Planting Perennials Around Your Porch
Planting perennials around your front porch is an ideal way to establish eye-catching beauty throughout the warmer months.

And if you wish to have even more vibrant color, consider adding some stunning annuals to the mix.

See the following list of perennials, sorted by growing zones.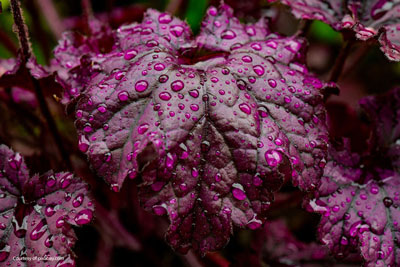 Zone 1 Ideal Perennial Ideas
Coral Bells (Heuchera) - pictured above

Other ideas: Siberian Iris (Iris sibirica)
Purple Coneflower (Echinacea purpurea) Beardtongue (Penstemon) Catmint (Nepeta)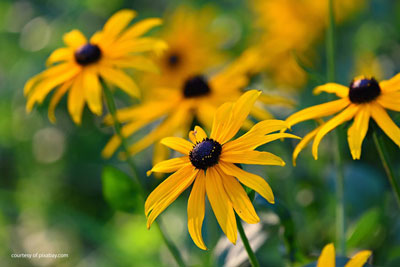 Zone 2 Ideal Perennial Ideas
Black-Eyed Susan (Rudbeckia) - pictured above

Other ideas: Daylily (Hemerocallis)
Russian Sage (Perovskia atriplicifolia) Yarrow (Achillea) Blanket Flower (Gaillardia)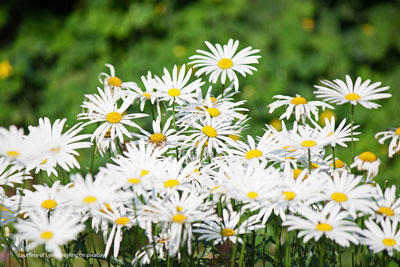 Zone 3 Ideal Perennial Ideas
Shasta Daisy (Leucanthemum x superbum) - pictured above

Other ideas: Peony (Paeonia) Hosta (Hosta)
Salvia (Salvia) Liatris (Liatris spicata)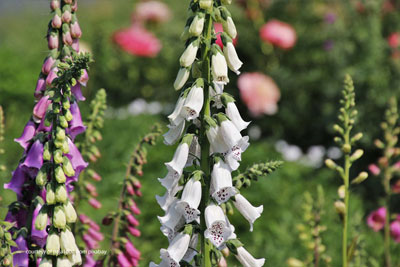 Zone 4 Ideal Perennial Ideas
Foxglove (Digitalis) (pictured above)

Other ideas: Coneflower (Echinacea) Bee Balm (Monarda)
Butterfly Weed (Asclepias tuberosa) Coreopsis (Coreopsis)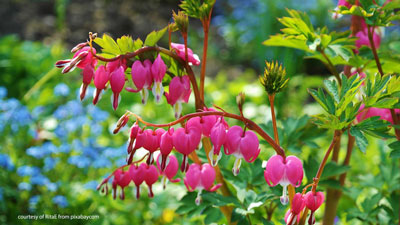 Zone 5 Ideal Perennial Ideas
Bleeding Heart (Dicentra spectabilis) - pictured above

Other ideas: Lavender (Lavandula) Globe Thistle (Echinops ritro)
Goldenrod (Solidago) False Sunflower (Heliopsis)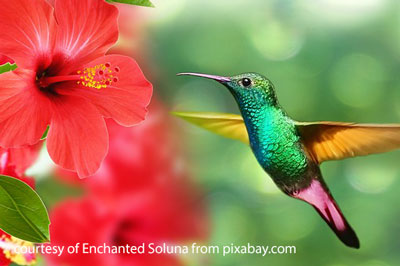 Zone 6 Ideal Perennial Ideas
Hibiscus (Hibiscus) - pictured above

Other ideas: Japanese Anemone (Anemone x hybrida) Veronica (Veronica spicata)
Russian Sage (Perovskia atriplicifolia) Astilbe (Astilbe)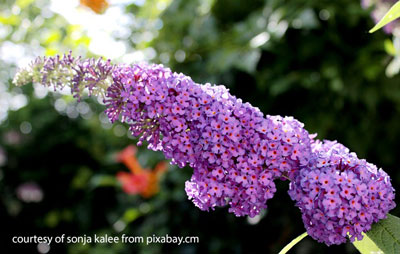 Zone 7 Ideal Perennial Ideas
Butterfly Bush (Buddleia) - pictured above

Other ideas: Balloon Flower (Platycodon grandiflorus) Hellebore (Helleborus)
Coneflower (Echinacea) Coral Bells (Heuchera)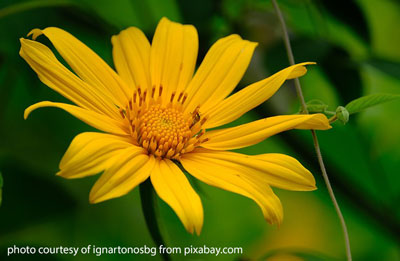 Zone 8 Ideal Perennial Ideas
Mexican Sunflower (Tithonia rotundifolia) - pictured above

Other ideas: Lantana (Lantana) Red Hot Poker (Kniphofia uvaria)
Blanket Flower (Gaillardia) Purple Coneflower (Echinacea purpurea)
---
Aluminum Screen Doors to Swoon Over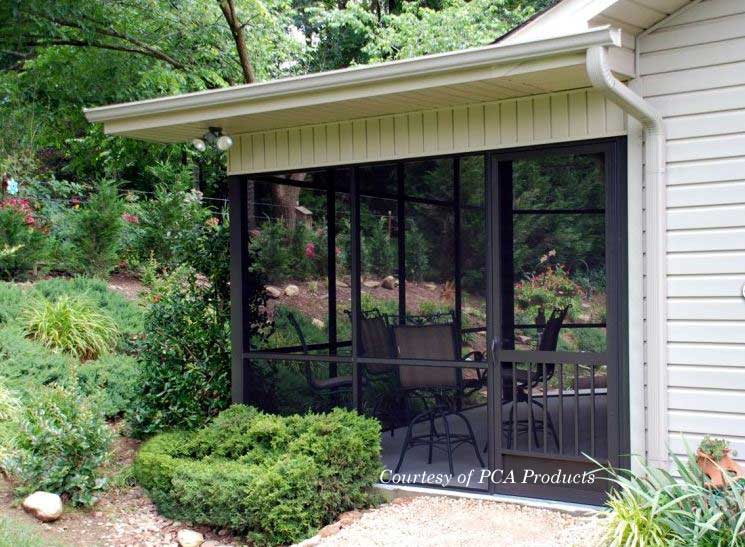 Don't miss out on enjoying the beautiful weather for lack of a screen door. Change things up this year.

Enjoy spring, summer, and fall more this year by installing a most durable and quality screen door from our sponsor and friends at PCA Products.

We think you will appreciate the wonderful quality and value you receive from PCA Products.





---
Vintage Woodworks Time-Honored Products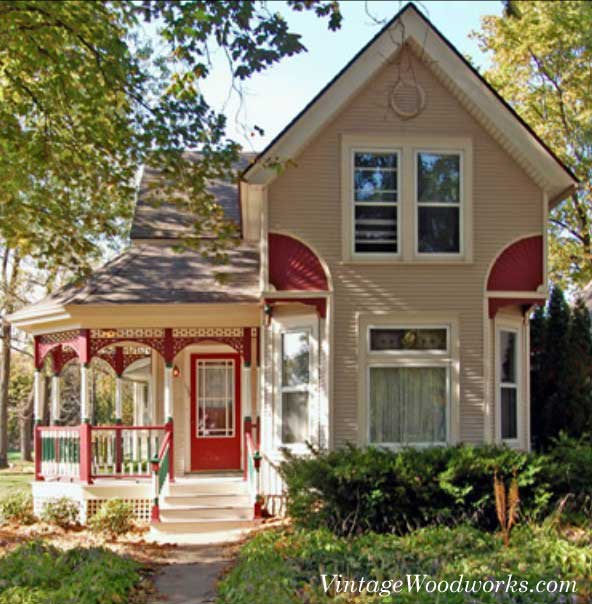 We're always happy to share the products from our fine sponsor and friends at Vintage Woodworks. They have been in business since 1978 and specialize in beautiful handcrafted products to beautify your porch and home.

Please take a look right here.





---
Lovelies From the Porch Store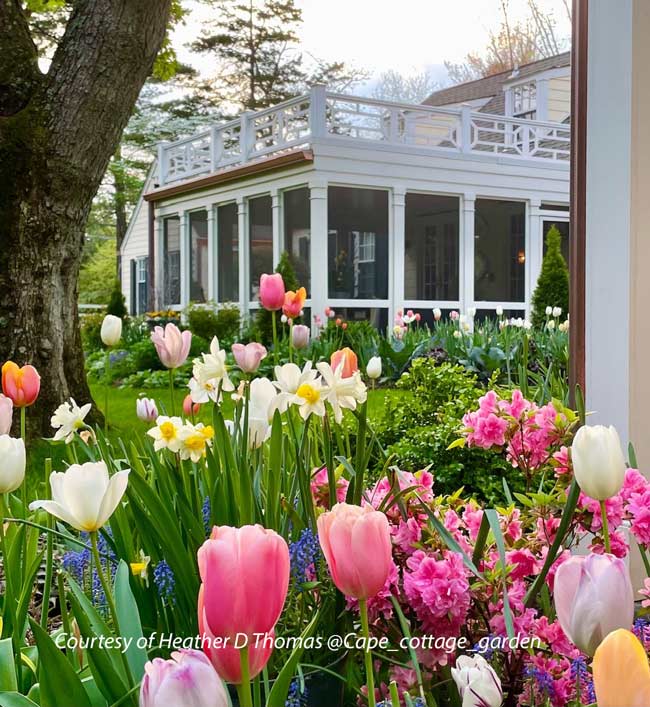 Photo courtesy of Heath D Thomas @cape_cottage_garden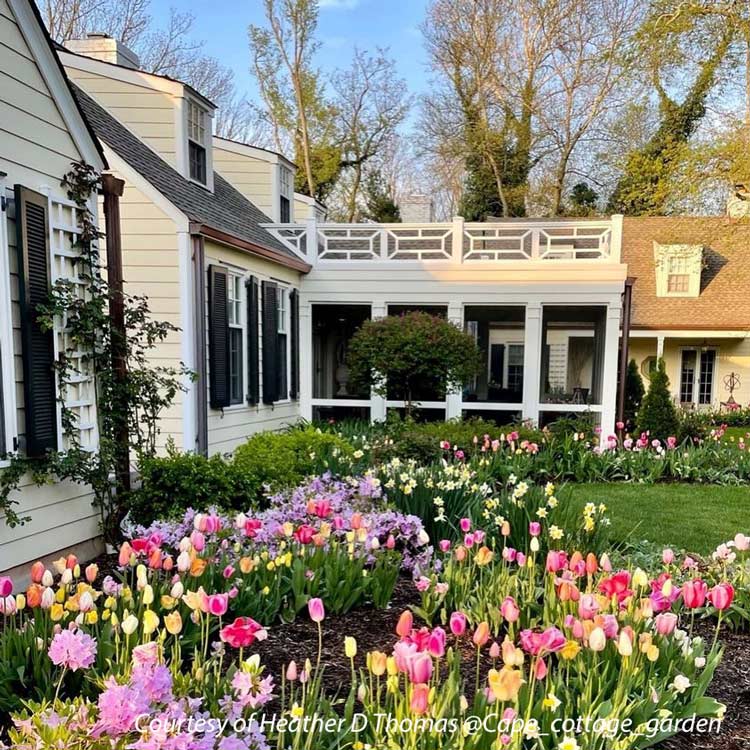 Another view from the other side
Photo courtesy of Heath D Thomas @cape_cottage_garden


We are very proud to show you the custom Widow's Walk Railing from our fine sponsor and friends at The Porch Store. See it above the screened porch? Really sets it off beautifully.
Want to see what The Porch Store can do for you? Check them out right here.



---
Till Next Time...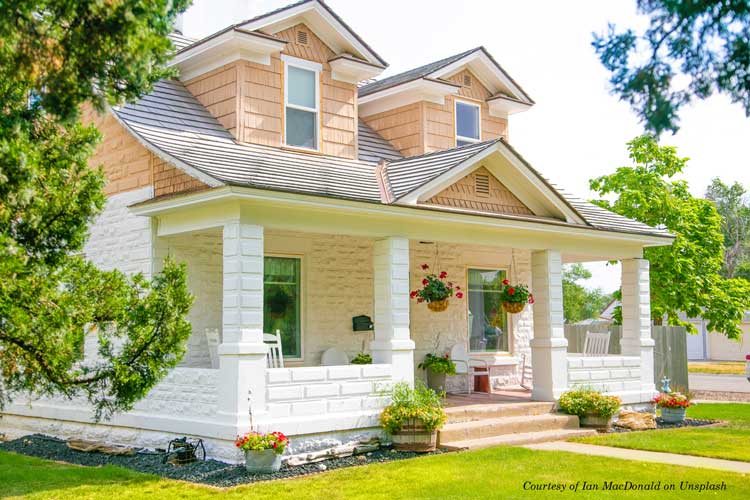 We all live busy lives, so thank you for being in our porch family! We appreciate you.

May you have a playful and joyous month of June. Enjoy the beginning of summer!

See you on the porch,

Our best always,

Mary and Dave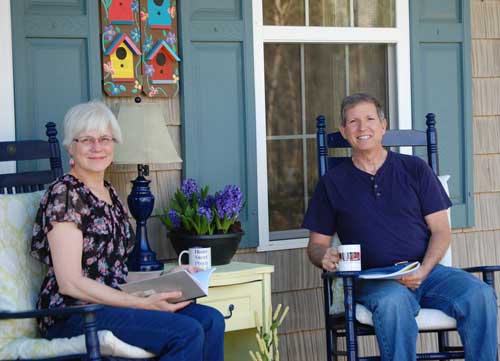 ---