Hello, Porch Friend,
Welcome to August, the month when summer is still in full swing with hot, sometimes scorching hot days. We often refer to it as the "dog days" of summer! August is often the last full month for neighborhood swimming pools to be open and families taking summer vacations.
Where we live, if you can believe, our grandchildren returned to school on August 1st. Yes, August 1st. At first that sounds absurd, at least to us. But in October they get a nice two week fall break, when the weather is much more pleasant, so perhaps an early start to the school year makes sense.
The two of us are blessed to have a front porch, a back porch and a side porch. The blessing there is that we can always find welcoming shade on one side of our house.
What do you enjoy most about summer?



---
The Dog Days of Summer
Cisco loves the porch!
photo by Painted Bench Photography
The "Dog Days of Summer" is a popular expression that refers to the hottest and most sweltering period of the summer season.
This phrase is mostly used in the United States and is typically observed during the months of July and August, when we have the warmest days of the season.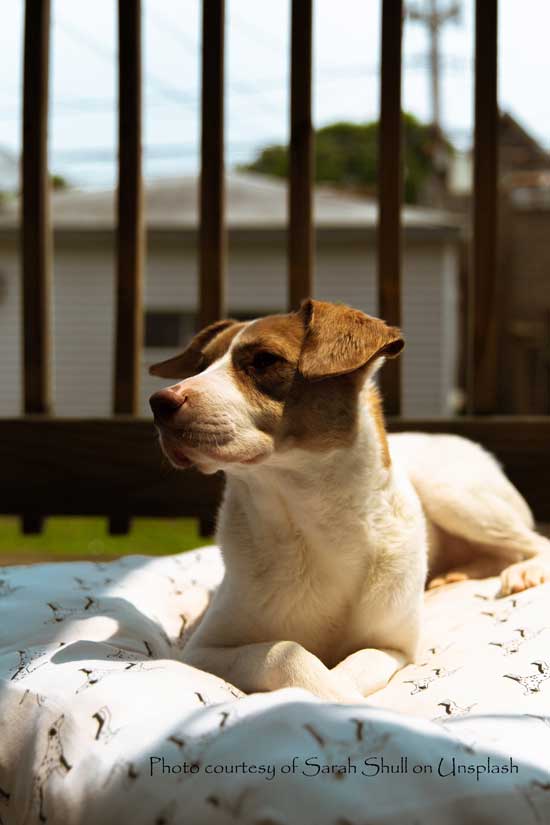 Photo courtesy of Sarah Shull on Unsplash.com
The name "Dog Days" has its roots in ancient astronomy and astrology. We didn't realize this till we heard it on the Weather Channel one day.
In ancient times, during the hottest part of summer, the bright star Sirius, known as the "Dog Star," appeared to rise and set as with the sun. Sirius is the brightest star in the constellation Canis Major, which means "Greater Dog" in Latin.
Since this alignment between the sun and Sirius took place during the hot and sultry weather, the heat was associated with Sirius and became known as the "dog days".





Photo courtesy of Perry Kibler on Unsplash.com
Over time, the term "dog days" became associated with the hottest days of summer.
We like to think Dog Days refers to the lazy summer weeks when dogs simply enjoy their porch time. Our granddog, Blue, who is a lab, loves to sit on his back porch even in the hot sun. We are amazed at how long he will bask in the hot sun.
Summer Porch Flowers Loving the Heat
In spite of the crazy heat where we live, our summer flower garden is thriving! Maybe the flower love the heat.



Coneflowers, verbena, begonias, and marigolds!


We didn't plant anything exotic this year, yet our garden is a splash of color.
Early in the spring (mid-April) we found flats of eight plants for $3.98 and wow, have they ever thrived. In fact we were gone for nearly six weeks and they grew so much during that time.
Next year, I think we would buy additional flats because we've learned that as the summer progresses, you can't find those inexpensive flats anymore.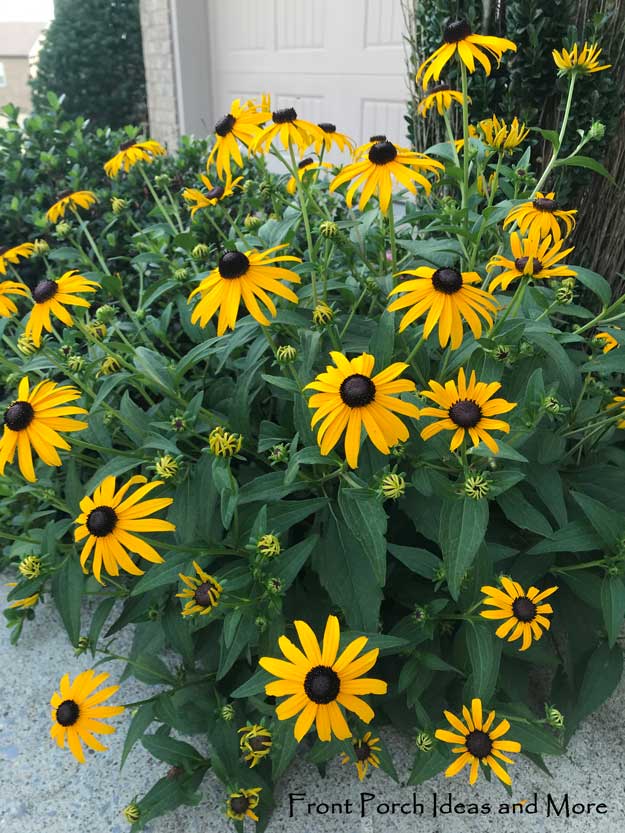 Vibrant yellow brown-eyed susans


Have you ever shared plants with neighbors? It's a great idea.
A few years ago, a neighbor gave us some brown-eyed susans and they are now a staple in our garden. Not only do they add a splash of color, but they are hearty and reliable.



---
We Have an Etsy Shop Coming!
Nice news! We have an Etsy shop coming. I hope by the time we write our next newsletter it will be open.

In our upcoming Etsy shop, we will have some of my art on greeting cards and on cute printables you can download and print for your journals, cards or just for fun. Some will include cute porch-y images!

We have other ideas in store too. It's most definitely a work in progress, but wanted you to know it's coming.

The name of our shop is Mary Sparkle Silver as that has been my pen name for many years for the hundreds (I guess thousands) of handmade greeting cards we have sent over the years.

Our shop is not yet open, but we will appreciate your support when it does. Thank you, dear friends.


---
A Visit from Our Wonderful Friends
Leisa Collins and her husband Bruce visited Dave and I
Leisa is the artist behind Leisa Collins Art


Leisa is the watercolor artist we so often share with you. She literally has painted over 3,000 house portraits across all 50 states.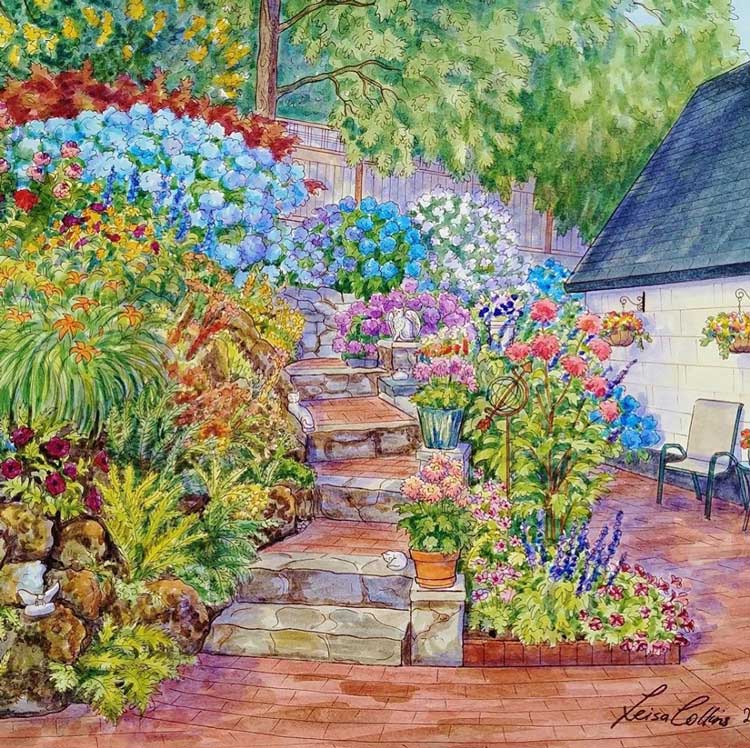 Speaking of summer flowers, isn't this perfectly wonderful?
Painted by Leisa Collins Art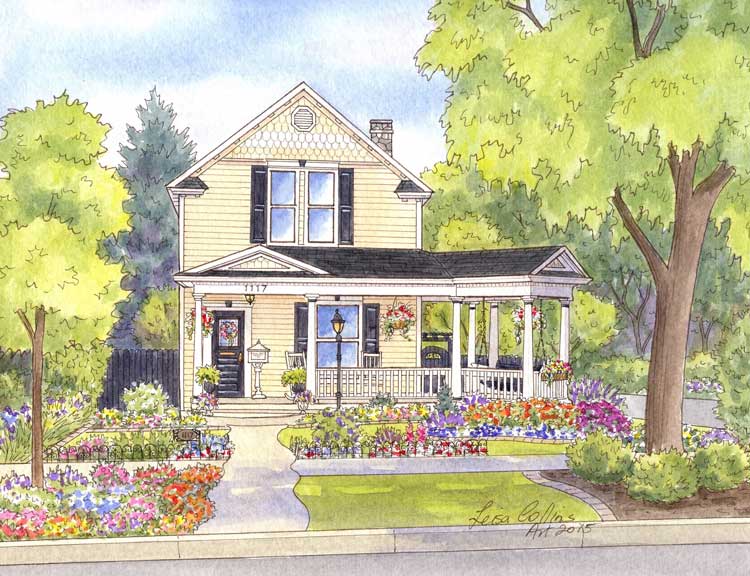 This charming yellow home is quintessential!
Painted by Leisa Collins Art


You can find many more examples of Leisa's work on our website right here.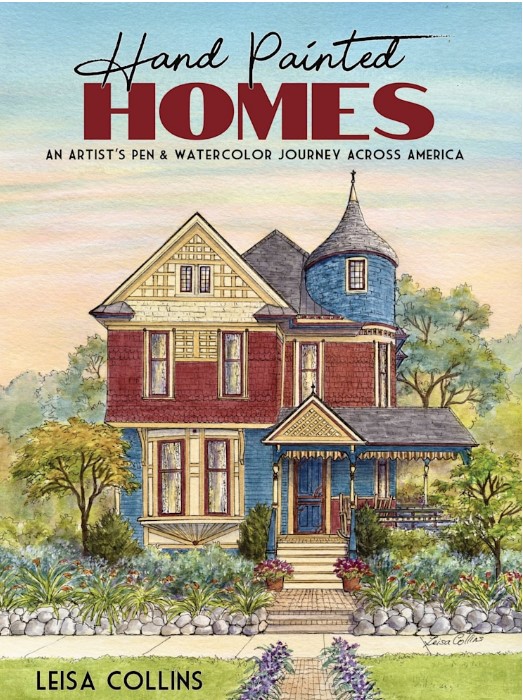 Please check out our Amazon store where you can see Leisa's beautiful book, Hand Painted Homes, which we heartily recommend, having a signed copy ourselves. It includes her stunning house portraits across all 50 states.



---
Beautiful Porch Pictures to Savor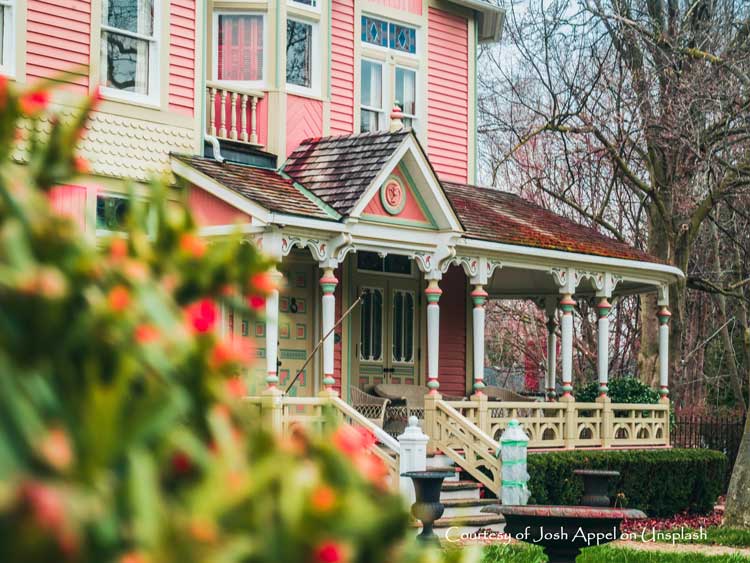 Wonderful Victorian home
photo courtesy of Josh Appel on Unsplash.com


Can you imagine sitting on this wonderful porch and the stories it would tell?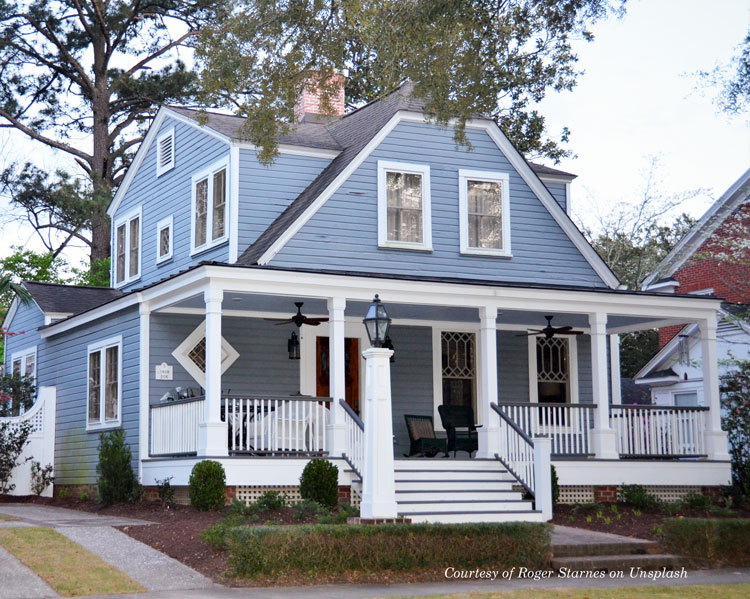 Such a handsome blue home!
photo courtesy of Roger Starnes on Unsplash.com


Looks like this porch has a couple sitting areas. How nice. We can picture neighbors and friends happily gathering here.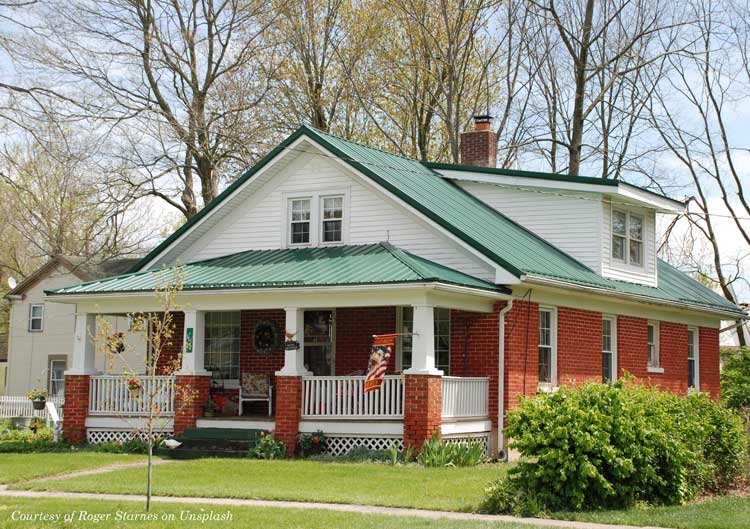 An inviting porch on this wonderful brick home
photo courtesy of Roger Starnes on Unsplash.com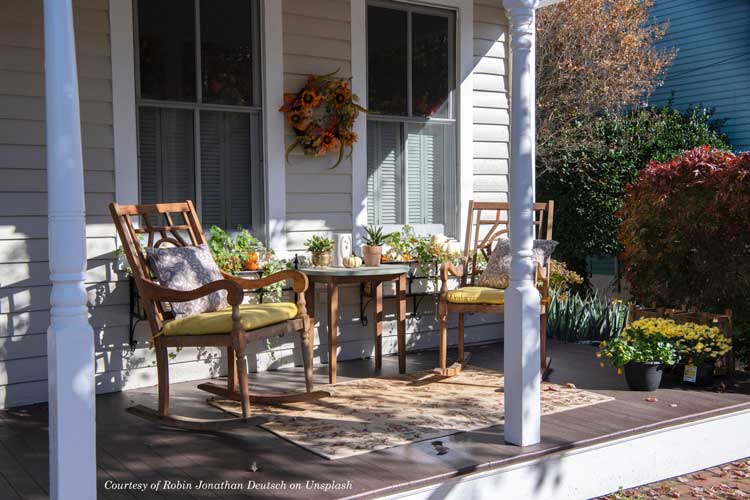 Who would like to sit here and chat?
And those beautiful plants!
photo courtesy of Jonathan Deutsch on Unsplash.com



The hydrangeas add immense charm!
photo courtesy of Omri D Cohen on Unsplash.com


Oh my goodness, this home is a great example of how gorgeous and showy landscaping can increase its curb appeal. Of course, this home is already such a charmer, but those hydrangeas!



---
May You Enjoy Visiting Our Sponsors
---
Vintage Woodworks Time-Honored Products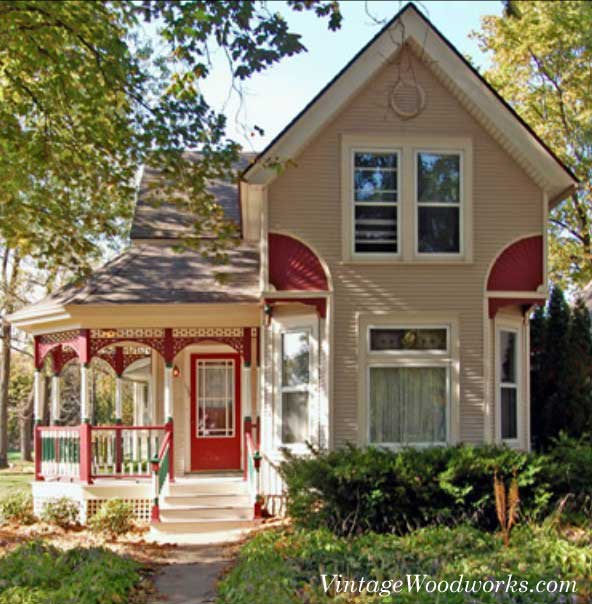 We're always happy to share the products from our fine sponsor and friends at Vintage Woodworks. They have been in business since 1978 and specialize in beautiful handcrafted products to beautify your porch and home.

Please visit Vintage Woodworks right here.





---
Lovelies From the Porch Store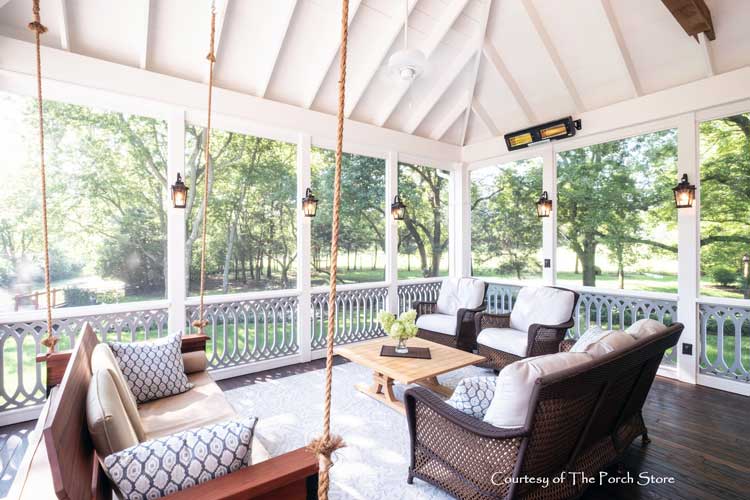 Gorgous Sapele Bed Swing and Double Cathedral Picket Railings
Courtesy of The Porch Store


Imagine swaying on this Sapele bed swing. Or napping for that matter! Did you know that these bed swings from The Porch Store have an adjustable back so that you can use it one way for sitting and another way for napping. Such a thoughtful design.
And look at the Double Picket Cathedral Railings. Quite elegant..
Want to see what The Porch Store can do for you? Check them out right here.



---
Aluminum Screen Doors to Swoon Over


Don't miss out on enjoying the beautiful weather for lack of a screen door. Fall is just around the corner.

Enjoy the coolness of autumn by installing a durable and quality screen door from our sponsor and friends at PCA Products.

We think you will appreciate the wonderful quality and value you receive from PCA Products.





---
Till Next Time...
Take a moment to relax and unwind




We all live busy lives, so thank you for being in our porch family! We appreciate you.

May you have a gentle and relaxing month of August. Enjoy the summertime as it is fleeting! Hard to believe next month we will be sharing autumn topics.

See you on the porch,

Our best always,

Mary and Dave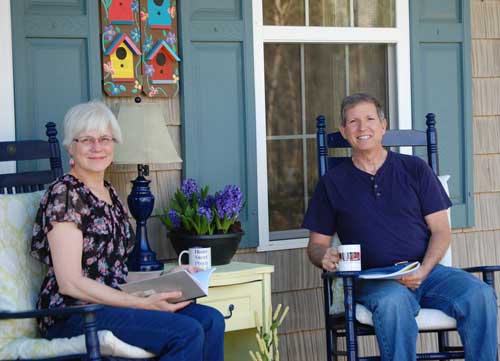 ---