Affiliate Program for
"The Front Porch Ideas Generator" eBook
Earn 50% commission for anyone who purchases our eBook, The Front Porch Ideas Generator, through your link by becoming one of our Affiliates.
How to Get Started
Sign up and get your personal affiliate link here:
http://porchideas.jmap.clickbank.net
Signing up as an Affiliate with Clickbank
is free
.
Your personal affiliate link will direct prospective customers to our
marketing page
and it contains a special code that is tracked to you - so always use your affiliate link if you want to receive credit for the sale. When you reach a certain threshold, Clickbank will pay you.
Images You May Use to Promote Our eBook
You are welcome to use any of these images for your promotions, but please download them to use on your own web hosting.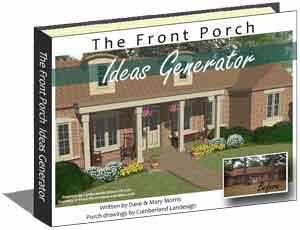 Frequently Asked Questions
Note: Most questions are already answered on our information page. Here are a few other Q&As to assist you.

Question What kind of homes are in the Front Porch Ideas Generator?

Answer Our eBook contains a blend of different house styles: ranches, two story, contemporary, cottage-like and Southwestern

Question How many pictures does the book contain?

Answer Nearly every page in our eBook contains a photograph or a conceptual drawing in full color. The book contains 140 pages. The pictures are accompanied by our helpful narrative to give you insight into each home's before and after case study.

Question How will the ideas in the eBook apply to my own home?

Answer Many of the ideas in our book are ones you could adopt for your own home. From the porch design to making your entryway more inviting. The ideas for improving walkways and freshening up landscaping would work for many styles of homes.

Question Who benefits from the Front Porch Ideas Generator?

Answer Great question. We have compiled a list of who benefits most.

Question Will you consider my home as a case study for a future edition of your eBook?

Answer If we decide to update our eBook with additional homes, you would be welcome to send us pictures of your home for consideration. Just contact us to let us know that you are interested.

Question Who benefits from our porch-related eBooks?

Answer We compiled a list of who may benefit and you can probably think of others, too.

Any other questions?

You are always welcome to contact us.