Dozens of Fresh Ideas for Your
Autumn Porch Decorating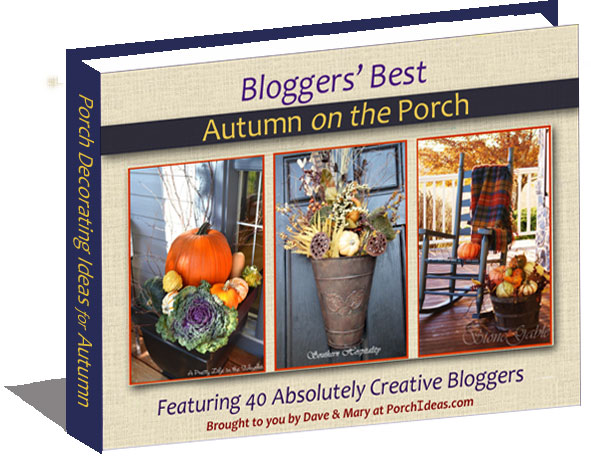 Many wonderful autumn decorating ideas in our eBook
Want a bunch of delightful autumn decorating ideas from 40 creative and generous bloggers?

Dave and I pulled together their fun and zany autumn porch decorating ideas into one nifty little eBook, Autumn on the Porch. It's actually 251 quick-read pages.

You will find their inspiration and tried-and-true tips under one handy cover.




Just $6.97
Who doesn't want a pretty autumn porch?

Just imagine how uber-cool and festive your porch could look this autumn with a few fresh decorating ideas.



Want Your Porch to Be the Pride of Your Neighborhood?
You porch will be admired if it's decorated in autumn's glorious colors. And then - watch heads turn when neighbors walk by your home. When you create that cozy welcoming look, you will warm the hearts of your family and neighbors.




"My neighbors are so happy to look out and see how I decorated my porch this autumn. I always try to do something a little different each year."







Modern Jane's porch is easy, simple and classy
"But What If I Don't Have a Porch?"
No worries. Even if you have just a small stoop or entry way, then you still have a perfect spot for colorful autumn decorations.

My goodness, with just your front door alone, there's so much you can do to jazz up your entrance with autumn beauty.

Just like you, these 40 bloggers love their homes and families - and they have fun decorating their entrances in clever ways.



Testimonials
"The full color photos on each page instantly drew my attention and inspired me to decorate my front porch for autumn. There are instructions for projects for all levels - from just pulling together things you already have to making gorgeous wreaths and centerpieces.

I especially liked the ideas for re-purposing summer plants and planters for fall. Thanks, Dave and Mary!"

...Peggy S., Omaha, NE


"It is such a lovely ebook and I can't wait to sit and look through it all!" ...Sandy A.


"The eBook Mary and Dave compiled is filled with beautiful pictures and how-to information. Mary and Dave lead the reader to pictures and ideas from 40 bloggers, each spotlighting autumn porch decorating (and a few recipes, too).

These bloggers offer not only autumn porch tips, but other creative ideas for your home, too. Even the novice decorator will be inspired by this book."
...Mary Ann, Deland, FL

Several of the Gems in Our eBook...
An impressive raffia wreath that looks better the messier you make it (p. 40)
The cutest, memorable little owl at Lauren's front door - and how you can make something similar (p. 56)
An apple garland swag that is so simple to make with fresh apples and rope (p. 108)
An idea to use your leftover wood scraps and your computer to spell out an autumn phrase (p. 109)
An 'aha' moment for using your hanging basket holders for autumn - and everybody who sees it on your porch will say "now why didn't I think of that?" (p. 127)
A classy way to dress up your entry way with just two items. Can you guess? (p. 146)
A look at how pretty Kelly's light green pillows look on her black rockers - and the autumn grouping she displays between her rockers (p. 152)
A chance to see how Rita, who lives in Florida, welcomes autumn to her porch (p. 165)
Two savvy ways to use mirrors in your autumn decorating. Go from ordinary to awesome!(p. 171)
A tutorial for making the sweetest autumn apple wreath you'll ever see (p. 181)
A unique way that Debbie uses little white pumpkins to create a gorgeous wreath for her front door (p. 187)
Ann's secret for creating ivy-wrapped grapevine trees that stay green until December (p. 202)
A fun idea for using unconventional items - like a totally cute little dump truck - to super charm your fall decorations (p. 246)
And even several creative Halloween decorating ideas (pgs. 65, 80, 211 and 231)
And that's just a smattering of what you will find.

Just $6.97 with Paypal or credit card
Don't Let Budget, Time or Talents Keep You from a Pretty Autumn Porch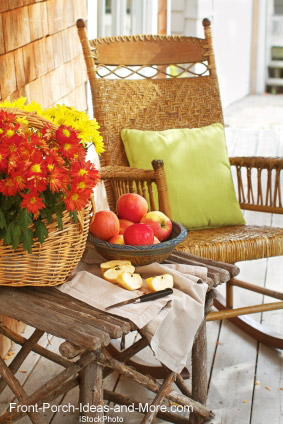 If you're on a shoestring budget, then perfect!
The bloggers' decorating tips are centered around what you already have or can purchase inexpensively.

Feel short on time? Not to worry. Most of the ideas take just a short time to gather materials and group them on your porch.

And if you wish you were more creative, you'll be surprised at what you can do armed with the guidance from these bloggers.



And Something Yummy for You, Too
We tucked in several autumn porch-worthy recipes in between the decorating pages. Thanks to the bloggers.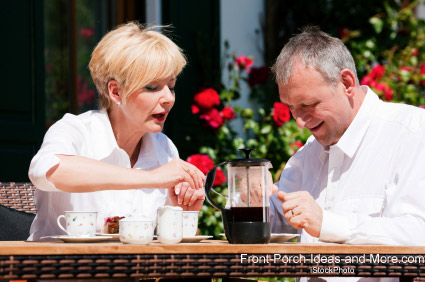 How about serving a slice of Pumpkin Cheesecake or Coffee Trifle to your best friend on the porch?

Or inviting your neighbors over for a bowl of Hearty Pork Chili, a savory slow-cooker recipe, and pumpkin biscotti for a light dessert.

You can already hear the "ooohs" and "ahhhhs".



Our No-Risk Guarantee
Our Autumn on the Porch eBook comes with a 100% guarantee: If you are not satisfied with it for any reason, just contact us within 60 days of your date of purchase - and we'll gladly issue you a 100% refund with no questions asked.

Your eBook purchase is 100% safe and secure - and 100% risk-free.
Just $6.97

Life is short. Enjoy your porch.
Kids will remember the porch next door so why not make your porch the one they remember?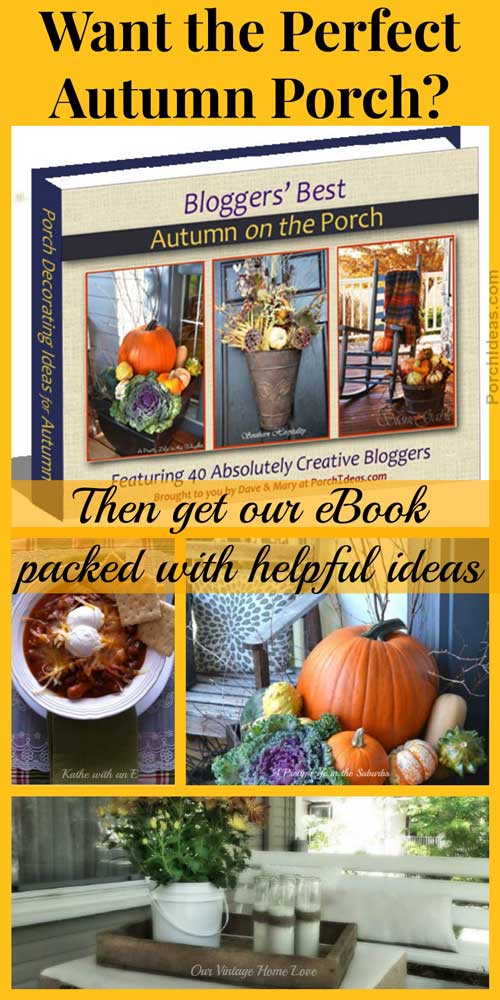 DISCLAIMER: The purpose of this ebook is to educate, inform, entertain and generate ideas. The reader assumes responsibility for the use of this information. The reader's individual results may vary from those shown.


Questions or comments about the book? Contact Us Here