A Colorful Polywood Porch Swing
Cedar Swings Too
A colorful polywood or cypress porch swing is a fantastic place to add a punch of unexpected color to bring fun and liveliness to your outdoor living area. Front porch swings are a staple to any porch decorating project. Exuding the relaxation of bright spring mornings, hot summer nights, and chilly autumn afternoons...the front porch swing will lazily drift anyone off to a place of tranquility.



White polywood porch swing - available at Amazon.com (affiliate)
Polywood Porch Swings Never Need Painting
For those looking for more eco-conscious porch swings, you're in luck! Polywood, a ground breaking recycled material, is engineered completely from recycled plastics then crafted to look and feel like real wood.

The solid, heavy duty, quality material will endure all weather conditions (so lasts a long time!).

But, best of all, a polywood porch swing is available in a variety of colors (so no painting). And because the color goes all the way through, you'll never worry about chipping paint colors!

Though, polywood cannot be painted so make sure you pick a color that you will love forever.

With a 500 pound weight capacity, this either 4 or 5 foot polywood porch swing comes in an array of colors to complement almost any decor.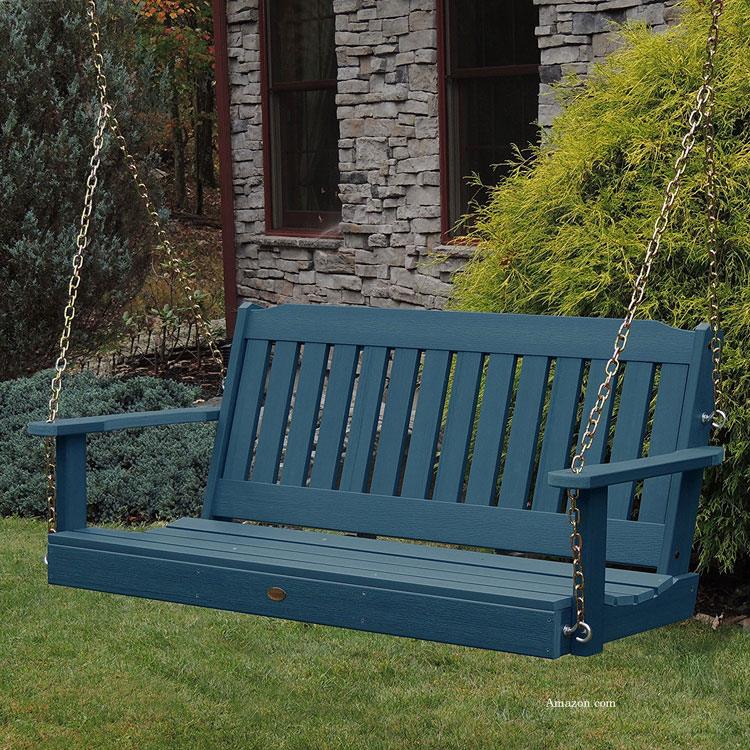 Eco-friendly fade resistant porch swing in blue- available at Amazon.com (affiliate)
If you make a purchase through one of our affiliate links, we earn a commission but at no cost to you. Here is our
full disclosure
about affiliate marketing.
We are a participant in the Amazon Services LLC Associates Program, an affiliate advertising program designed to provide a means for us to earn fees by linking to Amazon.com and affiliated sites.
Watch This Polywood Video
Polywood is a great choice
One major advantage of polywood porch swings is color; you have many color choices from which to choose.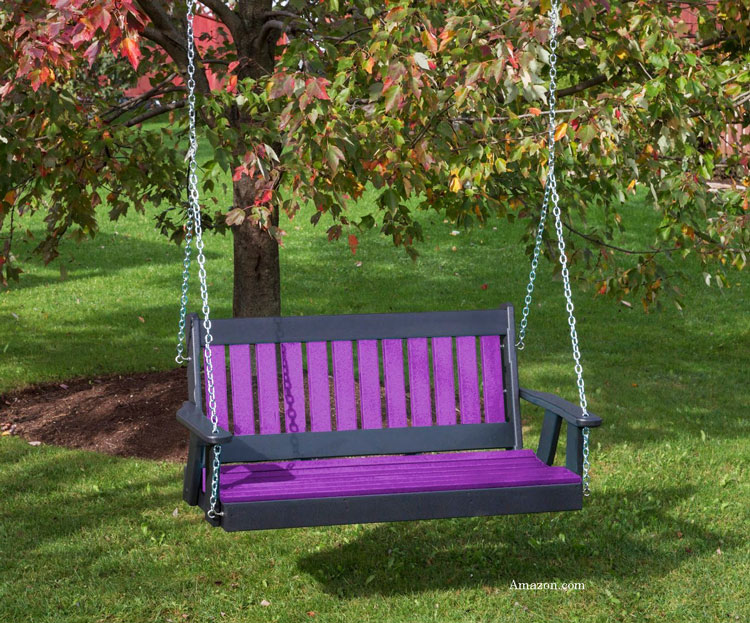 Amazing color choices! - available at Amazon.com (affiliate)
Polywood looks like real wood and eliminates painting, staining, and waterproofing. They are easily cleaned using just soap and water or power wash if required.



High quality Trex swing!- available at Amazon.com (affiliate)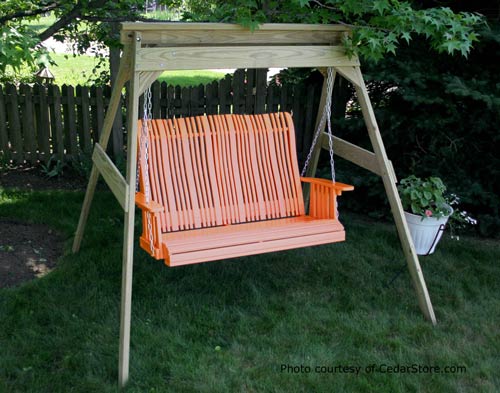 Orange Cypress Highback Swing
If Your Porch Swing is Paintable Wood
The material makes a difference. Cypress and pine are the most paint-able outdoor woods. Pine provides a more economic choice, but will require more long-term maintenance than the more durable cypress.

Many retailers will apply paint for you. However, if you have a specific hue in mind, you can order your porch swing unfinished and paint it yourself.

I suggest applying the paint before assembling the swing to ensure you can get to all the hard-to-reach spots.

Plus, if you paint it yourself, you can feel free to add personalized touches like painted flowers, the names of your family members, or an inspirational quote.

You also don't need to worry about choosing a color that you won't love next year. Both cypress and pine can be repainted easily to allow you to change your color scheme whenever the mood strikes you.




A Punch of Color Adds Surprise Curb Appeal
Adding a colorful porch swing will give your whole home a bright and fun new angle of curb appeal. It's unexpected without being shocking; the perfect balance of class and personality.

Choosing the right colors and material will ensure your project goes off without a hitch!

Have fun!






Advertisement























Popular Pages
---