We may earn a commission if you purchase a product through a link to a merchant's site here. This cost is the same to you.
Our Best Selling and Ever Popular Porch Products
Curb Appealing Porch Curtains
(affiliate link)From Elrene Home Fashions this sophisticated outdoor striped curtain is absolutely perfect for your porch, patio, pergola, or other outdoor living area. The panel features easy to use velcro closures and ia mildew resistant and water repellant. With its UV protection, these panels can hold their own against the elements.
Order yours today!
Outdoor Shades For Porches and Patios By Blinds.com
Even if you are a sun worshipper, there are times when shade may be preferred.
Here are four examples of shade options you have from which to choose. Block the wind, rain, and sun to have more enjoyable outdoor time.
Products Our Readers Purchase Over and Over
Construction Manuals and Porch Books Our Readers Love
Written by Charlie Wing, an authority on home building and remodeling and specializing in translating technical information into layman's terms, this is one of my favorite picks - great book for homeowners, contractors, remodeling pros, and more importantly, the do-it-yourselfer.
Order yours
(affiliate link).
Porch and Deck Tools
Perfect Porch Gift Ideas
Porch Mugs
Who doesn't love a special mug for starting their day? We designed both of these mugs with porch lovers in mind. Get your
Home Sweet Porch mug
, your
Super Cute Bumble Bee mug
, or this
Sweet Friendship Mug - Sit on the Porch with Me
.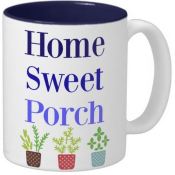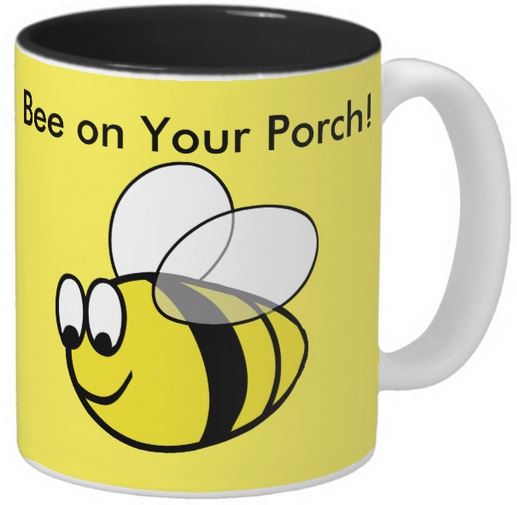 Visit our
Zazzle Store
.
Look at This Wagon - Under $20
Wow, we were surprised to find this
adorable decorative Amish wagon
for
under $20
.
Absolutely perfect for your porch or in the garden in front of your porch. Well, anywhere you put it, it would be so charming for showcasing flowers and plants.
Length of the wagon is 21.75" without the handle.
Barn Quilts Give Instant Charm to a Porch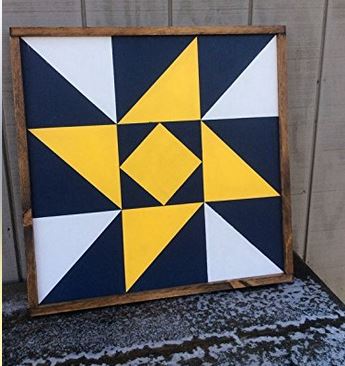 Those colorful painted barn quilts we see on rural barns, are now making a presence on porches. Charming - country - Americana.
Dave and I have a barn quilt that we made ourselves inside our home. Always a conversation starter. The barn quilts you see here are handmade.
This
blue, yellow and white West Virginia quilt block
(affiliate link) is handmade and distressed.
Everybody Loves Words on the Porch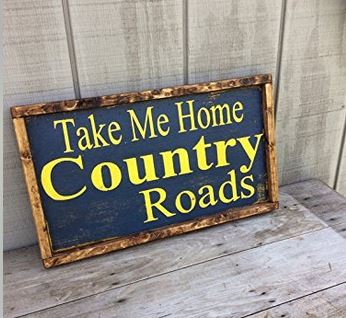 Love the sentiment "Take Me Home, Country Roads". What a
great piece of wall art for a porch
(affiliate link).
It would be so charming no matter where you decide to hang it. At 11 x 19", it is stained in dark walnut and comes in blue with gold letters.
Best Selling Gift Ideas
Mary and I love our electric wood stove and heater; we even use ours as a decorative feature on our porch during the holidays! They are ideal for screen porches and three-season rooms too.
This
elegant stove
not only looks fantastic but also can heat up to 700 square feet of space. It is cool to the touch (safe for children and pets) and emits a beautiful light from faux flames and embers.
We love this bench which is perfect for a porch, screened or three season room, garden, or indoors too. Made from reclaimed lumber and with an iron base this
bench
will give you years of pleasure.
We love wall art on the porch and these
rustic metal tree designs
create lots of charm and make for great conversation pieces. Perfect for indoors too, the bases are wood panels, are lightweight, and easy to hang.
Imagine 12 copper cups directing water to a rain barrel or into a garden area or yard. You get to enjoy the sound of water running down an
eight-foot long copper chain
(affiliate link) in addition to adding lots of outdoor charm. It is easy to hang and they come in a variety of styles. Makes a wonderful gift idea!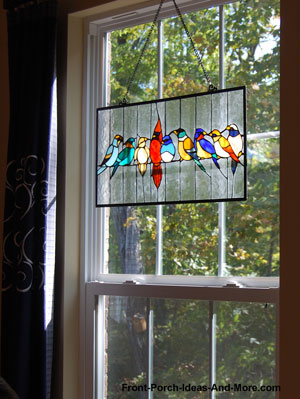 We love our
stained glass panel
(a really nice gift from our son and daughter-in-love) and know your recipient will too. It measures 13 inches by 24 inches and will definitely add a charming touch to any room.
We hung ours in our breakfast nook and get to enjoy it everyday!
Not only charming but also tranquil music to your ears! This
stand alone wind chime
can hold a potted plant up to 11" high - combine it with a poinsiettia or other colorful plant and you'll have the perfect holiday gift! Truly a gift to be enjoyed year round.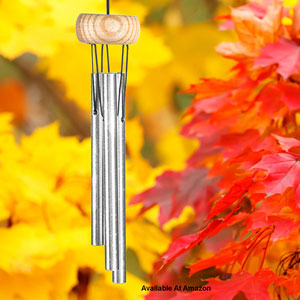 We found lots of different wind chimes options; one of which will surely suit your fancy!
Personalized heirloom plaques
make for a unique gift idea. We found lots of plaque options at Plow and Hearth, one of which we are sure your friend or family member will enjoy for years to come. Hang one on your porch or place in your yard.
How neat is this! Have someone on your list that enjoys fishing? As a fishing enthusiast myself, I thought this
fly rod lamp
was really an ideal gift idea and would work well on a desk, table, nightstand, or three season room.
Styled to resemble a fly rod and reel, this could be the best gift for your favorite angler.
Games to Enjoy on the Porch
Surprise young and old with a traditional game and take a respite from technology for a short spell.
This is a
tabletop version
of a popular English pub game; roll the dice and try to cover all the numbers in order to ''shut the box'' and win the game.
Play this classic old time
baseball pinball game
; (affiliate link) fun for all ages.
Everyone will have fun playing the
Deer in the Headlights Game
; race around the board until you roll "Deer in the Headlights"!
Porch Amenities
Porch Swing
See this popular swing, along with many other fantastic styles, in our complete
porch swing section
.
We found this
retro mailbox
(affiliate link) that would bring a sense of yesterday to your porch.
Porch Fans
Be sure to see
more outdoor fan ideas
for your porch!
Lamps for Your Porch
See a wide selection of both
table
(affiliate link) and
floor lamps
(affiliate link).
At Last! A Really Nice Front Porch Calendar
After many years of not finding a great porch calendar, Dave and I decided to create our own.
We're very proud of it and think you will love the porches we included for 2017.
Front Porch Parade
: The porches in our 12-month calendar belong to homeowners who are porch lovers like you. You will sense their pride (and maybe a bit of porch envy too) when you turn the pages.
Zazzle always has a discount code
so look for it to use at checkout.
Introducing Our Molly Jo Daisy Book Series
A dream of Mary's has been to publish children's books that inspire kids to think well of themselves and look for the best in life. Here are her first 3 books - perfect for reading on the porch to your kids or grandchildren.
Molly Jo Daisy is a 9-year-old girl who lives with her Mom, Dad, Grandma, brother John and sister Grace. Like any other 9-year-old girl who loves her family and her house, Molly Jo gets worried about school assignments and teased by her brother.
In this series, Molly Jo learns a lot about herself, about not giving up even when things seem impossible, about looking for good things even when nothing looks good. She has a special relationship with her supportive Grandma which shines through in her books.
Each of Mary's books is written in verse and perfect to read on the porch with your children / grands. Sometimes they will laugh out loud at what Molly Jo says and sometimes they will feel Molly Jo's pain. Molly Jo's prayer book is from her heart; funny, sincere and so typical of a 9-year-old.
In her upcoming book in the series, Molly Jo and her family will be settling into their Maine home. Molly Jo wasn't so sure that moving was for her (Book 2) but after coming to terms with it, she's ready for new adventures in the beautiful state of Maine.
Molly Jo Daisy: Not Giving Up
on Amazon (affiliate link)
Molly Jo Daisy: We Have to Move
on Amazon (affiliate link)
Molly Jo Daisy: Prayers from My Heart
on Amazon (affiliate link)
The background images used on this page are courtesy of Anna Looper and/or Pixabay.com. We change pictures seasonally. Our appreciation to both.