Scary Halloween Decorations Ideas
for Your Porch
If you choose to use scary Halloween decorations for your porch, be creative and create an eerie, spooky Halloween scene that's sure to be a big hit in the neighborhood.

Mary and I enjoy seeing front porches and yards decorated to not only instill just a little fright but also be a whole lot of fun for young and old alike.

Sometimes just adding one or more scary outdoor Halloween decorations to an autumn display will work perfectly.

Or, if you prefer, go all out and create a really frightening scene for the trick-or-treaters.



Just a few of the ideas we have gathered for you. Come along and see...
Scary Halloween Porch Decorations
For those who love Halloween decorations that are quite scary, here's a few scary decorations we've found that have excellent reviews along with display ideas you can use or modify to fit your home. Wether decorating outdoors or in, these decorations are sure to create a spooky night for all!


Halloween Decorating Tip and Lesson Learned
To make your yard or porch really scary, consider creating a scene or ambiance that creates a mood. Just putting a scary decoration on your porch isn't as effective as decorating the surrounding area too. Use our photo examples below for ideas.

Don't wait till the last minute to get your scary decorations; they may not be available or they may not arrive in time. I have learned that lesson!).

If you purchase an item through affiliate links within our content, we will earn a commission at no cost to you. As an Amazon Associate we earn from qualifying purchases. See our disclosure policy.



What's scarier than a spooky clown watching you!
Put this in your window if you dare. Nightmares to follow!
Imagine seeing this at night
Replicate the scene above with these Halloween decorations:
Six-Foot Tall Scary Witch
and
Yard zombie to make the scene complete
Now add fog to complete the effect:
Fog it up with this device for maximum effect (affiliate link)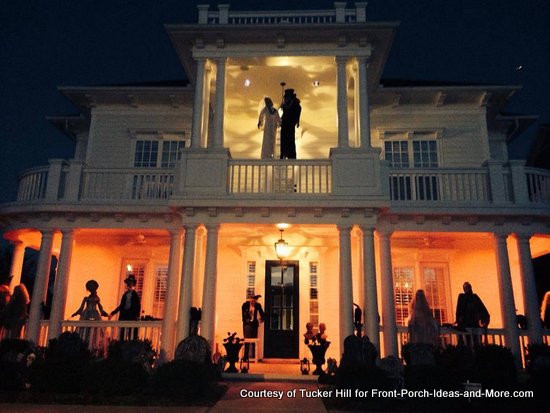 These homeowners created a spooky dead wedding Halloween theme on their home.
Compelling! Especially at night with the lighting.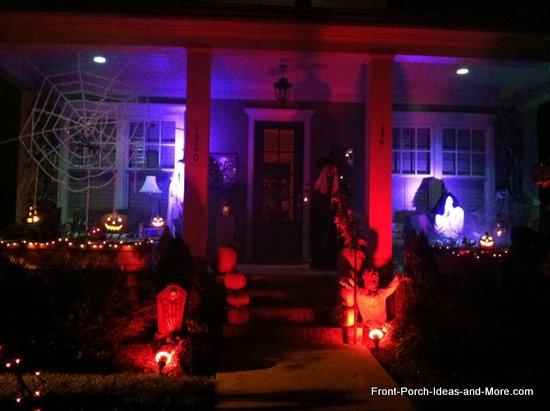 Want ideas for eerie outdoor Halloween decorations?
We have gathered some from porches we've seen.
The homeowners created an amazing Halloween scene on their front porch and in their yard, too. At night, the scene comes alive with sounds that you can hear in our video below.






Video: Watch This Scary Halloween Porch
She'll make you feel welcome!


This house is a great color and architecture for grand Halloween decor - especially scary Halloween decorations. Look in the two windows above. Do you see the scary faces looking out?



They have window decorations that are back lighted and a creepy spider crawling up the wall.
Use window murals like those shown to create your own version of a haunted house:
We found lots of murals on Amazon (affiliate link)
Above the witch's clothes, that furry spider moves and twitches and makes noise. A bit scary but perhaps more enchanting than anything.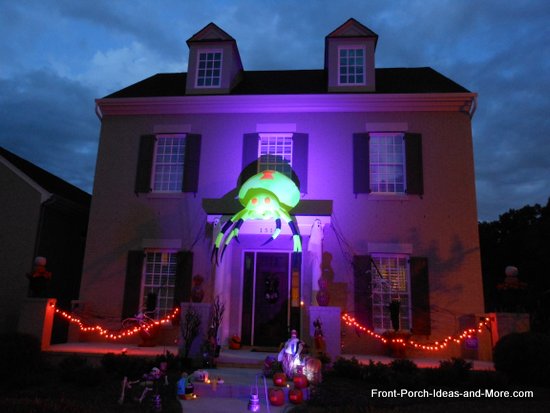 The green bug would probably scare a few little ones away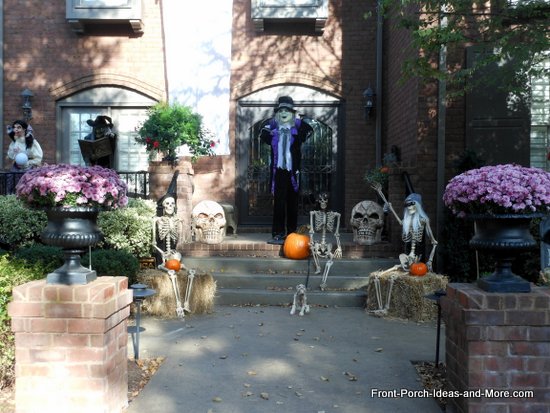 Can't wait to see this at night!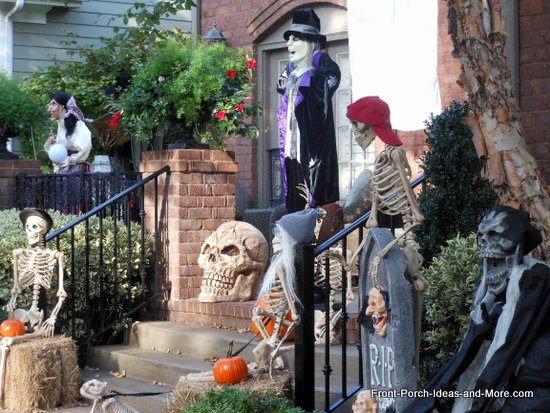 Notice how they personalized the skeletons with baseball hats and used bales of hay for seating. Cool!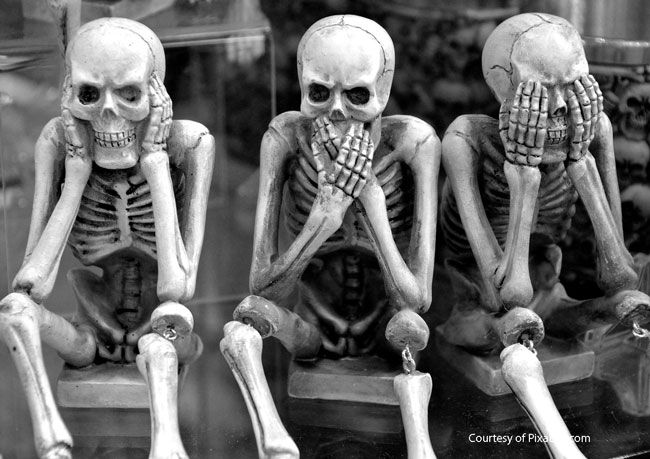 Classic Halloween scene
Skeletons make for ideal Halloween decoration. Include them in scenes, pose them in odd positions, and create all kinds of characters too.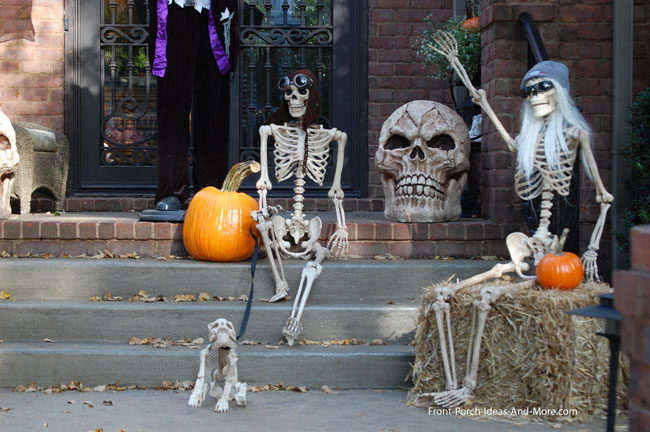 Have fun creating skeleton characters
We found this one on Amazon where you can discover skeletons in various configurations.
Add props to make them scary! (affiliate link)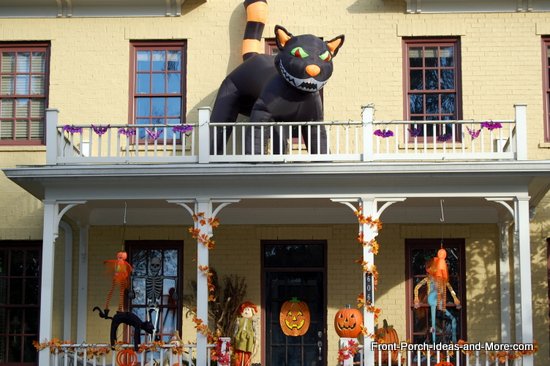 This home is the perfect backdrop for Halloween and autumn decorations.
Their decorations are whimsical and enchanting. The big black cat could be a little frightening for younger trick-or-treaters because it's so giant!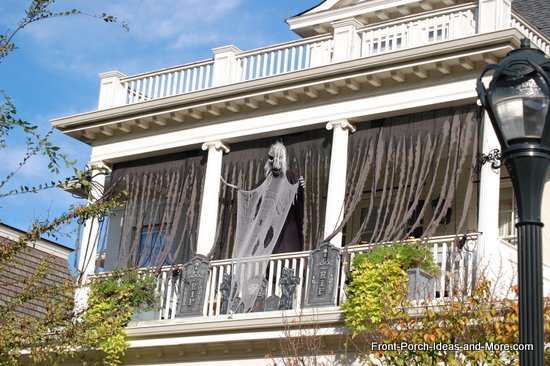 Simple to do. Hang lightweight black draping and a ghoulish monster to blow in the wind on your porch.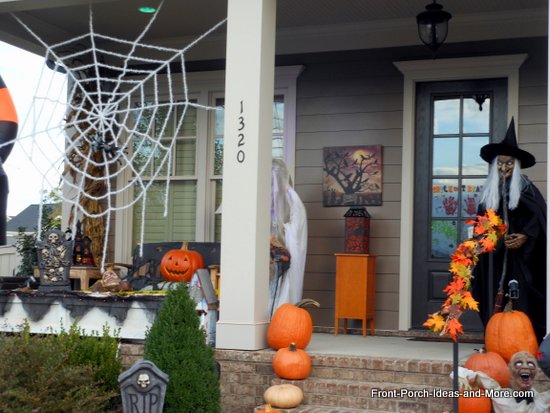 Use your entire porch to create a scene of witch Halloween decorations, spiders, goblins and such. You will delight those passing by and trick-or-treaters brave enough to knock on your front door.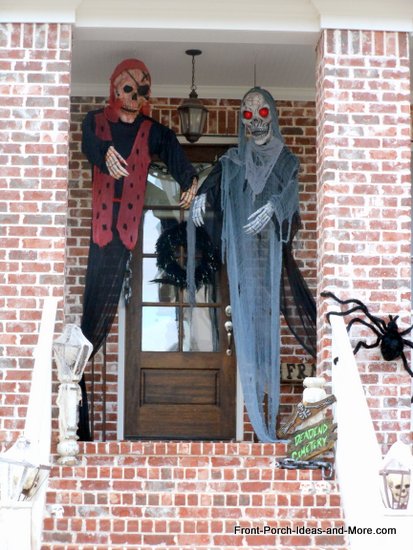 Hang lightweight monster figures from your porch ceiling to greet trick-or-treaters.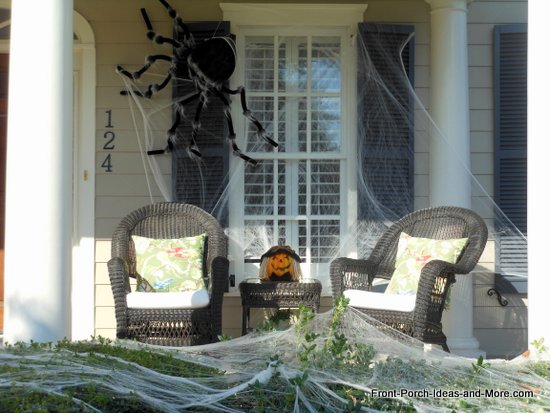 Big furry spiders are popular. Create spider webs with bags of webbing material that you stretch over shrubs, chairs or in trees. It's easy and gives a very awesome effect.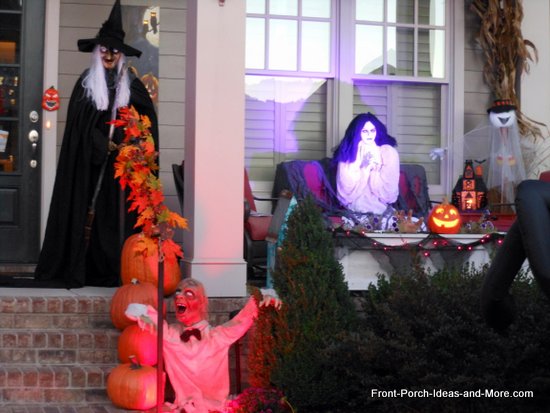 Paint a scene, so to speak, on your porch to give the feeling of being in a haunted Halloween land.



More Scary Halloween Decorations Ideas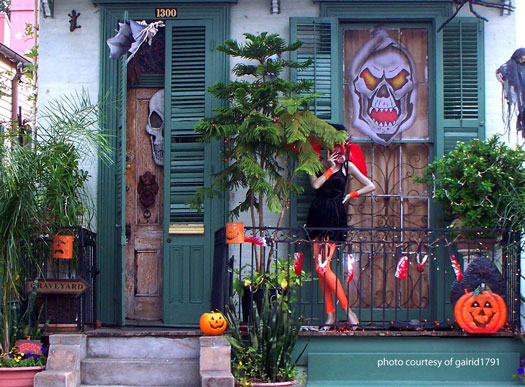 photo courtesy of gairid1791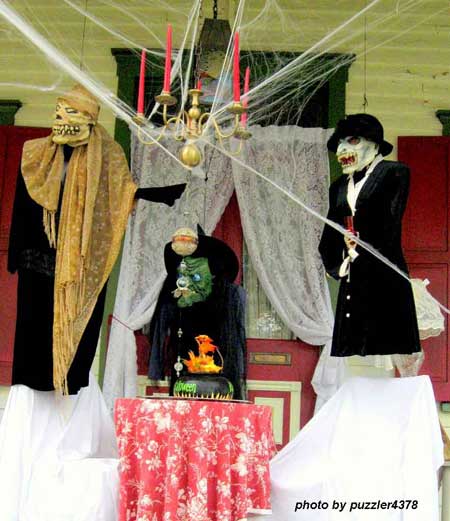 photo courtesy of puzzler4879
Use the ideas on our Halloween decorating section to help you create a little magic!

Some neighborhoods actually have haunted house block parties.

But not all porches have to be scary for Halloween; we have other great ideas for outdoor Halloween decorations and even vintage Halloween decorations you can use too!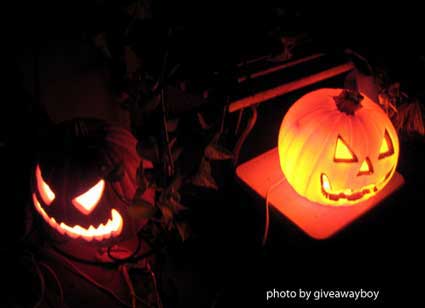 Double, double toil and trouble; fire burn and cauldron bubble.
- - - Shakespeare "Macbeth"



Cool Video: Go From Autumn to Halloween on Your Porch
Very fun to watch and neat music, too!
For those that really get into the "Halloween of things" we found a neat online store that is all-out Halloween:: SpiritHalloween.com. Here are some Halloween decorations that could give your porch real "ghoulish appeal.





Combine animation with your static displays to make your outdoor Halloween decorations come alive! For a graveyard scene,include a zombie that moans and groans and appears to be coming out of the ground.

You will want to have massive spider webs spilling out from the corners of your porch. Be sure to include some larger than life spiders-you can even find glow in the dark ones that look realistic.



Ghosts Are Easy to Make
Use white garbage bags or even old white sheets and make effective scary Halloween decorations.

By using a cross type frame made of broomsticks, you can add dimension to your ghost and even have him standing along the walk way to your front door.

Smaller ghosts could be hung from the ceiling to sway in the breeze.



Watch Our Video of Spooky Halloween Scenes
A bit of spooky scenes and Halloween Porches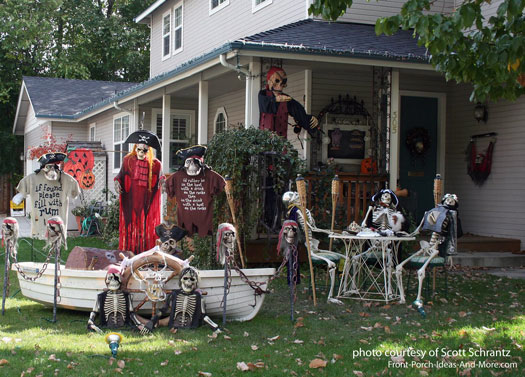 photo courtesy of Scott Schrantz
Some of the most scary Halloween decorations are created around a specific theme as shown in the photo above. Imagine the effect this scene, if lighted properly, could have on kids of all ages.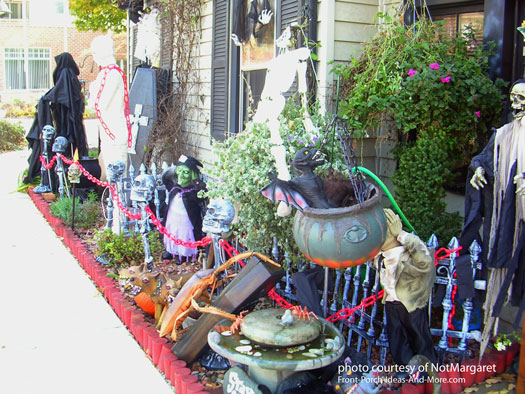 Photo courtesy of NotMargaret
Although this scene is comprised by a large cast of characters, it is cohesive and very interesting. The more you look upon it the more things you see!



Scary 6 Foot Reaper
Just before your trick or treaters climb your porch steps have them met by a six-foot reaper that is sound activated. You can find scary Halloween masks and oodles of other scary Halloween items at SpiritHalloween.com.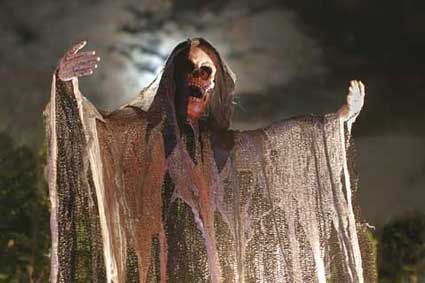 Conjure more than any spooky scene with an amazing special effects fog machine!

Relatively inexpensive, you can create the nostalgic mists of the Black Lagoon, Jack the Ripper's London, or the fog that looms over cemeteries.

Often times just a little well placed decorating can create the effect you want as depicted below.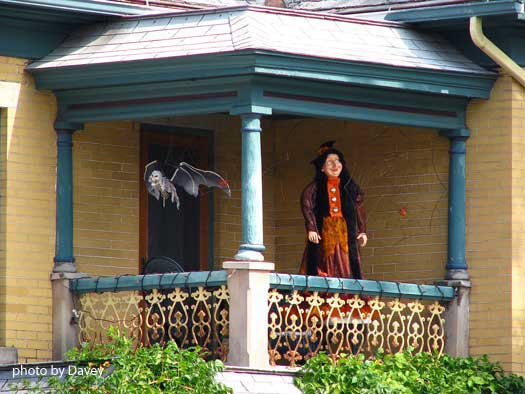 Spooky Victorian Halloween Scene (photo courtesy of Davey)
Looking for Massive Fright?
Create massive fright by using a myriad of scary outdoor Halloween decorations as shown in the photo below. This yard, especially at night, might just create some fright!

It's downright scary, we think.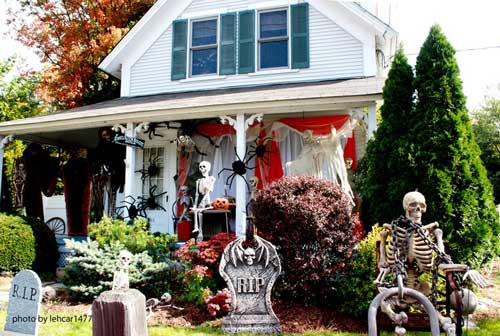 Massive scary Halloween decorations (photo courtesy of lehcar1477)



Fog machines create an sense of mystery and suspense just like in the old horror movies.

As an extra bonus you can use the fog machine on dance floors, at wedding receptions, and other events.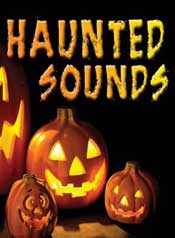 To create a haunted house look on your porch opt for a LED skull candelabra prop. Combine this with animated haunted books placed beside the trick or treat candy bucket!

Add to that some great haunted Halloween music. We found 98 Haunted Halloween Sounds
that you can play to add a few chills to the night!

Make a crypt look like it has been opened and strategically place a Mummy on your porch, making it look like he has risen from the dead. Scary Halloween decorations can be SO fun for your family.



Scary Pumpkins - Ooooh!
Who ever thought pumpkins can't be a little scary should check out the photo below.

A few of these strategically placed on your front porch might just do the trick.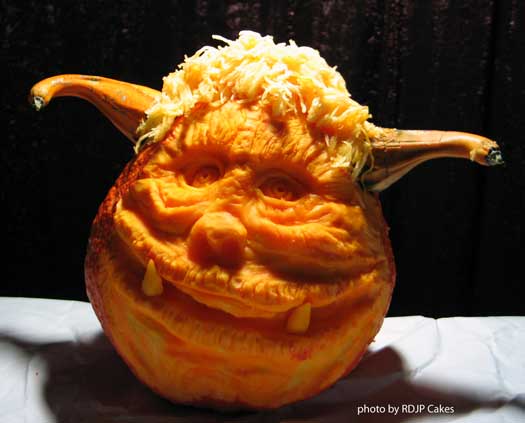 One very scary carved pumpkin(photo courtesy of RDJP Cakes)
Eye of newt, and toe of frog, Wool of bat, and tongue of dog, Adder's fork, and blind-worm's sting, Lizard's leg, and owlet's wing, For a charm of powerful trouble, Like a hell-broth boil and bubble.
- - -William Shakespeare (a quote from "Macbeth")
Even a Pirate Ship
Use outdoor Halloween decorations to create a theme like the pirate ship below. Or, go for traditional ghosts, goblins, and spiderwebs to make an interesting and fun scary scene.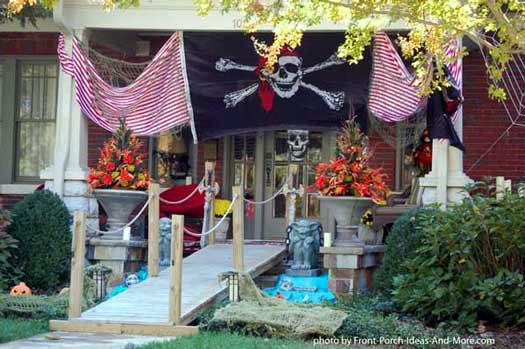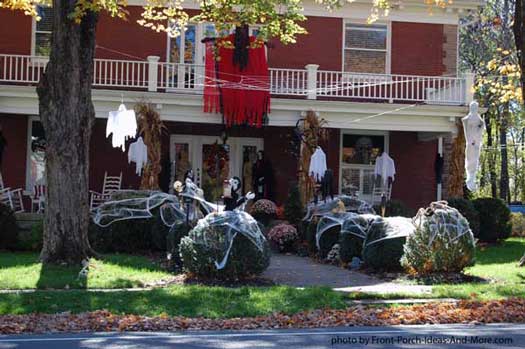 We are always searching for scary Halloween decorations so please send us pictures of yours. We may display them here for others to see. It is easy.

Just take photo(s) and send them to:
info[at]front-porch-ideas-and-more.com
Replace [at] with @

For all things Halloween, visit Spirit Halloween (affiliate link)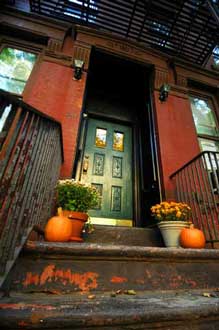 Helpful Links
Popular Pages
What's New
Join Our Newsletter Family
Porch Designs
Porch Ideas for Mobile Homes
Find a Local Contractor
Build a Porch
|
Small Porches
Porch Columns
|
Porch Railings
Screened Porches
Porch Curtains
|
Porch Enclosures
Porch Landscaping
|
Vinyl Lattice
Porch Decorating
|
Porch Ideas
Navigation Aids
Home
|
Top of Page
Site Search
|
Site Map
Contact Us
Policies
Disclosure Policy
|
Privacy Policy
Legal Info
---
Please Join Us Here Also

Find a Trusted Local Pro
Our Sponsors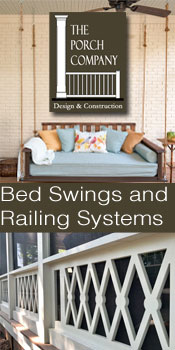 Porch Store - Custom Porch Products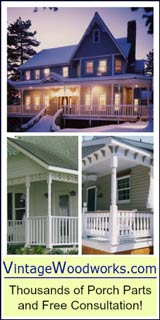 Vintage Woodworks for Your Porch Parts
PCA Products Complement any Home
---
Copyright© 2008-2022
Front-Porch-Ideas-and-More.com
All rights reserved.
Content and photos may not be reproduced
in any way without our written permission.
At no extra cost to you, we earn a commission by referring you to some products on merchant sites. See our
disclosure policy
.
We, Front Porch Ideas and More, confirm, as stated on our
privacy policy
, that we do not sell personal information.



Thank you for taking your time to visit us.
Find Top-Rated Service Pros (our referral link)
Our Sponsors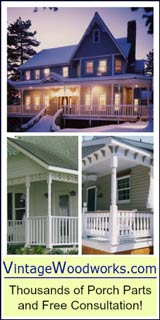 Vintage Woodworks for Your Porch Parts
PCA Products Complement any Home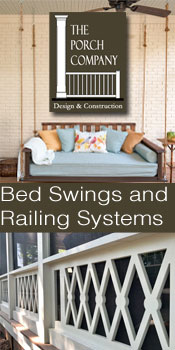 Porch Store - Custom Porch Products
---
Get Our Newsletter,
Front Porch Appeal
and a bonus!
Learn more
!
Subscribe and also receive our eBook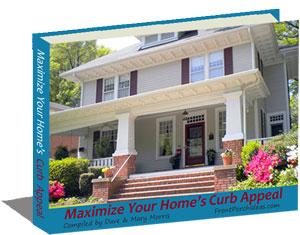 We will use your email address only to send our newsletter and this helpful ebook on curb appeal!
Enjoy our
back issues
.
---
What's New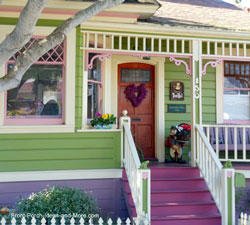 See Our Latest Updates
Get Our Porch Ideas Generator eBook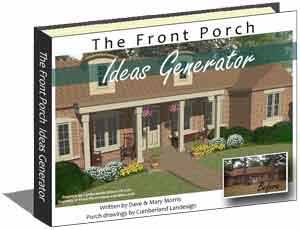 See Our Porch Illustrator eBook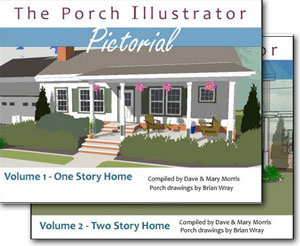 Search Our Site

Porch Ideas Network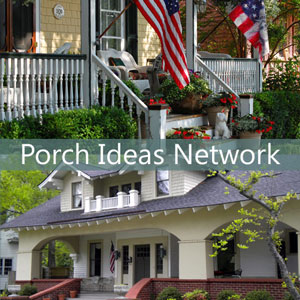 Thank you for taking your time to visit us.