Photo credit: Thanks to Phafan on pixabay.com


February: Winter Decor, Valentine's Day and Hip Roofs
Hello, porch friend,

Welcome to February, a month of friendship, love, snowflakes for some, dreaming of springtime and seeing a few little green shoots pop up.

In Nashville, we are seeing daffodils already, but otherwise winter is very much still with us. A dusting of ice on our trees and roadways last night. Perhaps for you, too.

Our porch has bits of Valentine color, but it's too cold to sit out there. However, if you have a screened porch and a radiant heater, you are probably all set to enjoy snuggly time on your porch.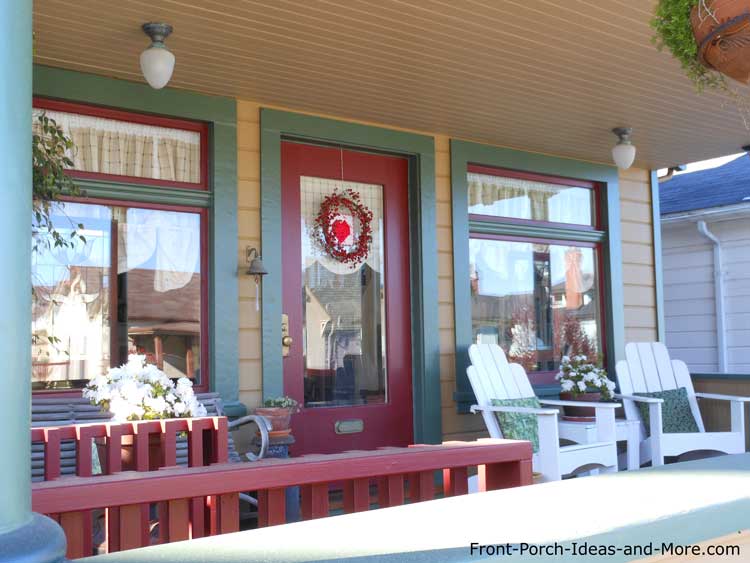 Isn't this a wonderful Victorian-style porch?

We love the thoughtful colors on this porch. So painstakingly done. And did you see the sweet wreath for Valentine month...simple, yet perfectly inviting.



Ideas for Winter Porches
While we often think of winter as drab and lackluster, it can also be beautiful at the same time. Sparkling snowflakes, red berries among bright evergreens, and quiet, sleepy gardens awaiting spring's arrival.

In winter's midst, pops of color on our porches are such spirit lifters. We hope you enjoy these winter decorating ideas to brighten up your porch and neighborhood.

We know you might live in windy or snowy places where decorating is challenging or even impossible this time of year. We have lived in many snowy places from Alaska to Nebraska and points in between. So, we get it, for sure.

No matter what, we hope you enjoy our ideas here.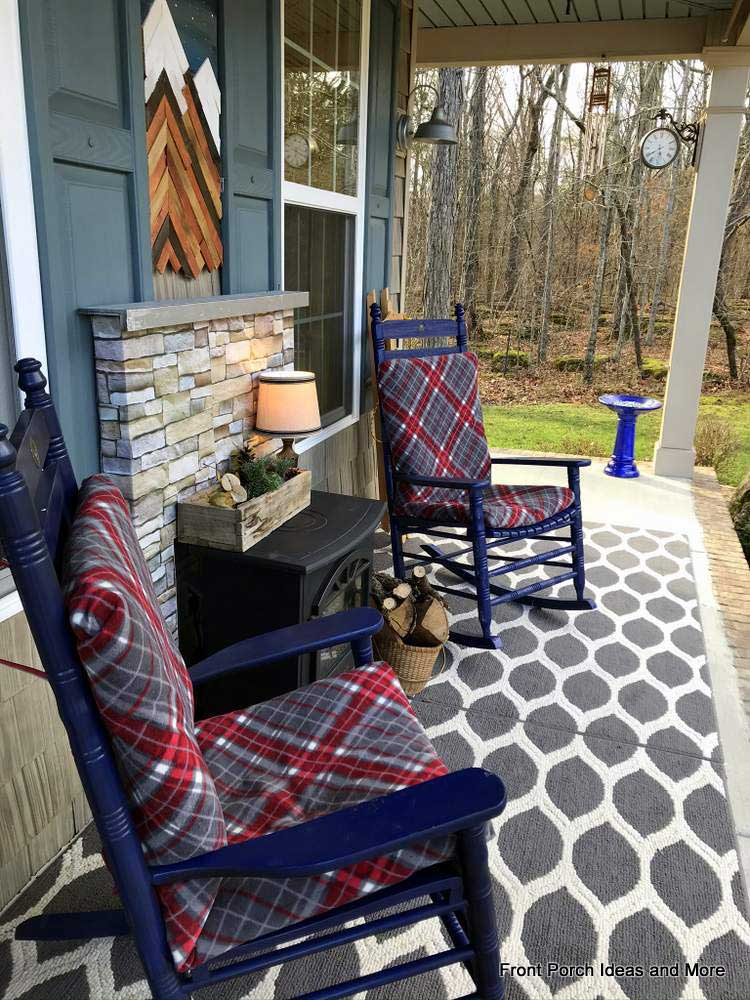 Try these winter decor ideas:

- Put logs in a basket on your porch, like you see above. These logs will eventually be burned in our fireplace, but in the meantime, they look cozy on our winter porch.

- We often use our electric log stove on a timer and flannel cushions on our rocking chairs. While we may not sit on our porch in the winter, it still looks homey and warm.

- Add little white lights on your porch for evening ambiance.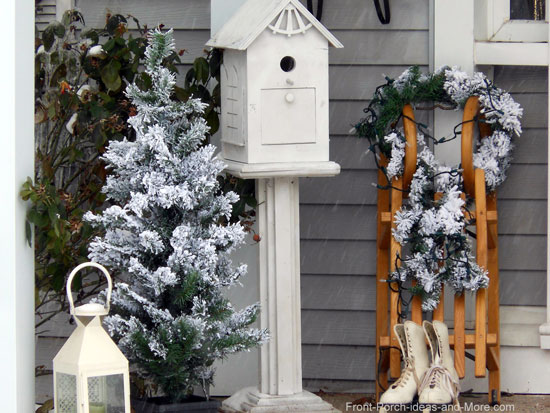 - Place a classic wooden sled, a vintage pair of skates, or even old snow boots beside your front door to make your porch shine in the winter.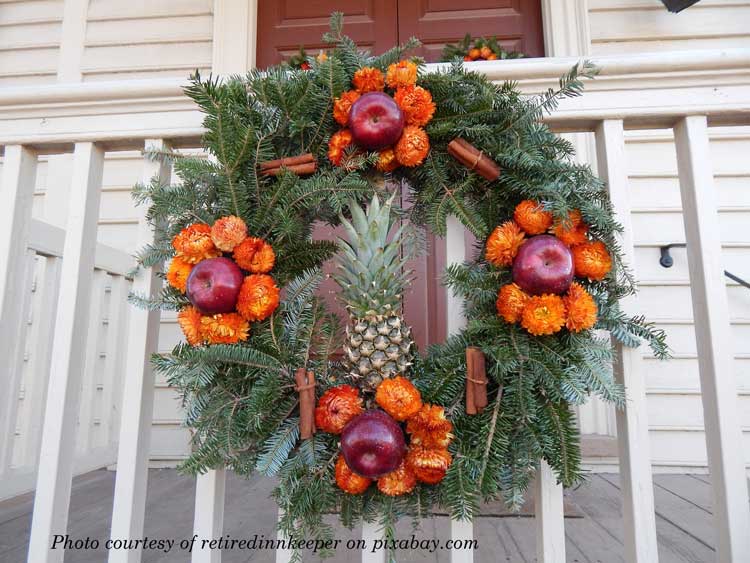 - Hang a beautiful, vibrant wreath on your porch. Wreaths or garlands are welcome any time of year and winter is no exception.

- Use natural materials like pinecones, holly berries, sticks, dried flowers, fruit, cinnamon, laurel leaves, pine sprigs, or burlap.

Isn't this wreath a beauty?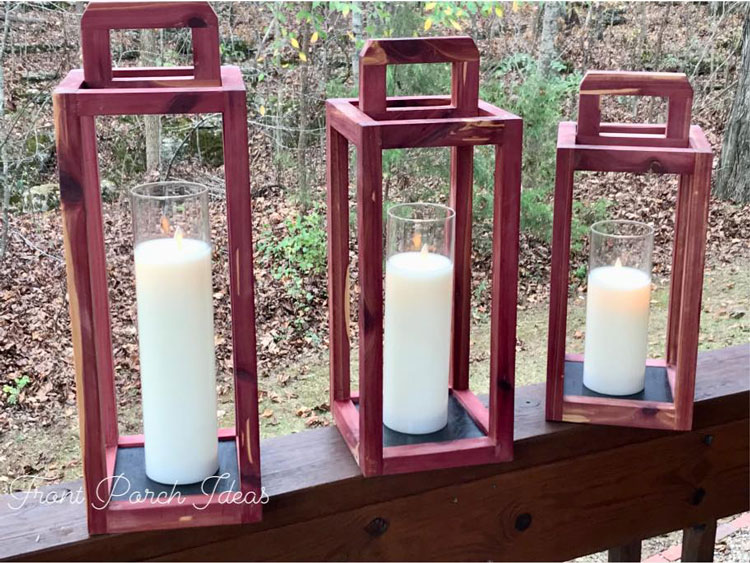 - Decorate with lanterns. Battery-operated candles add warmth to any setting and are safe to use.

Dave made these gorgeous cedar lanterns from cedar. We purchased the candles on Amazon. They look so realistic, yet they are battery-operated.

The flame flickers just like a real candle but without worrying about a hot flame.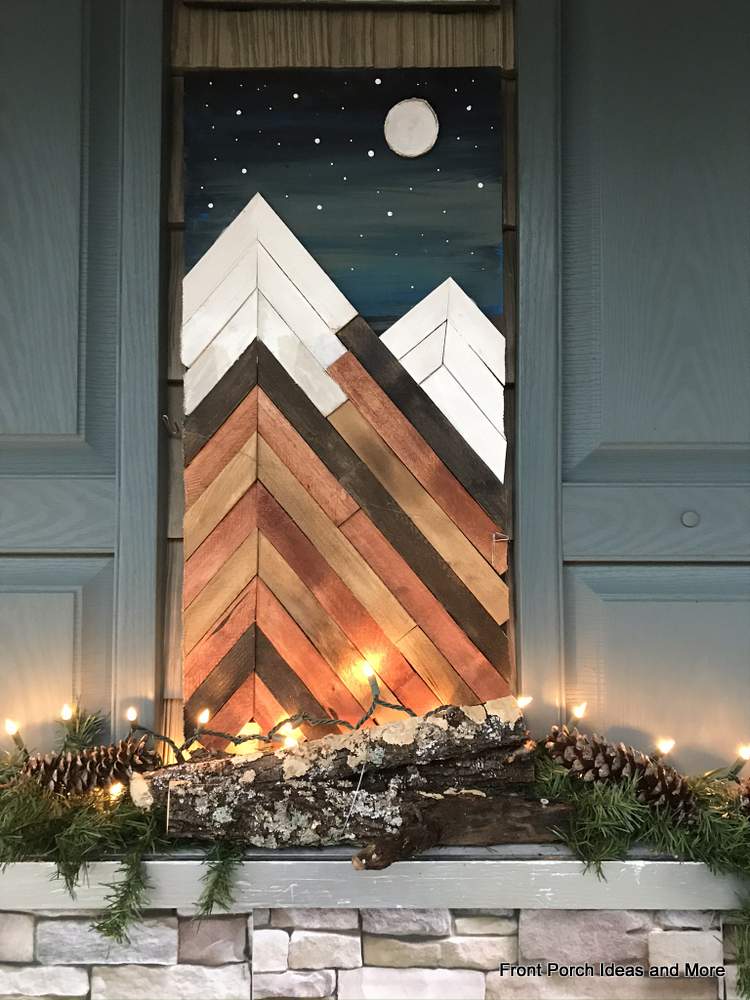 - Create or purchase wall art. The two of us made this mountain scene wall art from wood shims and it has stood the test of time.

We formed the mountains by cutting the wood shims at angles and then stained the shims in various colors.

The sky is painted with various shades of blue, light blue, gray and black and the stars were done with a paint pen. The moon is a painted wood slice.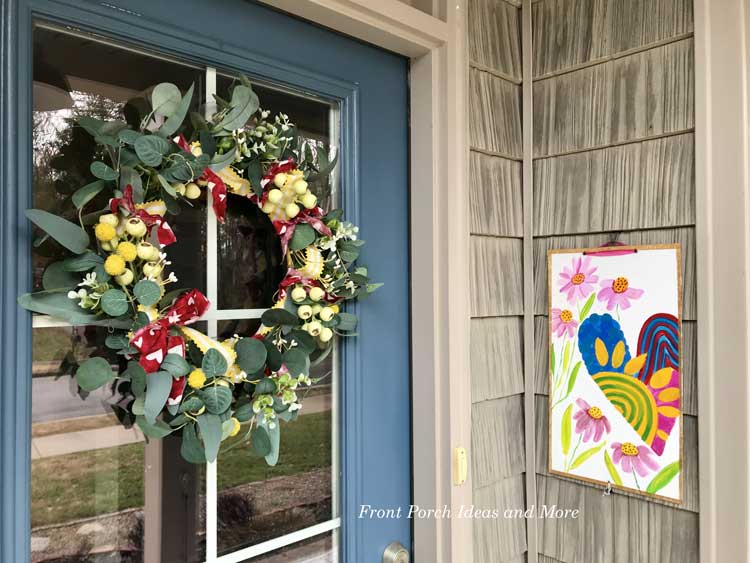 - Add little bursts of color on your porch, especially reds and pinks in February. That is our year-round eucalyptus wreath. We added touches of red by tying strips of red cotton fabric.


---
February: Month of Red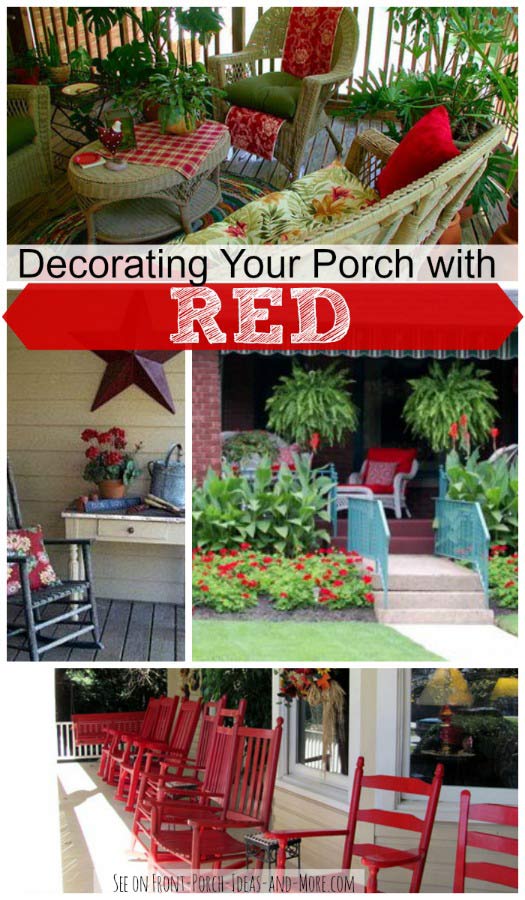 Being that this is February, it's a perfect month to decorate your porch with red.

Please see our ideas for adding pops of red to your porch.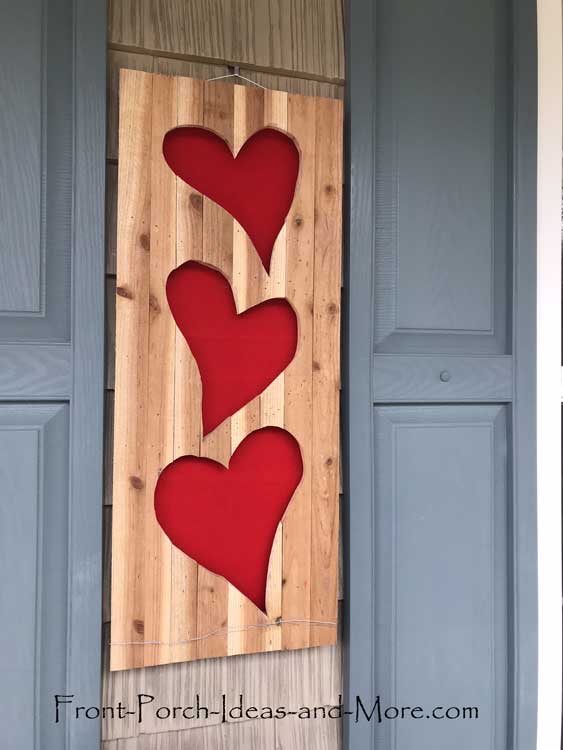 The two of us made this heart wall art and it sure brightens our porch in February, especially with Valentine's Day being right in the middle of the month.

Happy Valentine Day to you!

Please enjoy more Valentine decorating ideas!



Thoughts About Valentine's Day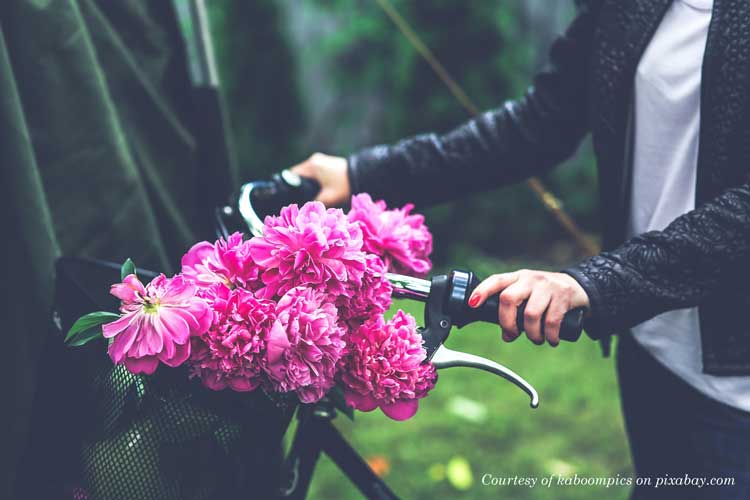 The two of us like celebrating Valentine's Day. Do you? We realize many people feel the day is not for them. What are your thoughts?

We believe the spirit of Valentine's Day extends beyond romantic love. It's a perfect day to reach out to our neighbors, thank a store clerk, go out with a friend and share kindness with all we meet.

Here are some fresh ideas for enjoying Valentine's Day:

- Reach out to your friends and plan a night out or create a game or movie night.

- Contact someone who has helped you in the past, inspired you in some way, or perhaps someone you've just been too busy to see or talk with.

- Find an hour to two to volunteer or visit your local nursing home and visit someone who would love some company.

- Start a tradition where you do something for yourself that you really enjoy. Indulge in something that makes you extra happy!

We hope your Valentine's Day is bright and happy. ❤️😍🪴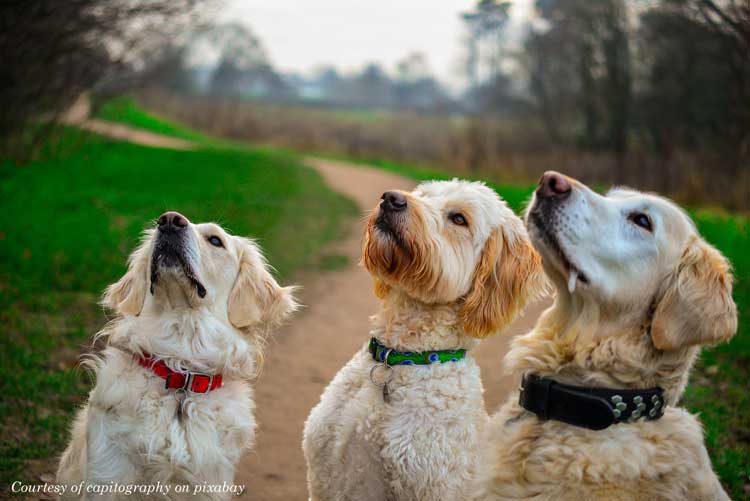 Humans aren't the only ones who benefit from Valentine's Day; many pet parents give presents to their dogs and cats in February.

These adorable golden retrievers are looking forward to their treats.


---
Vintage Woodworks Off Season Sale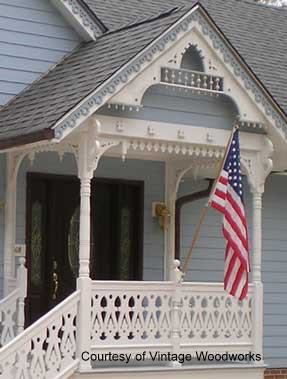 You still have time to enjoy Vintage Woodworks' Off-Season Savings which goes through February 7th!
Please go here for all the important details.
We love the Vintage Woodworks family, one of our very fine sponsors.
---
Featured Porch Roof Design: Hip Roofs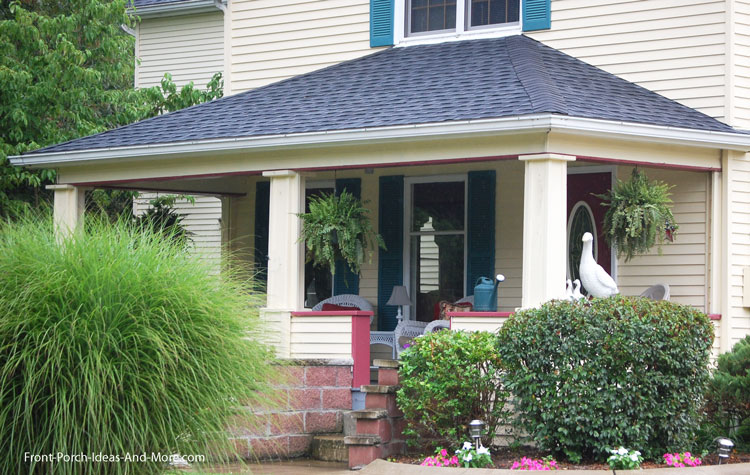 Hip roofs are one of the most common types of porch roofs. Unlike a gable roof that has two slopes, a porch hip roof will normally have three sides or in some cases four.

Hip roofs are excellent for both high wind and snowy areas. The slant of the roof allows snow to easily slide off with no standing water. Hip roofs tend to be more stable and durable because the three sides slope inward.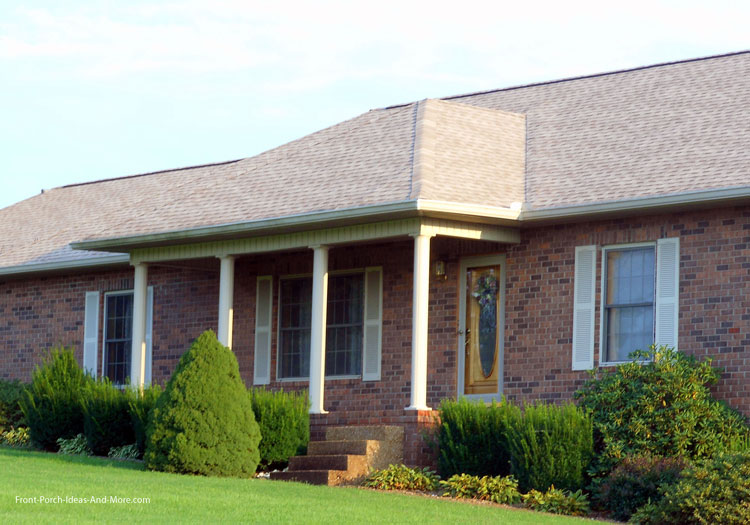 Additionally, the triangular shape of the roof provides additional structural support, making it a good choice for porches that will have heavy foot traffic or other loads.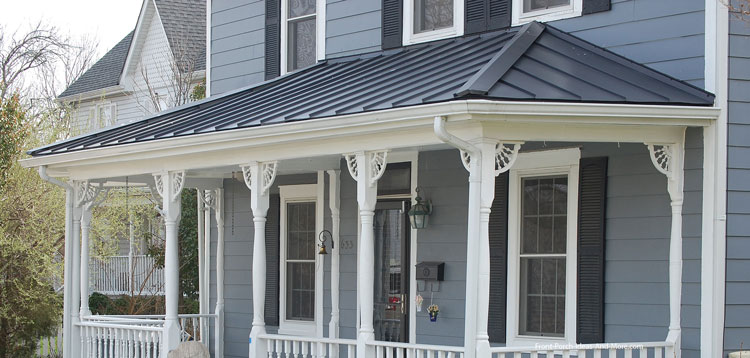 Hip roofs are very stylish and add architectural appeal to both ranch and two-story homes. Hip roofs allow for almost any type of roofing material, giving you a wide variety of options.

A distinct advantage is that you can have gutters on all sides to better control water runoff.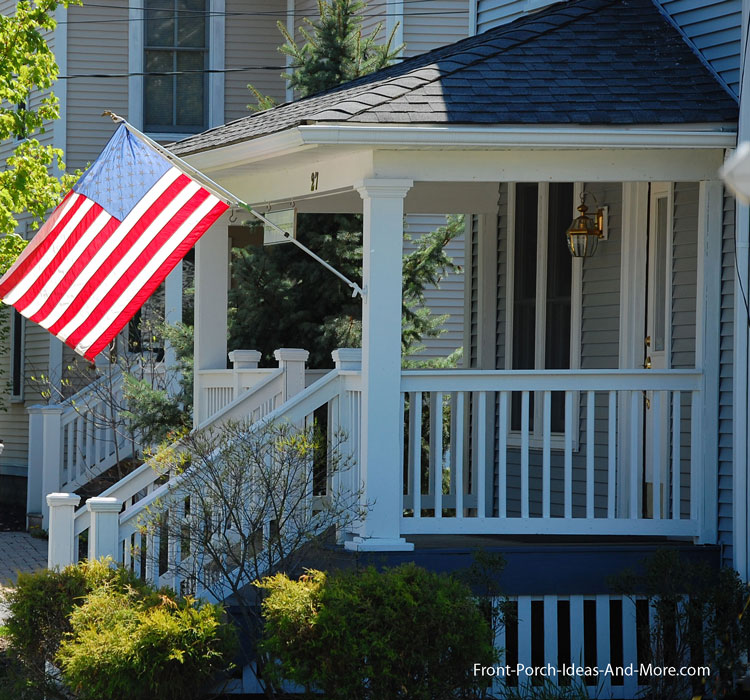 The combination of a hip-style front porch roof, Craftsman-style porch columns, and the right landscaping creates a most welcoming and aesthetically pleasing outdoor space.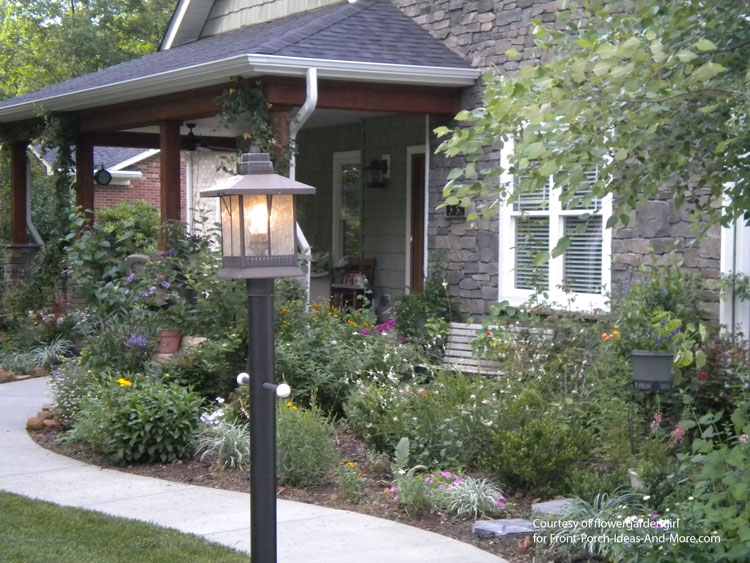 We are fortunate to feature our friend Anna's hip porch roof and her beautiful porch landscaping.

Learn more about the advantages of a hip roof along with curb appealing design ideas!


---
From the Porch Store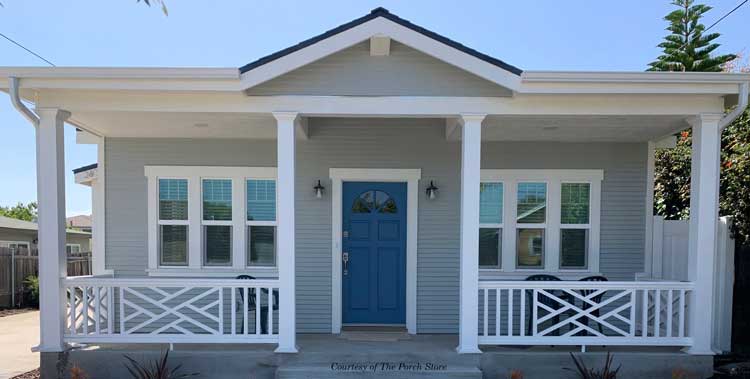 Our fine sponsor, The Porch Store, has an awesome solution for you if you want to dress up and protect your structural porch columns.

Take a look at the handsome "wrapped" columns on the porch above.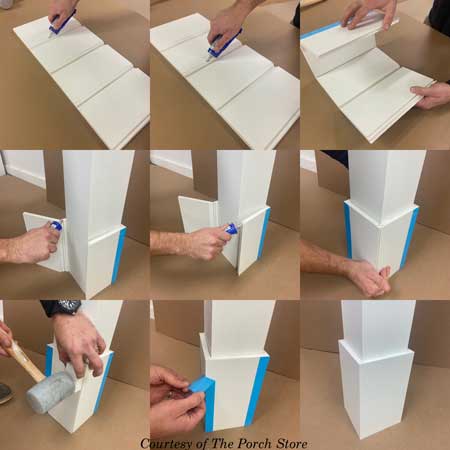 These column wraps, which you can purchase through The Porch Store, come in one sheet with pre-mitered grooves and installation looks very straightforward.

Visit The Porch Store for more details.

What a great way to give your structural columns a fresh new look and protection for years to come.


---
Is This Your Year for a New Screen Door?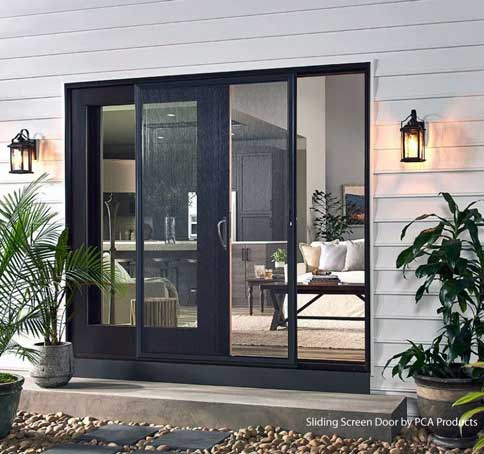 Install a handsome, quality screen door from our fine sponsor, PCA Products.

Did you miss out on enjoying the fall weather last year for lack of a screen door? This is a brand new year!

Now is your chance to really enjoy spring, summer, and fall this year by installing a most durable and quality screen door from our sponsor and friends at PCA Products.




---
Enjoy Our Amazon Store
We'd be honored to have you shop our Amazon store. We hand-picked products for you. Many we have ourselves and love.

Here's our Front Porch Ideas Amazon store page.

As an Amazon Associate, we earn from qualifying purchases.




---
Till Next Time...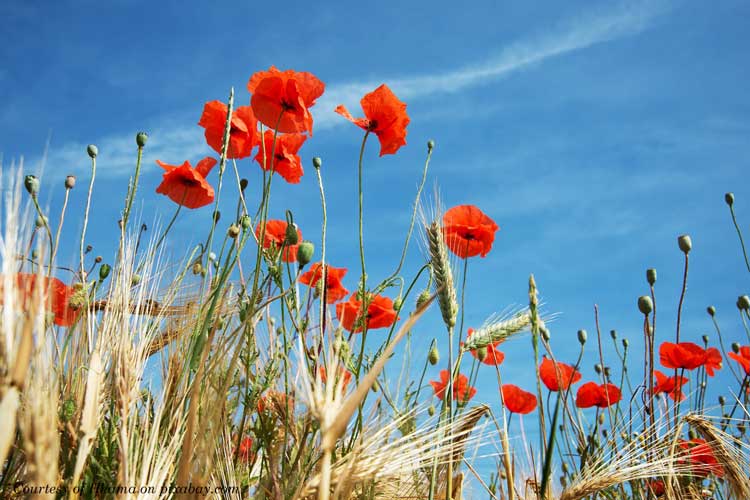 We all live busy lives, so thank you for being in our porch family! We appreciate you.

May you have a peaceful and cozy month of February. We hope you have someone to share your time with: your spouse, a dear friend, neighbor or a special family member.

See you on the porch,

Our best always,
Mary and Dave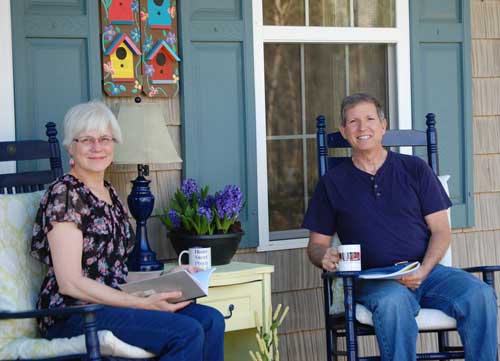 ---