By Dave and Mary

Porch Roof Designs
Porch Roofs Provide Protection and Much More
The right porch roof designs can add lots of appeal to your home. Mary and I are often asked what makes a great front porch design. Underneath, most porches are the same: foundation, piers, joists, rafters, beams, etc.

So what does differentiate an ordinary porch from an extraordinary one?

Is it the size? Architecture? Materials? Or is it the intangibles that give it special curb appeal? It may be all of the above.

We think; however, the porch roof really helps to define the space.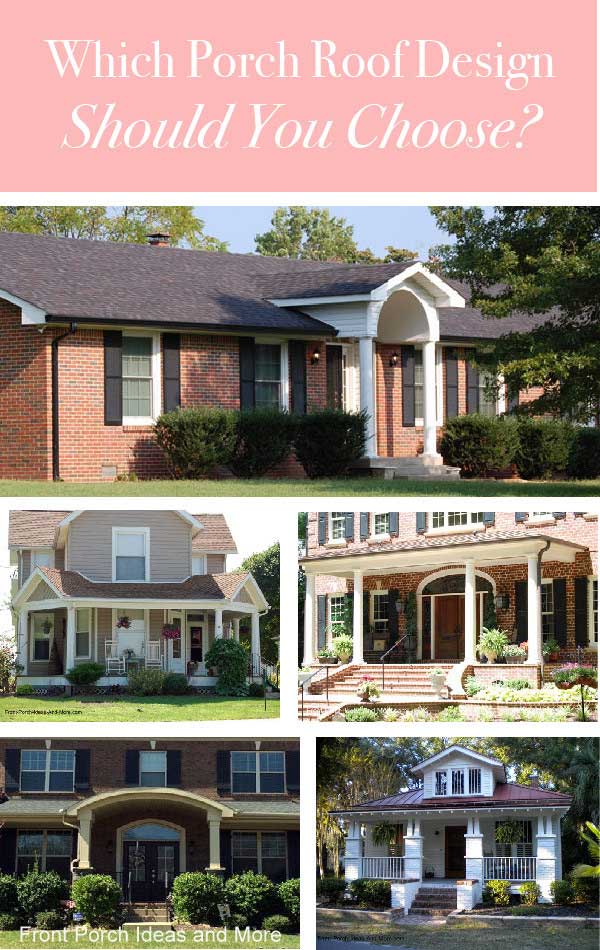 Get familiar with different porch roof designs



We love porches and our goal is to define for you what exactly makes a great front porch design. Come along with us as we show you in this front porch design series that a well designed front porch can indeed be more impressive than the sum of its parts.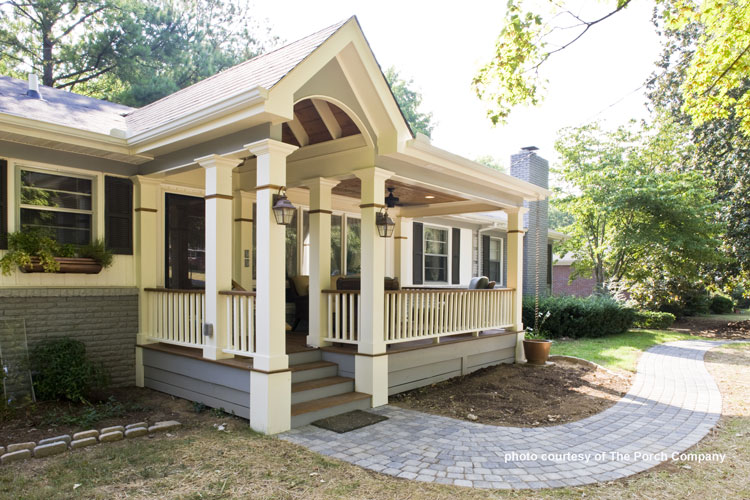 Watch Our Video: All About Porch Roof Designs
Dave and I explore the world of porch roof designs
Let's begin at the top (the roof) and explore your options.



Porch Roof Designs for Ranch Style Homes
We'll use 3-D renderings and actual photos of roof designs on both a ranch and two-story home to better illustrate various design features.






Pictured above is a ranch style home on which we will show with three different basic front porch design options.



Ranch Style Home with Flat Porch Roof Designs
Let's add a flat roof which is normally the least expensive to build. Although simple in design it adds lots of appeal. In this example we centered the roof over the front door.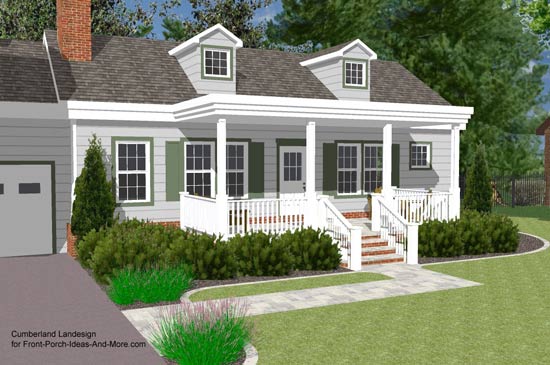 Off-setting the roof to the left or right of the door is also an option and would also change the overall appearance.

A flat porch roof structure may not be an option in some geographical areas due to snow or other factors, so check with your local codes department if considering such a design.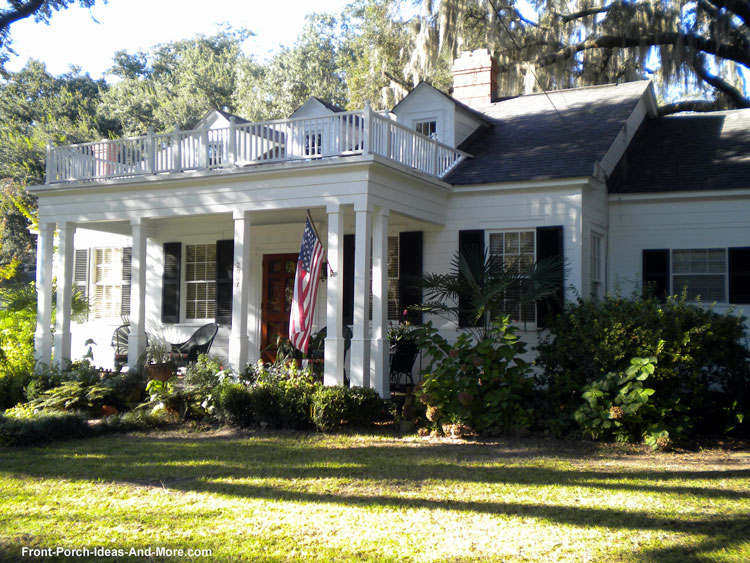 Spacious front porch with a flat porch roof
Ranch Style Home with Shed Type Roof
Now let's add a shed-type roof to our ranch home. The shed roof breaks the expanse of the main roof making it an almost seamless transition.






Again, we could locate the roof anywhere along the front of the home to give it a different perspective. Locating the staircase in a different location can also dramatically alter the overall design as well.

Slope is a critical factor when adding a shed roof to a ranch home. Local building codes dictate the minimum slope of your porch roof.

Many times, the slope (or pitch) of the ranch home's roof is such that a shed roof is not workable.

In most cases the porch roof will be the same pitch as your home's roof slope. Just extending your home's roof over the porch area may result in not having sufficient height underneath depending on the depth of your porch.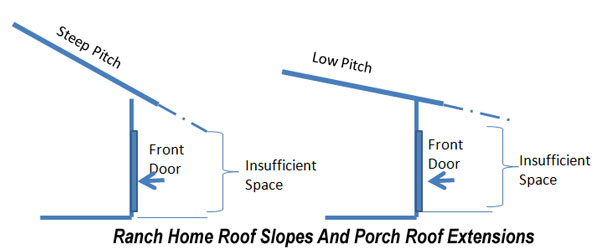 Ranch roof slope affects porch ceiling height
There are roof design solutions to resolve this issue. One, is to build a raised shed roof as shown below.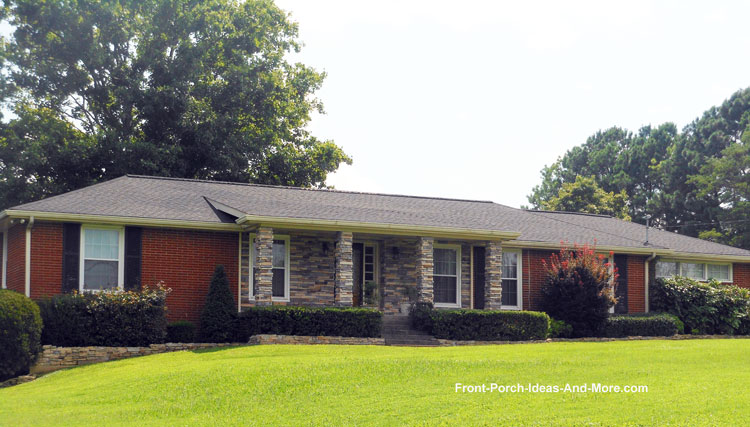 Shed-style porch roof
A variation of the shed style is to create a gable at the peak of the roof and extend it over your porch as here:



Modified or gable-style raised shed porch roof
A third option is to use a hip style roof for your front porch as illustrated below.


Hip Roofs on Ranch Homes - A Perfect Porch Roof Design Idea
Hip roofs can be an ideal solution for those wanting to add a porch to a ranch home. By design, they offer both width and depth that in many cases, a gable or shed roof cannot.

A hip roof is designed so that all sides slope downwards to the walls, usually with a fairly minimal slope. A hipped roof has no gables or other vertical sides. A square hip roof variation is shaped much like a pyramid.

Consider a hip roof where you have minimum height so that a shed roof would not be feasible.

Here are a few examples:



A hip roof installed beneath a gable roof
Side view of hip roof installed under a gable roof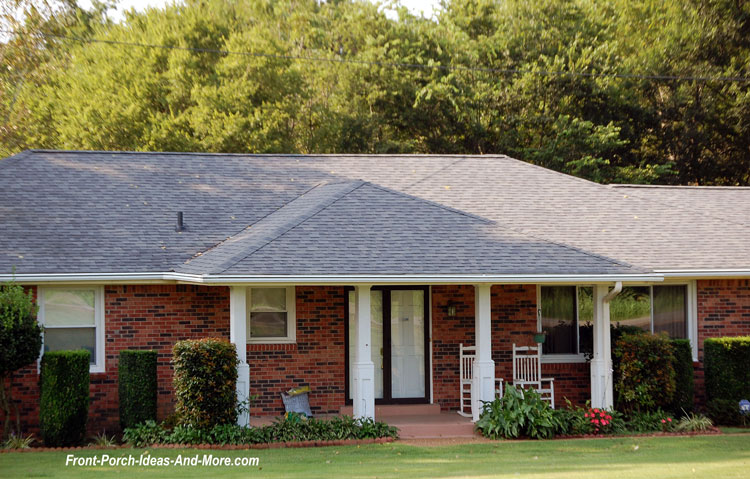 Nicely designed hip roof on a ranch home
Hip roofs make for nice front porches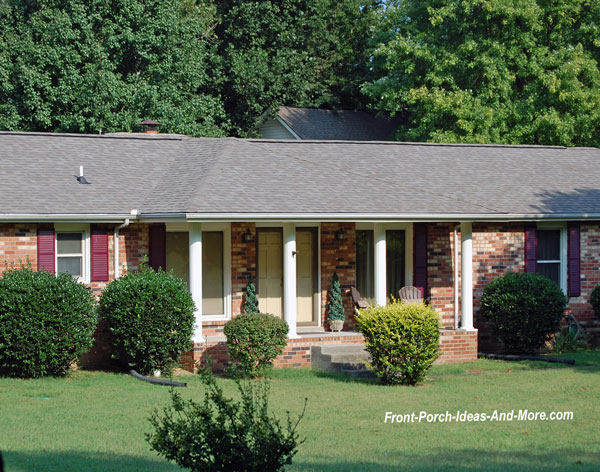 Hip roofs integrate easily on ranch style homes
How Porch Roof Designs Vary Across the US
Climate, local building codes and architectural traditions all contribute to porch roof designs across the country.
Some examples:
Porch roofs in the Southern United States often are large and of a wrap-around design for the hot, steamy summers. Gable or hip roof styles are popular in the south and it's common to see pillars supporting the porch roofs with decorative brackets or balustrades.
In the Northeastern states, porch roofs are usually simpler in design and smaller for protection from wintry, cold weather. Shed roofs, which slope down from the house, are common.
Porch roofs in the Pacific Northwest commonly have a low pitch to shed rain well and keeping entry ways dry. Of utmost importance in the Northwest is to have a leak-proof roof. Of course, we would all say that no matter where we live.
In the Southwestern United States, porch roofs are often flat or slightly sloped for shade from the intense heat of the sun. Roofs may extend to keep outdoor seating areas, such as patios, covered. Beautiful stucco or adobe elements are characteristic of this region.
Look at This Wonderful Transformation!
Holly's home before she got her new front porch
We are so pleased that Holly shared her new front porch with us - and some pictures from the porch construction process.
Even before her new porch, Holly's home is quite lovely with such gorgeous landscaping. Holly says she grew up with a porch and so it was time to get a porch. They have lived in their home for 28 years, making her dream porch long overdue.
This side view of Holly's home before her front porch truly shows the beautiful landscaping. They plan to re-establish these plantings after their porch is built and the weather is suitable.
Holly's new porch is going up.
Her new porch is going to be 12 feet wide by 34 feet long - a porch or porches.
Holly's porch will have a combination of two
porch roof designs
: a shed roof on either side and her entrance will be graced by a gorgeous gable roof.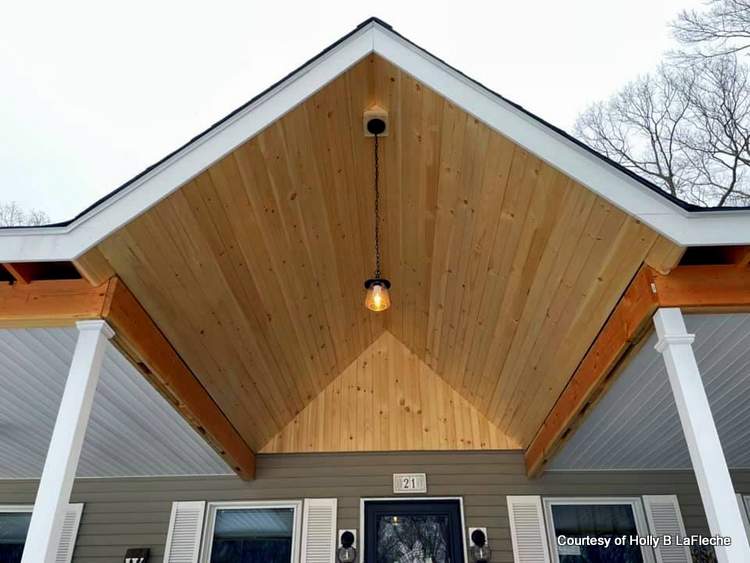 The ceiling beneath the gable roof is one to notice. Such a beauty! This
porch ceiling
adds true character to Holly's new porch.
What a fantastic, spacious porch. Holly's new porch has ample room for relaxing, reading, entertaining. This beautiful porch will be enjoyed for years to come.
She will be adding the landscape plantings back and we cannot wait to see!
Holly's porch is so lovingly furnished. We love her porch swing and those cozy pillows, especially the buffalo check ones. Outdoor lamps and tables are our favorites too. We appreciate all of Holly's amenities to make this a peaceful and welcoming conversation area.
And who wouldn't want to dine and relax here? We can imagine years and years of many enjoyable hours on this front porch.
The combination of two porch roof designs adds even more curb appeal to her home.
Ranch Style Home with Gable Type Roof
Here's the effect of adding a gable to a ranch porch roof. The height and slope of your gable will be normally determined by the height of your main roof and width of your porch.






Often times, you will need to adjust one or the other to meet your architectural requirements. The specific porch roof location will create a different overall design.

This front porch is a good example of a gable roof on a ranch style home. Note the sunburst pattern at the top of the gable. Gables have the added benefit of giving you options for adding interest and additional appeal to your porch.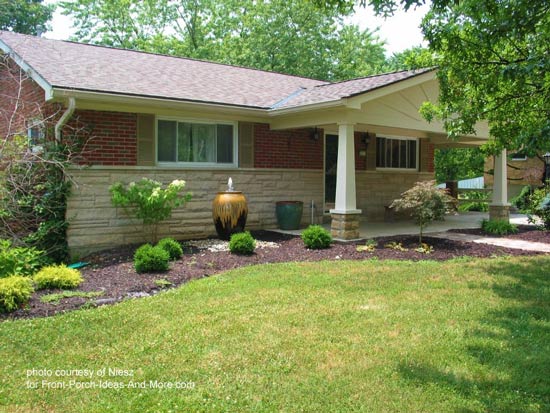 The slope on this gable front porch roof is rather steep and has what I call a "heavy" appearance. Although appealing in its own right, I would have opted for a more lean looking structure by opening the front of the gable to expose the ceiling.






Note how the slope of the gable roof matches that of the home's roof on this more contemporary gable roof design. We really like the rounded entryway which gives it a more open feel. Because of the gable structure you can opt to close in or open the ceiling area - we love options!



Gable roofs give you design options
Here's a unique gable and shed style roof combination - how ingenious! Looks great too!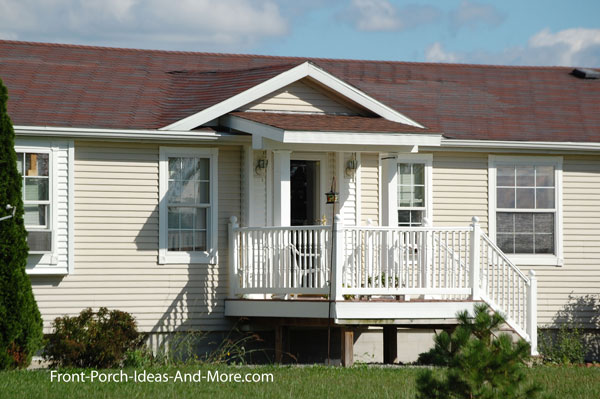 This roof design adds lot of appeal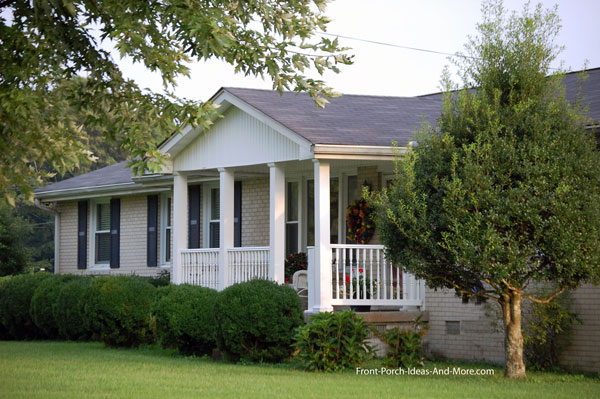 One of our favorite gable front porches
Porch Roof Designs for Two Story Homes
A typical two-story home can also be dramatically changed with the right porch design. Adding a porch roof to a two-story home can be tricky. Unlike adding one to a ranch style home, you must consider not only the slope but more often than naught, the second story windows.



3-D rendering of two story home
Two Story with Flat Porch Roof Designs
Adding a flat roof immediately adds charm to this home and can make for an expansive style front porch. Flat roofs give can give you added depth as you do not have to be as concerned with the slope of the roof.

However, they are not permissible in all areas of the country so be sure to check with your local building codes department.



Two story home with a flat roof design
Two Story with Shed Roof Design
A shed-type roof also adds lot of curb appeal. This is perhaps the most popular porch roof style for 2nd story homes; however, the size of your roof (i.e., that is the depth of your porch) may be restricted based on the slope.

In addition, some local building codes may require a minimum distance between the 2nd story windows and the roof.



Two story home with shed roof design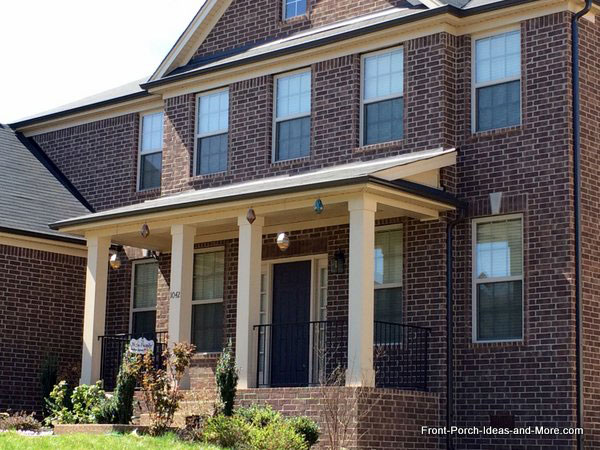 Typical two-story home with porch's shed roof design
To add more interest, consider building a gable over your front entrance as shown below.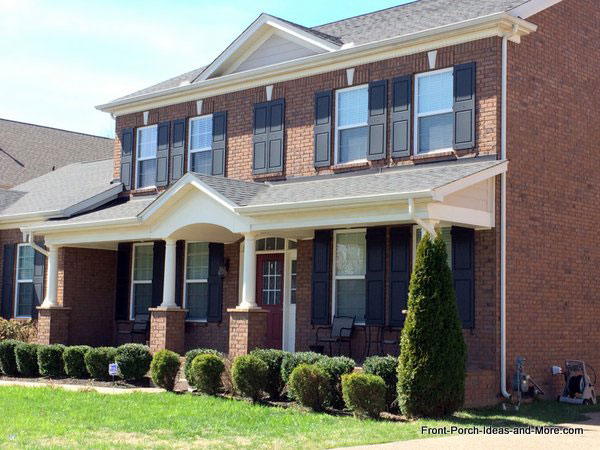 Two-story home with porch's shed-type roof with gable over front door
Add an arched opening for more appeal: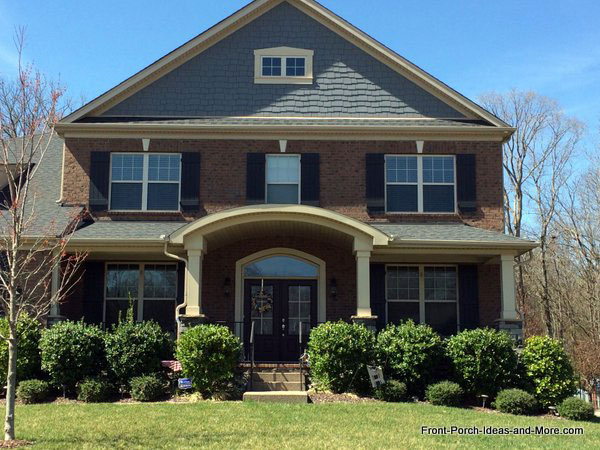 Modified or gable-style raised shed porch roof
This farm house has a classic wrap around shed type roof. Note how the side of the porch has been enclosed as a screen porch - that's a neat front porch design idea



Country farmhouse with a shed roof design over wrap around porch
A shed roof is easy and cost effective to build. Adding exterior trim, like the dentil mouldings on the porch roof structure (photo below) adds extra appeal and can be used to break up its straight lines.



Two Story with Gable Roof Design
The gable roof option on this two story gives it a more sophisticated look. A gable roof also gives you the opportunity for more porch depth; however, the length of your porch may be determined by second story window placement.

If a longer porch is needed consider a combination gable and shed roof as depicted in the next slide.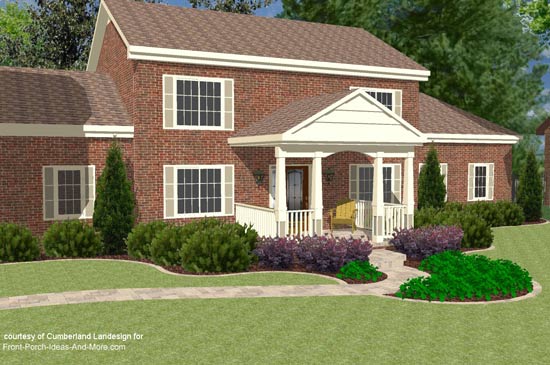 Two story home with gable roof over front porch
Gables also give you other design options as depicted here. This could have been closed in; however, the architect chose to open the gable and use a tongue and groove ceiling to accentuate the overall design.



Beautiful home with combination gable and shed roof over porch
Here's a unique front porch design that includes two gable roofs joined by a shed roof.



Front porch with two gables joined by a shed roof
Let me show you an example of how slight modifications to a roof design can change the appearance of the front porch. I've selected two homes with very similar front porch designs in the two photos below.

Note the positions of the gables and how it changes the overall appeal of the porch.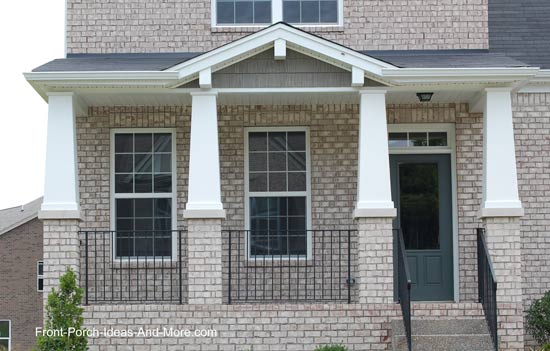 Gable positioned over center of front porch
Gable positioned over front door
Hip Roofs on Two Stories
Shed and Gable roofs are not the only roofs in town. Hip roofs can be quite stylish, too. Hip roofs have equal angled sides and are most often, but not always, found on cottage style homes.

They are; however, ideal for two story homes as seen below. They give you ample porch depth without having to be concerned with roof pitch.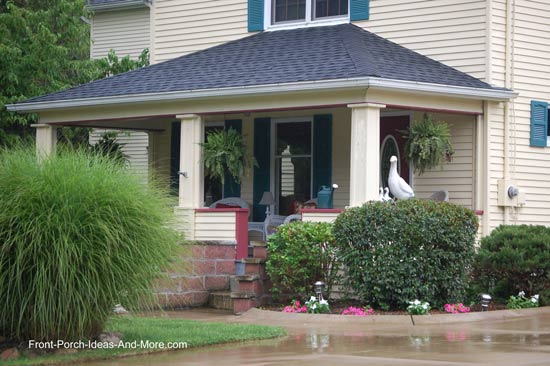 Hip style front porch roof
Hip roof on two story brick home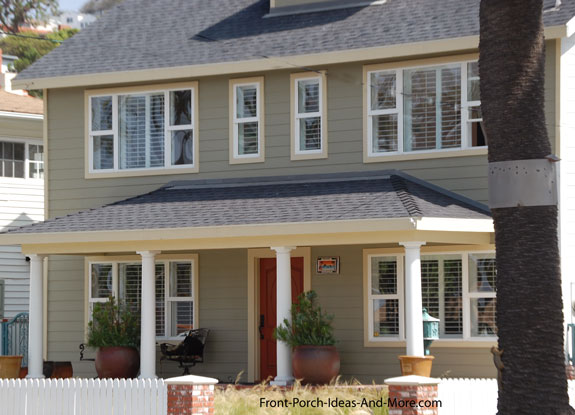 Porch hip roof on two story home
Hip roofs, as shown below, are a variation of the hip roof and are also common on porches. They can be ideal for second story homes whose window placements do not allow for a continuous shed or gable roof.



Hip style front porch roof
Hip porch roof with gable over entrance
Porch Roof Illustrator
Use our porch illustrator to see how different roof designs affect the appeal of a home.


Variations of Porch Roof Designs
Don't rule out variations of roof designs. Here's a shed roof with a slightly rounded hip roof making this a very interesting and appealing front porch design.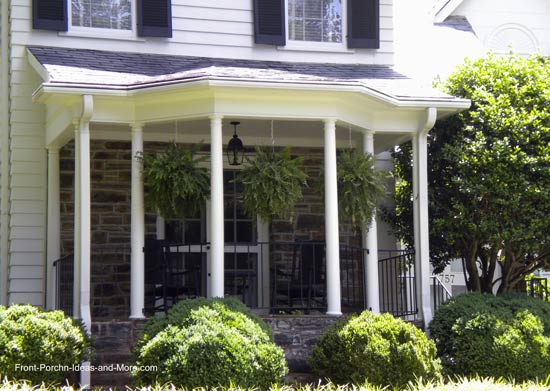 Combination shed roof and mansard roof
Here's a bungalow with a typical hip roof and its front porch with a flat roof.



Hip roofed bungalow with flat roof over porch
If you like the slightly rounded look, you might go all the way - these round porch roofs offer a very sophisticated appeal.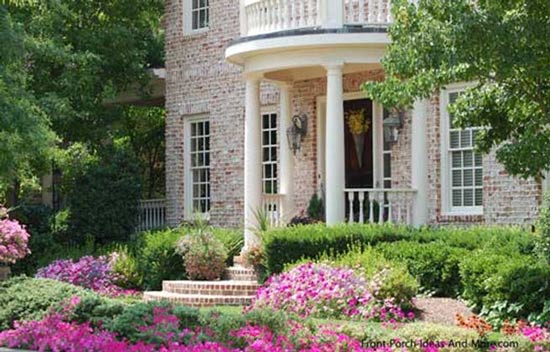 Round roof design on picturesque front porch
This is a round roof on a true southern charmer! Southern homes have almost idealistic porch roof designs!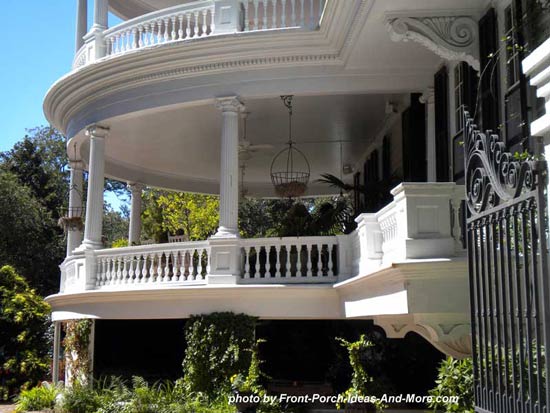 Classic grand southern front porch with round roof
---


Hopefully, you now have a better understanding of how the style of your porch roof affects your overall front porch design. Most importantly you want to make sure the design is compatible with the style of your home.



Stunning Victorian home
As you can see, superb porch roof designs do more than just cover your porch and can directly affect your overall porch and home's design.




Hi!
We're Mary and Dave
, lifelong DIYers, high school sweethearts, and we both love porches. You've come to the right place for thousands of porch ideas.
Our Sponsors
End Sponsors
---
Helpful Links
Enjoy shopping Amazon
(affiliate link)
Popular Pages
What's New
Join Our Newsletter Family
Porch Designs
Porch Ideas for Mobile Homes
Find a Local Contractor
Build a Porch
|
Small Porches
Porch Columns
|
Porch Railings
Screened Porches
Porch Curtains
|
Porch Enclosures
Porch Landscaping
|
Vinyl Lattice
Porch Decorating
|
Porch Ideas
Shop
Navigation Aids
Home
|
Top of Page
Site Search
|
Site Map
Contact Us
Policies
Disclosure Policy
|
Privacy Policy
Legal Info
---
Please Join Us Here Also

Find a Trusted Local Pro
---
Copyright© 2008-2024
Front-Porch-Ideas-and-More.com All rights reserved.
No content or photos may be reused or reproduced in any way without our express written permission.
At no extra cost to you, we earn a commission by referring you to some products on merchant sites. See our
disclosure policy
.
We, Front Porch Ideas and More, confirm, as stated on our
privacy policy
, that we do not sell personal information.
All content here is solely for presenting ideas. We recommend consulting with a licensed, experienced contractor before you begin your project.
We make no guarantees of accuracy or completeness of information on our site or any links to other websites contained here.
Thank you for taking your time to stop by.
See what's popular and new here
.

Hi!
We're Mary and Dave
, lifelong DIYers, high school sweethearts, and we both love porches. You've come to the right place for thousands of porch ideas.
--- Our Sponsors ---
--- End Sponsors ---
Mary's Etsy Shop
Find Top-Rated Service Pros
Our Newsletter, Front Porch Appeal
Learn more
!
Thank you for being here!