Look at This Wonderful Transformation!
Holly's home before she got her new front porch
We are so pleased that Holly shared her new front porch with us - and some pictures from the porch construction process.
Even before her new porch, Holly's home is quite lovely with such gorgeous landscaping. Holly says she grew up with a porch and so it was time to get a porch. They have lived in their home for 28 years, making her dream porch long overdue.
This side view of Holly's home before her front porch truly shows the beautiful landscaping. They plan to re-establish these plantings after their porch is built and the weather is suitable.
Holly's new porch is going up.
Her new porch is going to be 12 feet wide by 34 feet long - a porch or porches.
Holly's porch will have a combination of two
porch roof designs
: a shed roof on either side and her entrance will be graced by a gorgeous gable roof.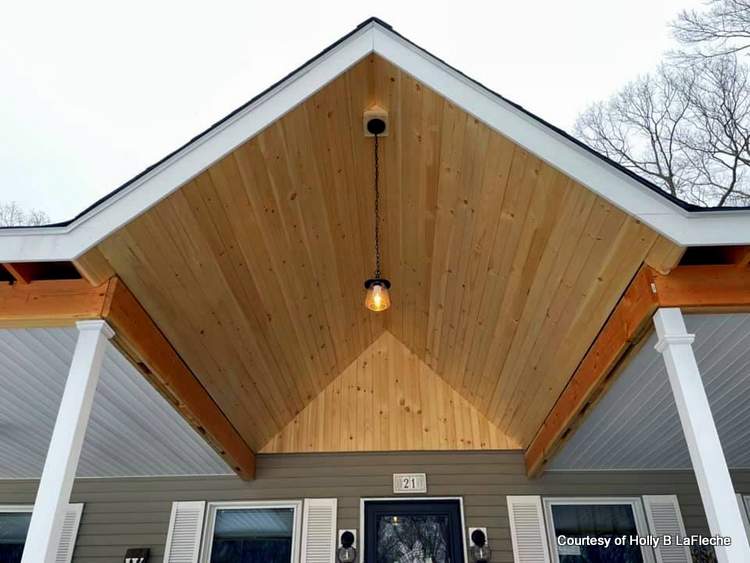 The ceiling beneath the gable roof is one to notice. Such a beauty! This
porch ceiling
adds true character to Holly's new porch.
What a fantastic, spacious porch. Holly's new porch has ample room for relaxing, reading, entertaining. This beautiful porch will be enjoyed for years to come.
She will be adding the landscape plantings back and we cannot wait to see!
Holly's porch is so lovingly furnished. We love her porch swing and those cozy pillows, especially the buffalo check ones. Outdoor lamps and tables are our favorites too. We appreciate all of Holly's amenities to make this a peaceful and welcoming conversation area.
And who wouldn't want to dine and relax here? We can imagine years and years of many enjoyable hours on this front porch.
The combination of two porch roof designs adds even more curb appeal to her home.