Hello, porch friend,
Welcome to April, the month of gentle spring showers and vibrant pastel flowers peeking up from Mother Nature's awakening ground.
April is when our porches garner our attention once again. Time to dust them off, wash them down and give our porches a mini face-lift.
May you enjoy this month's edition of Front Porch Appeal!



April Showers and Easter's Arrival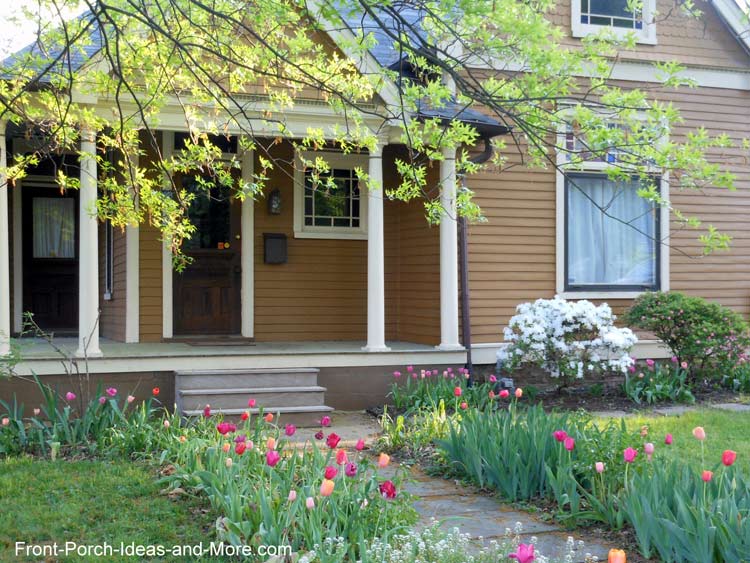 Dave and I love this photo of a springtime porch we took years ago. The tulip walkway totally captures the hopes of springtime.

Do you have plans for your porch this year? Our plans include new rugs, fresh spray paint on our rocking chairs, and new springtime wall art. And, if all goes as we hope, we will also have new porch steps this year, maybe towards the fall. Our current porch steps deserve a comeback.

In Nashville, April is a month of high pollen, so we tread lightly putting our best porch forward until the pollen has settled and passed.

Do you also deal with pollen in the springtime where you live? It's messy till it subsides.


---
Easter Greetings from the Porch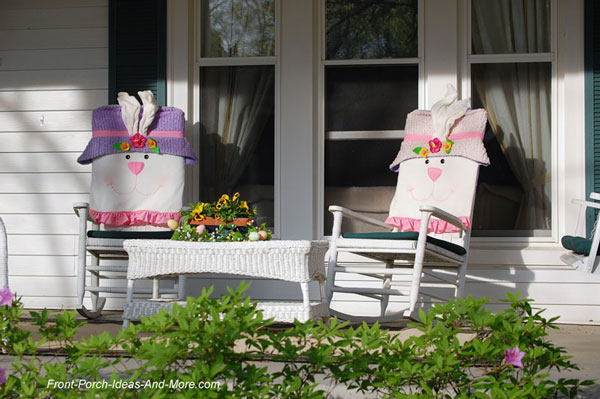 Along with springtime comes Easter. This year, it's on Sunday, April 9th.

We've always loved these adorable bunny chair covers. Aren't they so cute? Perfectly wonderful for springtime.

We think they would be fairly easy to make. Start with a pillow case, add some cute trim to the bottom (you could even glue it on), then add a cute hat.

Since the hat would be over-sized, you could fashion one from two place mats or some felt you purchase in the sewing department. Add a cute bunny face with markers, paints or embroidery.

Let your creativity flow and see what you might come up with.





As a child of the fifties and sixties, my mom would always take me shopping for a new Easter outfit, bonnet and shoes. Easter was a big day for our family. My mom would put out a special, colorful glass dish and line it with grass, then she would add piles of Easter eggs and candy. For a kid, this was a magical sight!

When we got home from church services, we would enjoy snacking on the array of jelly beans, hard-boiled eggs and foil-wrapped chocolates. Mom put a fresh, clean tablecloth on our kitchen table along with cute bunny and egg decorations. We always knew it was a special holiday.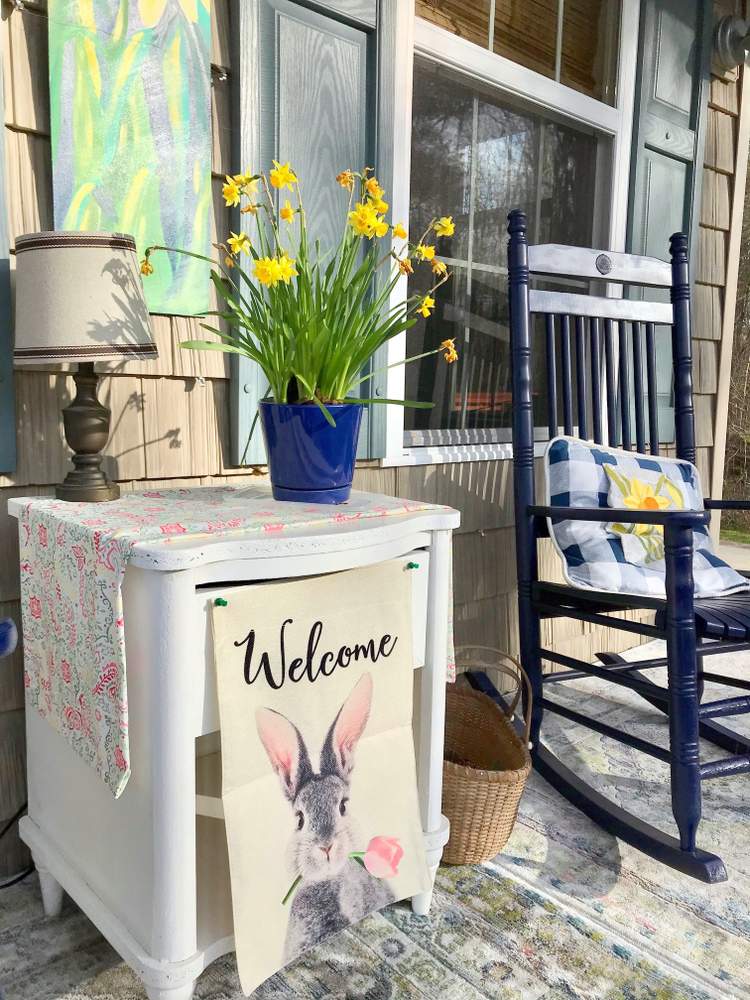 Take a peek at our Easter porch from a few years ago. Our family gave us that cute bunny flag. And those daffodils - they just spell springtime and Easter. And the scent!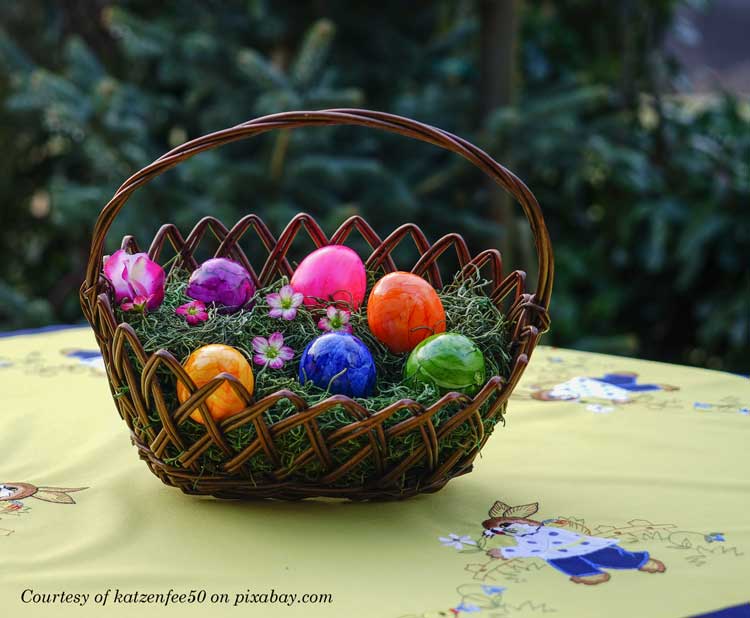 If you celebrate Easter, may you and yours have a lovely, meaningful holiday. With warmer temps hopefully, maybe you'll get to spend some porch time, too.

We have more Easter and spring decorating ideas here and here.



---
We'd Love Hearing from You


What plans do you have for your porch this spring? Just hit reply to this email and let us know. We'd enjoy hearing about your porch plans.

If you'd like to share a photo with us, that would also be welcome.



---
Features of a Well-Built Deck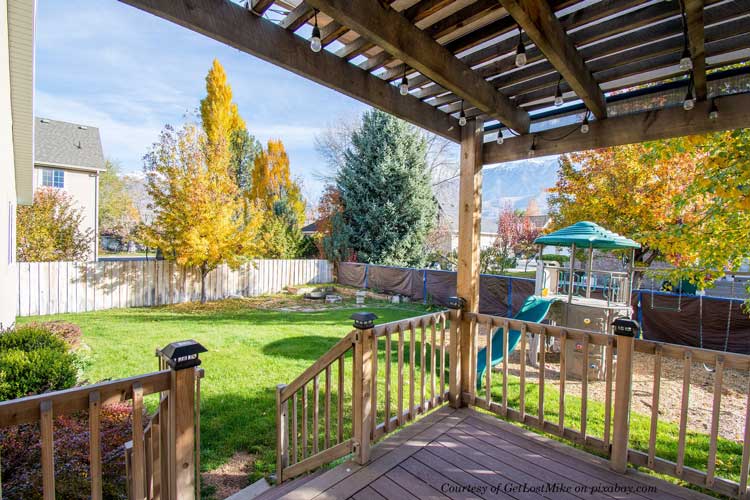 Springtime is when we as homeowners think of house improvement projects. Creating or improving our outdoor spaces becomes a priority as the weather improves.

Decks and porches, with the exception of the roof, are popular DIY projects with homeowners in the spring. So with that thought in mind, we know from experience that it pays off in the long run to use quality materials and hardware. We all want our porches and decks, especially those that are elevated, to stand the test of time and comfort.

Take a look at the chart below for the preliminary features of a well-built deck.




Please stop by our deck section for many more details, pictures and ideas for building a quality deck.


Always Begin with a Square Foundation
Speaking of decks and porches, what are your plans this year?

The perfect porch or deck begins with a square foundation. It is relatively easy to do if you know how to use Pythagorean theory: a-squared plus b-squared equals c-squared (commonly referred to as the 3-4-5 rule).

If you want to make sure your porch or deck is going to be square to your house, simply measure out 3 feet from the house along the rim board and place a mark. Then measure 4 feet from the same starting point along the ledger board and place a mark.

Using a string or other straight board to measure the distance between the two points. If they measure 5 feet your deck is square to your house at that corner. Repeat the process on the remaining three corners to ensure your deck or porch is square to the house.

The 3-4-5 foot rule works well for smaller size structures but for longer ones, you will need to mark boards further along the spans.To help with those calculations and to see how it is done, download our free Tutorial on Squaring Your Porch Foundation or Deck.

See our How to Build a Deck section for more ideas.






To help with those calculations and to see how it is done, download our free Tutorial on Squaring Your Porch Foundation or Deck.

See our How to Build a Deck section for more ideas.


---
Not Too Early to Think of Porch Landscaping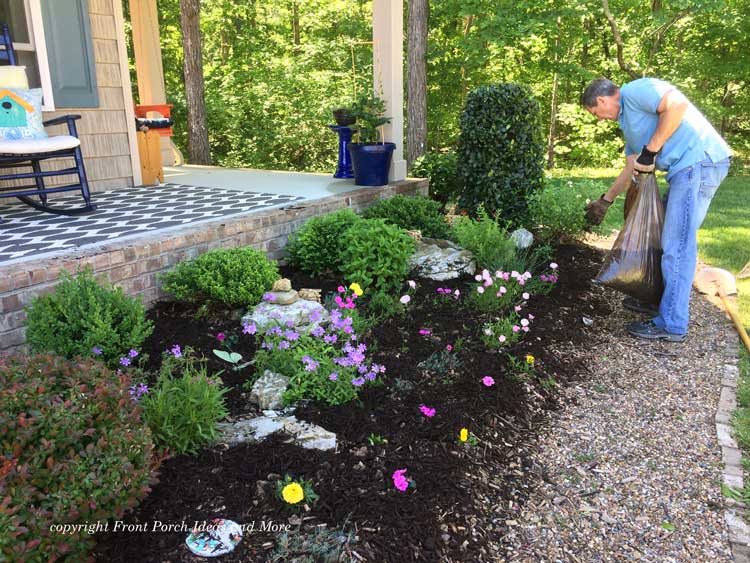 It's not too early to start thinking about your front porch or front yard landscaping. Here in Nashville, we were hit with a really cold spell last January that may have taken down several of our plants and shrubs. We will likely replace them.

Whether you are replacing your landscaping or simply want to make a more curb appealing change, you don't have to spend much to create a look you'd enjoy.

Look at the Before and After below that reflects how landscaping can improve the curb appeal of your home.
Before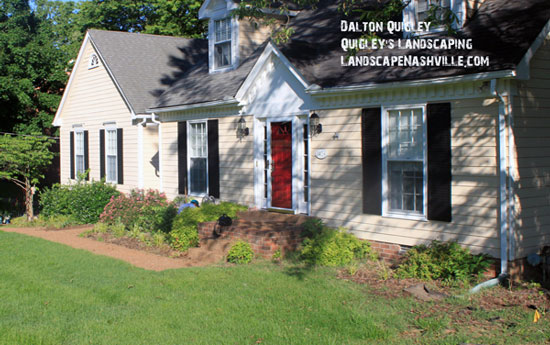 After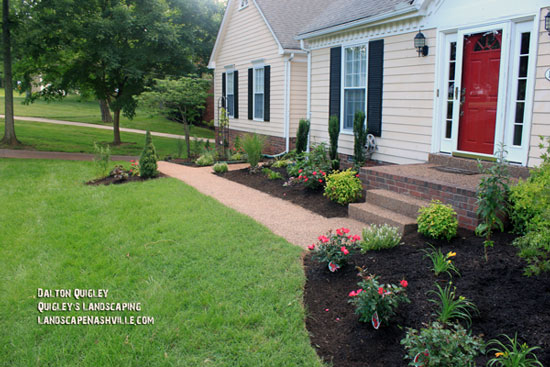 See our Front Yard Landscaping section for more ideas.
---
Lovelies From the Porch Store
Gorgeous Cathedral Picket Railing from our sponsor, The Porch Store.



We also love their Drummer Boy railing panels


Our fine sponsor, The Porch Store, offers an array of beautiful, creative porch panels, like the panels you see here.
Their panels are cut from sheets of cellular PVC and look like wood, but without the maintenance.
We like that The Porch Store has quite a few designs from which to choose or propose your own ideas. With their state-of-the-art CNC (computer numerical control) equipment, they can do so much.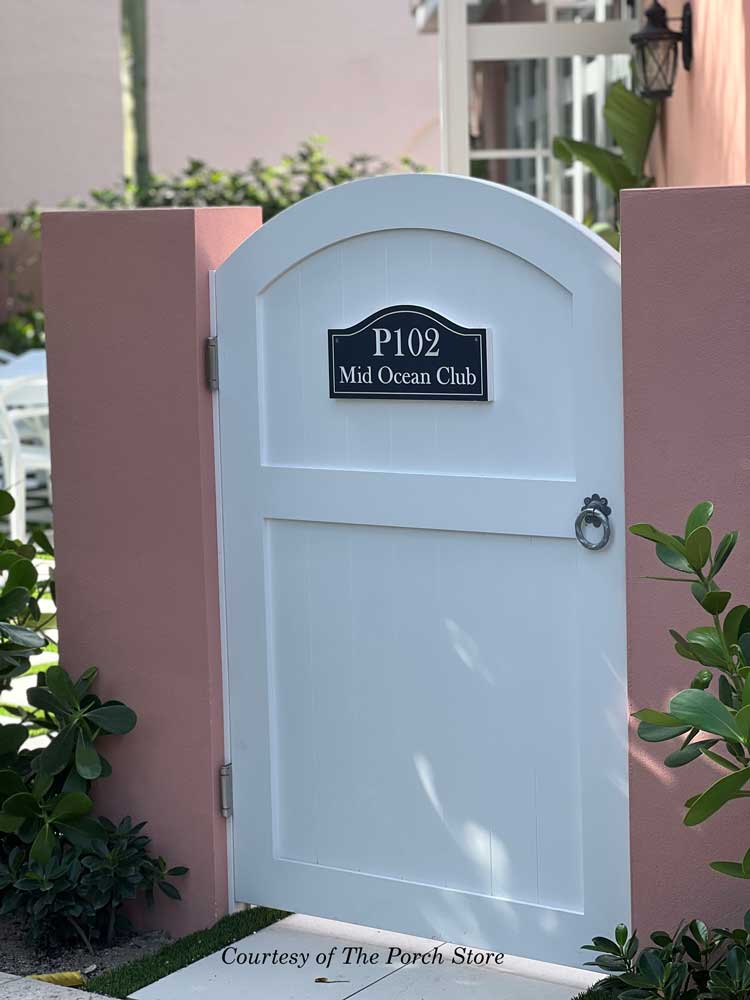 And this! What a wonderful handcrafted gate from The Porch Store. Such classic elegance.
Please stop by The Porch Store to see their elegant products.



---
How About a New Aluminum Screen Door?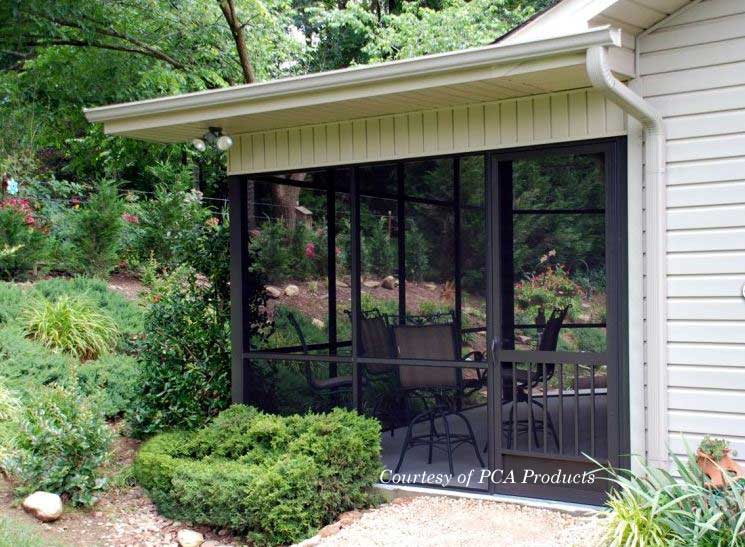 Did you miss out on enjoying the beautiful weather last year for lack of a screen door? This is a brand-new year!

Now is your chance to really enjoy spring, summer, and fall this year by installing a most durable and quality screen door from our sponsor and friends at PCA Products.

We think you will appreciate the wonderful quality and value you receive from PCA Products.





Vintage Woodworks Time-Honored Products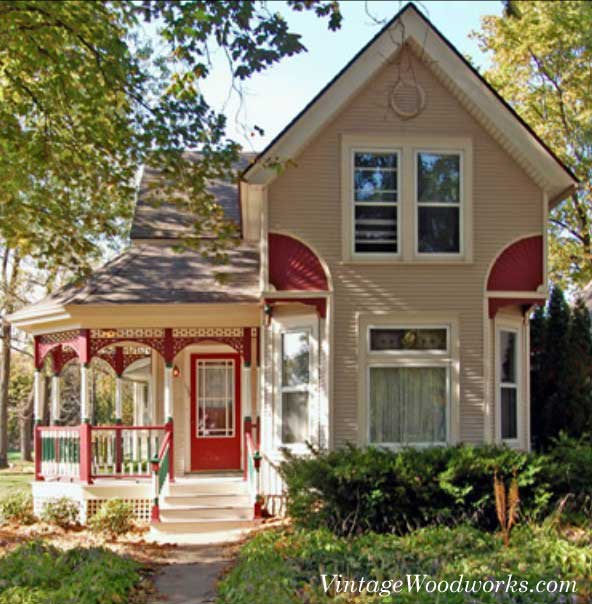 We're always happy to share the products from our fine sponsor and friends at Vintage Woodworks. They have been in business since 1978 and specialize in beautiful handcrafted products to beautify your porch and home.

Please take a look right here.



---
Thank You for Shopping Our Amazon Store
We'd be honored to have you shop our Amazon store. We hand-picked products for you. Many we have ourselves and love.

Here's our Front Porch Ideas Amazon store page.

As an Amazon Associate, we earn from qualifying purchases.




---
Sights of Springtime for You to Enjoy
Tulips blooming are the hallmark of springtime! Isn't this home and porch so wonderful!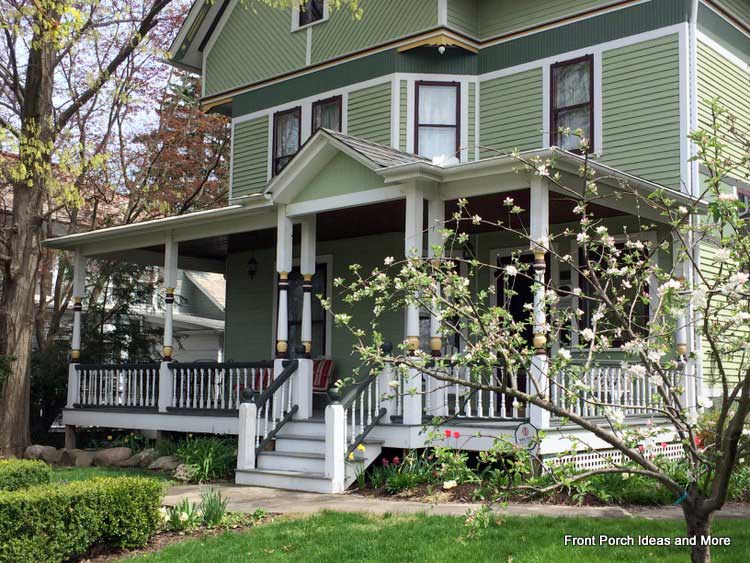 Nothing says springtime more than wildflowers and beautiful vibrant yellow forsythia.



Adorable springtime decorations on the porch bench from Eileen at The Seasonal Home. Enjoy more of her ideas here.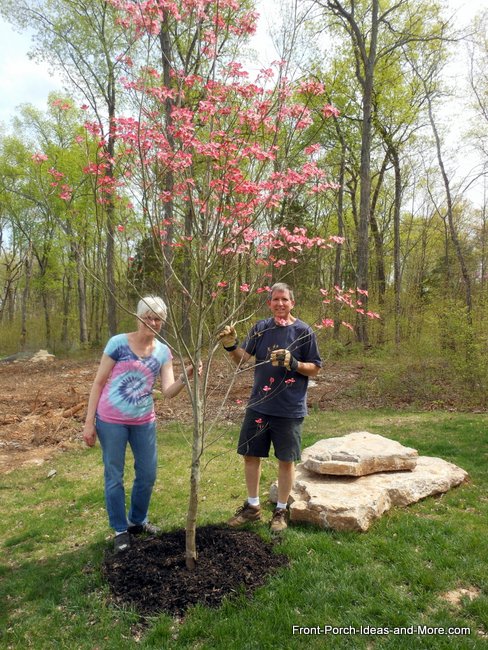 This is the dogwood tree in our back yard from years ago. It's much larger today but we couldn't pass up showing you how cute it was when it was first planted.


---
Till Next Time...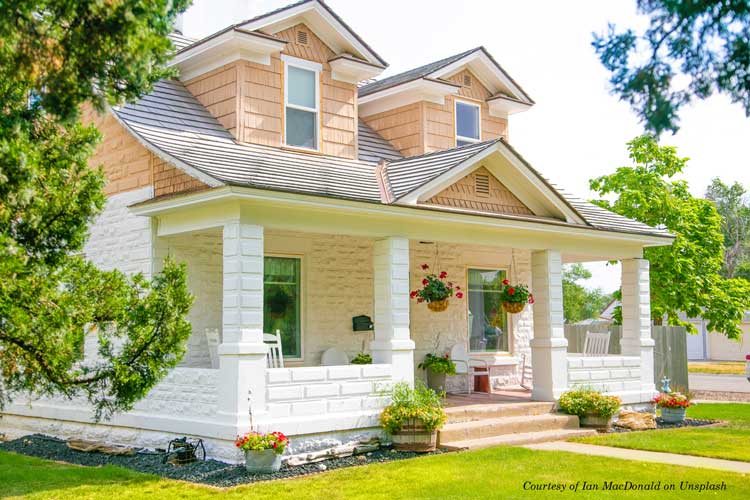 We all live busy lives, so thank you for being in our porch family! We appreciate you.

May you have a peaceful and hopeful month of April. Enjoy springtime where you live.

See you on the porch,

Our best always,

Mary and Dave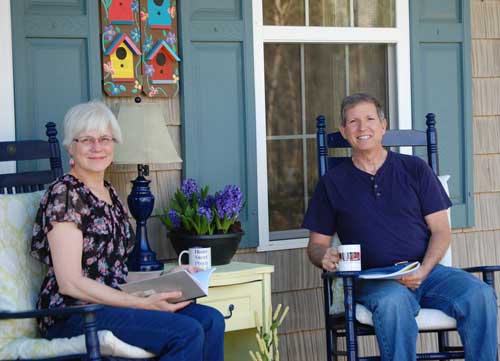 ---