Hello, Porch Friend,
Welcome to Front Porch Appeal and the month of September!
Autumn officially begins on September 23rd and perhaps like you, it is our favorite season.
Maybe it is the most wonderful time of the year to decorate our porches and enjoy all that autumn has to offer.


September reminds us of this song, "Try to Remember" by Tom Jones and Harvey Schmidt. Does this spark a tune in your head?

"Try to remember the kind of September

When life was slow and oh, so mellow

Try to remember the kind of September

When grass was green and grain was yellow"



We are both so happy you're here and we hope you enjoy the topics in this month's newsletter.




---
Oh, to Have a Screened Porch!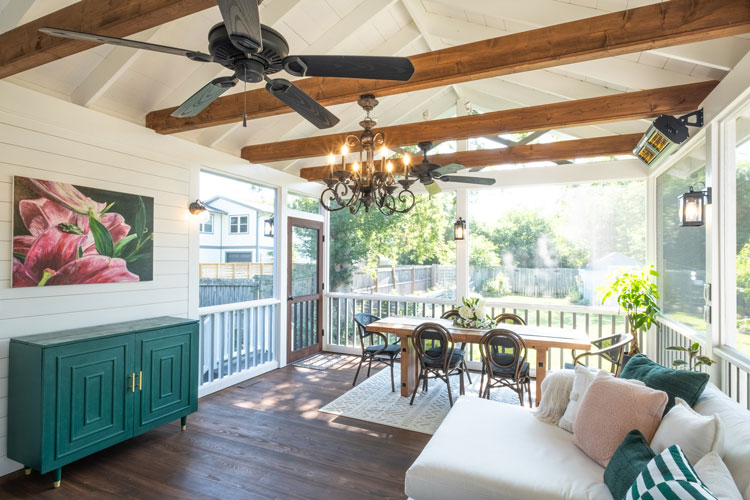 Such a beauty of a screened porch by Photo courtesy of The Porch Company, Nashville TN


It's been a very warm summer (at least where we live) and we are ready for cooler temps. Are you as well?
Perhaps this hot summer convinced you to consider a screen porch where you can fully enjoy those cool fall evenings that are to come.
Screen porches offer several advantages making them a very popular addition to your home besides giving you outdoor living space. Screen porches offer treasured privacy, welcomed mental and physical health benefits as well as a protected area for your porch furniture, potted plants and delicate flowers.
With autumn upon us, homeowners often wish for a screened porch, to extend the time they can enjoy their porches. The ones you see here were designed and built by The Porch Company in Nashville.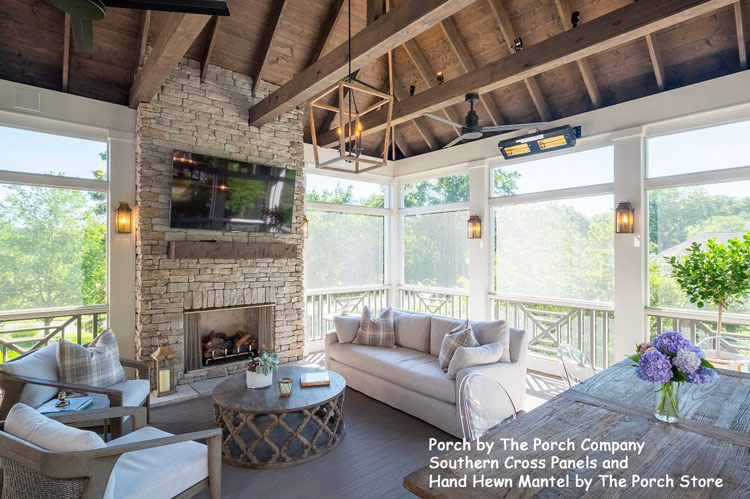 Speaking of The Porch Company, did you know The Porch Store and The Porch Company are sister stores?
Yes, in fact the Southern Cross Panels and
Hand Hewn Mantel above are from The Porch Store.
They ship nationwide!


Details do count.
If you already have a screened porch or looking to have one built, you can find wonderful products (like the panels and mantel above) that will help transform your porch into an amazing place for rest and relaxation.
Where? Visit our fine sponsor, The Porch Store, to see a wide variety of products that might be perfect for your porch today!
Oh, what a screened porch to spend an afternoon!
Can you imagine having a bed swing on YOUR porch?

The Double Cathedral Picket Railings and
Sapele Bed Swing are also from our sponsor, The Porch Store
They ship nationwide!



If you're more of a DIYer and would like to build your own screened porch from a plan, this page offers several popular screened porch plans our readers like.



---
A Lovely Way to Add Curb Appeal This Fall
Beautiful photo courtesy of VintageWoodworks.com


Use exterior house trim to add immense charm to your porch this fall. It is a relatively inexpensive way to add curb appeal and give your porch and home a new, beautiful and polished look.

We are super proud of our sponsor, Vintage Woodworks, a leader in handcrafted house trim since 1978. They can assist you in choosing just the right design options for your home.


---


Speaking of the ways that beautiful trim enhances a house...

Brackets can provide support to the structure or serve as only a decorative element.

Exterior brackets range from the very simple to the ornate making them an option for almost any home. You can use them as stand-alone pieces or add additional exterior trim pieces to create even more intriguing arrays.

Take a look at some trim we've seen over the years!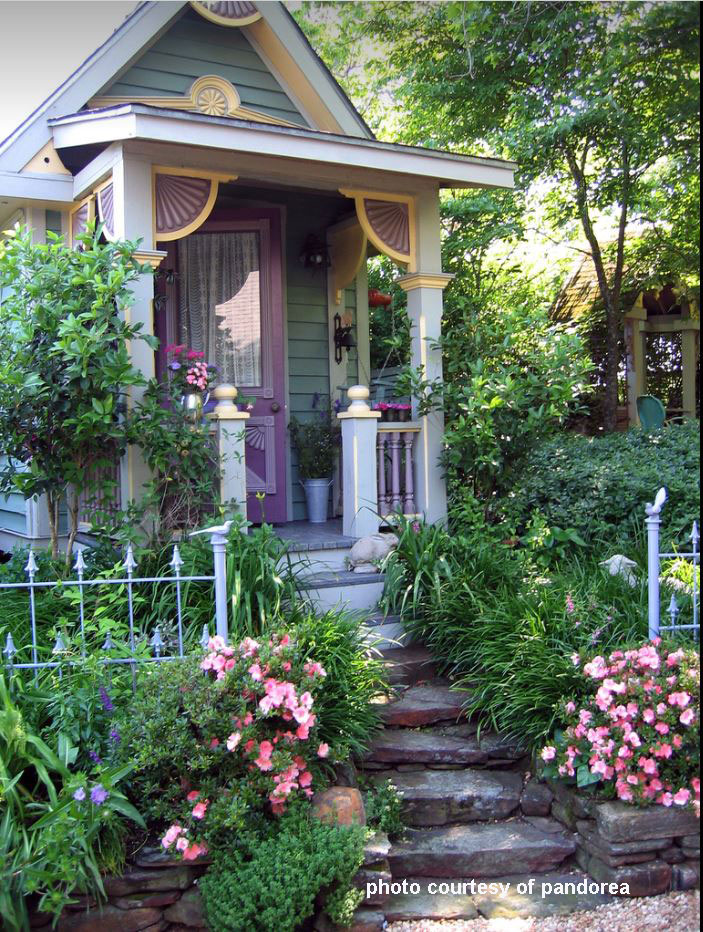 Colorful Brackets on a Victorian Porch-Photo courtesy of Pandorea
Simple Brackets on Contemporary Front Porch
Brackets and Dentil Moldings Create Lots of Curb Appeal


Mix and match. Combine brackets with other exterior house trim to create additional appeal as shown below.


Post Face Brackets and Spandrels
The trim on this home adds great beauty



Please remember to stop by our fine sponsor, Vintage Woodworks to see their array of house trim. They have an extensive section about porches and handcrafted products on their website.


---
Autumn Porch Decorating Schemes
All of a sudden, fall is going to be at our doorstep, and it will be time to change out the porch decor. Here in Nashville, where it's still so warm, we usually wait a few weeks to bring autumn to our porch.

How about you? We bet many of you are ahead of us already!

We hope the following ideas will inspire your thought process; select one or mix and match to suit your personal style and the layout of your porch.





Arrange a variety of pumpkins, gourds, and squash in different sizes, shapes, and colors. You can stack them, create groupings, or even carve some for a festive touch.

We saw these adorable stacked pumpkins at a small cafe in a town near us. Isn't it fun how easy it is to create an eye-popping design from simple elements?





Craft or purchase a wreath made of autumnal elements like colorful leaves, pine cones, acorns, and berries. Hang it on your front door for an instant fall vibe.

This natural leaf wreath is especially simple, yet beautiful against the front door.

Often you can find natural materials in your yard or nearby woods to adorn a simple grapevine wreath.




Gather cornstalks, hay bales, pumpkins, mums, gourds and whatever natural elements in your area.

Whatever delights you! Together they are naturally beautiful for your porch.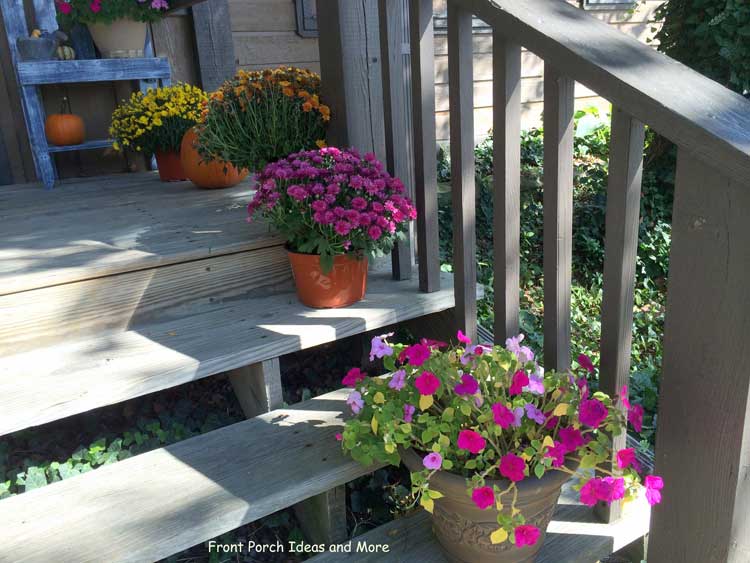 Use vibrant fall flowers like the always-favorite mums, summer's leftover blooms, and pumpkins to create inviting arrangements on porch steps.

Be sure to keep plenty of space for navigating the stairs.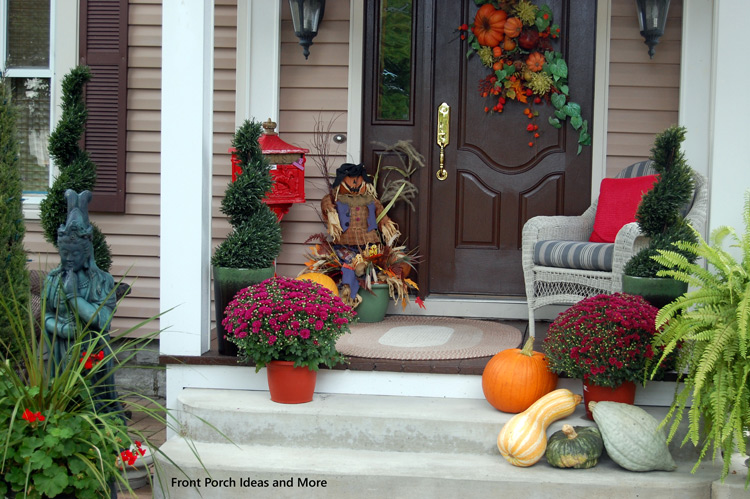 Another beautiful example of gathering natural elements onto your autumn porch. What an eclectic arrangement of textures, colors and heights!






Space out pots of mums and elevate them on bricks or pavers. So simple yet very clever and eye-catching.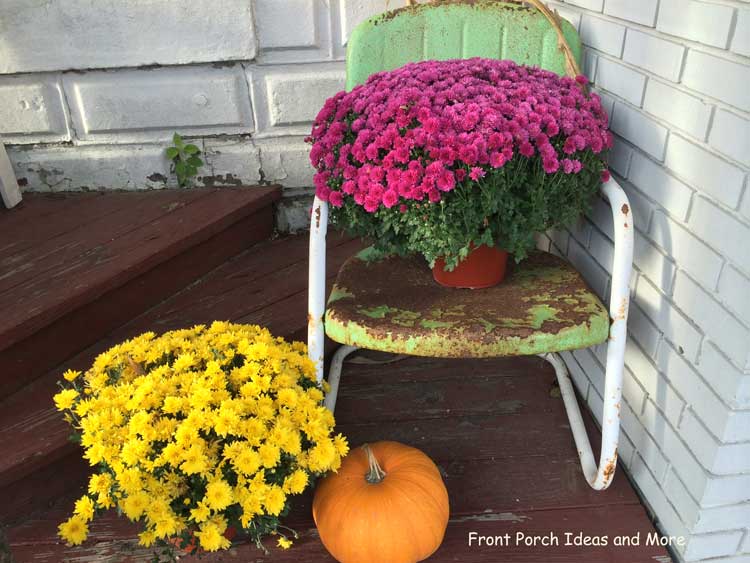 Use your rusted vintage furniture as a striking backdrop for autumn's harvest. If you have rusted vintage furniture, consider that a blessing!

What do you think?





If you have either a blank wall on your porch, your shed or deck, hang a mix of eclectic vintage treasures you own along with beautiful plants, like the lantana above.

Not only is it a conversation starter, but also a sweet way to use those items that don't seem to have a place.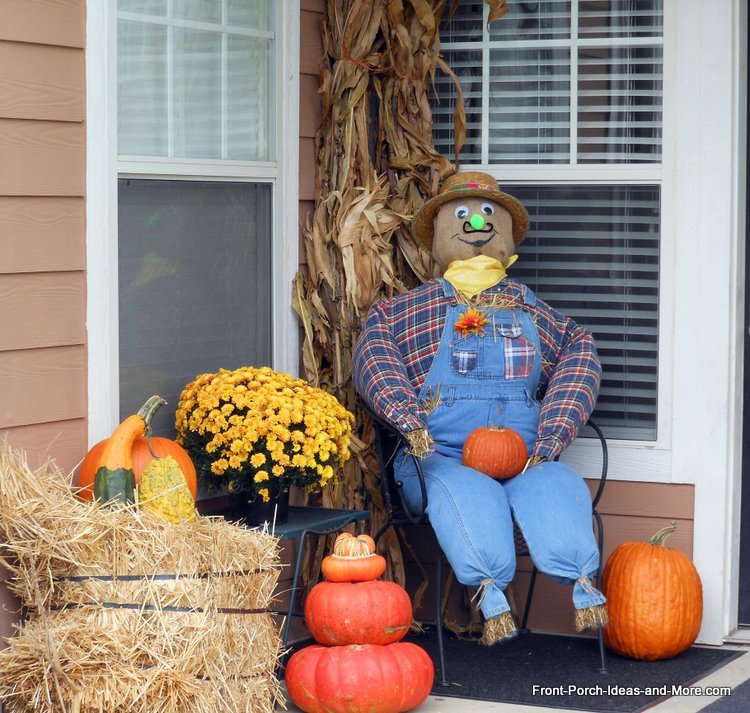 Position cute scarecrows in various poses around your porch, adding a playful and traditional autumn element.

We have a wonderful page with scarecrow ideas. Oh, and some of them are fancy, mind you.





This is the same porch as the one above but from a different angle and, of course, a different time.

The two of us lived in an apartment for a year while our house was being built. Isn't this a pretty nice porch for an apartment? We really thought so!

Please stop by our fall porch decorating section as well as our Halloween decorating section, too.

We have dozens of wonderful ideas for you.


---
Screen Door Time is Here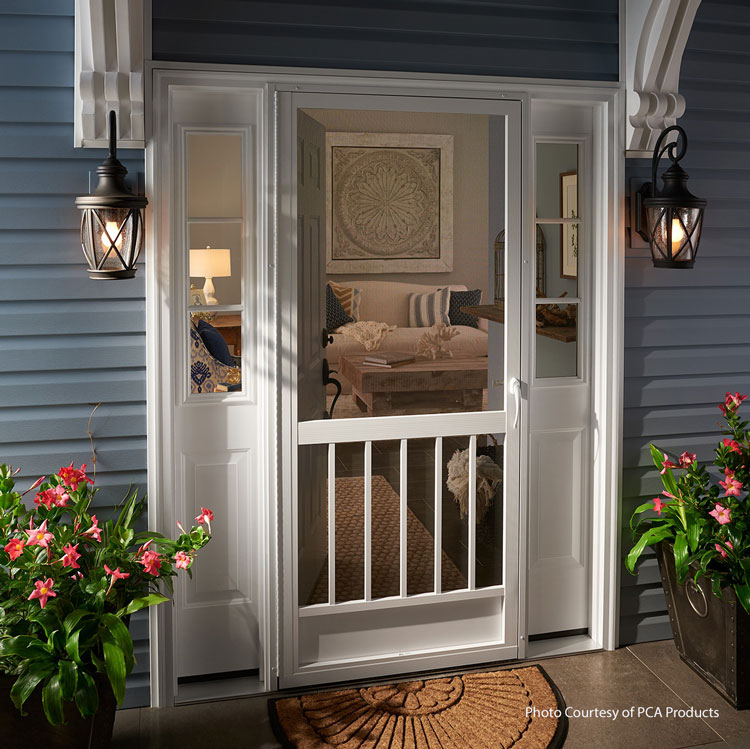 There's nothing quite having a screen door in fall.

Enjoy those crisp-cool breezes and welcome the tantalizing aromas of fall throughout your home.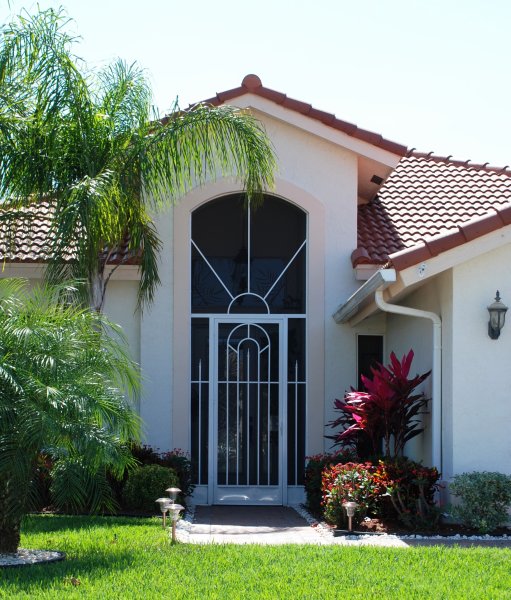 Photo courtesy of PCA Products


As a kid, I remember running out of the house to play and hearing the 'slap' of our ole screen door against the frame. Screen doors allow you to open your house to the outdoors extending your home, if only visually.

Did you know there's a screen door for almost any exterior door on your home?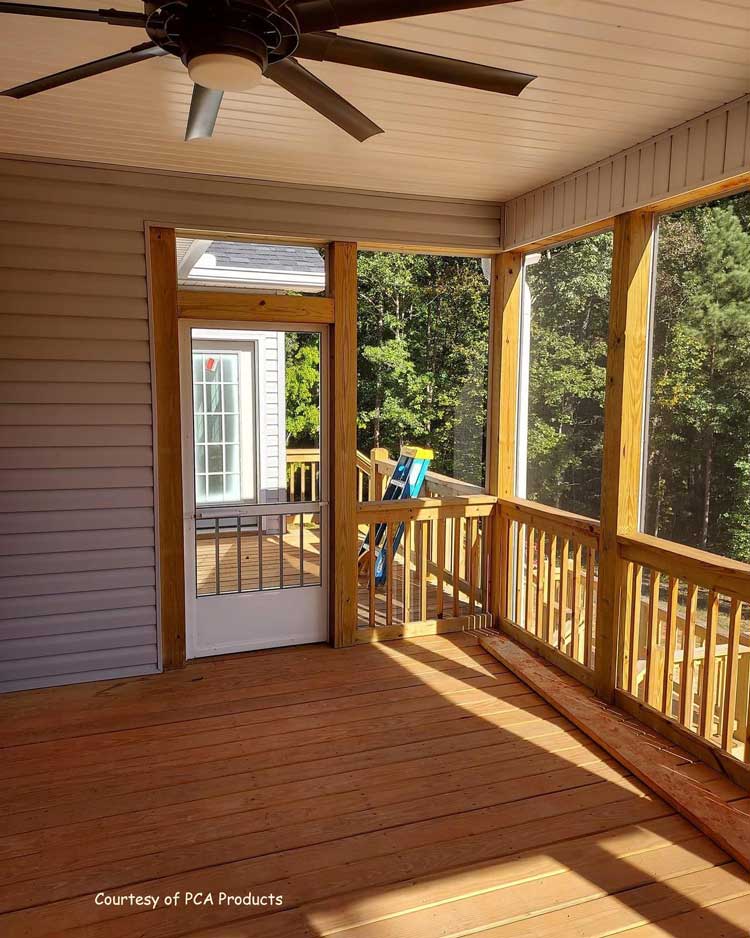 A screened porch deserves a fine, aluminum screen door as well, like you see here.

Whether you are replacing an existing screen door or installing a new one on your home or screened porch, selecting a high-quality door that lasts a very long time is well worth the investment.

We know the folks at PCA Products and can attest to the engineering of their screen doors. They offer over 70 styles, six colors, and each one hand built.

It's worth your time to see the quality of a PCA Products aluminum screen door today and open your home to fall.


---
Our Etsy Shop is Coming



Our Etsy shop is coming. We hoped to have it open by this newsletter, but health issues and a family trip have set it back a bit. But all is good!

So what will be in our shop? We will have some of my art on greeting cards and on cute printables you can download and print for your journals, cards or just for fun. Dave may just make some pretty woodcrafts, too.

The name of our shop is Mary Sparkle Silver as that has been my pen name for many years for the hundreds, I guess thousands, of handmade greeting cards we have sent over the years. It's also my pen name for the children's books I've written.

We will greatly appreciate your support when it opens! Thank you, dear friends.


---
Till Next Time...
Asters are splendid in autumn.

Thank you for joining us this month.




We all live busy lives, so thank you for being in our porch family! We appreciate you.

May you have a gentle and refreshing month of September. Enjoy the cooler, crisper air! Halloween is already next month and then the holidays. Oh my heavens!

See you on the porch.

Our best always,

Mary and Dave


---