Hello, Porch Friend,
Welcome to Front Porch Appeal! Here we are in mid-October already and what a beautiful month it is! We are so happy to have you here.
October is perhaps the most picturesque time of the year for decorating your front porch. And more importantly, we hope you have found time to enjoy your porch with some hot cider and doughnuts to take in the beauty and colors of autumn.
Whether you just place a pumpkin or two on your porch or you have it "dressed it to the nines", your efforts will surely be enjoyed by all have the pleasure of seeing it.





October reminds us of this saying by F. Scott Fitzgerald:

"Life starts all over again when

it gets crisp in the fall."

We are both so happy you're here and we hope you enjoy the topics in this month's newsletter.




---
Let's Have Fun with Scarecrows
Nothing says fall like a good scarecrow. Adding one or more into your autumn decorating can add a measure of frivolity along with creating a focal point in your display.

One of the fun topics on our site is how to build a scarecrow. We show you step-by-step; it's easy to do and relatively inexpensive (we went to Goodwill for the clothes) and kids of all ages will enjoy making them.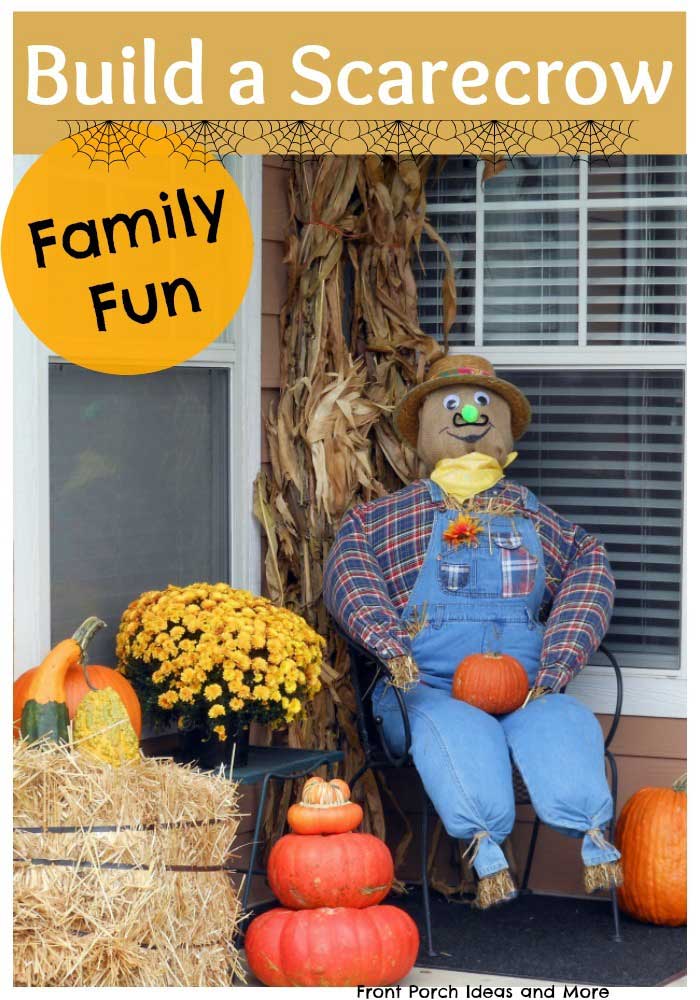 Learn how to build a scarecrow
Why not add to the fun - create and enjoy scarecrows in these many ways...
Have a scarecrow building contest with friends or neighbors.
- Provide straw, old clothes, and various accessories like hats, scarves, and buttons.

- Have a panel of judges or let everyone vote for their favorite scarecrow. (We won a scarecrow contest in our neighborhood once this way.)

- The prize could be a beautiful pumpkin, wreath or apple pie!
And if you just wish to see pictures of scarecrows, we have gathered many scarecrow pictures here - from silly to elegant, cute to showy.





Create scarecrows that follow specific themes, such as famous movie characters, historical figures, or fictional book characters. Or how about a beautiful scarecrow like the one above?

The possibilities are endless, and you can add a creative twist to the traditional scarecrow.

Honestly, it wasn't until we went to a scarecrow festival that we realized the wide array of creative scarecrows - not all of them are wearing plaid shirts and hats stuffed with straw.

In fact, we've seen many beautiful scarecrows with so much personality! Our pictures give you some idea of what we mean.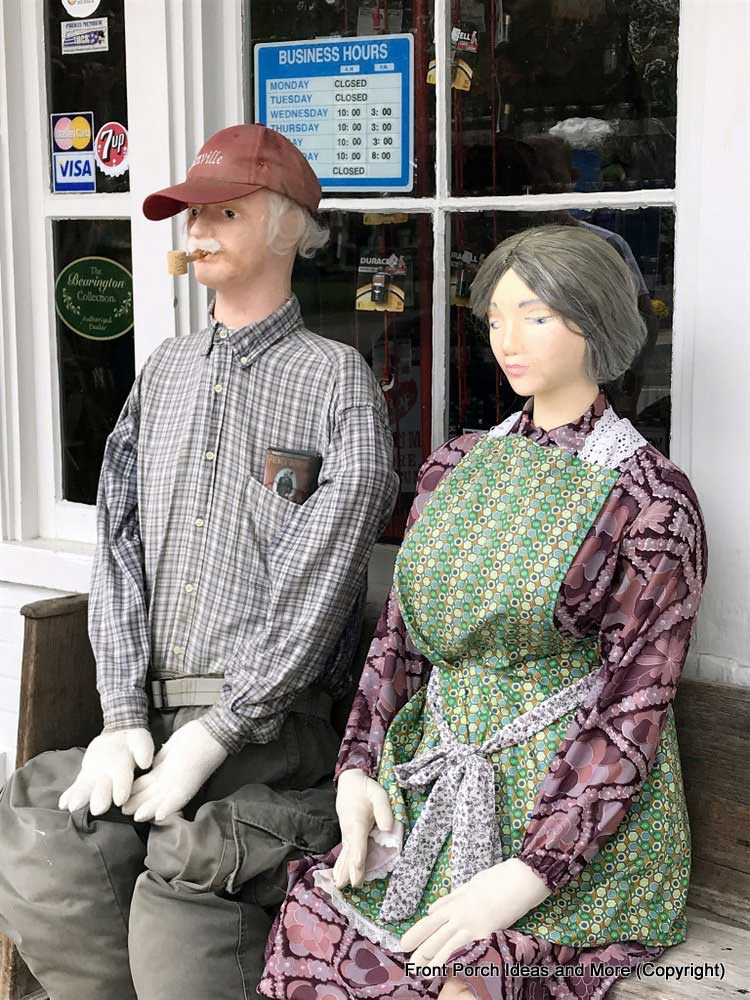 Mr. and Mrs. Scarecrow


Make a scarecrow family with different sizes for a fun and whimsical display. You can create a scarecrow mom, dad, kids, and even pets





Scarecrows don't always need to be made from jeans stuffed with straw. Look at the scarecrow above. They are made from different-sized pots painted in harmonious colors. What a fun way to re-use old pots.

Decorate your scarecrow with a funny or silly face, and encourage visitors to take selfies with it. You can even create a designated photo booth area.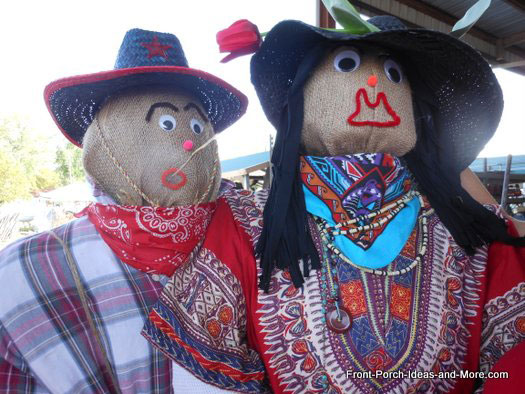 Mr. and Mrs. in fancy attire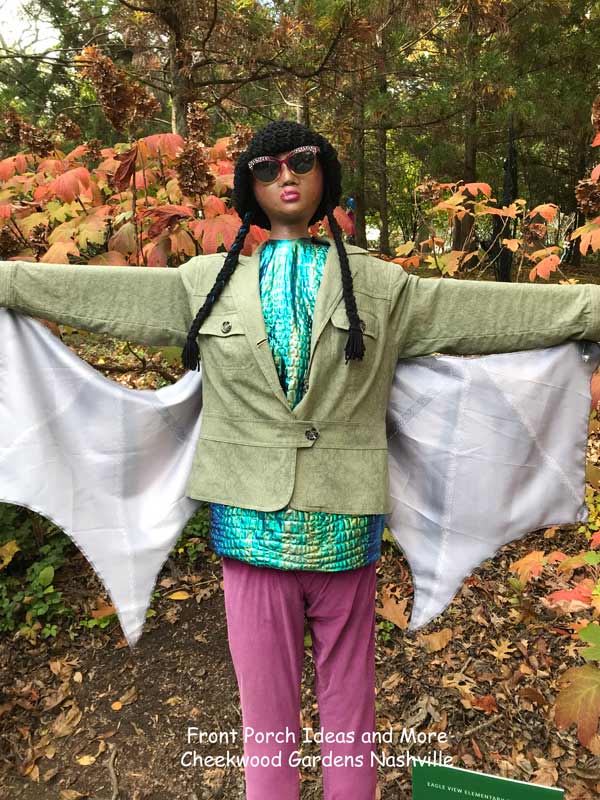 - Organize an outdoor scarecrow art show by inviting friends and neighbors to display their creative scarecrow designs in your yard or a local park.

- Host a small parade featuring scarecrows. Participants can make scarecrows on wagons or pushcarts and parade them through your neighborhood.

- As the autumn evenings get cooler, gather around a bonfire with your scarecrow as a guest of honor. Share stories and roast marshmallows for a cozy evening.

Remember that scarecrow materials should be safe for the environment and wildlife. Avoid using harmful chemicals or materials that could be ingested by animals.

Most importantly, have fun and please check out our scarecrow page!


---
Halloween is Near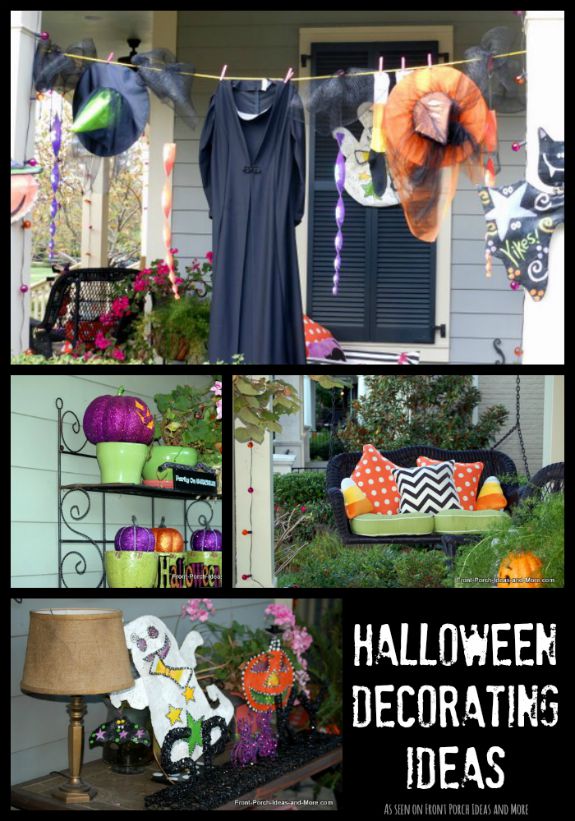 We all know how popular Halloween has become over the years. People go all out decorating their porches for Halloween and we have enjoyed finding some to share with you.

Some Halloween Fun Facts (provided by Chatgpt)

- Halloween has its roots in the ancient Celtic festival of Samhain, which marked the end of the harvest season and the beginning of winter.

- The tradition of carving pumpkins into Jack-o'-lanterns originated in Ireland who carved turnips and other vegetables.

- Black cats were believed to be witches' familiars and were thought to bring bad luck. In some cultures, however, they are considered symbols of good luck.

- The practice of going door-to-door for treats on Halloween is believed to have originated in medieval Europe.

- Halloween costumes were originally worn to scare away evil spirits.

Candy corn was invented in the 1880s by George Renninger of the Wunderlee Candy Company. Do you like candy corn? Seems like people are very quick to say "yes" or "no". As for us, we both like it.



This haunted house has a good-sized porch
Photo courtesy of CreativeRalph on pixabay


The concept of haunted houses can be traced back to the Victorian era, where they were often used as entertainment at Halloween parties.
Visit our Halloween porch and pumpkin decorating sections for many more ideas.





Our son's family visited Savannah GA and took this photo of a whimsical Halloween porch. We like the cute little white ghosts floating on the porch handrails.

Thanks to our daughter-in-love, Heidi, for sharing this pic with us.


---
Enjoy These Autumn Porch Photos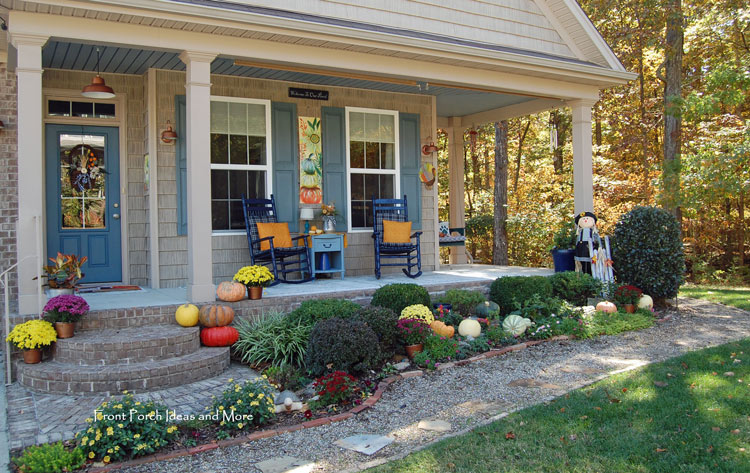 Our porch from 2022 was perhaps our very favorite! Those heirloom pumpkins were stunning, but Mother Nature's golden trees take the crown.
If you keep reading, we tell you how we keep our pumpkins fresh for longer.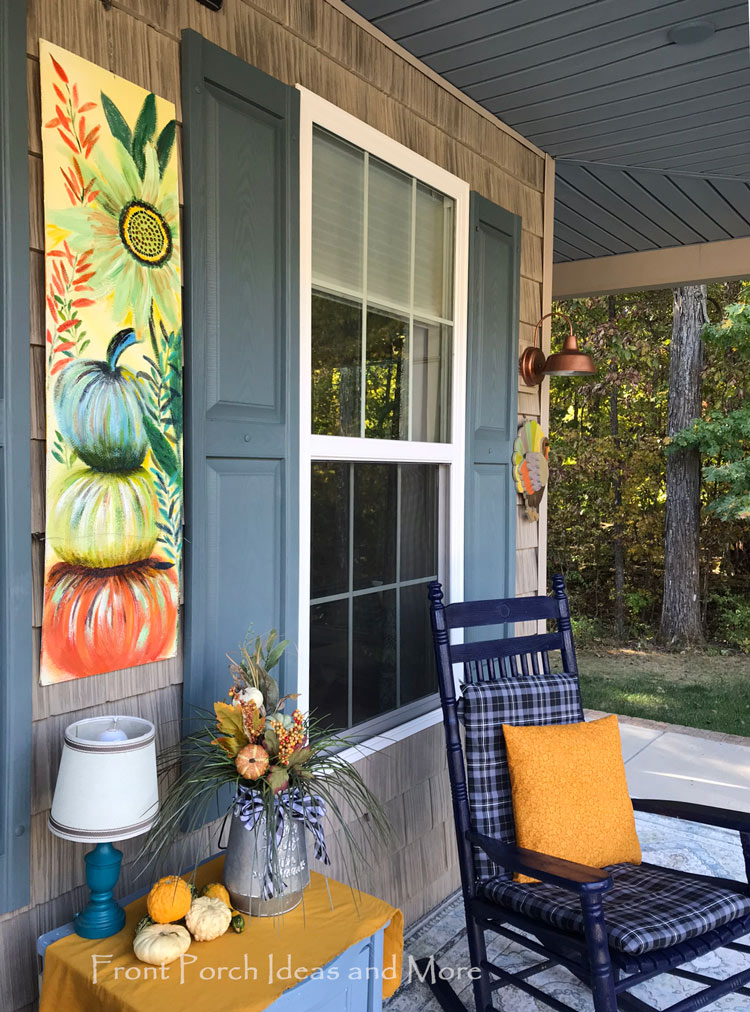 Our autumn wall art was fun to paint!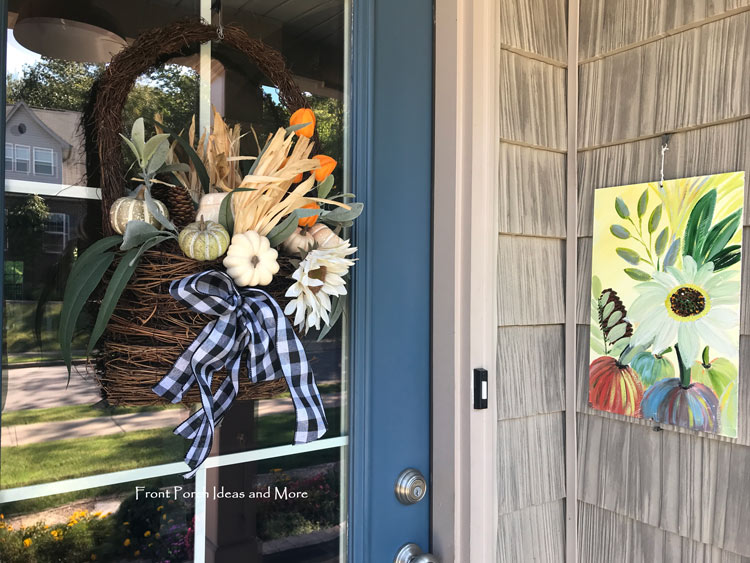 We painted a mini wall art for next to the front door.





This year's autumn porch. We can hardly believe that we still have so many abundant flowers in our porch garden in mid-October. One secret is that Dave makes a smelly spray for the flowers and the deer do not like it.


Do you have a back porch?
We are definitely blessed with ours - and grateful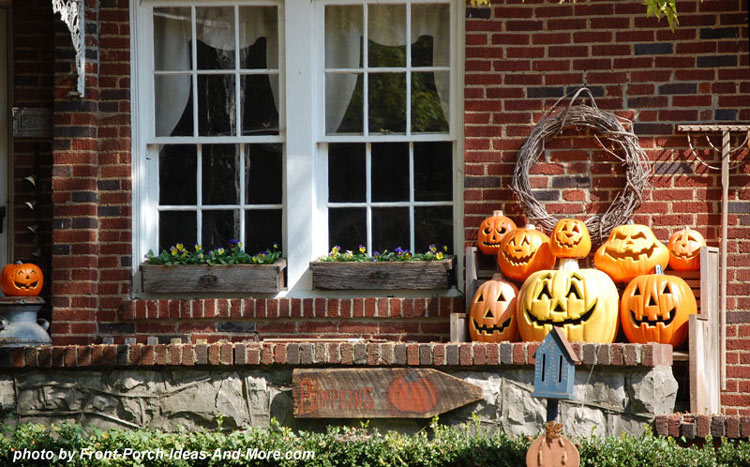 We are glad many homeowners like to bring smiles! Isn't this pumpkin family so cute?





Our neighbor Eva was so sweet to share her pretty autumn porch here with you. We live in a porch neighborhood where folks enjoy time on their porches!


---
Make Your Pumpkins Last Longer


If you're like us, when you bring home pumpkins, you want them to last a good long while. Washing them helps to prevent early rotting and decay.

Just put them into a bucket with warm water, some liquid dishwashing soap and a bit of bleach. Give them a good washing and you can even let them soak for a short while, though we usually don't.

This cleansing bath helps to remove mold and spores that cause them to rot early. We try to keep our pumpkins until Thanksgiving and this washing tip really helps.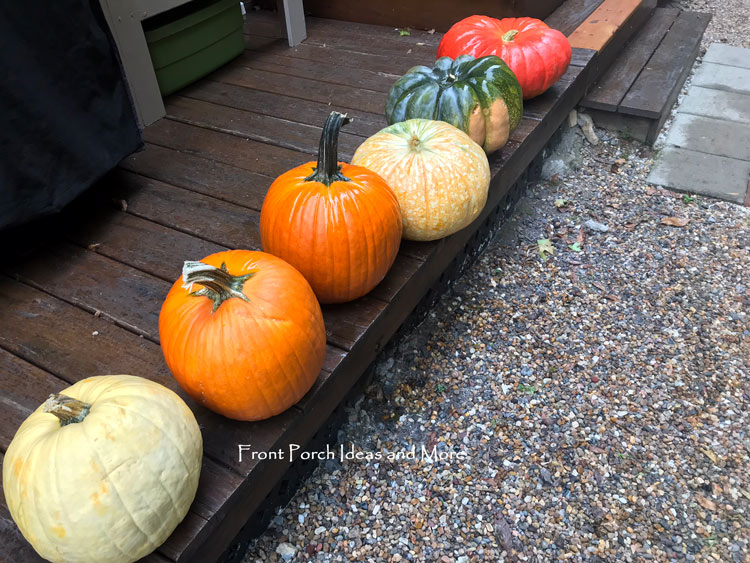 Let your pumpkins air dry and then place them on your porch or wherever you have in mind. May you get to enjoy them a good long while!


---
What Our Sponsors Have for You
Oh to sit here and enjoy a porch like this!
Look at the railing panels - branches!
Perfect for this setting


Our friends at The Porch Store offer beautiful railing panels for your porch, walkways, widows walks, and more. Isn't the black railing panel above just perfect for this porch? "Wow" is all we can say.
Please visit our fine sponsor, The Porch Store, to see their railing panels and a bunch more.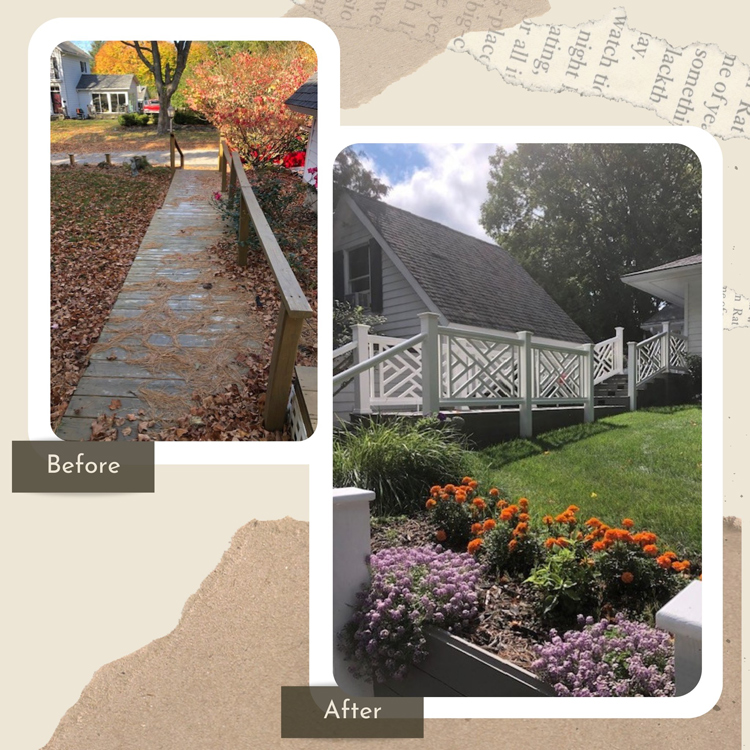 Just to show you another wonderful way that
The Porch Store railing panels can be used

They ship nationwide!


---
Instant Charm with This...
Beautiful photo courtesy of VintageWoodworks.com


Use exterior house trim to add immense charm to your porch this fall. It is a relatively inexpensive way to add curb appeal and give your porch and home a new, beautiful and polished look.

We are super proud of our sponsor, Vintage Woodworks, a leader in handcrafted house trim since 1978. They can assist you in choosing just the right design options for your home.


---
Autumn is Perfect for Screen Doors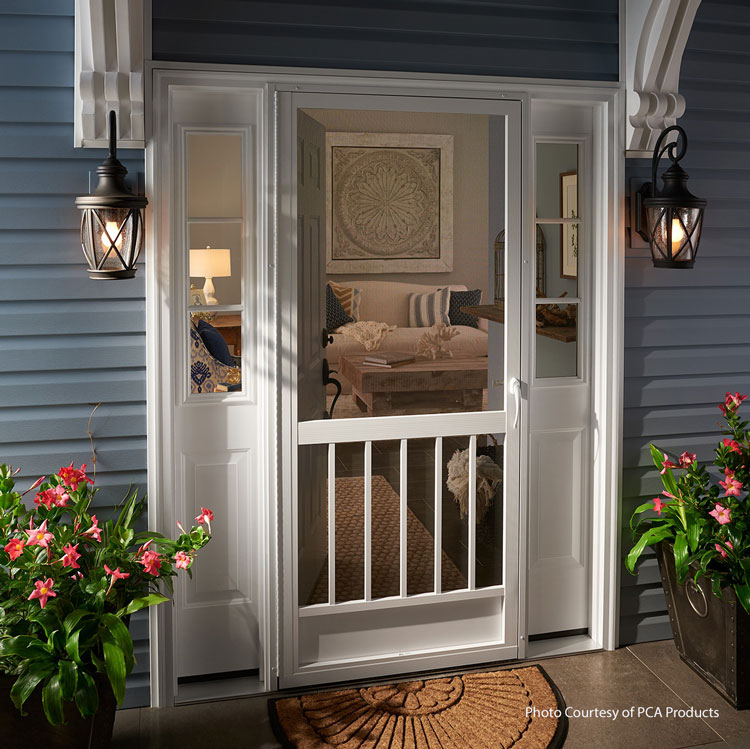 There's nothing quite like having a screen door in the autumn, allowing those crisp cool breezes to pour into our homes.

As a kid, I remember running out of the house to play and hearing the 'slap' of our ole screen door against the frame. Screen doors allow you to open your house to the outdoors extending your home, if only visually.

Fast forward to today, where screen doors, especially these high quality aluminum screen doors, have come so far. All those little irritants like sagging screens and corrosion have all been figured out by our fine sponsor, PCA Products.

Whether you are replacing an existing screen door or installing a new one on your home or screened porch, selecting a high-quality door that lasts a very long time is well worth the investment.

It's worth your time to see the quality of a PCA Products aluminum screen door today and open your home to fall.


---
Till Next Time...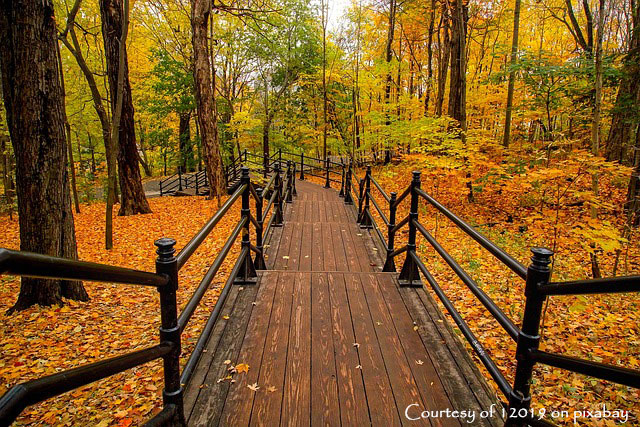 Can you imagine yourself here?

Thank you for joining us this month.
We appreciate you.




We all live busy lives, so thank you for being in our porch family! We appreciate you.

May you enjoy this splendid month of October and notice the beauty that Mother Nature imparts.

See you on the porch.

Our best always,

Mary and Dave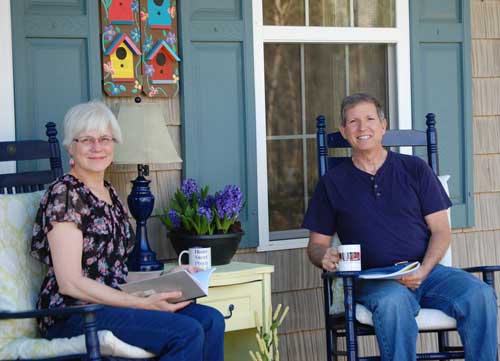 ---