November, a Time for Gratefulness
Hello, porch friend,
November is upon us with all it has to offer. A month of gratefulness where we take time to be thankful for our many blessings.
Sam Lefkowitz once said: "When asked if my cup is half-full or half-empty my only response is that I am thankful I have a cup."
Soon we will be honoring Veterans as well as celebrating Thanksgiving in the United States. November is truly a month for thankfulness.

Mary and I are very thankful for the many blessings we have especially for our family, friends, and you.

It's not just the big blessings that are important, but all the small, often overlooked blessings that we especially appreciate. Clean water from the faucet, socks and tee shirts in our drawers, a car that turns on and a pantry with something to eat.

Our hearts go out to our fellow citizens who have experienced tragedies this year and may find the upcoming holiday seasons quite difficult. We encourage you to reach out and give a "hand up" if you will, to those in need.



Beautiful Autumn on Our Front Porch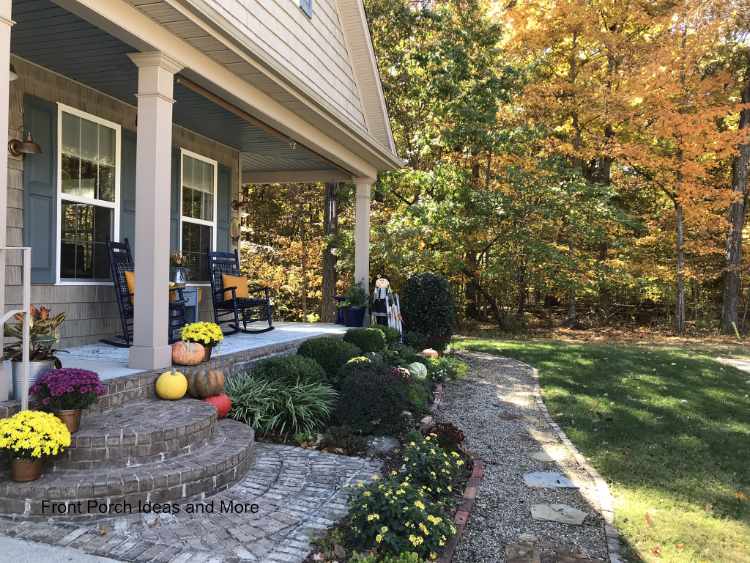 Autumn's glorious colors never cease to amaze us as we get closer to Thanksgiving.

We took this photo in the third week of October, right before our first freeze, hoping the cold snap doesn't diminish this beautiful view.

We are fortunate to live at the end of a lane next to woods that bring us pleasure year round. In a month or so, all the leaves will have fallen and we will be able to see deep into the woods. A different kind of beauty.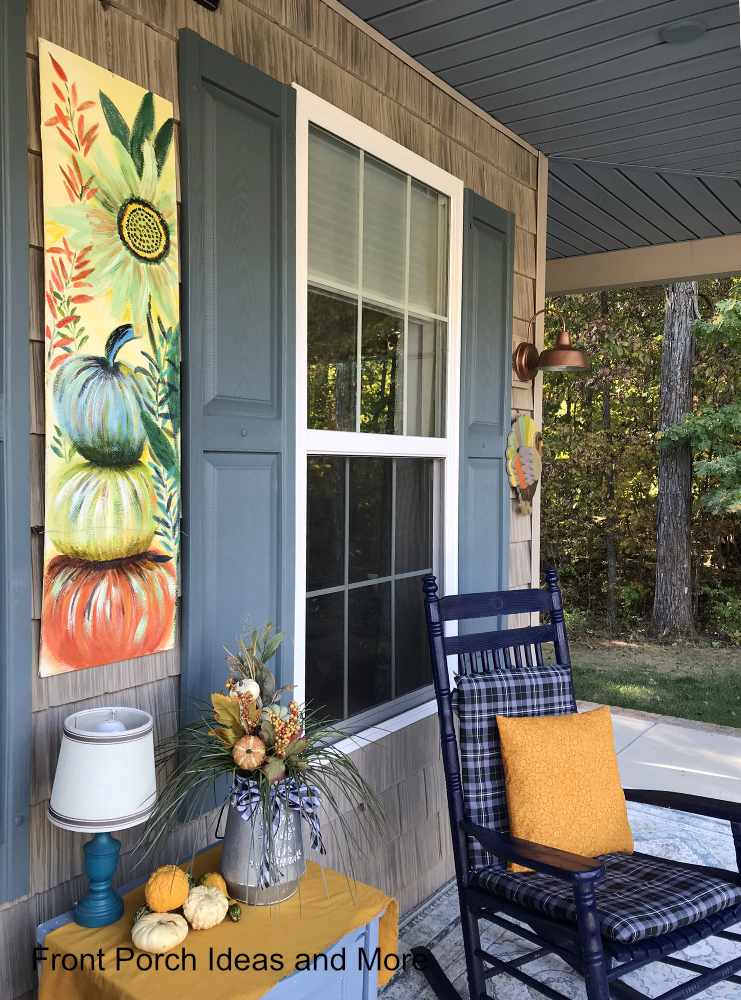 You can make your own wall art like we did here.

With just a piece of masonite and some acrylic paint, Mary painted this lovely scene of stacked pumpkins.

Get more wall art ideas. They are great for conversation starters.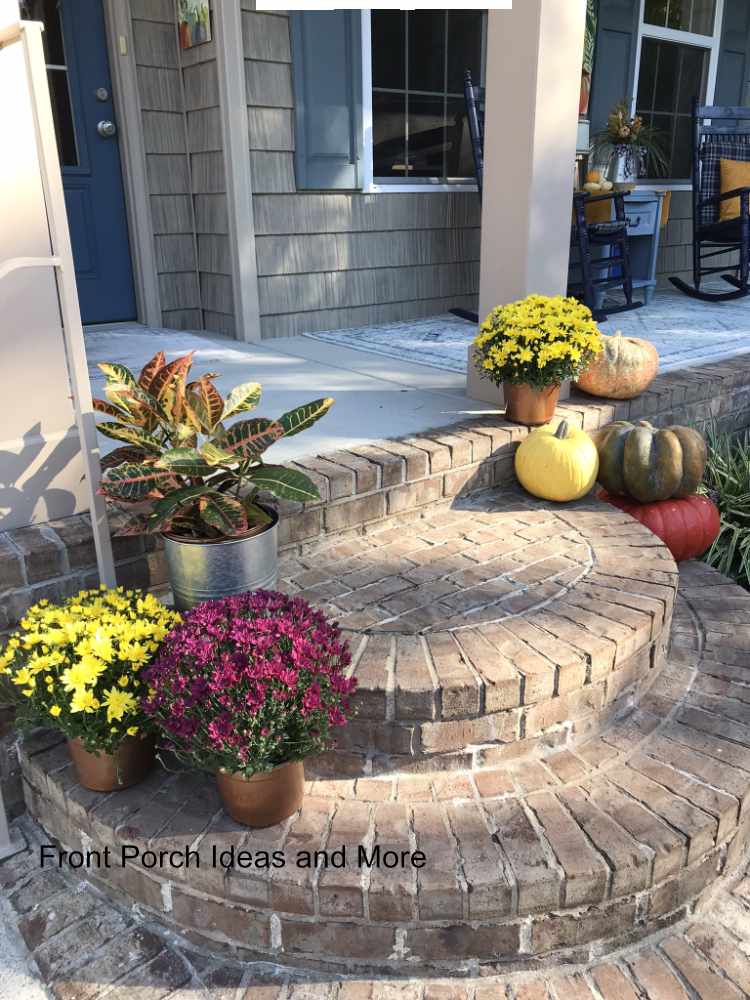 Autumn is an easy time to dress up your porch steps. Colorful mums, pumpkins, stalks of straw, bales of hay or a pretty leaf garland on your porch railings - just to name a few ways to make your porch steps inviting.

Here in Nashville, bits of autumn color sometimes stay until the first week of December, but we know if you live further north, autumn may be fading quickly.

Last year, in the first weekend of December, I remember putting our homemade Rudolph in our porch garden while our flowers were still blooming. Just didn't seem right, but a few days later, frost took care of those flowers.



This turkey decoration is one of our most favorite that we ever made for Thanksgiving. Dave cut out the turkey shapes from wood, assembled it and then I painted it with acrylics.

One of the most fun painting projects I can remember. You can check out our turkey craft tutorial.



Honoring Our Veterans on 11/11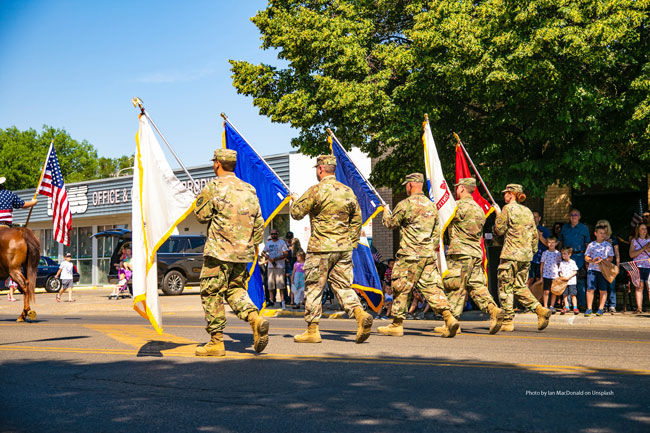 Veterans Day is special to us as we have many family members over many decades who answered the call to serve our country.

Major hostilities of World War I were formally ended at the 11th hour of the 11th day of the 11th month of 1918 when the Armistice with Germany went into effect.

In 1938, a Congressional Act was approved making November 11th of each year a legal holiday: "A day to be dedicated to the cause of world peace and to be thereafter celebrated and known as 'Armistice Day'".

At the urging of major U.S. veteran organizations, Armistice Day was renamed Veterans Day in 1954 to honor all veterans who have served. Legally, two minutes of silence is recommended to be observed at 2:11pm Eastern Standard Time.

There are currently over 1.3 million military personnel serving on active duty along with 800,000 reserve forces. Each has pledged to give their all for each of us.

There are approximately 2. 1 million retired military members in the U.S. along with countless thousands who have already served and could be your co-worker, friend, a family member, your child's teacher, a first responder, or neighbor.



Please take a moment to remember a Veteran. Might be a family member, friend, neighbor or co-worker.
Download and print out this our free Veteran's Day card. Write your own personal message. Someone will truly appreciate your kindness.



Time to Stay Warm on Your Porch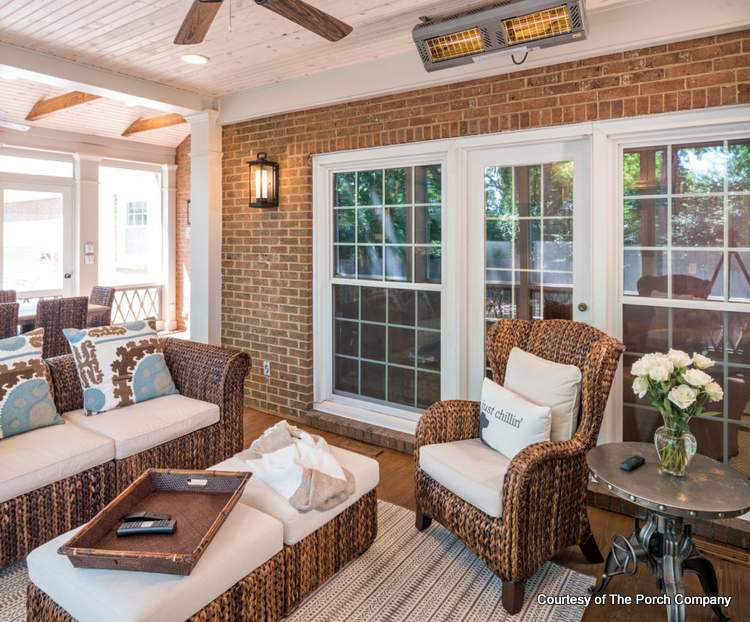 With many thanks to The Porch Company for sharing the above pic with us.

Have you ever felt a direct ray of sunshine warming you up on a cold day? Infrared heaters are like that. Rather than heat the air, they emit infrared light, which is absorbed by our bodies and objects in the room.

We believe infrared heaters provide nice warmth for a porch.

If you decide to look into an infrared heater for your porch, we have much more information.

For more ideas to stay warm on your porch, check out our Amazon list we put together for you: Amazon Idea List to Stay Warm on Your Porch



We Love Our Sponsors
Our sponsors have been with us for many years now and we are beyond appreciative. They feel like family and not many companies can say that.

They help us to be able to bring you all these porch pictures, tutorials and insight. And we appreciate you taking the time to visit their websites.

Vintage Woodworks handcrafted products are beautifully planned and we love the details in their wonderfully crafted porch trim.

Much of their website is dedicated to porches. so if you're serious about your porch, please stop by their webpage.

We're so happy to work with Gregory, Holly and Ellen!
---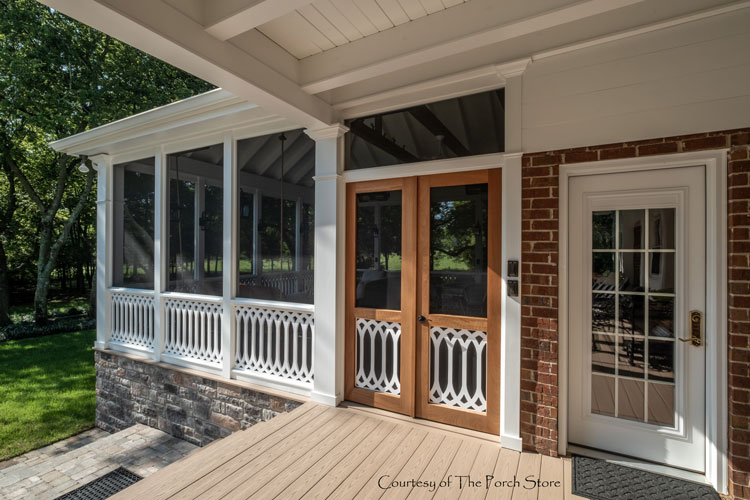 The Porch Store in creates these wonderful cathedral railing panels, in addition to many other gorgeous products for your porch.

The Porch Store is a custom product store offering products that enhance your porch and deck. They ship all over. We're proud to work with Rachael Moore!

And if you live local to the Nashville area, The Porch Company builds the most fantastic porches.
---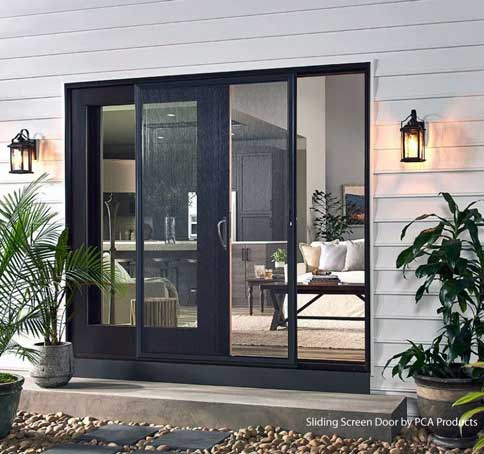 PCA Product's sliding patio screen doors are durable, quality and beautiful.

And their custom screen doors are the most durable and user-friendly we've seen. PCA Products has solved the everyday problems most people have with a screen door.

We sure appreciate working with Steve, Adele and their staff.



Till Next Time...
We all live busy lives, so thank you for being in our porch family! We are grateful to have you here.

See you on the porch,

Our best always,
Mary and Dave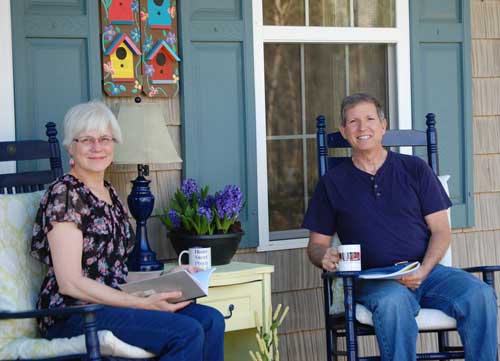 ---