March: Spring's Arrival and Porch Time is Near
Hello, porch friend,
Welcome to March, spring's arrival mid-month, St. Patrick's Day celebrations, and Mother Nature giving us beautiful buds, blossoms and hope!
In Nashville, we've had doses of springtime weather interspersed with winter's chill in the air. We have bits of green emerging in the undergrowth and beautiful bulbs blooming. Spring is quietly unfolding here with pear trees in full bloom and forsythia showing off its showy yellow flowers.



---
St. Patrick's Day Greetings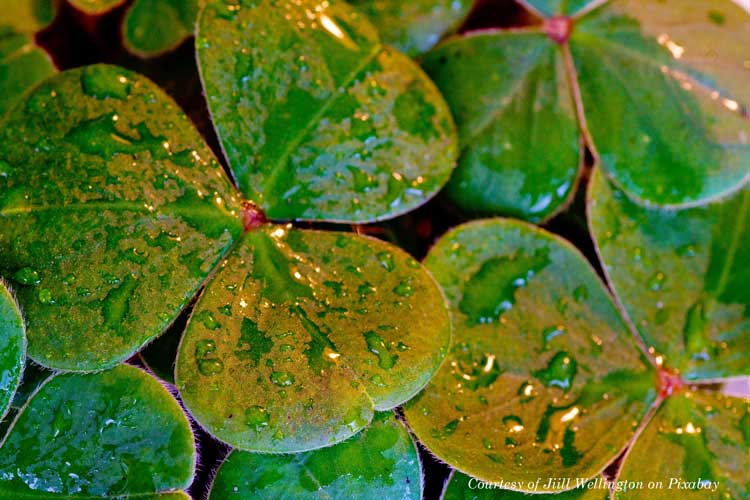 Whether you're Irish or not, it's a rite of passage to enjoy the beauty of green in March, specifically on St. Patrick's Day, March 17th.

Shamrocks are associated with St. Patrick's Day and are often worn on clothing to show appreciation for Irish culture. Or many people simply wear green to honor their Irish heritage.

Here, we'd like to show you a few beautiful homes and porches that incorporate green into their everyday beauty. Plus, we have some St. Patrick's decorating ideas, too.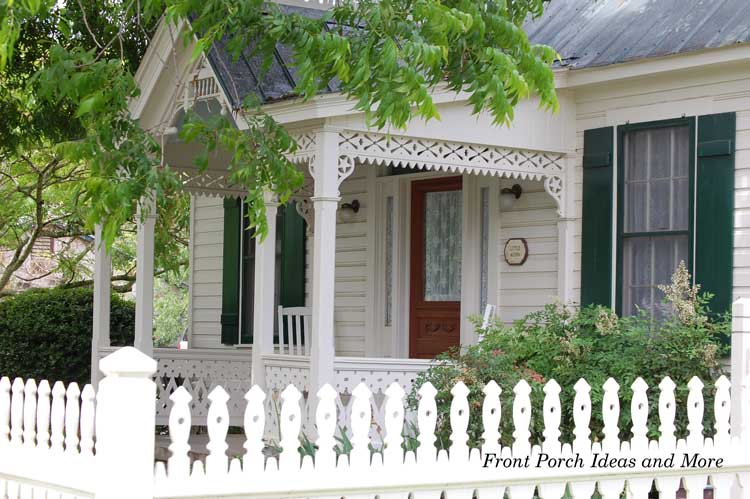 We can revel in the pretty green shutters on this small Texan porch. Isn't it delightful?

The exterior house trim on this porch is very memorable and that exceptionally attractive picket fence. Oh my goodness, it exudes curb appeal.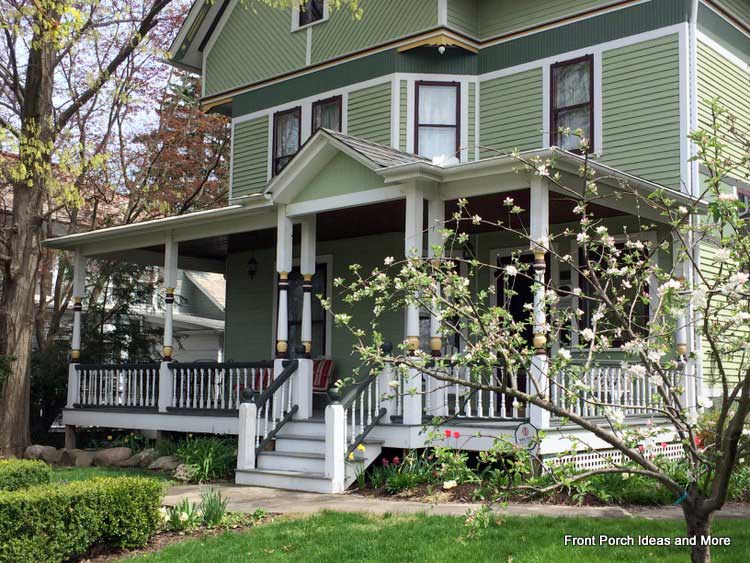 While not necessarily the Kelly green we often associate with St. Patrick's Day, look at this gorgeous sage green home and magnificent springtime porch.

Just imagine the memories and delightful conversation, the neighbors stopping by and the quiet, reflective times.





This "Sunday House" uses green beautifully in its trim, shutters, vintage-type screen door and even the porch swing!

What is a "Sunday House"?

A Sunday House is commonly found in the Texas Hill Country. Sunday houses were originally built by German Settlers (late 1800s to early 1900s) as a place to stay when they traveled into town for church services on Sundays.

Usually, they are small, simple homes built with limestone or cedar and have just a few rooms, a small garden and a cute porch! How neat.

You can find Sunday Houses being used as guest homes today or as historical landmarks.

Enjoy more Sunday Houses on our Fredericksburg Texas page.





Look at this burlap wreath on this wonderful front door, flanked by black shutters. Isn't it eye-catching.

We visited St. Augustine, FL, and the homeowner was just putting up this wreath for the holiday.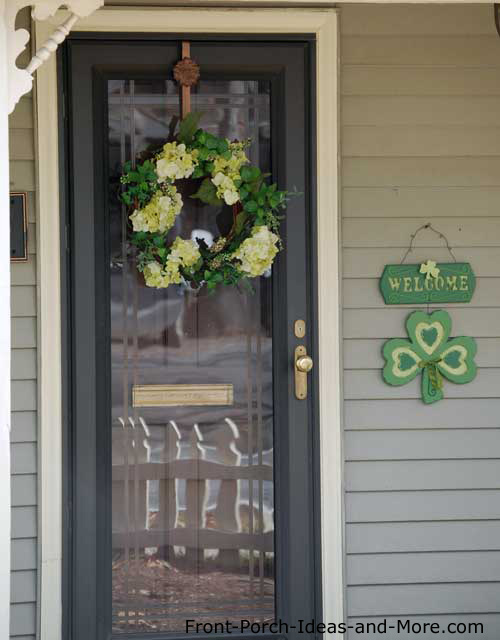 A sweet storm door decorated for St. Patrick's Day.

Notice the mail slot! Not something we see often on front doors anymore.



---
Ideas for Sprucing Up Your Porch Steps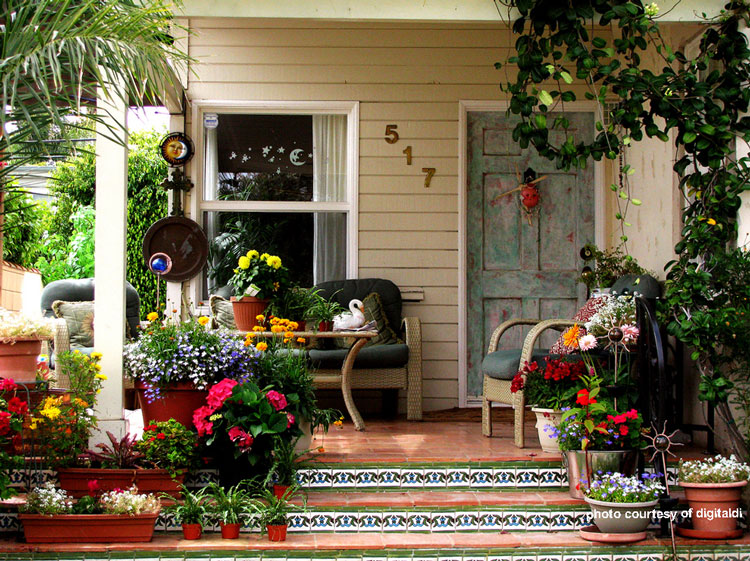 Photo credit: Courtesy of DigitalDi

An often-overlooked porch feature that can boost curb appeal to your home is your porch steps.

You can enhance their appeal in numerous ways - the sky is the limit. For example, if you have wooden steps, you can paint or stain them in fresh new colors.

Another way to add charm to your porch steps is to add flourishes or designs on the risers. For example, look at the gorgeous tiles on the porch steps above. Very memorable!

Concrete steps can be painted, stained, stamped, or tiled for beautiful results.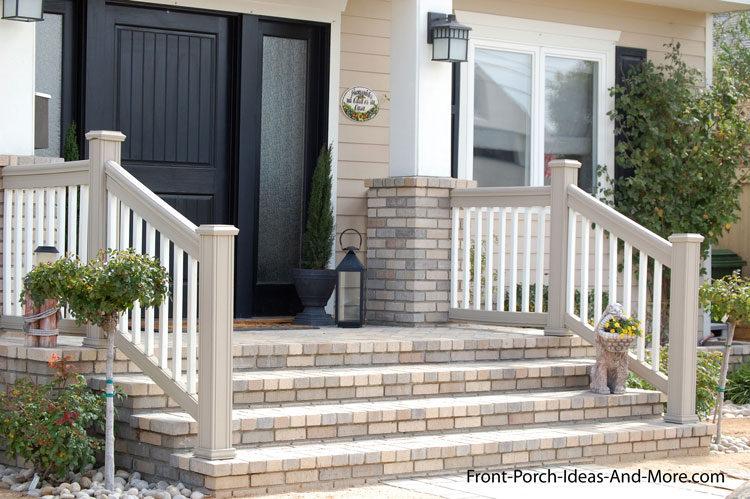 Want a more dramatic change?

Increase the width of your steps to create a most welcoming entrance, as in the photo above.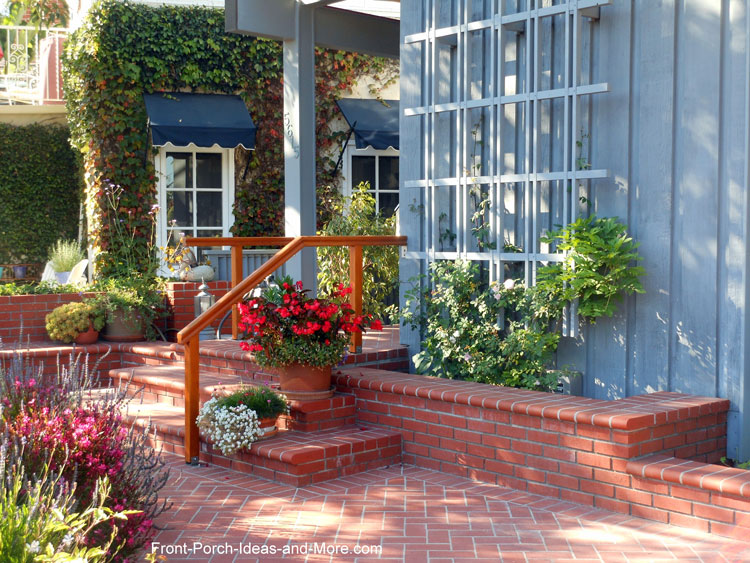 These brick porch steps add tremendous beauty.

Want to see more porch step ideas? Visit this page.



---
Grateful to Be Featured


Our web host, Sitesell, featured Dave and I this month in an article about couples in business together.

We'd love for you to glance at it if you'd like to know a bit more about how we started, how we work together, the challenges we face and more.

You can view the entire article, which also features several other couples, right here.



---
Vintage Woodworks Off Season Sale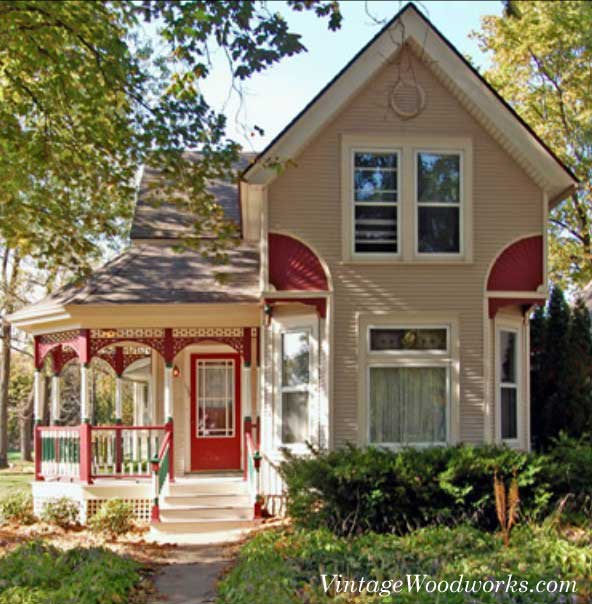 Vintage Woodworks is continuing their Off-Season Sale, so it's a great time to get the extra savings.




This sale won't last long into March, so please hurry! We love the Vintage Woodworks family, one of our very fine sponsors.




---
Lovelies From the Porch Store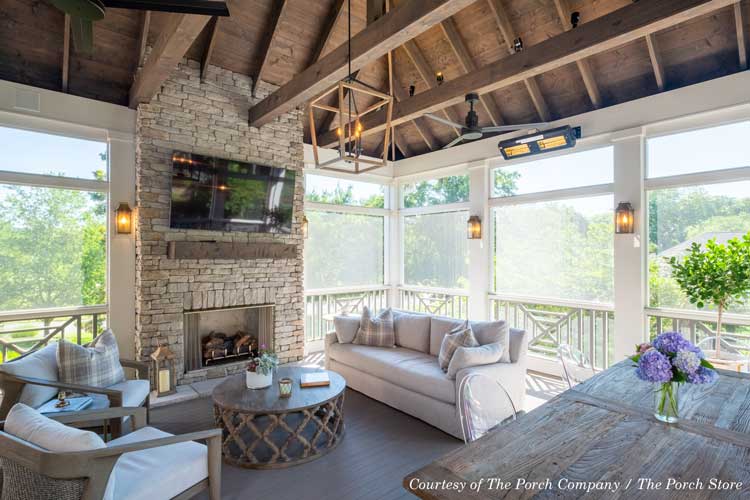 Our fine sponsor, The Porch Store, offers an array of beautiful, creative porch panels, like the Southern Cross panel you see here.

Their panels are cut from sheets of cellular PVC and look like wood, but without the maintenance.

We like that The Porch Store has quite a few designs from which to choose or propose your own ideas. With their state-of-the-art CNC (computer numerical control) equipment, they can do so much.

Please stop by The Porch Store to see their various railing panel designs. And they have panels for stairs, too.



---
How About a New Screen Door?


Did you miss out on enjoying the fall weather last year for lack of a screen door? This is a brand-new year!

Now is your chance to really enjoy spring, summer, and fall this year by installing a most durable and quality screen door from our sponsor and friends at PCA Products.




---
Thank You for Shopping Our Amazon Store
We'd be honored to have you shop our Amazon store. We hand-picked products for you. Many we have ourselves and love.

Here's our Front Porch Ideas Amazon store page.

As an Amazon Associate, we earn from qualifying purchases.




---
Sights of Springtime for You to Enjoy


Enjoy these springtime pictures from our yard and our walks.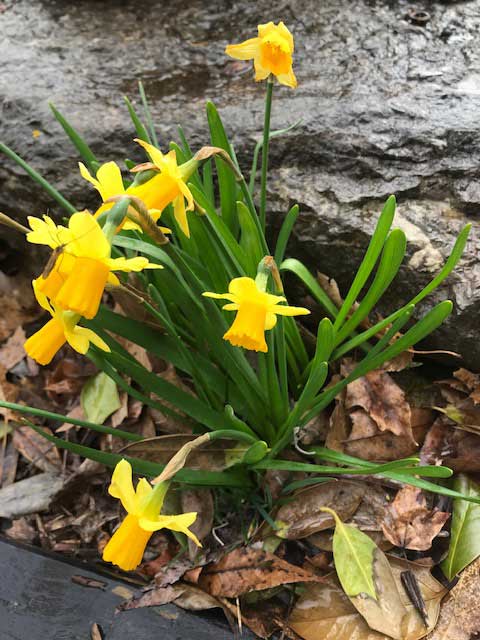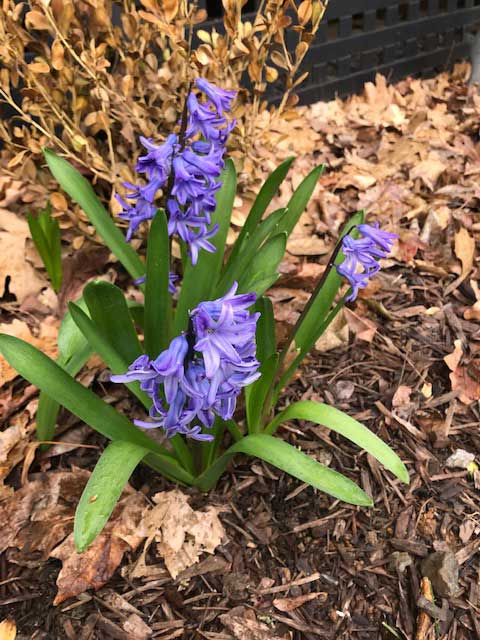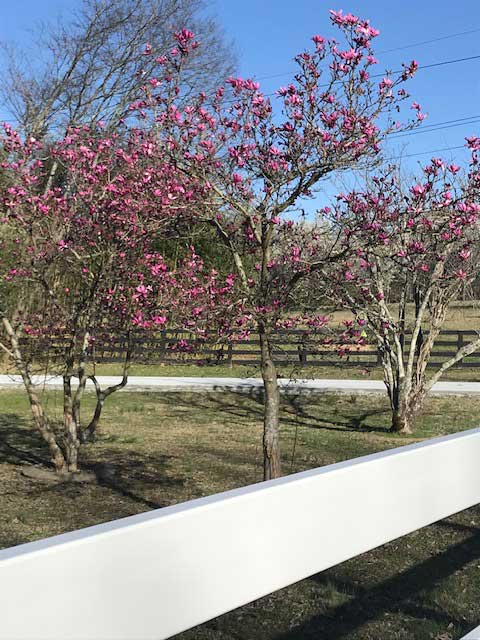 ---
Till Next Time...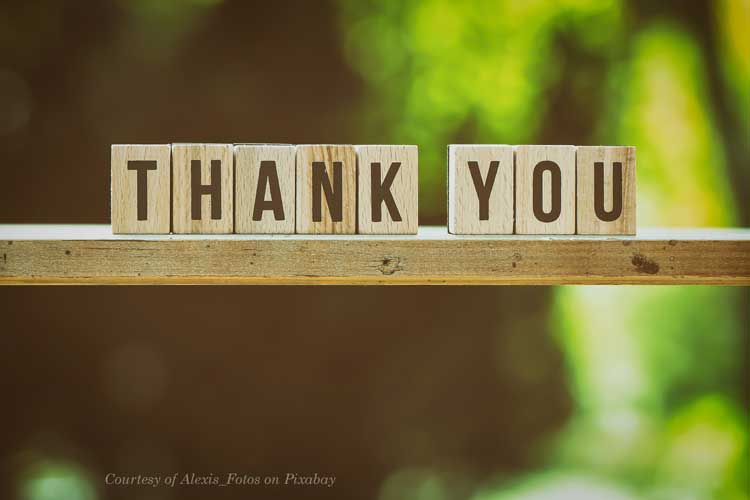 We all live busy lives, so thank you for being in our porch family! We appreciate you.

May you have a peaceful and hopeful month of March. We hope you begin to see signs of spring where you live - or trust that you will in April or May. Honestly, we know! We've lived from Florida to Alaska, New Hampshire to Texas and points in between.

See you on the porch,

Our best always,

Mary and Dave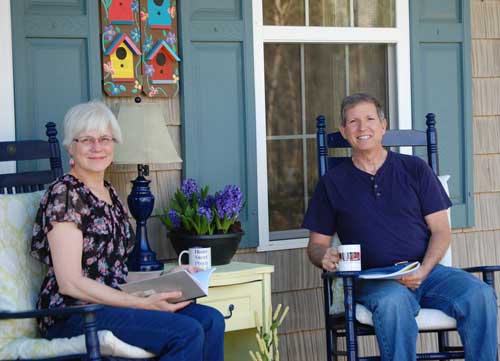 ---