The Front Porch Ideas Generator
Instills Confidence in Your Porch Planning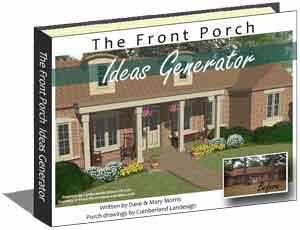 Can You Imagine How Nice It Would Be to Have a Porch?
For just an unhurried moment, imagine the time you'll enjoy spending on your porch. Envision the books you might read on your porch swing.

Hear the birds chattering in the trees and allow yourself a bit of personal time. Porches are good for the soul.



When Planning a Porch for Your Home, Take Our Advice
Begin first with the Front Porch Ideas Generator, our eBook. But why? Because we don't want you to say, "I wish I would have thought of that."



What You'll Find in Our eBook
In our book, we feature ten homes whose homeowners would love a porch. We show you these homes "before" pictures.
Then we show you conceptual "after pictures" that an architect drew up of how their homes would look with a new porch. And wow, what a nice difference in each of these homes.
You'll see not only welcoming porches but also the porch steps, walkways, roofs, and landscaping too. Things you maybe haven't considered in your porch planning.
See examples of steps, walkways, roofs and landscaping before you start your porch project
Save yourself from disappointment by seeing these possibilities for your own porch.
Our ebook can help you think through things and feel more confident in your porch planning.

Click here to purchase the Front Porch Ideas Generator eBook
Just $9.97
Invest Less than $10 to Kick-Start Your Project
A sampling of ideas you'll see
How to expand a tiny porch into an inviting space
See how a brick home can be softened with a front porch
Visualize how you an inject "wow" into your walkways
How freshening your landscaping can super charge your home's curb appeal
See how the "before" goes from blah to pizzazz!
A narrow porch is made wider and goes from cramped to comfortable
See how a small bungalow goes from bland to beautiful
See how adding a screened porch to the front of a cute ranch style home looks
"If Only I Had Thought of THAT!"
Dave and I often get comments from our readers about how they wished their porch would be - larger, more accommodating for their lifestyle, more private, shadier and the list goes on.

Don't go to all the expense and trouble of building a porch and then upon completion say to yourself, "If only I had thought of THAT". While we don't guarantee our 140-page picture filled eBook will help you think of every detail, we do promise it will help you to cover the bases by giving you ten "before and after" case studies from which to learn.



Get "Aha" Ideas for Your Porch
You'll see everyday design challenges solved in the case studies:
too-small porches expanded
boring walkways transformed
tired landscaping freshened up
blah entryways turned inviting
ways to escape wind, rain or sun
lackluster homes given charming appeal


Whether your home style is like these homes or not, you can apply these ideas to your own home to create your perfect porch. A place where you will love to spend time. A place your neighbors will envy.



See One of the Challenges We Answer in our eBook
Ways to expand a small porch
Testimonials
Dave and Mary,
The Front Porch Ideas Generator makes a significant contribution to three areas of interest we have pursued for over 30 years - front porches and their decoration, skillful home makeovers, and whole yard landscaping.
The before and after photos and graphics alone make this a very worthwhile read for anyone interested in porches and the positive impact they can have on any style home.
"However, it's your instructive commentary at each case study that really sets
The Front Porch Ideas Generator
apart as an extremely insightful book for all porch lovers! Congratulations and thank you.
Your
Front Porch Ideas Generator
is awesome! It would definitely convince me to add a porch (if I didn't have one) and it's amazing how it shows what a huge difference a porch makes.
I couldn't believe the transformations! You really gave lots of great examples for so many styles of homes. This book should really be helpful for anyone who may be considering adding a porch to their home.
Just $9.97

Bonus #1
You will also receive our "
Fanciful Collection of Porch Landscaping Tips
".
This mini eBook is a compilation of eclectic gardening ideas from several well-known gardening authors.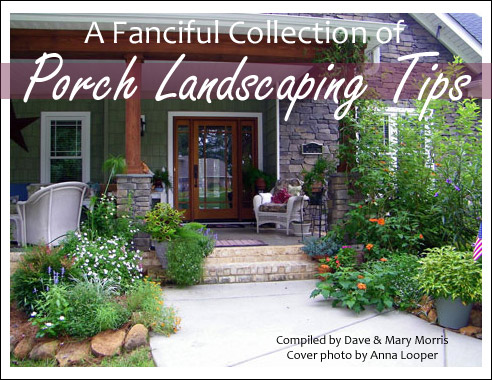 Anna Looper - freelance garden and travel writer - shares pictures of her amazing North Carolina Craftsman style porch with us. You will enjoy Anna's whimsical flower garden that surrounds her gracious front porch.
Debra Lee Baldwin - garden photo journalist, artist and author - shows you how succulents can be used to create a deliciously beautiful container garden for your porch.
Rebecca Sweet and Susan Morrison - California-based writers, garden designers and friends - share ideas for using interesting foliage and textures around your porch with vertical gardening.
Bonus #2
You will also receive our step-by-step tutorial for making our "
Handy L-Shaped Bench
".
This small bench is
perfect for a corner on your porch
...
To hold a few potted plants or whimsical items
To rest your packages as you open the front door
To create a colorful focal point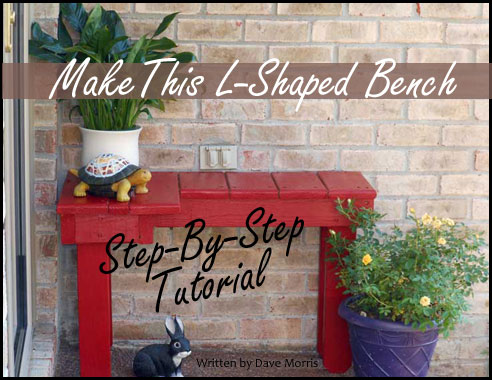 Get our step-by-step instructions for making this bench - including helpful pictures to illustrate the steps.
This is a fun weekend project. Make this handy and attractive little bench for your porch or as a welcoming gift.
Enjoy All 3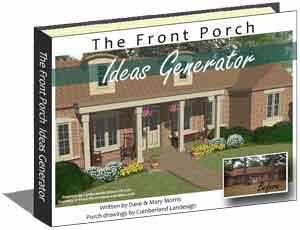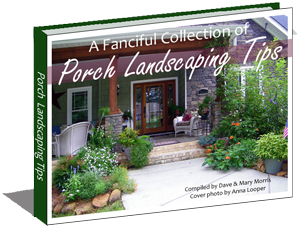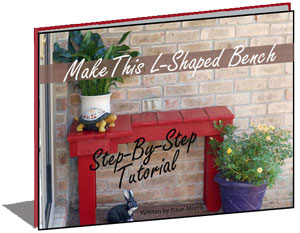 Just $9.97

Immediately after your purchase, you can download your eBook (and two bonus eBooks) and dig into these ideas we show you.
The Front Porch Ideas Generator eBook and our two bonuses are PDF files that you can download immediately to your computer. They are not a physical product.
If your computer doesn't have the Adobe Reader software, you can easily
install it for free
.
Our No-Risk Guarantee
The Front Porch Ideas Generator comes with a 100% guarantee: If you are not satisfied with it, just contact us within 60 days of your date of purchase - and we'll issue you a 100% refund with no questions asked. Your eBook purchase is 100% safe and secure - and 100% risk-free.



Life is short. Enjoy your porch.
If you get just ONE idea from our Front Porch Ideas Generator to create a porch that you love, you'll be repaid in years of enjoyment. Reclaim your home's charm and gain usable space with a welcoming porch.
Just $9.97




DISCLAIMER: The purpose of this ebook (and our bonuses) is to educate, inform and generate ideas. The reader assumes responsibility for the use of this information. The reader's individual results may vary from those shown.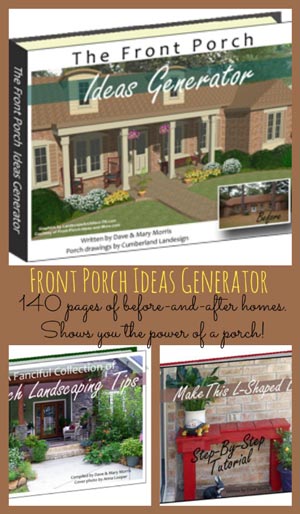 Click here to purchase the Front Porch Ideas Generator eBook
Just $9.97





Home

/ Front Porch Ideas Generator