Dave and Mary
As an Amazon Associate we earn from qualifying purchases. If you make a purchase through affiliate links on our site, we earn a commission at no cost to you. See our disclosure policy.


How to Build a Porch
From Foundations to Roofs and More
Knowing how to build a porch can save money whether you are hiring a contractor or doing it yourself. A new or remodeled front porch not only adds value to your home but also much curb appeal as well.

Porch construction is fairly straight forward but it can also be quite complex. It pays to understand how the different components are installed and the many options you have.

We'll show you what is involved and offer tips and ideas for every facet of your building project (and some you may not have previously considered too).

Some DIYers with solid carpentry skills can build a front porch. Our porch building guides walk you through the process and we even help you assess your skills.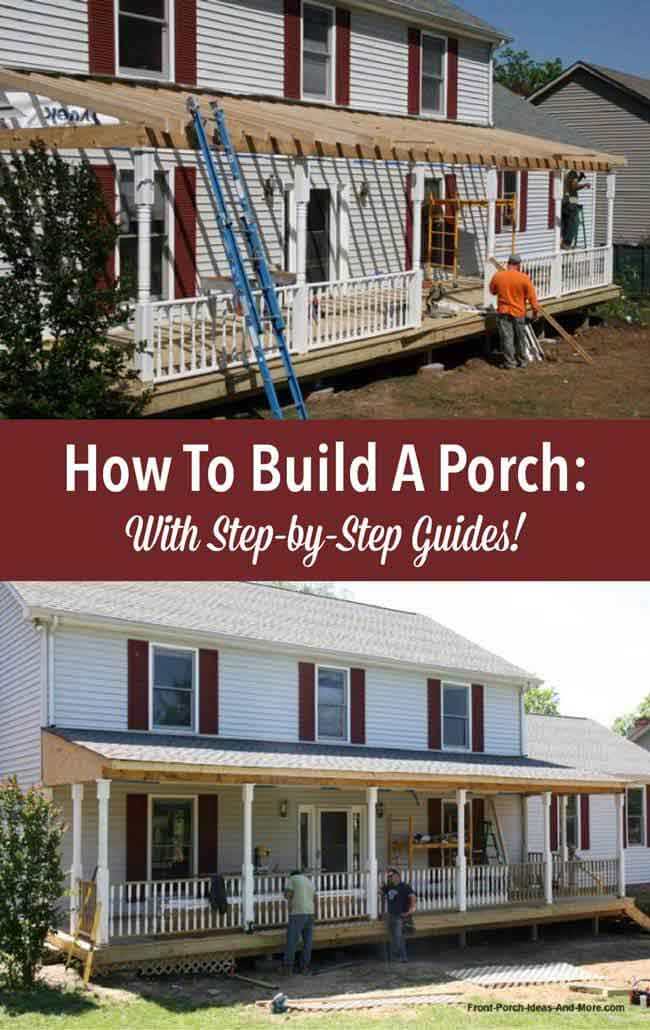 Video: A Porch Built in a Minute
Our son's porch on his former home was torn down and rebuilt. Here's a video that Dave put together showing you the process from beginning to end - in just over a minute!



Watch our popular video
Browse Our Porch Building Topics
Our "How to Build a Porch" guides below will show you the basic steps and give you important factors to consider when building along with tips and ideas to make it easier.

We've grouped them in the order of a typical porch construction project. Of course, these may vary based on your specific building requirements.






Porch Building Guides from Foundations to Porch Roofing










It is easier to run cable before the joists are covered or the porch ceiling is installed. Plan for receptacles, ceiling lights and fans, wall sconce lights, and even running conduit under your porch for yard lighting.





















Get the Materials You Need
Simpson Strong Tie Adjustable Post Base - Amazon affiliate
We like Simpson Strong Tie components for straighter, stronger joints.

You can shop Amazon for many of your porch needs (our affiliate link). From porch lights to tables to chairs to curtains to handsome rugs to whimsical wind chimes to wall art and signs. Especially now, convenience of delivery to your door makes sense.


How to Build a Porch - Project Directory






Take a look at our entire podcast directory where you'll find lots of ideas for designing, decorating, building, landscaping, and accessing your porch.
How About This Front Porch Transformation?
Here you can see some more before and after pictures of our son's porch.

Their "before" porch formerly was 4 feet by 42 feet and is now 9 feet by 42 feet.

That extra 5 feet of depth makes all the difference. It's a fantastic investment in their home and their family. The kids love playing on the porch.
Look at the Before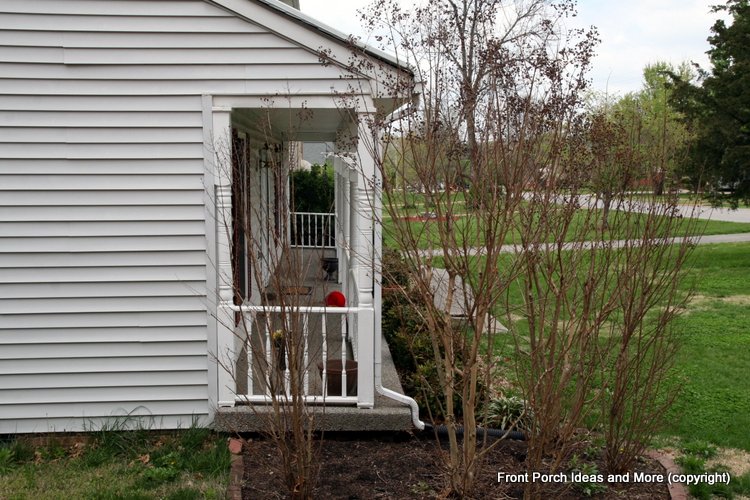 Before: This porch was extremely narrow
Hardly room for chairs, a narrow porch like this has little useable space. This porch will greatly benefit from more depth.

Look at the After
Now look: A much wider and more pleasant front porch
Do you see how much more functional and enjoyable it is to have more depth to your porch?



The Stairs Were Previously Centered
Before: The stairs were centered on their front porch
And by nature of the stairs being centered, the porch was also divided into halves. There's plenty of room for a table and chairs or anything else the homeowners would enjoy.



Now the Stairs Are More Convenient to the Driveway
Now Look: The stairs were moved to the driveway side for much easier access
Homeowners were able to use the original porch columns, balustrade, and beam on this porch remodeling project.

They painted the porch floor black and also changed the window shutter color from red to blue. Because they have little ones, they made a swinging gate for both ends of the porch to match the balustrade (railings).

By moving the porch stairs from the center to the driveway side, they make access easier as well as free up valuable porch space in the center for tables and chairs.
So What Skills Do You Need for Building a Porch?
Do You Have the Needed Skills?
Poorly built DIY porch and deck structures are one of the leading causes of construction injury and death.

We cannot over emphasize the importance of constructing your porch (or deck) the right way without taking shortcuts to save money.

If you do not have the right skills and complete confidence in your abilities, hire a licensed contractor.

No matter your skill level, if you plan to do any of the work yourself, please be sure you're in compliance with your local building codes and ensure the proper permits are pulled. Do it right every time.



If You Have Basic Carpentry Skills
If you have built back yard decks (to meet code requirements) you probably have sufficient skills to build a porch foundation and add decking materials. It is very important to have a thorough knowledge of your local building codes and get a permit for the construction.

Building and attaching a roof to your home is a different story. If you have never successfully accomplished this construction we recommend you enlist the help of qualified contractors. It may look easy (and sometimes it is); however, proper roof construction is a must.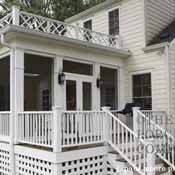 Screening your porch is a relatively easy and inexpensive DIY project that can be accomplished by anyone with basic carpentry skills. You'll need to either build or purchase screen frames and screen materials.

In either case, we will walk you through the "how to build a porch" process of selecting the right screening material and building a screened porch.



If You Have Intermediate Carpentry Skills
If you possess intermediate skills, have built decks and storage structures with roofs and have a working knowledge of your local building codes you may be able to successfully build a porch.

Again, if not completely confident, or not completely confident in specific areas, use the services of a licensed contractor.

Many gable and most shed roofs are not difficult to construct if you have the right skills and experience. Hip roofs and wrap around roofs require more advanced skills and probably shouldn't be attempted by a novice.

Converting a porch to a three season porch should be within the range of intermediate skill levels dependent on the quality and style of porch you want.

There are plenty of tricks of the trade you can use to minimize costs yet produce a quality and stylish porch.

Be sure to see our building a three-season porch section.



If You Have Professional Level Skills
Converting a porch into an actual room addition or 4-season porch, however, may require professional level skills as there may be structural and electrical issues.

However, if you have the skills and are thoroughly familiar with local building codes, it can be a rewarding project and it will add space to your home. Knowing how to build a porch is priceless!
Consider These Factors When Building a Porch
When thinking about how to build your porch, we want you to be aware there may be challenges. Porch projects vary greatly in size and scope, yet no matter the size, keep in mind these important factors:
Keep the water away from your porch. We can't stress this point enough. Porches that are subject to water damage, meaning not properly waterproofed, can incur structural damage over time.
Take plenty of time up front to design your porch well: the design, orientation, size and placement. Consider how you will use it now and in the future. A great porch will not only boost your home's curb appeal but also meet your lifestyle needs.
Like any room in your house, realize that a porch needs to be maintained. That means not only cleaning but may also involve painting (if applicable) or repairing components as they age. Our porch faces the west, so the hot sun and bright light takes its toll. Think about the materials on your porch: wood, concrete, brick, metals. Each has its own cost and effort associated with maintenance.
Footings are basic to your porch's safety and security. Depending on where you live, the weather and the soil conditions, you may need to go deeper into the ground for stable soil. Where we live, rocks are a major drawback when it comes to digging.
Like most projects, building your porch may take longer than originally expected. During the course of a project, things may come up that delay or surprise you. So be flexible as best as you can.
Along with delays or surprises, costs may add up more quickly than anticipated. In order to keep within your budget, you may need to adjust your plans.
Know your zoning regulations, setback requirements and local building codes. Realize that they vary greatly from place to place. Not being compliant can result in fines, adjustments you need to make or tearing down and starting over.
We want you to have a great experience during your porch build, whether you hire a contractor or do it yourself, so be aware of these factors before you start.


We hope you got plenty of essential tips for how to build a porch. Please stop by the following sections below, too.







Hi!
We're Mary and Dave
, lifelong DIYers, high school sweethearts, and we both love porches. You've come to the right place for thousands of porch ideas.
--- Our Sponsors ---
--- End Sponsors ---
Mary's Etsy Shop
Find Top-Rated Service Pros
Our Newsletter, Front Porch Appeal
Learn more
!
Thank you for being here!