Our Disclosure / Advertising Policy
The Federal Trade Commission requires that we disclose any relationship we have between a product manufacturer or service provider when we write or refer you to a product or service.

We are not paid to do reviews. If a merchant provides a product for us to evaluate, we provide our honest feedback on their product.

If we create a link to a product or service, sometimes we may get paid a commission if you purchase the product or service via our link.

Our intent is to be truthful and forthcoming regarding the products we share on our site and any compensation from such referral. As a consumer, we believe you have the right to know our relationship to products, manufacturers, and service providers.

We strive to give you our best recommendations based on quality and customer service.


We earn income in these ways:
Google Adsense Ads - which are selected by Google
Advertising Sponsorships - where companies advertise on our site for which we receive compensation.
Affiliate marketing or referrals - where we make suggestions on products or services that you might purchase throughout our site. If you purchase a product through our link, we receive a commission for referring you.
Sales of our eBooks - where we write eBooks that we believe will bring value to you. The sales occur on Clickbank.com.
Your purchase price on these products is no different than if you went directly to the merchant's pages. However, we hope that you enjoy the free content and ideas on our site and we appreciate you purchasing products through our links.



We are a participant in the Amazon Services LLC Associates Program, an affiliate advertising program designed to provide a means for us to earn fees by linking to Amazon.com and affiliated sites.

Affiliate compensation does not influence the information in this site. We provide our honest opinions, findings, beliefs, or experiences.

Thank you for visiting and supporting our site. We hope you enjoy the information and ideas that we provide.

We truly value you, our site readers. Please contact us if you ever have any questions or concerns. You are welcome to visit our privacy policy for details on how we help to safeguard your information.





Porch

/ Disclosure/Advertising Policy


Advertisements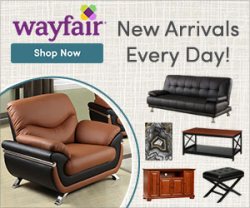 Enjoy Shopping Wayfair (affiliate)
Helpful Links
Popular Pages
---