By Dave and Mary

Front Porch Ideas for an Amazing Porch
Begin Your Porch Transformation Here!
Our front porch ideas will make your porch bloom in spring, sizzle in summer, colorful in autumn, and festive in winter.

Mary and I enjoy porches and value the time we get to spend on them. We enjoy them so much we created an entire website about them!

No matter the season, type, size, or design of your porch, there are a myriad of things you can do to create curb appeal, provide comfort, entertain, landscape, and so much more.

Transform a small porch into a usable fun area, divide a large wrap-around porch into separate living areas, or build the porch of your dreams.



It is always fun to see just how much new front porch ideas and designs along with porch decorating ideas can change the overall appeal of a home. Even subtle changes can make a dramatic impact as well.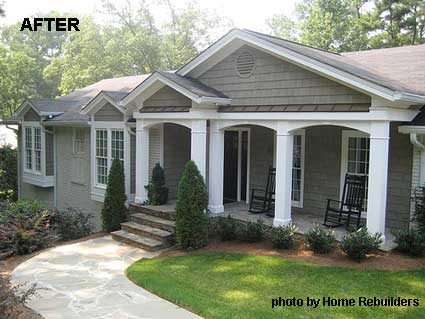 Photos courtesy of Home Rebuilders, Atlanta GA
Mary and I really like how this remodel (below) changed the overall appearance of this home.



Photo courtesy of rbarends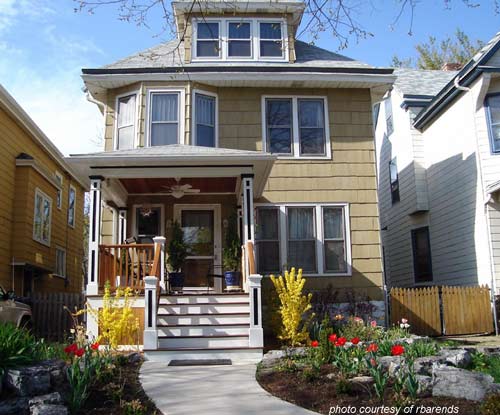 Photo courtesy of rbarends
Our front porch ideas and designs sections have just about every style porch under the sun, from country porches to Victorian porches to bungalow porches and more! We have a generous amount of front porch ideas, porch pictures and porch plans to inspire you.
Watch Our Video: We Love Porches
We love porches like you do!
A Long Island Front Porch
We are excited to share Sandy's new front porch. As you can see below from the before and after photos, her porch has an amazing impact on the curb appeal of her home.
Mary and I are very pleased our front porch ideas played a small role as Sandy writes -
"Your site has been so helpful to us with questions that arose during the planning stage...
"
Photos courtesy of Sandy D.
Before Sandy's New Porch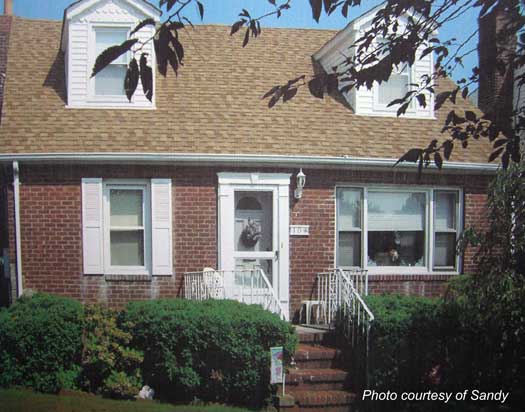 Sandy's new porch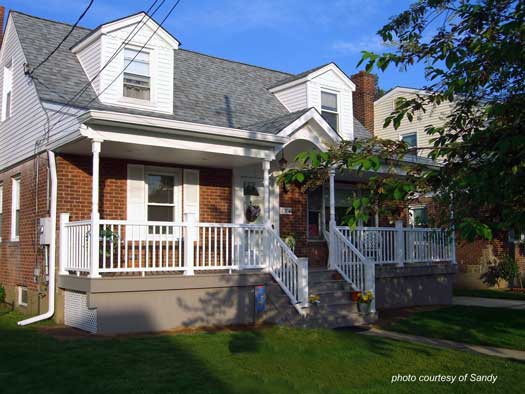 Notice the lattice panels on the end of Sandy's porch (in the above photo). Lattice panels are perfect to use for increasing the ventilation needed under your porch. Moisture is your porch's nemesis and will eventually degrade your porch flooring if not controlled.
Gable Roof Design Over Front Steps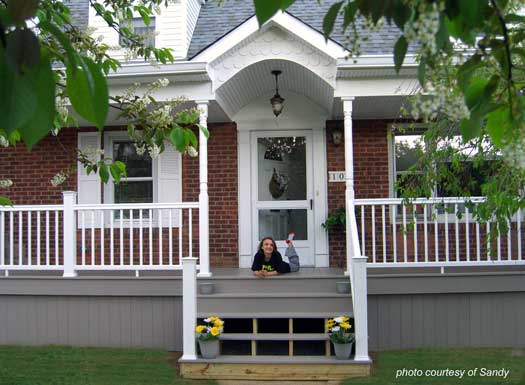 Decorative Beadboard Ceiling, Arched Front Door, and Hanging Light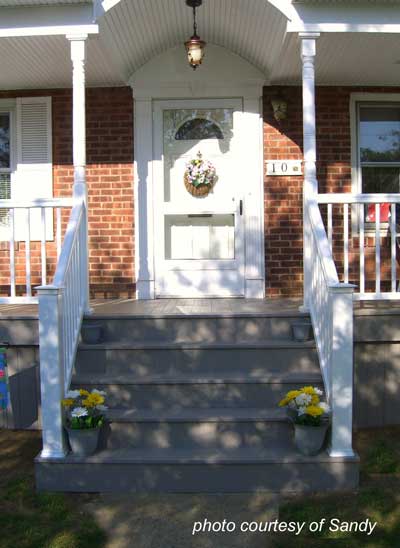 Sandy used Azek ® porch boards and really loves her new front porch. She was amazed at how adding a front porch with a combination shed and gable roof changed the appearance of her home. Not only that, she now gets to enjoy having an outdoor living area - fun for the entire family.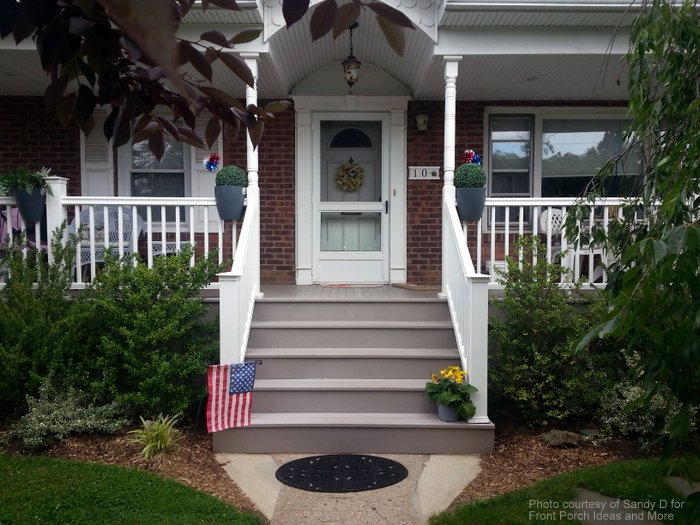 Sandy just sent this updated photo of her home a couple years later. Still as beautiful as ever. Eventually her porch steps got scuff marks and she found that one of those "magic type of erasers" with some water worked to remove them.
Now that's a front porch idea for keeping things looking nice!
Test it first though
.
Front Porch Ideas for a Victorian Front Porch Renovation
We are happy to share with you Deborah's porch renovation of her 1889 home.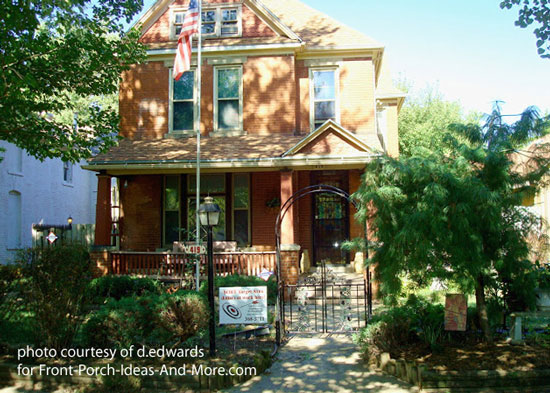 Before Deborah's restoration - 2011
Deborah's home pictured above was built in 1889 by John Nelson, a prominent local stone and brick contractor. He immigrated from Sweden in the late 1860's with his partner Samuel Johanson.

She was never really satisfied with the 1920's rebuild of her porch, especially the craftsman style porch columns. So using photos of her sister's house (built in 1889) she rebuilt the porch to something similar to the original.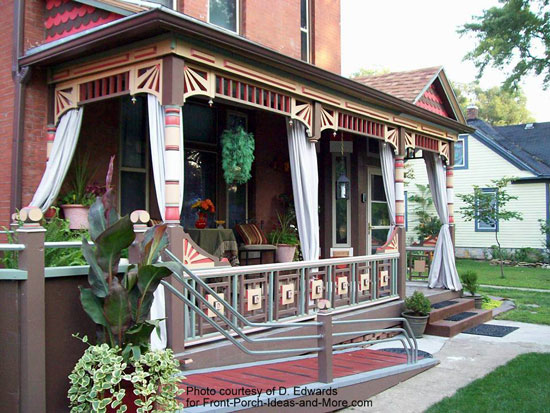 After the porch restoration - an amazing transformation - 2013
Deborah received assistance from the local Landmarks Commission as to what would be and what would not be acceptable. She was granted permission to add a handicap accessible ramp. The thought given to the porch was easy compared to constructing an ADA ramp and keeping it historically sensitive.

The porch railing is the result of viewing thousands of photos online and in period books from a local library. Because the Victorians liked the new things brought about by the industrial revolution, Deborah used exterior porcelain tile over hardy board for the porch flooring.

Mary and I love how Deborah integrated the accessible ramp; it is one of the best front porch ideas we've seen. We appreciate Deborah for sharing her pictures with us.

Here are a few more pictures she generously shared...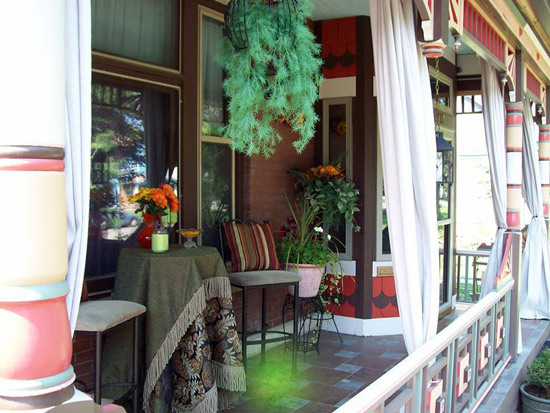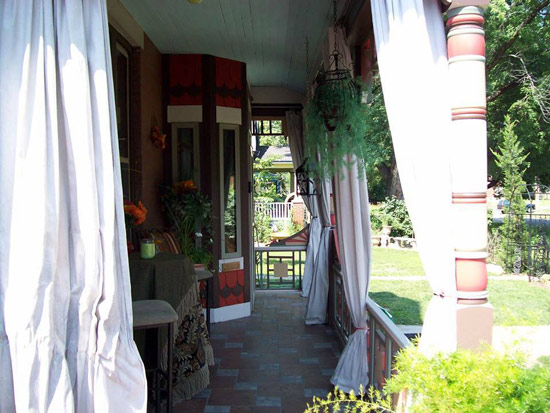 ---
Front Porch Ideas and More is about how you can transform your porch from the ordinary to the extraordinary as illustrated by the photos above. Mary and I travel across the country to find unique and interesting ideas and porch pictures to share with you.

It's amazing what remodeling the front porch area can do for a home. It instantly creates immense curb appeal and adds real value to any home.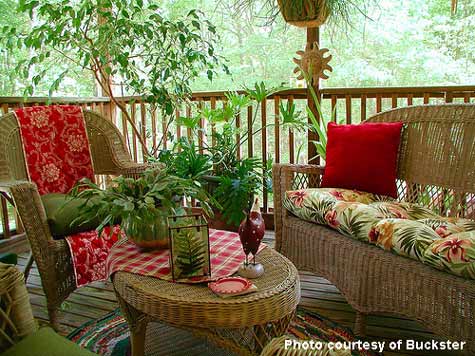 You don't have to remodel; however, to make an impressive difference. Furnishing, painting, and landscaping, to included potted plants or colorful hanging baskets, can add immense appeal as well.





Get Started Transforming Your Home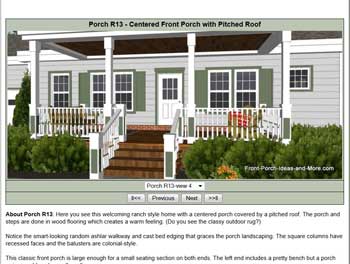 Front Porch Designs Illustrator Tool
Our porch design illustrator is perfect for envisioning how a porch changes the appearance of a home. Using the same ranch or two-story home, we use 3D-renderings to show various porch configurations.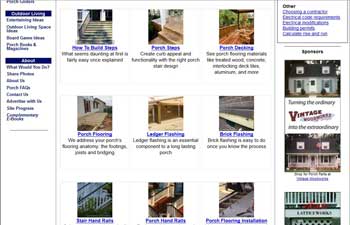 Front Porch Anatomy
We cover every aspect of a porch, from the foundation to the roof and everything in between.

Find information on flashing, flooring, balusters, ceilings, exterior house trim and so much more.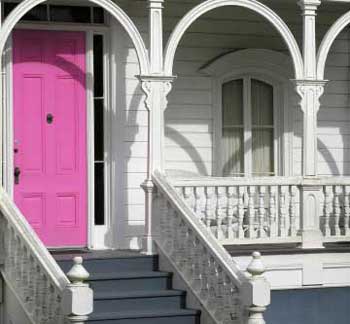 Porch railings and columns
The
right railings
and columns can transform almost any porch. Choose from a wide variety of styles to complement both your front porch and home.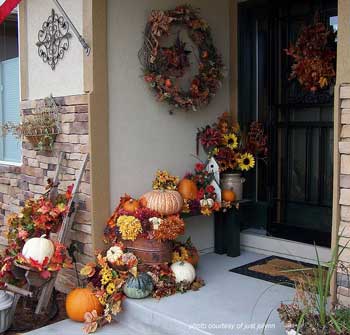 Porch Decorating Ideas

No matter the season, we have a myriad of front porch decorating ideas.

Not only that, we have many submissions by our site visitors who share porch photos and decorating projects with us - we are excited for you to see their beautifully decorated porches.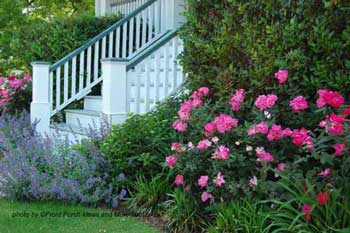 Front yard landscaping
Use our front yard landscaping ideas to complement and enhance the appearance of your porch.
Want privacy? Use landscaping techniques to create your own private hideaway just right for dining or quiet conversation.
Take Your Porch from Simple...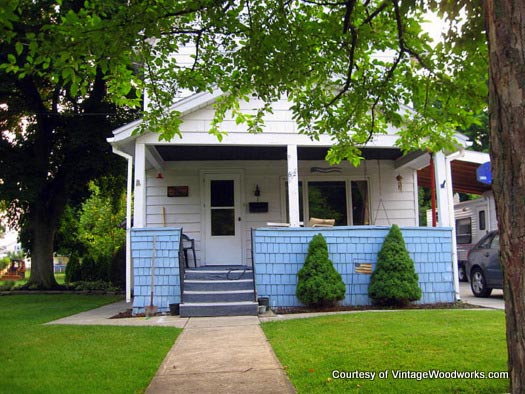 Before porch remodel
To Beautiful "Vintage"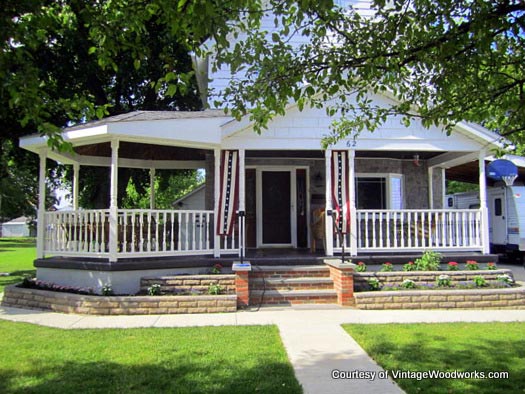 Photos courtesy of Vintage Woodworks
After remodel with vintage porch parts - WOW!



For the Love of a Porch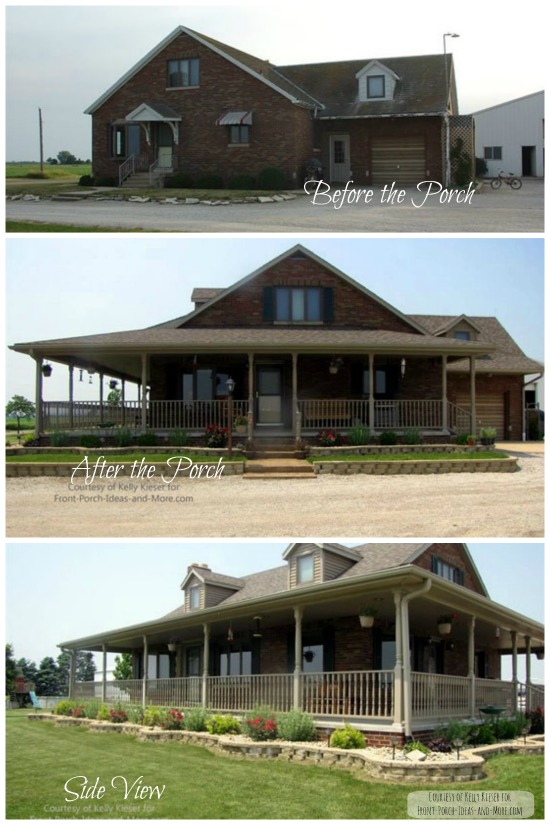 Sometimes it takes sacrifice and vision to get your porch. Read Jen and Kelly's stories.



On The Road - Perhaps Coming to a Town Near You
You'll find these and other front porch ideas throughout our site. We even travel across the country to bring you fantastic porch ideas!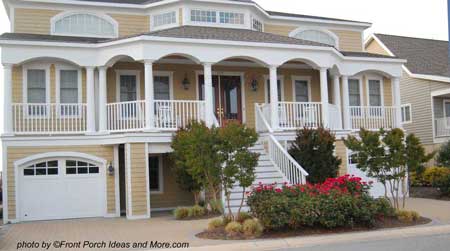 Lewes, Delaware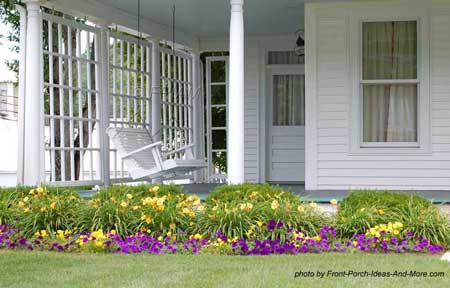 Near Sevierville, Tennessee
Time to Build a Porch?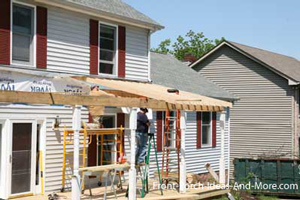 If you're planning to build a porch or screen porch or are a do-it-yourself kind of person, we have oodles of tips, information, and steps to building and designing a porch.

We Have Screened Porches Also
Nancy Moore, President/Owner of
The Porch Company
in Nashville, Tennessee, summarizes her
"ideal porch"
.
Nancy's Perfect Porch Must-Haves
Easy maintenance
Natural or artificial (fans) breezes all the time
Really, really comfortable furniture
We are excited to show you The Porch Company's custom screen porch design and build gallery.
You'll be amazed at not only the custom designs but also at her decorating and furnishing ideas too.
Not only that, we show you how to build a screened porch and other options as well such as using screen porch windows.
Our friend and porch expert, Nancy Moore, (
who builds amazing screen porches
) shares lots of insider tips.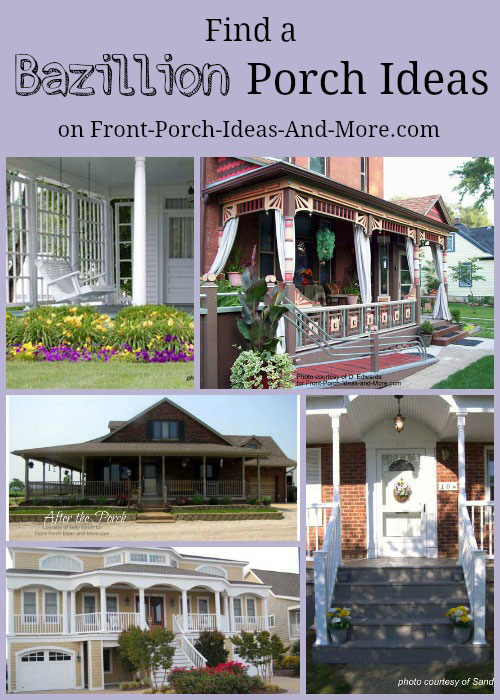 You've come to the right place for porch ideas!
Have Fun Exploring Our Front Porch Ideas
Now it's time to use try out some of our porch ideas - add your own creativity - and make the most of your porch. Have fun, put your feet up, and enjoy our front porch ideas!

We hope you enjoy all the front porch ideas you find here.



That's Not All, We Can Help You Too
A Sampling of Our Readers' Questions
Q: "I have a large Victorian porch and I want to remove the railings. The porch is at ground level in front but is about 36" off the ground in the rear."

Reply: We always recommend complying with local building codes and in this case you would typically need a railing on the rear of the porch. (Most local codes require a railing if the porch is more than 30 inches from the ground). However, you could landscape the rear area around the porch to bring the ground up to a sufficient height thus alleviating the railing requirement!

---

Q: "I have a small porch and a smaller budget. What can I do to increase the size of my porch to make it more usable".

Reply: Many homes have very small porches and if you can't build on to it, consider building a patio porch beside your small front porch. You can easily expand your porch by creating a patio area adjacent to it. Use inexpensive patio pavers to create the patio floor, add landscaping around the patio, and furnish without door rockers or a bistro set (we show you how). For privacy, select a few higher-growing shrubs to conceal all or part of the patio area.

---

Q: "I'd like to use our porch more often but it gets too hot in the afternoon. What can we do to keep it cooler?".

Reply: Try porch shades or curtains. There are wonderful outdoor materials available that will last a long time and are very durable. Awnings may be another option; some are retracted manually or are motorized (some even have wind sensors). Another option, depending on your local humidity levels, might be a porch misting system.

---

Q: "Can you install porch curtains in Australia?"

Reply: Yes, if you pay our airfare and expenses, we'd love to come.







Hi!
We're Mary and Dave
, lifelong DIYers, high school sweethearts, and we both love porches. You've come to the right place for thousands of porch ideas.
Our Sponsors
End Sponsors
---
Helpful Links
Enjoy shopping Amazon
(affiliate link)
Popular Pages
What's New
Join Our Newsletter Family
Porch Designs
Porch Ideas for Mobile Homes
Find a Local Contractor
Build a Porch
|
Small Porches
Porch Columns
|
Porch Railings
Screened Porches
Porch Curtains
|
Porch Enclosures
Porch Landscaping
|
Vinyl Lattice
Porch Decorating
|
Porch Ideas
Shop
Navigation Aids
Home
|
Top of Page
Site Search
|
Site Map
Contact Us
Policies
Disclosure Policy
|
Privacy Policy
Legal Info
---
Please Join Us Here Also

Find a Trusted Local Pro
---
Copyright© 2008-2024
Front-Porch-Ideas-and-More.com All rights reserved.
No content or photos may be reused or reproduced in any way without our express written permission.
At no extra cost to you, we earn a commission by referring you to some products on merchant sites. See our
disclosure policy
.
We, Front Porch Ideas and More, confirm, as stated on our
privacy policy
, that we do not sell personal information.
All content here is solely for presenting ideas. We recommend consulting with a licensed, experienced contractor before you begin your project.
We make no guarantees of accuracy or completeness of information on our site or any links to other websites contained here.
Thank you for taking your time to stop by.
See what's popular and new here
.