Dave and Mary
Porch Furniture and Accessories Directory
For Comfort and Beauty
Comfortable porch furniture is the first ingredient for the perfect cozy porch.

Outfit your porch with a colorful outdoor area rug, an exterior ceiling fan for breezes and some sheer outdoor curtains. Mary and I especially love the ambiance created with outdoor curtains, artwork and lamps.





Finally, add a few of your personal items, like a collection of seashells, candles or colorful glass bottles, to infuse your own personality.



Porch Furniture & Ammenities Directory for a Comfortable Porch
Listed in Order Of Popularity
How to Create an Outdoor Room
with Porch Furniture
Porch furniture can not only create an oasis of comfort but can also be used to add color and design features.


Inviting Porch Furniture courtesy of The Porch Company
All In Blue- courtesy of The Porch Company
In this video, Eduardo transforms a plain outdoor space into something special using porch furniture,outdoor curtains and some accessories.

Take a few minutes to watch how easily he transforms this outdoor space.



Like how they used porch curtains?
We have porch curtain ideas for you.
---


Back porches are perfect for outdoor dining and relaxing. Pictured belown is an aesthetcially pleasing porch furnished with dining furniture and comfortable seating as well.


Outdoor Dining in Comfort courtesy of The Porch Company
Bohnne's Furniture Placement Ideas
Colors
Note how the porch cushion colors make this a very inviting porch. Striking against the white wicker furniture and complemented by the flowers and quilt table top, the setting is perfect for that cold glass of lemonade on a hot summer day.



photo by SearchNetMedia
A bit more elaborate, this porch exudes color. Note how the house trim colors are picked up in the porch cushions. A mix of natural elements like the coffee table and antlers personalize the porch reflecting the homeowner's personality.



Amenities
Dee's arrangement of wicker furniture and outdoor rug along with the outdoor porch light hanging from the ceiling and array of potted flowers makes this an ideally decorated Victorian-style porch.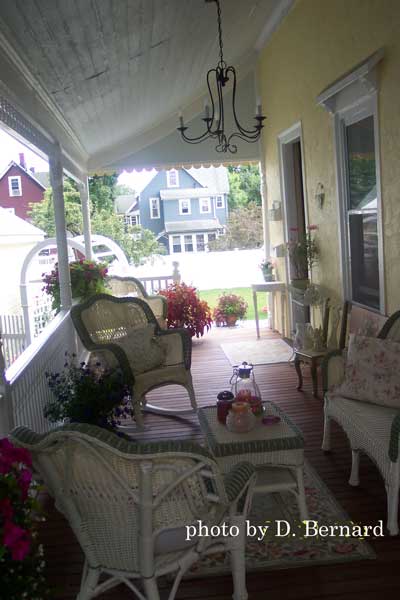 Indoor Outdoor Rugs
Don't forget indoor outdoor area rugs. They can warm any porch and create instant appeal. It is so easy to coordinate your other decorating colors around the colors in your porch rug.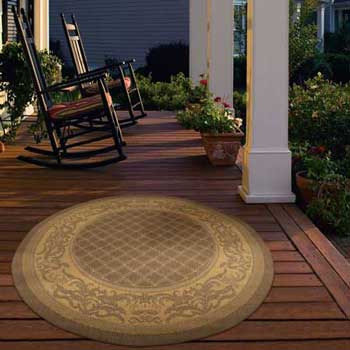 Outdoor Wall Art Ideas
Outdoor wall art is ideal for porches. Options range from paintings, like in the photo below, to sculptures and more. Outdoor wall art has immediate appeal and you can use it to create a focal point on your porch. You can even use the colors in the piece in your porch furniture.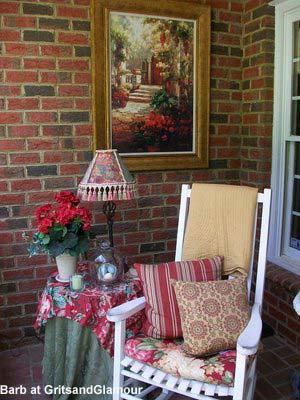 Anita's Outdoor Room Ideas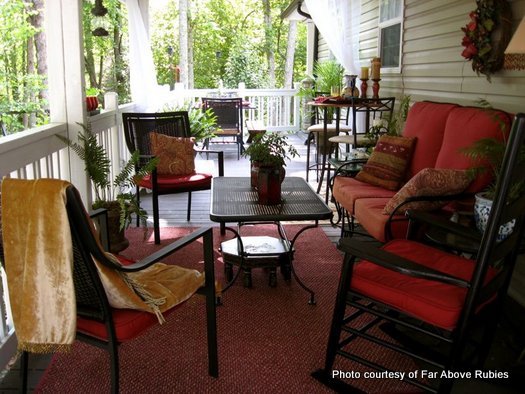 Anita arranged this wonderful conversational area.
How nice to have a room like this for family and friends?
Contemporary Furniture
Want a more modern style porch? Select furniture with sleek lines and really comfortable cushions. Adding contemporary outdoor artwork and ceiling fans to keep the air moving will make your porch inviting.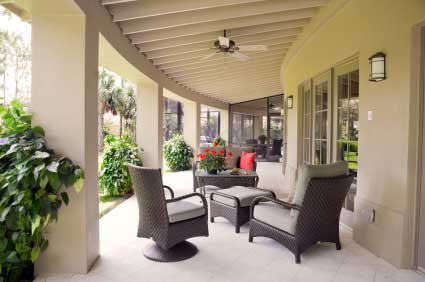 ---


You'll find plenty of other porch furniture ideas on our specific furniture and amenity pages. Enjoy planning your perfect porch!



Tracy Porter's Outdoor Living Ideas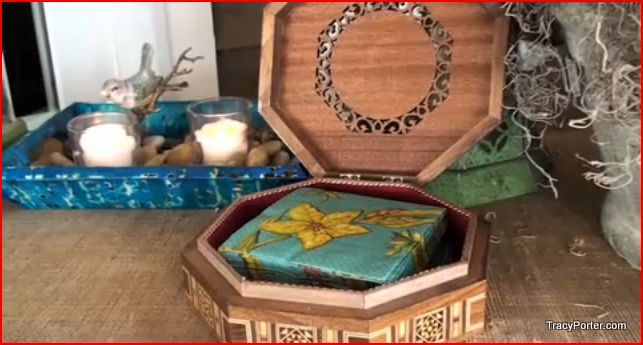 Pretty napkins in a beautiful box - just one idea from Tracy Porter for your outdoor living spaces.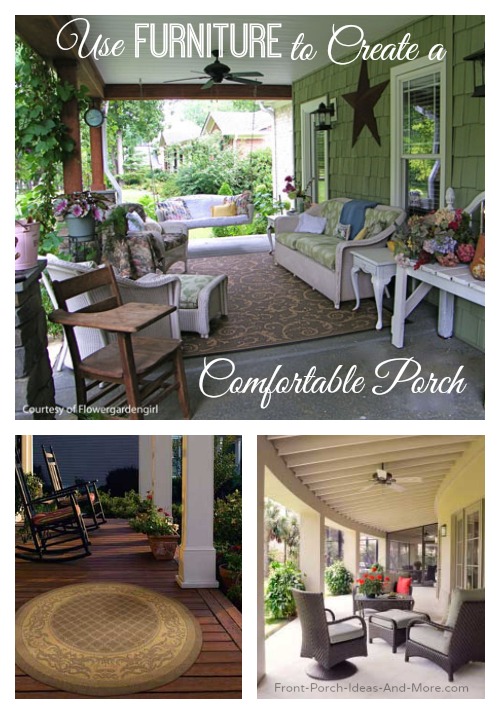 Make your porch truly comfortable with furniture and then enjoy it fully.
Hi!
We're Mary and Dave
, lifelong DIYers, high school sweethearts, and we both love porches. You've come to the right place for thousands of porch ideas.
--- Our Sponsors ---
--- End Sponsors ---
Mary's Etsy Shop
Find Top-Rated Service Pros
Our Newsletter, Front Porch Appeal
Learn more
!
Thank you for being here!